Let's finally talk about the best acoustic guitars for blues.
Many of you have been asking us what the best blues acoustic guitar is. Truth is, you can play blues on almost any guitar.
In the past, the best blues guitar was simply the one that the musician could get his fingers on.
Now…
There are many acoustic guitars out there that will definitely be easier for you to play and will sound much better than others.
If you want to know what our opinion is, and what options we consider "best", then this is the right article for you.
I will be considering tone, playability, price, and what experiences people have had so far with each guitar that we mention.
Let's start…
Best Acoustic Guitars for Blues
Gretsch G9200 Boxcar Resonator Acoustic Guitar
(link to Amazon.com)
The Gretsch G9200 Boxcar Resonator Acoustic Guitar features a round neck, a mahogany body, and a rosewood fingerboard, it has great playability and it serves as a very versatile guitar to own.
This guitar will get as loud as you want it to get, while also maintaining its great warm tone. It will provide you with everything you need to get that old-style-blues tone.
Its "F' soundholes, aside from providing a unique look to the guitar, will add a different taste and feel to the overall vibe of the instrument.
Martin 000-15M Acoustic Guitar
(link to Amazon.com)

The Martin 000-15M Acoustic Guitar is another guitar that deserves a mention on this list.
With its solid all-mahogany body, its rosewood fingerboard, and its satin finish, this guitar will be that one that will give you a great tone that will be easily distinguishable from any other.
Perfect for a big amount of styles, with solid black ebony bridge and pins, and a modified low oval neck shape.
It also features a solid/square taper headstock.
Taylor 114ce 100 Series Acoustic Guitar
(link to Amazon.com)
The Taylor 114ce 100 Series Acoustic Guitar features Sapele laminate back and sides, Sitka Spruce top, ES-T electronics, and a fretboard made out of Ebony.
With Indian Rosewood headstock overlay, Die-Cast Chrome tuners, and Varnish finish, this guitar is a great one to include on this list.
Great as an entry-level guitar, as well as a performance one. 
Epiphone Hummingbird PRO Acoustic-Electric Guitar
(link to Amazon.com)

The Epiphone Hummingbird PRO Acoustic-Electric Guitar is that one option for whoever doesn't want to spend too much money on a guitar.
It features a solid spruce top, and its neck has a classic SlimTaper "D" profile, attached to the body of the guitar with a glued-in dovetail joint.
This includes controls for Master Volume, Dynamics, Treble and Bass EQ, and Mute.
Has a rosewood fingerboard, nickel hardware, Grover 14:1 machine heads, and Shadow ePerformer preamp electronics,
Gibson J-45 Progressive Acoustic-Electric Guitar
(link to Gibson.com)
The Gibson J-45 Acoustic-Electric Guitar features a dovetail neck joint, hide-glue construction, and mahogany back and sides.
This guitar is expensive for anyone that doesn't want to spend too much money on an instrument, but it is definitely worth the money for some others that really like to buy good guitars.
Its body shape makes it easy to hold and very comfortable to wrap your arms around to play. Many blues guitarists have been using Gibson guitars as their main one, and this one is a great example of one of them.
The Gibson G Force Tuning System gives you quick access to standard and alternate tunings.
The Titanium saddles allow easy string height adjustments and superior acoustic guitar intonation.
Its Active PZM Bridge plate pickup will give you and very good acoustic sound reproduction and perfect for percussive acoustic playing styles.
Fender CD-60S All-Mahogany Dreadnought Acoustic Guitar
(link to Amazon.com)
This Fender CD -60S All-Mahogany Dreadnought Acoustic Guitar features Mahogany back and sides, a dreadnought cutaway body style, and a solid mahogany top with scalloped "X"-bracing.
With things like onboard electronics, including a built-in tuner, and good playability, this guitar is a big one to consider for beginners and also intermediate level players who just want a great guitar on their hands.
It also has Fishman low-profile pickup/preamp and a single-cutaway body for easy upper fret access.
Taylor 150e Dreadnought 12-string
(link to Amazon.com)
Have you ever seen that video of Jimi Hendrix playing blues on a 12-string acoustic guitar?
This is not the exact one that he played, but you can absolutely see that blues music sounds incredibly awesome on 12-string guitars too.
The Taylor 150e Dreadnought 12-string features solid Sitka Spruce Back and sides, layered walnut backs and sides, and a volume and dynamic friendly architecture.
It also has a Matte 2.0 body finish, non-cutaway, 1-7/8 in. (47.6 mm) nut width, genuine African Ebony fingerboard, and Sapele neck wood.
Takamine GN93CE-NAT Nex Cutaway Acoustic-Electric Guitar
(link to Amazon.com)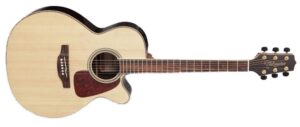 This Takamine GN93CE-NAT Nex Cutaway Acoustic-Electric Guitar features a solid spruce top and rosewood back and sides, a preamp system with a built-in tuner, and a maple body, neck, and headstock binding.
With a balance between looks and sound quality, this guitar is one that really deserves to be mentioned on this list.
It also features a Slim Mahogany neck and a 12″- radius bound rosewood fingerboard.
Three-band EQ and gain controls, mid contour switch, notch filter, and an EQ bypass switch provide for the ultimate in versatility and sound quality.
Which acoustic blues guitar should you buy?
I get this question a lot and I understand why people ask it since I used to do the same all the time before buying any instrument.
Now…
If you've been sticking around on this website for long enough, you might already know what I think about choosing the right guitar, and in this case, blues acoustic guitar.
I think that it's all about personal choice!
See what things you are looking for in a blues guitar, and then based on that, pick the one you feel good about.
Think about what style of blues you want to play, what tone you want to achieve, and maybe even research other professional blues players and what guitars they use.
What to consider before buying an acoustic guitar to play blues?
Let's take a look at some of the things that everybody should have in mind before buying an acoustic guitar that will specifically be used for playing blues:
Budget
How much money are you willing to spend?
It's no secret that generally, the more money you spend on a guitar, the higher the quality will be.
Some of the guitars that we previously mentioned are in the $100 – $200 range, but some others are in the $500 – $1000 range.
Needless to say that those that cost more money have better playability and allow for ultimate versatility and sound quality.
If you are a beginner, you will find a lot of confusing information online.
Many people think that learning with an expensive guitar is way better than learning with an inexpensive guitar, and this is simply because of the mentioned differences in quality.
Some others say that it really doesn't matter the quality of the guitar, but how much effort you put into learning to play.
I personally learned to play guitar with a $30 acoustic guitar.
At the end of the day, I managed to learn to play, which is essentially what's important, but I would never recommend this to beginners since it really makes it harder for those that have never touched a guitar in their lives.
This is due to the fact that guitars need to be manufactured at a cost that allows some profit to the builder or seller, so having a low price inevitably means having an unskilled assembly line with low-quality control.
Body style
If you're buying a new guitar, then you should know that the body shape of your guitar will have a huge influence on how comfortable you feel when playing and what tone and volume you will get when playing.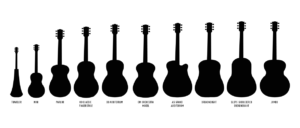 Image Source: dylanbakermusic.com
Talking about each body style and their advantages and disadvantages go beyond the scope of this post, but I really encourage you to research this a bit more if you think that what you are trying to achieve in terms of tone is somehow unique or different.
Strings
It doesn't matter what guitar you have, if you are using low-quality strings, then you will sound awful.
You shouldn't really base your decision just on what strings the acoustic guitar originally comes with, since you can easily change them anytime, but you should definitely know that this is a big factor in how well your tone will be.
In my opinion, the strings that you use for playing are among the most important things that you should consider at all times.
Acoustic guitar strings are the core of the instrument.
At the most fundamental level, a guitar string's vibration is what delivers the sound.
Playing style
Chance are, you have a blues guitarist that you look up to, or at the very least like how they play or played.
Have you researched what guitars they used?
This could be a really good starting point for you to know what you naturally like and appreciate in a blues guitar.
Also, something very important to consider is whether you want to do a lot of slides on your songs.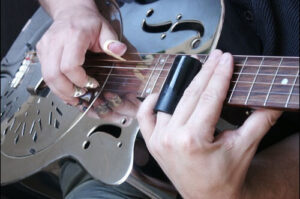 If so, then you might want to consider a Resonator acoustic guitar (listed first in this list).
Paying attention to small details such as this one will really make it easier for you in the long run.
Let's take a look at this masterpiece:
Gary Clark Jr. - 12 Bar Blues-Jam @Jam'in'Berlin
Whether or not this is exactly the tone you want to have, or whether you think this video is nothing out of the ordinary, it doesn't matter.
I just want to use it as a point of reference to say that, he would play this well with any guitar. It's not like you would give him a $5 guitar and he would forget how to play blues all of the sudden.
At the end of the day, just know that it will be on your end, to sound good and develop your own style, don't think too much about the guitar if you're a beginner, and don't overthink it too much either if you're an advanced player.
By the way, the guitar that he's playing is the Epiphone Masterbilt AJ-500M Advanced Jumbo Acoustic Guitar.
Which guitar is best for fingerpicking blues playing?
To be honest, I think any of these guitars will do a good job as a fingerpicking blues guitar. But now, if you are looking for a straight answer, I should say that it depends.
For example, things like hand size or guitar size will influence the way you play and feel comfortable while playing.
What should you do?
If you want a guitar for fingerpicking blues playing, only you know which one will be best. See if you can get your hands on one, and think about how well you played and how natural it felt.
As I said, I think that generally, almost every guitar could be used as a fingerpicking guitar, it is a matter of personal choice to select which one works the best.
So you can get another perspective on this topic, I will link a YouTube video by Acoustic Letter below, where they talk about choosing a fingerstyle guitar. 
4 Things To Look For in a Fingerstyle Guitar
Should you buy an electric guitar or an acoustic for blues?
What type of blues music do you want to play? Are you influenced by any blues guitarist? What type of guitar do they play?
These questions won't give you the exact answer, but they will definitely help you get to the point where you know what you want.
It really comes down to the type of music, vibe, or style you are going for.
Also, know that with an electric-acoustic guitar, you can pretty much play as if you have both, you can either use it acoustically or connect it to an amplifier and enjoy it that way.
What features should your next blues guitar have?
I could start mentioning thousands of features that your next blues guitar should have, I wouldn't stop. There is only one problem.
They won't matter; this is why I say that.
Most famous blues guitar players started with really bad guitars and these were just the ones they could get their hands on at the time.
If you have the option of buying a really high-quality instrument, then, of course, get the best one that you can, but just don't overthink it.
The point I am trying to make is that you should get a guitar that you enjoy playing all the time, that's the one that will make you a better guitarist.
What strings are best for a blues acoustic guitar?
The ones I would recommend to anybody are the Ernie Ball Earthwood Rock and Blues 80/20 Bronze Acoustic Set (link to Amazon.com). This pack seems to be the one that has work best for me throughout the years.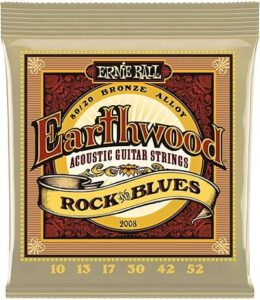 Now, as to this specific question, I don't think that it really makes sense to name one specific pack, as the absolute "best". There are surely many different options out there that will give you the same result that you are expecting.
In my personal experience, picking a set of strings has always been about trial and error.
What I did to know which one works best for me was buy a pack, use it, then buy another one, use it, and then another one, until I get to stick to the one I like the most. Of course, always buy the ones that people seem to recommend the most.
Sounds crazy, but this wasn't done in a year, you should not be buying too many sets at the same time just to try them. Let it happen over time.
How should I be learning to play blues as a beginner?
If you can afford classes with an instructor, it will help you, but it's also not necessary at all.
What worked for me in the past was listening to blues music, and then trying to mimic what they do.
For example: if you like a certain riff, try to play it and learn it by ear.
If you're not able to do so, then just search for the song tabs on Google, and learn it that way.
After that, just pretty much repeat this process until you feel comfortable with learning scales.
On the other hand, you can learn some scales first and then start to mess around with your favorite songs, but I wouldn't recommend this to anyone that is starting out because scales can be boring sometimes and tend to discourage a big number of new players.
You can now also watch YouTube videos as well, there are a few instructors out there, that even for free, will teach you many important lessons.
What is the best way to get good at playing blues?
There is not right or wrong answer to that.
Just learn that blues is all about feeling the music and expressing your emotions through your instrument.
That might just sound like I took it from a movie, but I really think is true.
Be your own best type of player, and trust me, you will better that way.
Before you go
Our website is all about showing you a little bit more about guitars each day and finding ways to innovate and have fun with this beautiful instrument that we play.
If you enjoyed this post, then I invite you to go check out our blog!
You might find something new about guitars that you didn't know before, and most importantly you will give yourself the chance of getting involved in our amazing community.
As always, thank you for reading!