What are really the best wah-wah pedals out there?
There are surely many different options out there that have given guitarists a lot of benefits in terms of versatility and tone.
But again, which ones ultimately offer more features and sound better?
In this post, I will be listing the best wah pedals in terms of quality, usability, tone, and price, and will also answer some of the most frequently asked questions on this topic.
Let's get started!
Best Wah-Wah Pedals
Summary of all the products that we'll talk about:
Dunlop 535Q Cry Baby Multi-Wah
(link to Amazon.com)
This Dunlop 535Q Cry Baby Multi-Wah allows you to customize your tone by featuring an adjustable and switchable boost that can be kicked on or off, a six-position range selector, and a variable Q control.
It runs on a single 9-volt battery or an optional ECB003 AC adapter, and it offers six new guitar wah-wah ranges, which allows you to shape your wah from a narrow and sharp wah to a broad and subtle wah sound.
The 535Q is among the most versatile wah pedals on the market, and it seems to be one of many guitarists' favorite wah pedal choices.
On the other hand, the ability to select your frequency center and range of the effect has also been one of the most desirable characteristics of this pedal.
Just as many other people always like to mention, legendary guitar players ranging from Jimi Hendrix to Slash have all used it as an essential portion of their guitar voice and tone.
This in turn has always increased the pedal's popularity and has facilitated making it one of the best-selling pedals in the world.
Fulltone Clyde Deluxe Wah Pedal
(link to Amazon.com)
The Fulltone Clyde Deluxe Wah Pedal has a 3-way mode switch with selectable modes such as Wacked, Jimi, and Shaft, and a 10-step variable input level control that can let you dial in almost any type of wah sound you can imagine.
This pedal is known to be the updated version of the Fulltone standard and is definitely among the best wah pedals out there.
It has a lot of the features that guitarists look at in a wah-wah pedal, from providing the classic Voodoo Chile tone to amazing funk sounds, this Clyde Deluxe wah pedal can do it all.
Fulltone was founded in 1991 by session guitarist, composer, performer, and electronic tinkerer Michael Fuller.
These pedals are 100% handmade in Southern California using the finest components, including custom-made 22-gauge copper wire with no tin coating.
To expand a little bit on the pedal modes:
Jimi is a throwback to the original Clyde from the 1960s, in other words. their benchmark recreation of the late '60's Vox Clyde McCoy wah-wah.
Shaft is a setting that recalls the funk-laden soul and R&B hits of the '70s since it shifts the whole range up a little to capture the sounds heard on all the funk classics.
Wacked is reminiscent of the old color sound wah-wahs with extremely deep bass response. A radical change from the standard wah-wah tones you're used to
Some notable users of this pedal are Rolling Stones' Ronnie Wood and Keith Richards, Pearl Jam's Stone Gossard, and Jack Bruce of Cream,
Vox V845 Classic Wah Pedal
(link to Amazon.com)
The Vox V845 Classic Wah Pedal features a solid yet lightweight die-cast aluminum housing as found on authentic VOX wah-wah pedals from the 1960s.
At the same time, this pedal is based on the specifications of the original pedal developed by VOX in the '60s.
If those old-school wah-wah sounds are something you're considering adding to your guitar tone, then the V845 should be among your top options for a new sturdy but very affordable design.
VOX developed the world's first Wah-Wah effect during the '60s in an effort to allow guitarists to emulate the sound of a trumpet being muted, which was at the time a widely used sound in mainstream music.
The original wah-wah pedal quickly gained widespread popularity and its unique sonic characteristics have encouraged further experimentation by guitarists ever since.
Other specifications include:
Input/output jacks: INST jack, AMP jack, DC i/p jack.
Power supply: One 9V DC battery
Battery life: ≈> 100 hours with manganese battery
Dimensions: 102W x 252D x 75H (including rubber feet, pedal in lowest position)
Weight: ≈2.08lb (including battery)
Xotic Effects XW-1 Wah Pedal
(link to Amazon.com)
This Xotic Effects XW-1 Wah Pedal features a bias control, a wah Q control, treble & bass controls, and an adjustable pedal torsion with an LED indicator.
Altogether, these unique controls will allow you to obtain multiple sounds by shaping your guitar tone in a wide variety of different ways.
This pedal was modeled based on the Italian-built Clyde McCoy wah-wahs and it is considered one of the most versatile wah-wah pedals available today.
It uses gold contact relay true bypassing, which allows for transparent true bypass tone while incorporating ultra reliable switching with a minimum of one million life cycles.
A few of the sound customizations include changing the bias warmer, which will lead the Xotic XW-1 Wah to have slightly more output and balance bass frequencies along with a more pronounced wah through the sweep.
The adjustable rubber stopper located on the backside bottom of the treadle can also be shimmed to adjust the travel range of the pedal.
One special component of the XW-1 is that the LED will flash if the battery power falls underneath 50% and shows that the time has come to change the battery
Behringer Hellbabe HB01 Wah-Wah Pedal
(link to Amazon.com)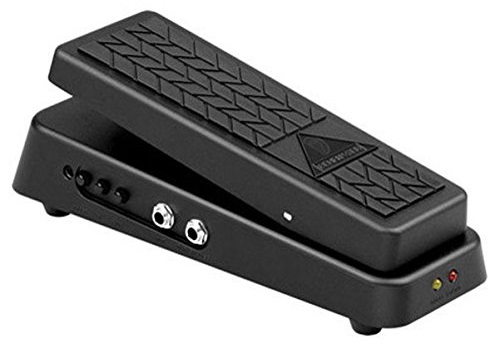 This Behringer Hellbabe HB01 Wah-Wah Pedal allows you to have anything from those "old-school" wahs to the most up-to-date sounds, all in one effects pedal.
It features an additional FINE control that allows high-end extension of sweep range for incredibly bright, ultra-present tone, and has ultra-musical Q control for precise filter shaping to achieve vocal-like effects.
While its high-quality components and exceptionally rugged construction ensure long life, this pedal also provides low-frequency adjustment.
Those can be swept from 440 Hz down to 250 Hz, making the HB01 the ideal companion for either guitar or bass.
You can even dial in a powerful volume BOOST (up to +15 dB);  this is extremely helpful for live performances in which you might potentially need your guitar to be on top of the entire mix.
Unlike a few other pedal options, the HELL-BABE utilizes no mechanical pots or switches, which fundamentally lessens wear and tear.
This pedal will add a new dimension and depth to your artistic expression.
MXR MC404 CAE Dual Inductor Wah Pedal
(link to Amazon.com)
This MXR MC404 CAE Dual Inductor Wah Pedal highlights a custom-designed CTS extended-life low noise potentiometer, and a user-selectable gain output stage with a kick switch and LED indicator.
It also allows you to switch between two (high-end emphasis or low-to-mid resonance) distinctly-voiced Fasel® Inductors that have a built-in boost/line driver circuit, internal Q, and gain controls.
At the same time, this amazing pedal boasts true hardwire bypass and allows you to get the high performance and quality that you expect from Dunlop: the world leader in wah-wah technology.
Created by Bob Bradshaw of Custom Audio Electronics and the Cry Baby design team with one goal and objective in mind, to make a profoundly versatile wah-wah of top-grade components.
Bob Bradshaw has been one of the world's foremost designers of custom guitar pedalboards and effects systems for a significant number of rock's most powerful and influential guitarists for thirty years.
MXR and Cry Baby have been synonymous with the effects pedal innovations that have shaped the tone of modern electric guitar playing.
It was only natural for them all to unite to make a line of pedals offering definitive tone, functionality, and road-worthy dependability.
Other specifications include:
HF mode (yellow Inductor): Low pass: 400Hz & high pass: 1.9KHz – 2.2KHz
LF mode (red Inductor: Low pass: 255Hz – 355Hz & high pass: 1.3KHz -1.5KHz
Output impedance: <10kΩ
Maximum input level (boost off): -6dBm at filter's center frequency
Ibanez WD7 Weeping Demon Wah Pedal
(link to Amazon.com)
This Ibanez WD7 Weeping Demon Wah Pedal features a range switch that allows you to change between low and high-frequency responses.
It has an auto switch mode that lets you set the effect either on standard instant-off when the pedal is returned to the full upright position or a delayed-off by turning the control clockwise.
When it comes to its weight, taking the battery into account totals about 3.5 lbs.
It allows on-off switching of the effect independent of the footboard when the mode lever is in the footswitch mode.
Furthermore, it comes with special features like the ability to switch between spring and normal footboard action, a tweakable wah range, and other fine-tuning controls to get the special sound you're looking for.
With its exclusive "set and forget" Push-Lok rotary pots, you can press the knob down and not have to worry about losing your settings.
On the inside, the WD7 is equipped with high-fidelity components carefully tweaked with constant input from a new generation of Ibanez players.
Other specifications include:
Range Switch: For switching between LOW and HIGH-frequency responses.
Range Fine Tuning: Allows fine-tuning within either the LOW and HIGH RANGE SWITCH settings.
Hotone Soul Press Mini Wah Pedal
(link to Amazon.com)
This Hotone Soul Press Mini Wah Pedal has its sound based on the original crybaby WAH pedal.
It features an adjustable control range (bottom value) and has an active volume mode for keeping a lossless tone, while also including a true bypass and extremely compact size with cool LED lights
The unit features wah, volume, and expression modes!
The WAH mode is for all the cry babies out there, talking about the legit vocal sweep and lush harmonics of the wah-wah's classic times.
Its VOLUME mode allows for an active volume design, which keeps your tone pristine. Fine-tune the bottom end with the volume range control.
Lastly, its EXPRESSION mode can be used without a battery or external power supply. It is compatible with most digital effects and connects with a standard stereo 1/4" jack.
The idea of the Soul Press was to make a compact pedal large enough for real people to use, and love, and the challenge of the design stage was to keep it both compact and ergonomic, according to its makers.
Aside from all that, even though this pedal is relatively small in contrast to other options that we already mentioned, it has a 9V battery compartment, and since it is so energy efficient, you won't need to change that battery very often.
Vox V847A Wah Pedal
(link to Amazon.com)
This Vox V847A Wah Pedal takes the original sound of the 1960s and brings it with authentic style.
It has been said in many of its product descriptions that this model was specifically built to the exact specifications of the original pedal used by many influential guitarists around that time.
When it comes to its weight, it totals about 3.7 lbs including battery.
Aside from that, this unit will also give you a buffered input jack for preserving the unprocessed guitar tone when the pedal is not engaged.
The pedal's inductor has undergone a redesign to be closer in specification to the original VOX wah inductors, for improved dynamics and tone.
These additions will benefit players of all genres who use a wah pedal as an integral part of their sound.
Other specifications include:
Dimensions (W X D X H): 102 x 252 x 75 mm / 4.02 x 9.92 x 2.95 inches.
Battery life: Approximately 100 hours (varies depending on conditions and usage).
Connectors: 1/4-inch input jack, 1/4-inch output jack, DC input jack (power).
SONICAKE Active Volume & Wah Expression Pedal
(link to Amazon.com)
The SONICAKE VolWah Active Volume & Wah Expression Pedal is our last option on this list, but just know that there isn't any particular order that was followed.
This pedal features an active volume control that is able to keep away from impedance mismatch issues, and when it comes to tone, it's characterized by a Crybaby style vintage wah-wah sound.
Its footswitch allows you to switch between volume and wah very easily.
Furthermore, there are two LED lights to show the working state of the pedal, which helps you see which mode the pedal is engaged with.
On the outside, you will find hard plastic, with a lightweight casing but yet truly robust and well-built.
For those guitar players that specifically don't want to take much space on the pedalboard. this option is extremely beneficial and convenient.
How to use a wah pedal?
There are many people who should learn how to use a wah pedal properly.
It might be hard at first to make it sound like something you're proud of, however, as time passes and as you practice more and more, it will become easier and natural.
Here are some tips that you can start using today to make your wah sound more interesting and appealing:
1. Emphase the right notes
The best thing about doing this is that it will allow you to add more expression into your playing, especially if we're speaking of a solo section.
What I mean by emphasizing the "right" notes is that you shouldn't be going crazy on some random note in your solos, rather use the wah to add more variety and dynamics.
As guitarists, most if not all of us tap our feet when we play to keep up with the tempo of the song, if you already do this naturally, then using the wah in its most basic form will be very simple for you.
For example, let's say that you're playing a very slow and emotional solo, or a Santana's Europa type track, and in some parts, you're expected to hold a note for more than 1 or 2 bars.

Although in this simplified version of Europa you'll only have to use vibrato, in any similar case, since you're holding the same note, a wah would be ideal to prevent it from sounding dull or boring and to add a vocal feel to the music.
2. Use it as a filter effect pedal
The best thing about having a wah pedal is that it can be used as a lot more than just a simple wah pedal.
For example, you can use it as a filter to build tension before you reach a new section of a song, or as a way to add more low-end or high-end to your guitar tone.
When you put your foot on a wah pedal, you have several different options:
If your wah is moved all the way back (or up), the pedal can serve as a low-pass filter. This means that low frequencies will pass through and higher frequencies will be blocked.
If your wah is moved all the way forward (or down), the pedal can serve as a high-pass filter. This means that you'll allow more treble in your signal and lower frequencies will be blocked.
Lastly, when you move the pedal back and forth, it will create a combination of both, low and high frequencies that will be cut off at whatever speed you want them to; this is what we call the "wah effect."
If there's a certain part of a song that doesn't need a full wah effect but still lacks some variety and uniqueness, then by playing with these options you can allow yourself to create something interesting.
Let's watch this YouTube video by Paul Davids in which talks about all things wah pedals:
This is why the WAH PEDAL is awesome!
As you can see, at minute 1:10, he allows us to see the exact frequencies being cut off in real-time as he moves his wah-wah pedal back and forth, and then as he completely turns it off.
On the flip side, he'll also do a short demo of some of the best ways to use a wah pedal and will show us how to make it more appealing and engaging to our listeners.
3. Add a consistent tremolo effect
Another great way to use a wah pedal is to use it as a tremolo effect.
In musical terms, a tremolo is:
A wavering effect in a musical tone, produced either by rapid reiteration of a note, by rapid repeated slight variation in the pitch of a note, or by sounding two notes of slightly different pitches to produce prominent overtones.
Now, if you don't know much about effects pedals or that simply sounded confusing to you, then let's take a look at what an actual tremolo pedal sounds like.
BOSS TR-2 Tremolo Pedal Review by Sweetwater
This video is a demo of the BOSS TR-2 Tremolo Pedal, and as you can hear, once the pedal is activated, it pretty much sounds like a vibrating and trembling noise.
With a wah-wah pedal, although the effects won't sound exactly the same, a slow and moderate tremolo is very possible.
To do this, just move the pedal back and forth as fast as possible and of course while keeping up with the tempo.
If you don't want it to sound too energetic and forceful, then by restraining yourself from pushing the wah pedal all the way forward you will have control over the depth and intensity of the sound.
4. Make percussive rhythms
When you strum your muted guitar strings and wave the wah pedal back and forth, the sound that gets produced will resemble a percussion instrument.
If you have thought of adding defining and interesting sounds with your wah, then this is a technique that will help you do just that.
The most popular guitar player that's known to have heavily incorporated this into his songs was Jimi Hendrix.
Let's take a look at this live performance of "Voodoo Child" by The Jimi Hendrix Experience in 1970:
The Jimi Hendrix Experience - Voodoo Child (Slight Return) (Live In Maui, 1970)
As you can hear, he doesn't do this to the point where it becomes annoying or boring, but rather as a great way of adding dynamics and uniqueness that catch the listener's ear right away.
Needless to say, the quality in which this gets executed highly depends on your strumming abilities, so in this case, the wah is simply adding an extra layer of interestingness.
5. Build up a certain part of a song
Just like I explained above, depending on whether the wah pedal is all the way back or all the way forward, this can act as both a low-pass filter and a high-pass filter.
In modern music, with the rise of electronic music, we've seen build-ups have more acceptance and use just before the drop or chorus sections of songs.
A build-up in music terms: 
Is the transitioning from the breakdown or bridge of a song to the drop/chorus.
In other words, this is the part where the energy of a song builds momentum and makes you wait for the better and usually the most important section of the track.
With the use of a wah-wah pedal, although not ideal, you can create a similar effect!
Just cut all the low frequencies by moving the pedal all the way back, and slowly start pushing it forward as you keep playing your guitar.
Once you've reached the point in which the next section is about to start, you can just turn the wah pedal off and play as you normally would.
Where does a wah pedal go in the signal chain?
This question usually brings a lot of discussion and debate around guitar players, however, there's one answer that's commonly accepted than any other.
That is that wah pedals go at the beginning of the signal chain!
At the same time, there exists the idea of potentially having tuners, compressors, or volume pedals go even before wah pedals.
In this YouTube video by Music is Win, this concept is tested by making a comparison among different wah positions:
Where to Put a Wah Pedal on Your Pedalboard (EXPERIMENT)
As you can hear, the difference among all the positions is very minimal but it's definitely there.
Some of these don't necessarily sound bad, so as guitarists, we should just encourage ourselves to be creative and play around with these settings.
At the end of the day, that should be our goal, to have fun and make good music.
How do you turn on a wah pedal?
Most wah-wah pedals are turned on and off by pressing the toe down until you feel a "click."
Once that happens, the wah effect will start to be applied to your signal chain!
Furthermore, once you start moving it up and down, the pedal will start to cut the appropriate frequencies to create the so-called "wah-wah" crying effect.
Now, some other wah pedals might have an additional button that you can simply push down to turn it on or off.
Although this is very unlikely with modern pedals, some manufactures use them as a way of preventing unwanted steps on the pedal.
Is an expression pedal the same thing as a wah pedal?
A wah pedal is an expression pedal, but not all expression pedals are wah pedals.
In other words, an expression pedal is a control found on many instruments other than guitar pedals, for instance, organs, electronic keyboards.
The term "expression" in this scenario means that the musician can change and modify certain aspects of the sound, usually its volume, tone, echo repeats, speed, and so on.
Hence, the guitar player's expression and feel will dictate the exact level at which these properties will be heard.
Which wah pedal did Jimi Hendrix use?
Throughout his entire career, Jimi Hendrix was mostly pictured using a Vox wah-wah pedal.
Just take a look at this picture and notice the bottom-left wah pedal: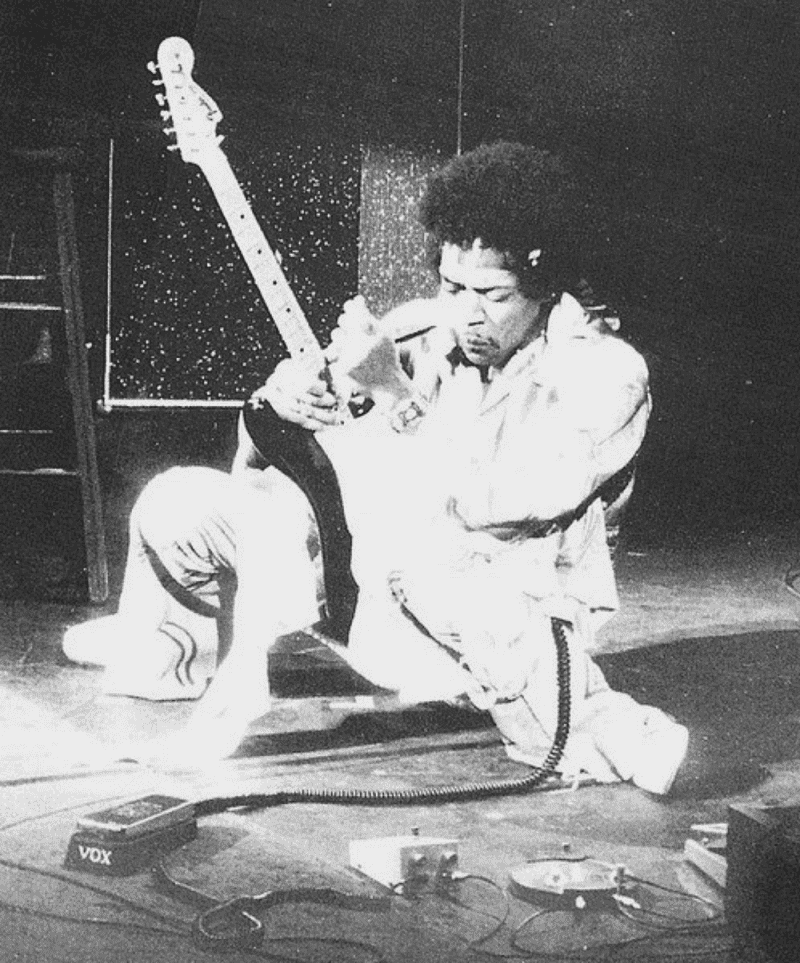 Although nowadays it's difficult to come across the exact model that he was using at the time, there're many other modern alternatives that will allow you to sound very similar.
For example, the VOX V847A wah-wah guitar pedal is one option that many guitarists seem to be very satisfied with.
Aside from this VOX pedal, I would also recommend you to check out Dunlop's Jimi Hendrix Signature Wah Pedal, for a similar tone.
Greatest wah solos and riffs of all time
For those of you looking for a bit of inspiration on how to use a wah pedal or just ways to make your music sound interesting while using a wah pedal, this video is a great resource for you.
It features guitarist Joe Shadid from Reverb.com playing 50 classic wah-wah riffs in one take!
50 Classic Wah-Wah Riffs on Guitar in One Take | Reverb Riff Marathons
If you notice on the bottom-left side of the screen, there's a camera that is showing his foot movement while he plays.
This is very helpful for those of you that might want to achieve a certain feeling or effect with your wah pedal but might not know how to do it very well.
One last thing
GuitarBased.com is all about showing you a little bit more about guitars each day and finding ways to innovate and have fun with this beautiful instrument that we love.
If you enjoyed this post, then I invite you to go check out our blog!
We're always sharing a lot of useful and helpful content that both beginners and advanced players can use to improve their playing abilities.
As always, thank you for reading and being here! 🤘