What are the best guitar tuners?
For all players, having a guitar tuner and accurately tuning their guitar is one of the most single important things that should be done before playing.
There are many types of tuners out there and they are all easily accessible in music stores, but which one should you buy?
From mobile applications to foot pedals, they all have different advantages and disadvantages.
In this post, I will be listing the best guitar tuners in terms of quality, accuracy, speed, and price, and will also answer some of the most frequently asked questions on this topic.
Let's get started!
Best Guitar Tuners
Summary of all the products that we'll talk about:
TC Electronic PolyTune 3 Guitar Tuner Pedal
(link to Amazon.com)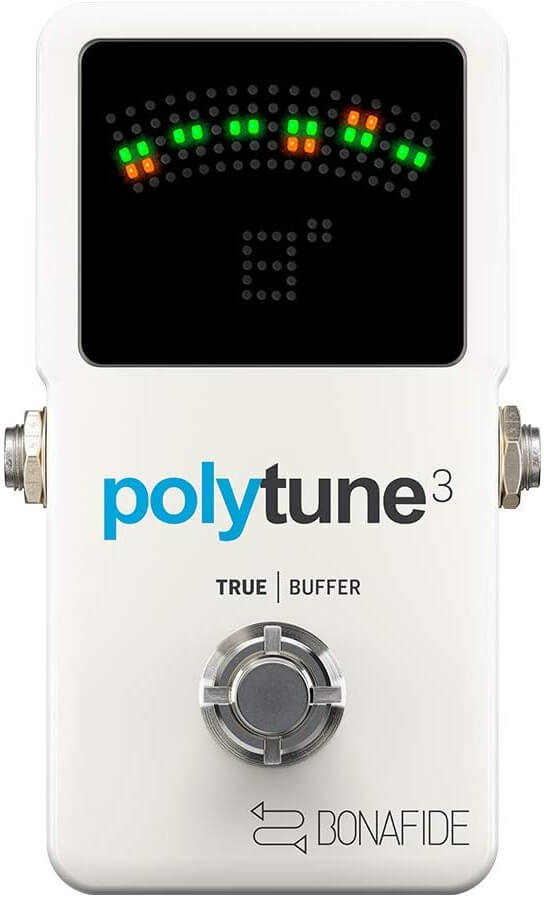 TC Electronic's PolyTune 3 guitar tuner pedal is a polyphonic tuner and has an inherent BonaFide buffer, which many other pedal tuners don't have.
This is a very helpful feature as it preserves your tone through long cable runs and convoluted pedalboards.
To be a polyphonic tuner means that you will be able to tune all your strings at once; in other words, a single strum of all your strings will allow the pedal to quickly display which ones are out of tune and which ones aren't.
With this pedal, you'll have multiple tuning modes at your disposal, including polyphonic, chromatic, strobe, and a variety of altered tunings.
The switches happen almost automatically since the change between polyphonic and monophonic tuning modes happens based on how many strings you play.
On the other hand, its buffer keeps your tone transparent and crisp with a 1MΩ input, a 100Ω output, and an extremely high signal-to-noise ratio, to be exact, more than 112 dB.
PolyTune 3 lets you switch between true bypass and buffer modes, this last one gives you an 'always on' option that keeps the tuner in full operation even while your signal is not muted.
Pros
Multiple tuning modes
Very accurate
Cons
Fender FT-2 Professional Clip-on Tuner
(link to Amazon.com)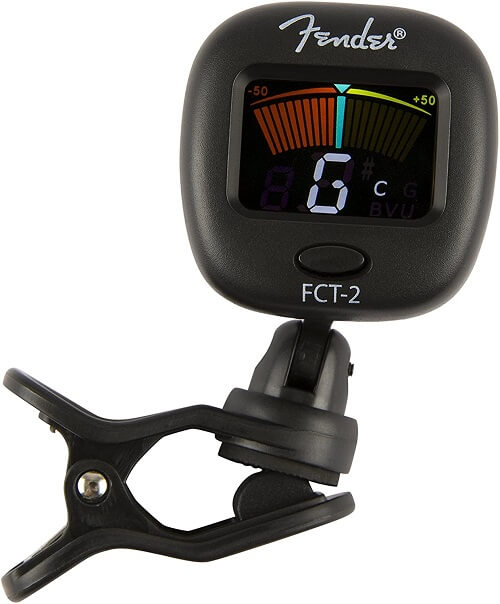 This is one of Fender's famous clip-on guitar tuner models that are comfortable and very unobtrusive.
If you're looking for a simple tuner that will flawlessly work, even in distortive environment conditions, then the FT-2 is a great option to consider as it possesses a great built-in vibration sensor.
The color LCD (liquid crystal display) shows a very easy-to-read tuning needle that will indicate and display how near to pitch each note is and move to the center mark once the note is in tune.
Even though many people don't know, these tuners can also be used for other instruments as well, for instance, bass guitars, ukuleles, and violins.
The FCT-2's double pivot design allows you to mount the tuner on either side of your instrument's headstock, which can be very useful if you want to "hide" the tuner from an audience or simply keep the aesthetic very simple.
When it comes to color, this model is only available in black, but other versions come in Surf Green, Fiesta Red, and Daphne Blue.
Pros
Lightweight design
Battery is rechargeable
Cons
BOSS TU-3 Guitar Tuner Pedal
(link to Amazon.com)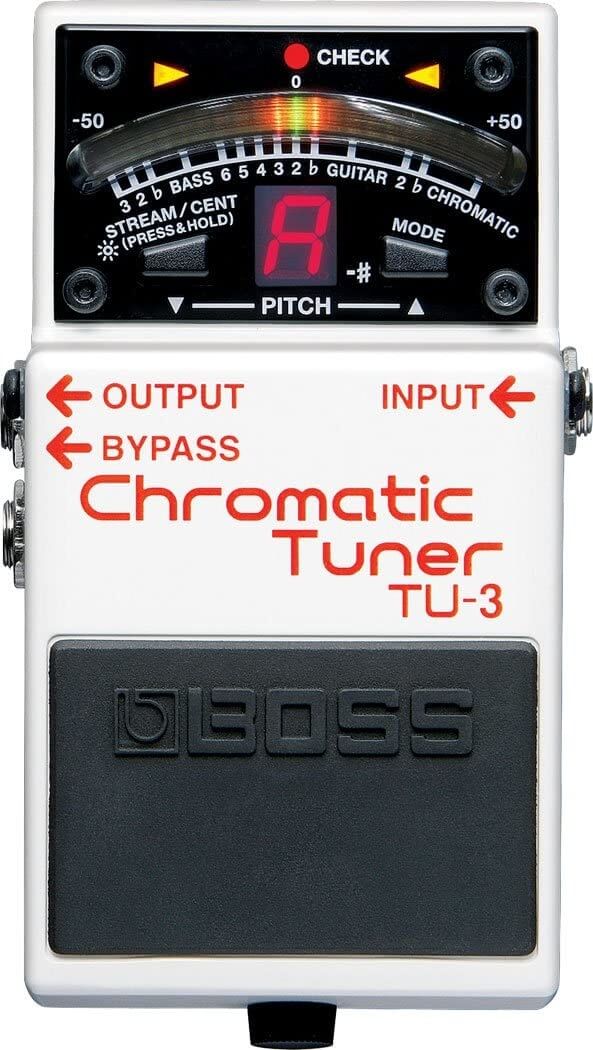 The BOSS TU-3 guitar tuner is easily one of the most prominent guitar tuner pedals ever created.
It offers a refined design, a strong body with special features from other BOSS tuners, flat tuning up to five semitones, and a unique LCD.
This display will give you a complete multi-color visual experience with a high-brightness mode for outdoor visibility and a smooth 21-segment LED meter.
At the same time, it also has support for 7-string guitars and 6-string basses, so if particularly play any of these instruments, then getting this specific tuner is a no-brainer.
With visual pinpoint tuning verification by the Accu-Pitch sign function, you'll be confirmed when you've successfully tuned any string.
By the looks of it, one might think that this pedal is complicated and complex to use, especially if you're a beginner starting to explore the pedal world; the opposite is true.
The TU-3 is known for being very reliable, easy to set up, and extremely accurate.
Pros
Supports 7-string guitars and 6-string basses
Accurate tuning
Great visual display
Cons
Can use a lot of battery power
Snark ST-8HZ Super Tight All Instrument Tuner
(link to Amazon.com)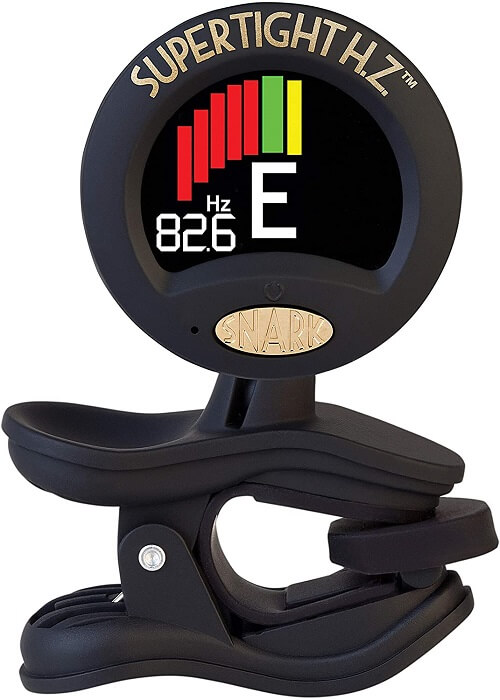 This tuner is a great alternative that will work for nearly all stringed instruments, including electric, acoustic, and bass guitars, and ukuleles, violins, mandolins, banjos, and brass and woodwind instruments.
Essentially, this is due to its vibration sensor and Hertz tuning providing a tune accurate to 1/10 of 1 Hz.
Just like most clip-on guitar tuners, the Snark ST-8HZ is also very convenient for those of you looking for an easy and non-intrusive way to tune your instruments.
The display also rotates 360 degrees, which makes it ideal for both right or left-handed players, and again, for those that might want to hide the tuner when playing live or in front of an audience.
Aside from also having a new faster processing chip that will decrease the time it takes to detect the current pitch of a string, it also has a tap tempo metronome and a high definition display.
This high-definition display adds to its usability and simplifies the entire tuning process in both outdoor and indoor settings.
When it comes to colors available, as of right now this model is only available in black.
Pros
Simple to use
Firm and secure clip-on
Rotates 360 degrees
Perfect for a variety of instruments
Cons
Korg PBAD Guitar Pedal Tuner
(link to Amazon.com)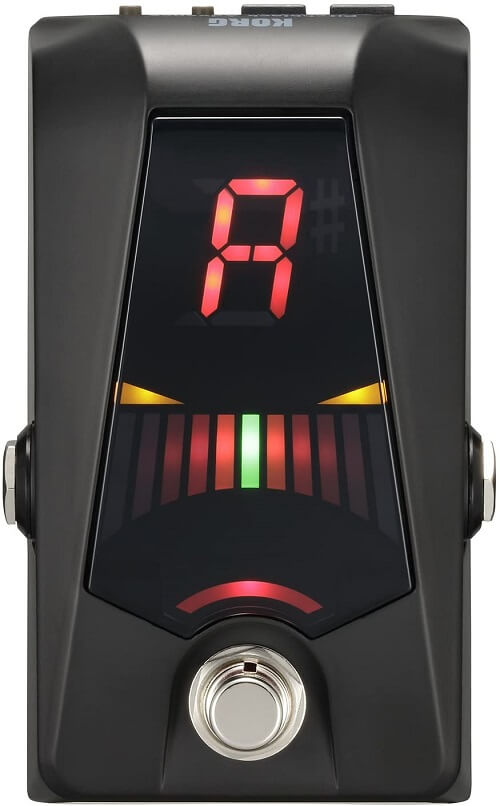 The Korg PBAD tuner pedal comes from a trustworthy brand and is once again a great tuner pedal to consider adding to your pedalboard.
For most performers, having a pedal that is easy to use and effective is very important, and that's exactly why many guitar players love this guitar tuner so much.
Its LED is decently wide enough to allow you to see its content from far away, which means no more bending over in neither dark nor bright rooms.
The tuner also brings a supported switch, which will show you when your guitar is off-tune while playing or practicing, and a newly developed circuit that completely eliminates unwanted signal noise.
Furthermore, as indicated by the manufacturer, the pedal guarantees as much as 60 hours of battery life, which if we compare this number to other pedals out there, is pretty above average.
Korg, the company, was founded in 1962, and since then has manufactured electronic musical instruments, audio processors, guitar pedals, recording equipment, and electronic tuners.
They also acquired Vox in 1992, a brand name that they still use to manufacture guitar amplifiers and a very known competitor in the amp space.
When it comes to colors available, this pedal comes in both black and metallic white.
Pros
Precise monophonic tuner
Will fit into any pedalboard
Wide tuning display
Cons
It's not a polyphonic tuner
Can be out of budget for some people
KLIQ UberTuner Clip-On Tuner
(link to Amazon.com)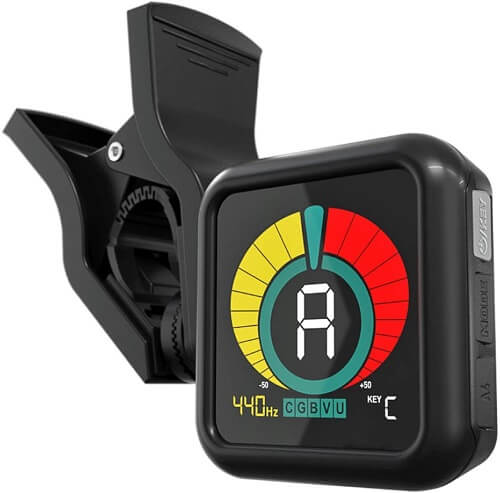 This KLIQ's clip-on tuner has a high-level microprocessor and an extremely sensitive Piezo Sensor that will guarantee your instrument is precisely tuned instantly.
Another great feature about this product is its enormous super bright display that will allow you to effectively check whether you're flat, sharp, or dead-on from any angle.
Since it has 3 points of adjustment, you can position the screen in any way you like, and just like the other clip-on tuners that we've mentioned so far, you can use this to hide the tuner whenever you're performing live.
Also, since this tuner detects the pitches directly from your instruments' vibrations, ambient room noise will never get in the way.
Its reliable and long-lasting design won't let any type of use, from light to substantial, break or damage the tuner.
Furthermore, the manufacturer offers a 3-year guarantee that if anything happens and the KLIQ UberTuner stops working, they'll replace it or maybe even give you 100% of your money back.
Pros
Accurate tuning
3 points of adjustment
Minimalistic design
Cons
Clips are strong but bigger than normal
Donner Chromatic Guitar Tuner Pedal
(link to Amazon.com)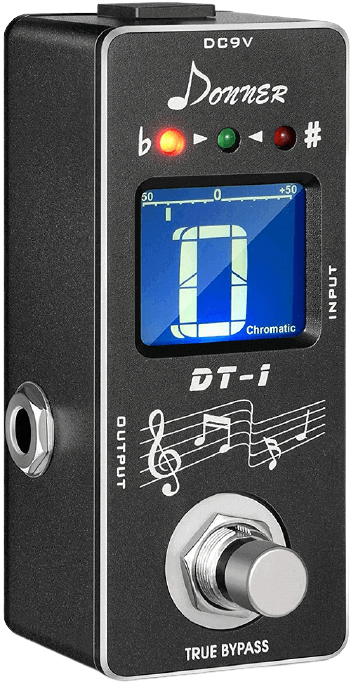 This is Donner's chromatic guitar tuner pedal and is also among the most popular tuner pedals in the market today.
Pedals like this one are always very easy to use and set up since it's always a matter of plugging your guitar and starting to tune it right away.
What sets this pedal apart from many others is the color and brightness of the specially adjusted LED balls that match the mini LCD screen.
This feature, although very easy to overlook, is really useful for those that will for sure perform in low-light settings and night venues and want to have no issues tuning their guitars.
Just like all tuner pedals, whenever you're in tuning mode, your signal output will be cut off so that you can adjust your guitar in silence.
On the other hand, in bypass mode, the sound of your guitar will return back to the amplifier without any disturbing "pop" and "hum" sounds.
For those of you that love getting into the real specifics, the tuning range is A0 (27.5Hz) – C8 (4186Hz), and the new fast precise strobe mode has +/- 1 cent accuracy.
Pros
Incredibly lightweight
The LCD board is clear and wide
Cons
Wegrower Rechargeable Clip-On Guitar Tuner
(link to Amazon.com)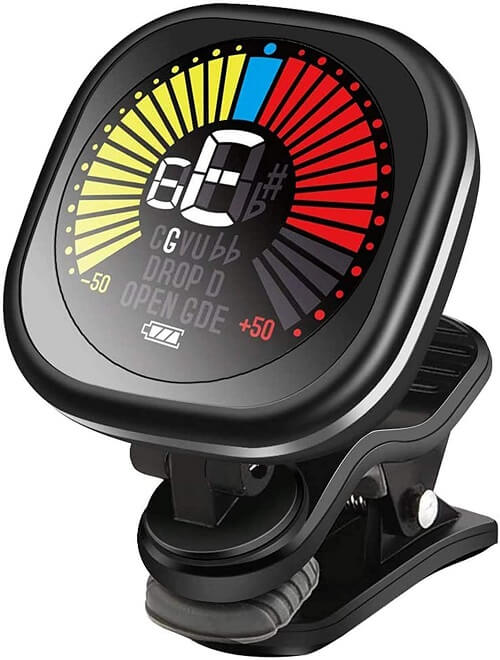 Wegrower guitar tuners are rechargeable via a USB charging cable and save energy with an automatic power-down function after 5 minutes of no signal.
They come with a built-in battery inside that never needs a replacement and are very environmentally friendly.
When it comes to the product itself, the USB cable is included and said cable can last over 10 hours of constant use after being fully charged.
It features a note key function that when the device is in tuning mode, allows you to switch between different guitar tunings such as drop D, open G, D, E, and flat tuning.
With its 360 degrees rotatable clip, you can situate the screen at any angle and location you like, plus its all-around design and small enough size will let you fit it entirely in your pocket.
On the other hand, this tuner also has a highly sensitive vibration-based system that even with background noise will ensure that your guitar is accurately tuned.
As for color options and alternatives, you will only be able to get this product in black.
Pros
360 degrees rotatable clip
Easily rechargeable by USB cable
Wide display screen
Cons
Only suitable for a handful of instruments
D'Addario Clip-On Guitar Tuner
(link to Amazon.com)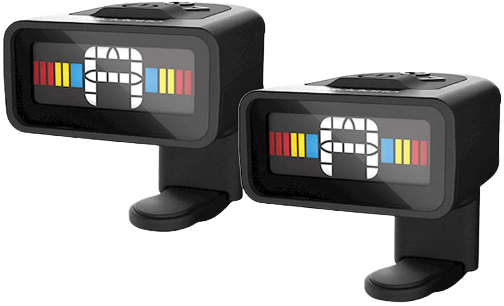 D'Addario clip-on tuners are lightweight, discrete, come as a pack of 2, and are perfect for acoustic, electric, and bass guitars, mandolin, banjos, and ukuleles.
The tuner is set up to display the notes in red when out of tune, yellow when close, and green when in tune, which is quite helpful for both dark and bright room environments.
It also features a 360-degree swivel mechanism and adjustable padded clip that offers excellent viewing angles and maximum positioning flexibility.
As a result, left or right-handed instruments with small or large headstocks won't have any issues when you attach these tuners to them.
D'Addario, as a brand, has been leading the industry in innovative products and accessories that serve musicians worldwide for more than 20 years.
The continued trust and credibility for this company among all guitar players ensures superb quality controls and long-lasting products.
Lastly, its calibration range is 410-480Hz, and black is the only color option available for purchase.
Pros
One of the smallest tuners in the market
Credible and trusted manufacture
Cons
No polyphonic tuning mode
KLIQ Metronome Tuner For All Instruments
(link to Amazon.com)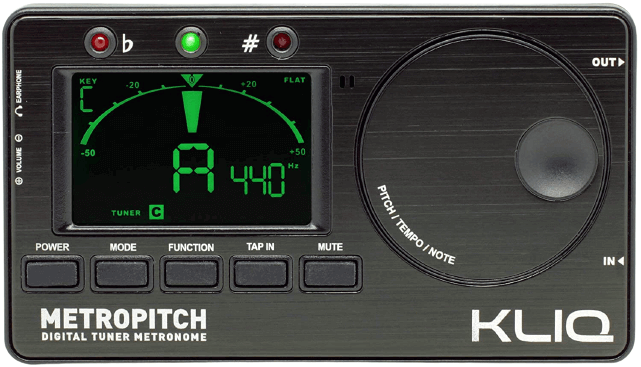 Although this is the second tuner made by KLIQ Music Gear that we'll talk about you, it's the first of its kind, since we've only featured clip-on and pedal tuners up to this point.
This pocket-sized product comes as a 3-1 device that combines a tuner, a metronome, and a tone generator.
It boasts a wide range of A0-C8, various tuning modes, pitch calibration, and transposition settings, which means that almost any instrument can easily be tuned using it.
As it turns out, most if not all KLIQ Music Gear products come with a 3-year guarantee that if anything happens, they'll replace it or even give you all of your money back.
The tuner in itself is highly adaptable, easy to use, and has a high sensitivity built-in mic, a dynamic speaker and headphone jack with volume control, and a useful LCD display with LED indicators.
For more resistance, strength, and durability, the outside of this tuner is made of premium metal finish, and has dimensions of 4.3″ x 2.4″ x 0.6″.
When it comes to the metronome side of the product, you'll find features such as tap tempo, a broad range of 30-250 BPM (beats per minute), and different beats and rhythm patterns.
Black, blue, gold, red, and grey are some of the color options available.
Pros
3-1 device (tuner, metronome, tone generator)
Premium metal finish for higher durability
Available in different colors
Cons
Slow responsiveness
Picks up background noises
What to consider before buying a guitar tuner?
If you're a musician, a studio owner, a music tech, or even manufacture your own instruments, a tuner is one of the most important accessories that you can own.
A great guitar tuner should be reliable, accurate, fast, and simple to use.
These are some of the things that you should consider before purchasing one:
Turner accuracy
The way that a tuner's accuracy is calculated is by using cents.
According to Wikipedia, in musical terms:
A cent is a logarithmic unit of measure used for musical intervals.
One cent is one-hundredth of a semitone and considering there are 12 semitones in an octave, you can also say that there are 1200 cents in an octave.
For instance, the musical note C# is +100 cents higher than the note C.
Cents are a unit of measure for the ratio between two frequencies and are used to express small intervals in different tuning systems.
The accuracy of any guitar tuner is essential since it directly impacts how well and in tune your strings will be.
On the other hand, let's say that you play in a band, and each member tunes their instruments with different tuners that have different accuracy levels.
If the difference is approximately more than five cents, one of you you might sound out of tune; more than that five cents will for sure sound bad to the human ear.
As a rule of thumb, make sure that your tuner has an accuracy of at least +/- 0.02 to +/- 1 cent, but anything below 5 cents should be fine as well.
Speed
The time it takes for your tuner to detect the pitch of a note and display it to you after making a guitar string sound is essentially what we call tuner speed.
Nowadays, most if not all tuners are able to do this in less than one second.
Just imagine you're trying to tune your guitar while performing live and your tuner decides to take 5 seconds to simply detect the pitch of a string.
This would be very annoying, right?
Just know that all the examples above that we just talked about are extremely fast, so in your situation, you're good to go if you choose one of them.
On the other hand, if you buy a tuner that we didn't cover in this post, ensure that at the very least, it takes 1 second to detect and display the pitch information to you.
Versatility
The versatility of a guitar tuner is all about its ability to be used in many different ways.
Ask yourself some of these questions:
Is the tuner polyphonic?
Does it have a built-in vibration sensor?
Is the display good for both indoor and outdoor environments?
Are you able to switch between different guitar tunings?
In the case of a pedal, does it have true bypass or buffer modes?
The point of these questions is not so that you can check if a certain tuner fulfills all of these conditions.
Rather use them as a guide to choose one that meets all of your own needs.
Some of these tuners are also metronomes and tone generators, some others have built-in microphones; these are also factors that contribute to the overall versatility of the product.
Types of guitar tuner
Chromatic
The chromatic scale is a set of twelve pitches used in tonal music, with notes separated by the interval of a semitone.
When it comes to tuners, the term "chromatic" means that you will be able to tune to every note in the chromatic scale.
These notes are: A, A#/Bb, B, C, C#/Db, D, D#/Eb, E, F, F#/Gb, G, G#/Ab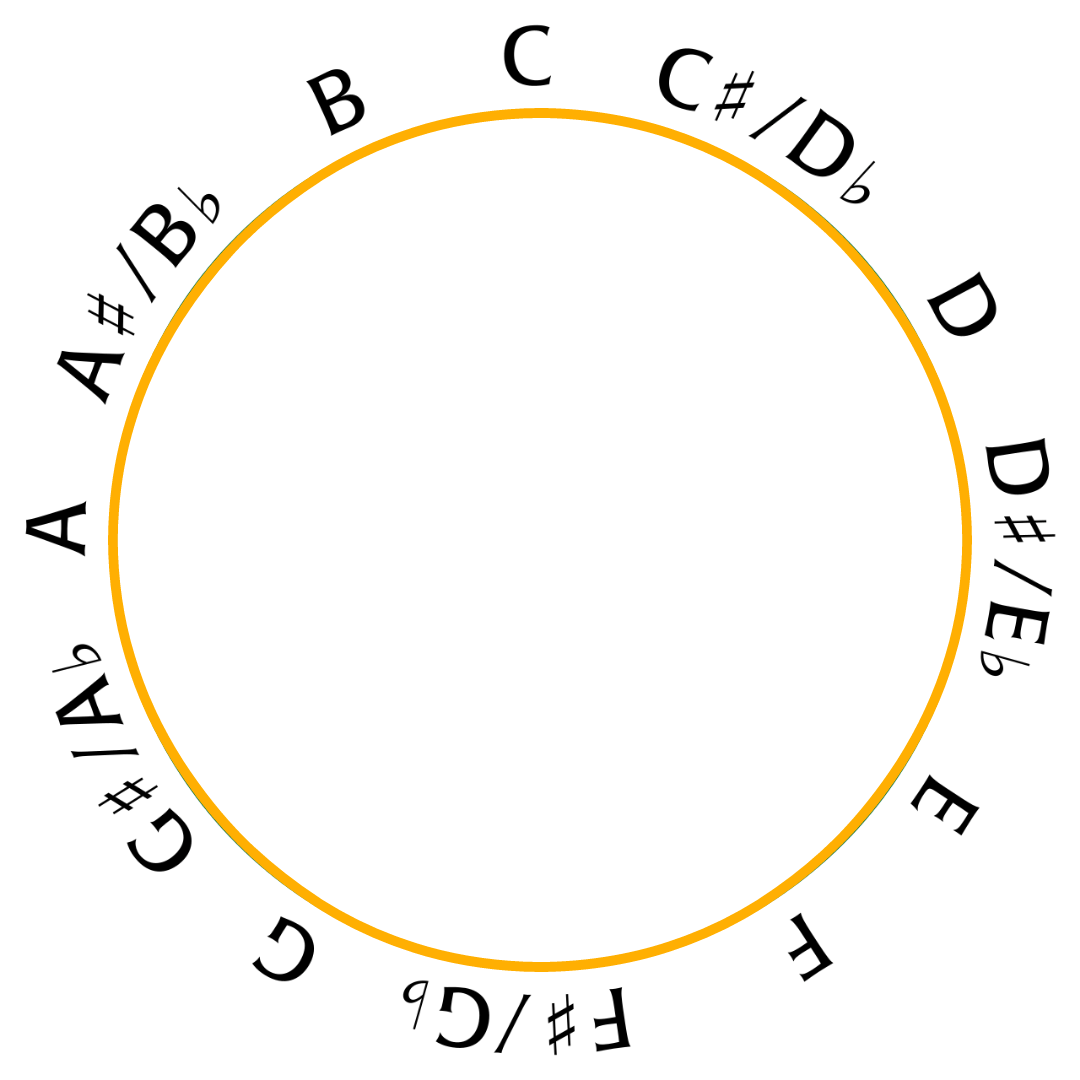 Any chromatic tuner lets you tune your instruments in alternative tunings, that is drop D, open D, G E, and flat tuning.
These types of tuners will detect any note that you play on your guitar and will display how flat or sharp you are relative to the nearest semitone.
Just that you can gain some perspective, a non-chromatic tuner can only recognize the notes of a guitar in standard tuning, meaning you can only tune EADGBE.
Polyphonic
When a tuner is polyphonic, a guitarist can simply strum the open strings on his guitar and recognize the individual ones that are out of tune and tune them.
That's actually one of the main advantages of a polyphonic tuner, being able to identify as quickly as possible which strings need adjustment.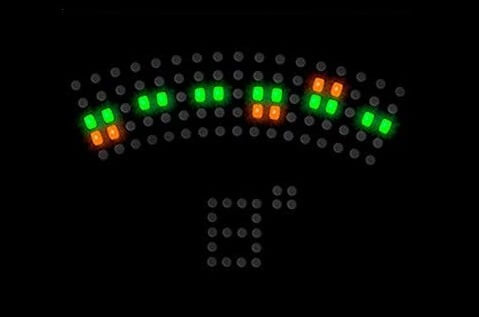 In the example above, we can see that the 6th, 3rd, and 2nd strings are out of tune.
For a live performer, or anyone playing in front of an audience, you can obviously see the benefits of something like this, since just a minute of silence can feel like forever when a solo artist is tuning its instrument.
Microphone
A microphone by itself won't be able to tune your instrument, but for instance, a web guitar tuner expects you to have one.
These mics can be either built-in or external, but either way, they're needed in some situations.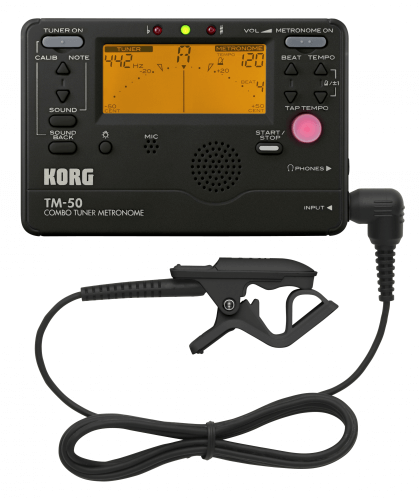 In the image above, you can see that an external mic is needed for this specific tuner, this specific one is the Korg TM50BK Combo Tuner Metronome.
If your guitar tuner doesn't use vibration sensors to detect the pitch of a string, it most likely uses a microphone.
These types of tuners are less accurate since they tend to catch background noises as well, but they are the least expensive options out there and will definitely get the job done.
These are obviously not valuable in live events because you'll have to start ringing your guitar strings one by one to properly tune them.
Strobe
The word "strobe" is a short term for "stroboscopic."
Out of all the tuners that you'll find out there, strobe tuners are the most accurate ones.
A strobe tuner is able to show you the difference between a reference frequency and the musical note being played, and this can happen even with the slightest difference between the two.
The way that these tuners work is essentially by using a mechanical spinning disk with a strobe pattern that's backlit by lights that flash at a rate similar to the frequency of the signal being analyzed.
Once you've correctly tuned a certain string, the speed of the disk will match the rate of the flashing lights, which will make it seem as if the disk stopped moving.
Although in general, they will be more costly, for some people, this exactness is quite often what makes them worth paying for.
These are the go-to for guitar technicians, manufactures, and professional players.
To further understand how a strobe tuner works, make sure to watch this YouTube video by PetersonTuners:
How Does A Strobe Tuner Work?
Mobile app
Mobile app tuners have become one of the most easy-to-use and common types of guitar tuners.
Nowadays, with the increasing development of technology that we possess, smartphone microphones continue to get better and tuner apps have inevitably also gotten way more reliable.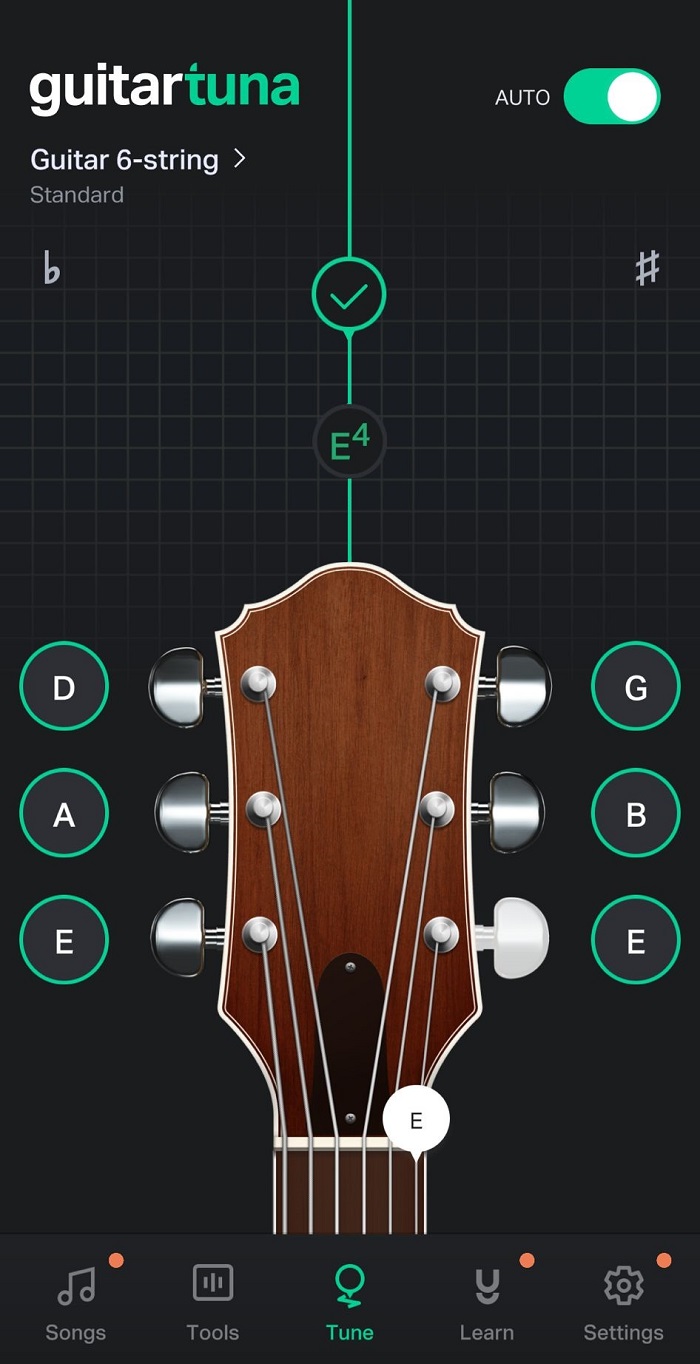 As long as there is little ambient noise around, most tuner apps are usually accurate within +/- 1-3 cents (remember that the human ear can only detect pitch changes of about 5 cents).
To put it another way, if you tune a guitar with the most accurate tuner in the world and tune a second guitar with a mobile app, any normal person won't be able to tell the difference between the two.
Of course, the discrepancy will be there, but still, for daily users and non-professional players, the apps will do the trick.
Where does a tuner pedal go in the pedalboard signal chain?
In the effect signal chain, the tuner pedal should be placed first.
The reason why is that this ensures that the pedal receives the cleanest and most precise signal possible from your guitar so that it can then inspect and analyze its pitch.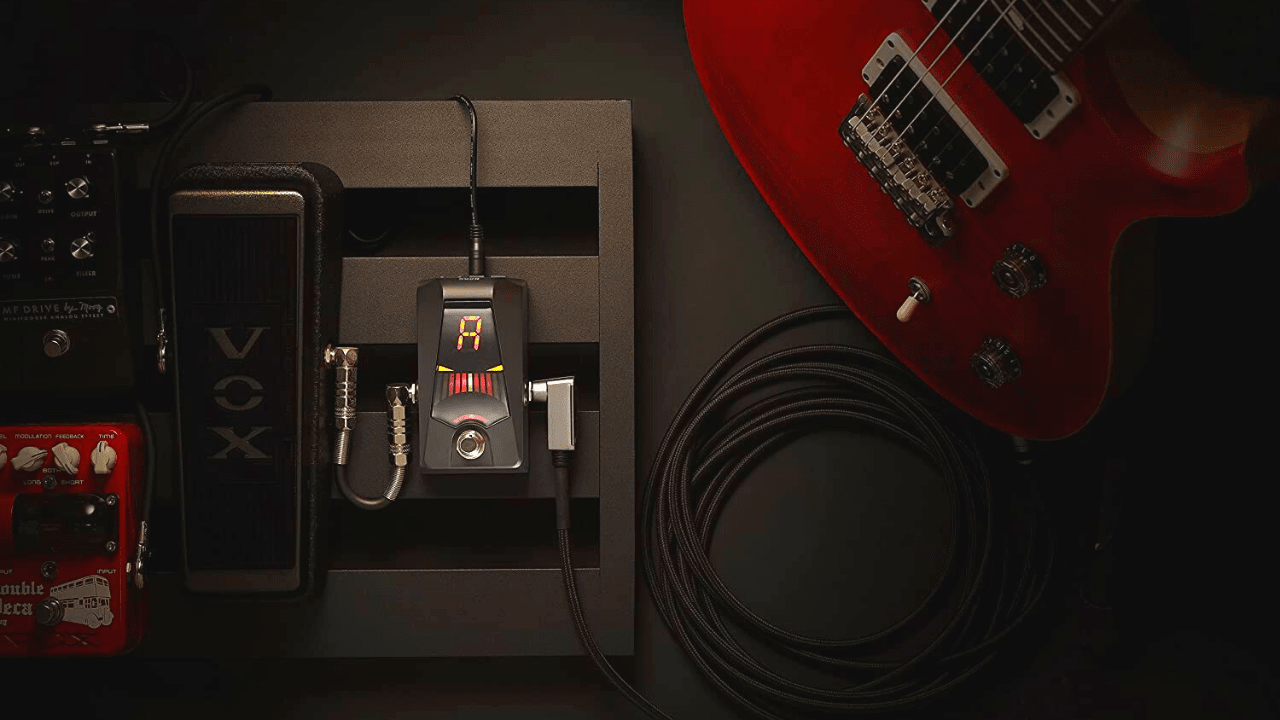 Just imagine that you place a tuner pedal after other effects such as a wah, an equalizer, or even distortion, chorus, or delay.
Although it can be possible to tune a guitar in such a position, the signal that the pedal will receive will be distorted and its pitch information will most likely be less accurate.
For that reason, placing it before anything else is for sure the best way to do it.
Do guitars have built-in tuners?
No, most guitars don't have built-in tuners unless we're talking about acoustic-electric guitars, which in that case, yes, most if not all of them have tuners.
A standard acoustic-electric guitar comes equipped with an equalizer, bass, treble, and volume controls, and needless to say, a built-in tuner.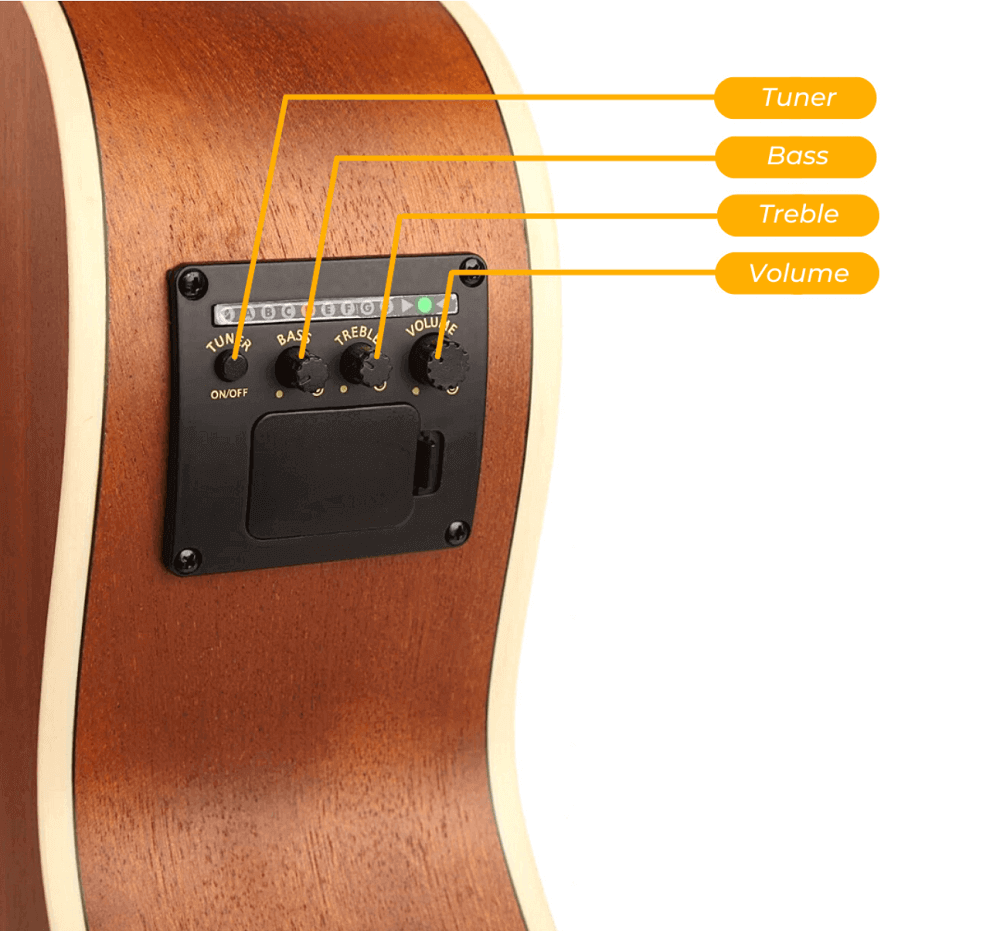 If you simply read a guitar's product description, you should be able to tell whether or not they have these features.
Usually, this type of tuner is very simple to use, you'll most likely just have to push a switch button and your string's pitch information will start being displayed to you as you ring them.
Are guitar tuners necessary?
Every single guitar player should have a tuner, regardless of their level of proficiency and devotion.
It doesn't matter if it's a web, mobile app, clip-on, or a pedal tuner; anything as long as you're able to rely on something more than just your ears.
Even though some musicians certainly can tune their guitars to a near-perfect degree by just using their ears, it's just far better to do it with the help of technology.
If you're a beginner, I encourage you to watch this video by Acoustic Life on YouTube:
How to Tune a Guitar [For Beginners]
He will not only show you how to tune a guitar but will also show you how to use the guitar tuner itself.
Aside from that, he'll also help you memorize the name of the notes in standard tuning and will share some other tips that you can use to successfully do so.
One last thing
GuitarBased.com is all about showing you a little bit more about guitars each day and finding ways to innovate and have fun with this beautiful instrument that we love.
If you enjoyed this post, then I invite you to go check out our blog!
We're always sharing a lot of useful and helpful content that both beginners and advanced players can use to further their playing abilities.
As always, thank you for reading and being here! 🤘