What are the best 12-string electric guitars out there?
I've also been there: you do a quick search on Google, and then get presented with more than 100 guitar options to choose from.
Everybody has a different opinion and after reading more than ten different pages, you don't know who to actually trust nor what to believe.
In today's post, I will give you yet another opinion, but with a different approach than everybody else.
Instead of just throwing a bunch of guitar brand names at you, I will keep the comparison as practical as possible by considering tone, playability, price, and what experiences other people have had so far with each guitar that gets a mention.
Let's start…
Best 12-String Electric Guitars
Ibanez Artcore AS7312 12-String Electric Guitar

(link to Amazon.com)

The Ibanez Artcore AS7312 12-String Electric Guitar has been used by many guitar players out there.
It features a maple top, back, and sides, and Bound Rosewood fretboard.
With a 3-way pickup selector, pearl dot inlay, dual humbucking pickups, ART-12 bridge, and individual volume and tone controls, this guitar will deliver you that killer tone that most people wish to have.
While its price might be slightly outside of what's considered "normal" to spend as a beginner, this 12-string electric guitar really is a great choice to consider.
Dean BOCA 12 String Semi-Hollow Body Electric Guitar

(link to Amazon.com)

This Dean BOCA 12-string semi-hollow body electric guitar has a bolt-on neck, a Mahogany top, a rosewood fingerboard, and a semi-hollow body with an arched top.
Featuring chrome hardware, a mahogany body, dual humbuckers, and an adjustable bridge with a stop tailpiece, this guitar has proven to be a great choice for that jangly classic rock sound.
Some other characteristics about this guitar that might be very appealing for a lot of guitar players out there are that it has a mini Grover tuner, C-neck shape, Tune-O-Matic bridge, and Trans Cherry Burst finish.
Gretsch G5422G-12 Electric Guitar

(link to Amazon.com)

The Gretsch G5422G-12 electric guitar is another great choice that should get a mention on this list.
It has a double-cutaway body shape, with maple wood and gloss finish and it features a standard truss rod, a rosewood fretboard, and blacktop Filter'Tron humbucker bridge and neck pickups.
With controls such as master volume, master tone, neck volume, bridge volume, and a 3-way toggle pickup switch, you will be able to adjust its tone to whatever standards you have when playing and will be able to get that classically lush 12-string chime and jangle.
Danelectro 12SDC 12-String Electric Guitar 

(link to Amazon.com)

Ever heard of the Danelectro 12SDC 12-string electric guitar?
This one might be less popular than a few other guitars on this list, but it has definitely brought a lot of "joy" to some guitarists out there.
This guitar has a '59 style double-cutaway body made of laminated wood, and it features a Matte body finish, satin neck finish, and bolt-on joint.
It captures the jangly sounds of the '60s with two lipstick pickups, and it was modeled after the classic 59DC used by Jimmy Page.
Its wide neck makes the Danelectro 12-string very easy to play and a very great option for beginner guitarists.
Hagstrom VIDLX12-BLK Viking Deluxe Series Electric Guitar

(link to Amazon.com)

This Hagstrom VIDLX12-BLK Viking Deluxe Series electric guitar features a semi-hollow Contoured Ply Flamed maple body, a Flame maple top, and a Canadian hard Maple neck.
It has two Hagstrom HJ-50 pickups, a Resinator fretboard with Hagstrom pearl block position marks, an H-Expander truss rod, Hagstrom 18:1 Die-Cast tuning keys, and a 3-way toggle switch pickup selector.
It also features a long travel Tune-O-Matic with Hagstrom stop tail bridge, and two volumes, and tone controls.
Guitarists have generally used this 12-string electric guitar for genres such as blues, rock, and even jazz.
What should you look for in a 12-string electric guitar?
If you are trying to buy a 12-string electric guitar, then you should obviously look for one that's both affordable and high in quality.
While this is not an easy task, it's definitely possible! There are some guitars out there that do give you a great balance between how much money you spend and how good the guitar is.
A 12-string electric guitar, for the most part, functions just like a regular electric guitar. Anything that you would look for in a 6-string electric guitar would also apply to a 12-string guitar.
In other words, things like the type of wood in each and every part of the guitar (neck, body, fretboard, etc), the hardware, and body shape, should matter in your decision making.
Are you a solo musician that is looking to thicken its sound? Or are you simply looking to have some fun playing a 12-string guitar?
Most of the time, guitar players buy 12-string guitars because of the great tone that can be achieved with them, but some others just want to have some fun playing them.
These 12-string guitars help in fact with adding more thickness and brightness to any guitarist's sound, so they serve a bigger purpose other than just having a good time playing.
Take a look a look a this Danelectro demo video by RJ Ronquillo, for example:
Danelectro 59X12 - 12 String Electric Guitar - demo by RJ Ronquillo
You will notice that having more strings will inevitably give others the impression that there's more than one guitar being played; your guitar tone will be louder, brighter, and fuller.
I would say if you're looking for a specific sound, then before making any purchase online, play the guitar at a local guitar store, or at the very least, look up videos of people playing it and see if that's actually what you really want.
What things did you have in mind when choosing these guitars?
I get this question a lot and I genuinely believe that it should be answered every time a list like this gets written.
This is because I think it's very beneficial to you when you know why you should trust somebody else's opinion on a topic like this one, and how we decide which guitar is better than another.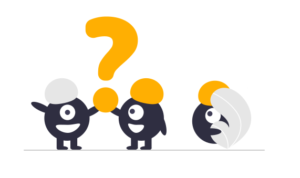 Whenever we put out a list like this one, it honestly doesn't mean that these guitars are the "absolute best of the best".
There are surely many more guitars out there that deserve to be mentioned in a "best 12-string electric guitars" list, but then this list would be huge.
What we did was that we selected a considerable number of the best 12-string electric guitars out there, and then by process of elimination, we left just a handful of choices.
Price, online reviews, demo videos, features, and even personal experience were some of the things that we took into account.
Which one of these 12-string electric guitars is the best for beginners?
As a beginner, it's always good to go for high-quality instruments because of how pleasant and easier the learning process generally tends to be.
I believe that when somebody asks this type of question, they wish to get a direct answer, but this is somewhat not very easy to do.
Nowadays, there are many options to choose from, literally.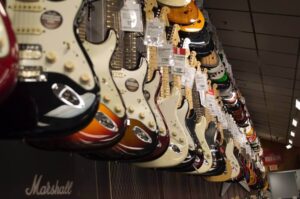 All of them are "good" for beginners!
But…
This doesn't mean that a cheap guitar won't work for you either, theoretically, it will. The best guitar for any beginner, as I always say, is the one that you never get tired of playing every single day.
How to tune a 12-string electric guitar?
There are many differences between tuning a 12-string guitar and tuning a 6-string guitar, the first one and most obvious is that, well, you have twelve strings instead of six.
The standard tuning is for any 12-string guitar is E3•E2 A3•A2 D4•D3 G4•G3 B3•B3 E4•E4.
In other words, you're simply tuning your 12-string guitar in the same way as you would tune a 6-string guitar but with the first four (from lowest to highest) being one octave apart, and the first two (from highest to lowest) tuned in unison.
To give you a better understanding, let's take a look at a screenshot of the GuitarTuna app, which we really recommend you download and use for tuning your instruments.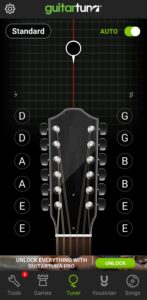 As you can see, you will essentially tune your guitar in the same exact standard tuning: EADGBE
But in this case, you have 12-string, and just like I mentioned before, the first four strings (6th – 3rd) are one octave apart, and the first two (2nd and 1st) are tuned in unison.
Is a 12-string electric guitar harder to play than a regular 6-string electric guitar?
A 12-string electric guitar is not necessarily harder to play than a regular 6-string electric guitar, but if it's your first time playing one, you will inevitably feel a few small differences.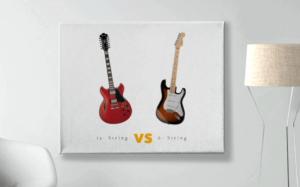 For example, the neck of a 12-string electric guitar is wider, therefore it could make it harder to play for people with either small hands or those who are used to playing guitars that have thinner necks.
We have mentioned in other articles how having small hands doesn't really affect your ability to learn to play guitars, but we should also never fail to mention that for a few people, it does actually get more challenging, especially for beginners.
Read the full article here:
Another difference between these two types of guitars is that 12-string electric guitars are heavier.
In other words, as a result of having to support the increased string tension of twelve different strings, just like we said before, 12-string electric guitars will usually have a wider and thicker neck, which makes the guitar itself weigh more than a regular 6-string guitar.
Lastly, some people might also feel like it's harder to fret strings when playing a 12-string electric guitar.
Because you are pressing down two strings on a 12-string guitar for every one string on a 6-string guitar, then more pressure will be required to press the strings against the frets.