What the best electric guitars for blues?
It is a fact that you can "play" blues with almost any electric guitar, but there seems to be a big difference in tone, playability, and affordability among many of the most popular options that tend to get the label of "best" for this genre itself.
In the past, the best blues guitar was simply the one that the musician could get their hands on.
Today, I will be considering tone, playability, price, what experiences people have had so far with each guitar that we mention, and why people usually prefer them over any other electric guitar.
Aside from that, I will answer some of the most popular questions that people usually have when they're doing this type of research.
Let's get started!
Best Electric Guitars for Blues
Fender American Special Stratocaster
(link to Amazon.com)
This Fender American Special Stratocaster has always been a unique guitar.
It is said that this guitar "delivers traditional design elements from its birth in 1954", which means that you will get those old tones, but at the same time, a taste of the fresh technologies of today.
With the opportunities of having a wide range of sounds from Rock, to Jazz, or Country to Blues, via the overwound single-coil Texas Special pickups, this guitar is will let you experiment with your style to play however you want.
It features a C modern neck shape, a maple neck wood, Satin neck finish, a 5-way pickup selector, Vintage-style tuning machines, and a Greasebucket Tone Circuit headstock.
Gibson Les Paul Traditional Electric Guitar
(link to Amazon.com)

The Gibson Les Paul Traditional electric guitar has been used by blues guitar players almost ever since it was invented.
This guitar keeps that vintage tone that was used in the past, and at the same time, delivers a fresh sound out of the ultimate technologies that have been put out there by the brand.
It features the legendary look that these are generally known for, traditional manual tuners, thicker one-piece rosewood fingerboard, and 57 Classic humbucking pickups.
Gibson ES-339 Semi-Hollowbody Electric Guitar
(link to Amazon.com)

This Gibson ES-339 Semi-Hollowbody electric guitar features a classic ES-335 shape body, a rosewood fingerboard with small block inlays, an ABR-1 bridge with titanium saddles, and a high-gloss nitrocellulose lacquer finish.
This guitar has retro style tuners, and also a lower fret height that gives a "smooth playability and accurate intonation".
Its pickups are calibrated to produce brighter sounds, and it will deliver you any tone that you want it to give you.
Ibanez AS153AYS Artstar Semi-Hollow Electric Guitar
(link to Amazon.com)

The Ibanez AS153AYS Artstar semi-hollow electric guitar has a Maple set-in neck and flamed maple top, back, and sides.
It features a Bound Ebony fretboard with medium frets with Artstar fret edge treatment and an ART-1 bridge.
Its pickups are mounted into a sustain block, which somewhat helps to increase sustain and feedback elimination.
Many people usually see Ibanez as something else rather than a brand for blues guitarists, this guitar demonstrates just the opposite.
Fender American Special Telecaster
(link to Amazon.com)
The Fender American Special Telecaster is another electric guitar that has always been used by many blues guitar players around the world.
It features a solid body type with the classic Telecaster shape and a Modern C neck shape, and it has 2 Texas Special pickups with a 3-way pickup selector that will let you change which pickup is being used every time you want.
This guitar will get you, as many on this list, a very vintage and classic tone of blues that is very desirable among many guitarists today.
Gibson SG Standard Electric Guitar
(link to Amazon.com)

This Gibson SG Standard electric guitar is one that deserved to be mentioned on this list at the very least.
This guitar became a very mentioned one in the music industry, and many professional guitar players started using it ever since.
It has a double-cutaway beveled mahogany body, a set mahogany neck with rounded '50s profile, a bound rosewood fingerboard with trapezoid inlays, and a Tune-O-Matic bridge with stop bar tailpiece.
As I said, many guitar players have been using it for a wide variation of genres, but mostly blues or rock are the ones that this guitar has been used for the most.
Eastwood Airline Bighorn
(link to Amazon.com)

This Eastwood Airline Bighorn electric guitar has a solid body, a maple neck, and it features Dual Airline Argyle Pickups.
This release is based on the original 1960s model, but it has an updated adjustable bridge and truss rod.
This guitar has a Basswood body, a 3-way pickup selector, and a Maple bolt-on neck with a Maple fingerboard with dot markers.
Its hardware consists of Vintage Kluson Style Nickel and Chrome. If you are looking for a very classic 60s tone, then this guitar is definitely one that you should be looking into.
Godin 5th Avenue CW Electric Guitar
(link to Amazon.com)
This Godin 5th Avenue CW Electric Guitar has certainly been used by a big number of musicians to play blues.
This guitar is made in North America. It has a double-action truss rod, featuring a Canadian silver Leaf Maple neck.
It has a cut-away Body and it comes with 2 Godin Kingpin P90 single-coil pickups.
People love this guitar, but for some, the price might be a little too high for their budget if they are just doing it for the playing and not really minding the tone and small details of the guitar.
Epiphone ES-339 Semi-Hollow Body Electric Guitar
(link to Amazon.com)

This Epiphone ES-339 Semi-Hollow body electric guitar has a Slim Taper "D" profile neck that is good for both comfort and fast action, a Mahogany neck, and an all nickel plated hardware.
Aside from that, it features a double-cutaway body shape, laminated body material, and gloss body finish.
With a rosewood fretboard, a P-90T bridge, and neck, Deluxe tulip tuning machines, and controls such as volume and tone, you will be able to experiment with how you sound, to make it as unique as you want.
PRS CM2VST SE Custom 22 Electric Guitar
(link to Amazon.com)

This PRS CM2VST SE Custom 22 electric guitar features a maple top with Flame Maple Veneer, and it also has mahogany back, a rosewood fretboard, and a wide thin maple neck.
With its nickel hardware, its PRS patented tremolo bridge, and its 3-way toggle pickup switch, this electric guitar will be that one guitar that will just feel different in a good way.
It also includes dual humbuckers with volume and tone controls so you can always make it sound as you want.
What to consider before buying an electric guitar to play blues?
There are certainly many different ways to go about buying an electric guitar that will specifically be used for playing blues.
Let's take a look at some of the things that everybody should have in mind before buying a guitar, and how you should go about choosing your next instrument:
Budget:
This is a question that you should really ask yourself:
"How much money am I willing to spend?"
The reason why this is so important is that, well, it's no secret that the more money you spend on a guitar, the higher the quality will be.
Some guitars that we previously mentioned are in the $100 – $200 range, but some others are in the $500 – $1000 range.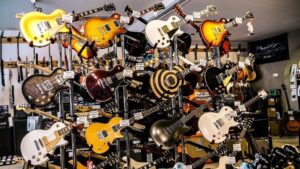 As one would expect, those that cost more money have better playability and allow for more versatility and sound quality.
Numerous people think that learning with an expensive guitar is better than learning with a cheap guitar, and they are correct to some extent.
This is because guitars are generally produced at a cost that permits some profit to the manufacturer, so having a low cost definitely implies having an inadequate mechanical production system with bad quality control for each instrument.
On the other hand, some others say that it truly isn't a matter of the quality of the guitar, but how much effort you put into figuring out how to play.
I personally learned to play guitar with a $30 acoustic guitar.
At the end of the day, I figured out how to play, which is basically what's significant, yet I could never recommend this to beginners since it truly makes it harder to get started for those that have never touched a guitar in their lives.
Playing style:
Have you researched the guitars that your favorite blues guitarist use?
Chance are, you have a few blues guitarists that you look up to, or at the very least love their guitar tone.
"LONESOME BLUES" | Delta Blues Electric Guitar
This could be a really good starting point for you to know what you naturally like and appreciate in a blues guitar.
Some people choose to just buy the exact guitar that their favorite guitarist play, some others just get inspired by them and choose to play a different guitar.
Whether or not you do this, it can really help you narrow down some of the many options out there.
Strings:
You shouldn't really base your decision just on what strings the electric guitar originally comes with, since you can easily change them anytime, but you should definitely know that this is a big factor in how well your tone will be.
This is especially helpful to keep in mind when you're testing guitars at your local guitar store, and you get to feel the guitar with your own hands before buying it.
It doesn't matter what guitar you have, if you are using low-quality strings, then you will sound very bad.
Should you buy an electric blues guitar or an acoustic blues guitar?
Many people ask themselves this question at first because they don't know what style of blues they want to stick to.
You would have to think for yourself about what songs and players you like to listen to the most and see what is it that you really love about them.
An electric guitar will allow you to both, play with a clean tone, and use overdrive or distortion to get a heavier sound.
In the last couple of years, we have seen a huge amount of bands playing with a "heavier" style, for example, The Black Keys.
But at the same time, the old acoustic blues will also never disappear.
What makes an electric guitar good for playing blues?
I can go ahead and start mentioning a bunch of features and types of wood that will compliment your playing and guitar.
But playing blues has always been something more than that.
That's why I always say that the best electric guitars for blues are those that you really feel a connection with.
This might sound weird to some people but the guitar that you play should really be one that you enjoy playing the most no matter what.
You should get the one that you can afford, sounds good to your ears, and instantly like.