What are the best soundproof curtains out there?
In this noisy world, it's very challenging to stay away from annoying sounds whenever we're trying to record music at a home studio, or maybe just watch a movie at our home theater.
If you're looking for sound insulation in any of these settings, then noise reduction/soundproof curtains can be the cheapest (and in many cases the best) option to consider first.
But do noise reduction curtains actually work? Are they worth all this hype?
In this post, I'll review the best soundproof curtains in terms of quality and price, and will also answer some of the most frequently asked questions around this topic.
Let's get started!
Best Soundproof Curtains
Summary of all the products that we'll talk about:
LORDTEX Dark Grey Room Divider Curtains
(link to Amazon.com)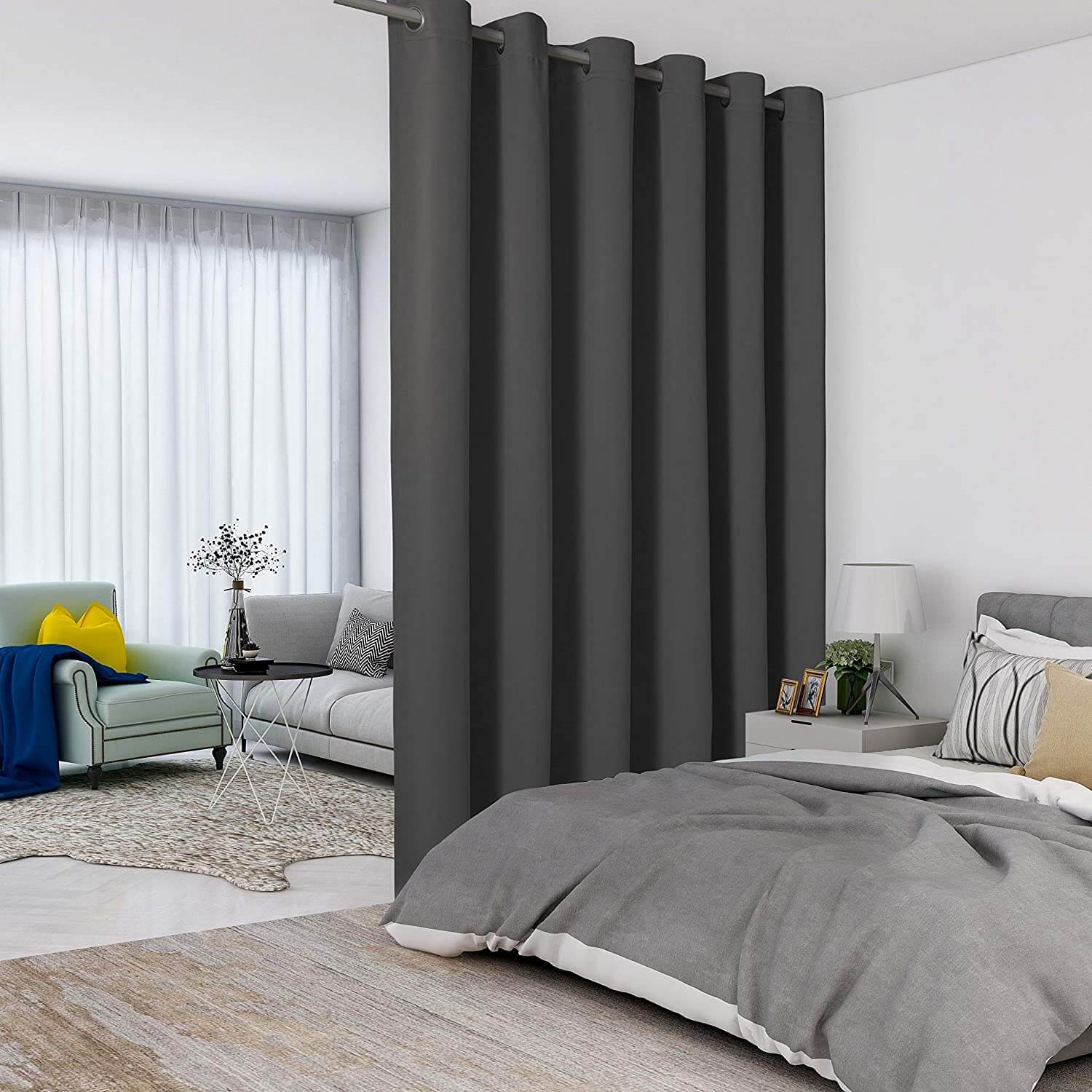 Room divider curtains from LORDTEX are made from a durable, soft, and thick triple tissue blackout fabric, which can block 90% of the sun and UV light.
These wide window panels are made for various locations and can help reduce noise from outside and isolate it from the summer heat and winter cool to save energy costs in both seasons.
Its darkening technology allows for the block of all unwanted lights and further improves your privacy inside the house.
Any busy roads and high-traffic noises are the perfect examples of those annoying sound signals that would be perfect to keep out with these curtains.
On the other hand, they are perfect for courtyard sliding doors, oversized windows, shared bedrooms, offices, study rooms, dorms, city lofts, and even hotels.
An important thing to have in mind is that yes, noise from outside will be reduced, but also whatever noise you make inside the actual room will also be kept from going outside.
This allows for any music and other instruments to be recorded at higher volumes without having to get complaints from neighbors or family members.
Pros:
Can be used in spatial division creation.
Stops any light from going through itself.
Significantly lowers noise.
By isolating heat and cold, you'll save energy costs.
Cons:
The quality of sound absorption is not as excellent as its ability to blackout.
The fabric is not as heavy, so liners may be necessary.
NICETOWN Soundproof Blackout Curtains
(link to Amazon.com)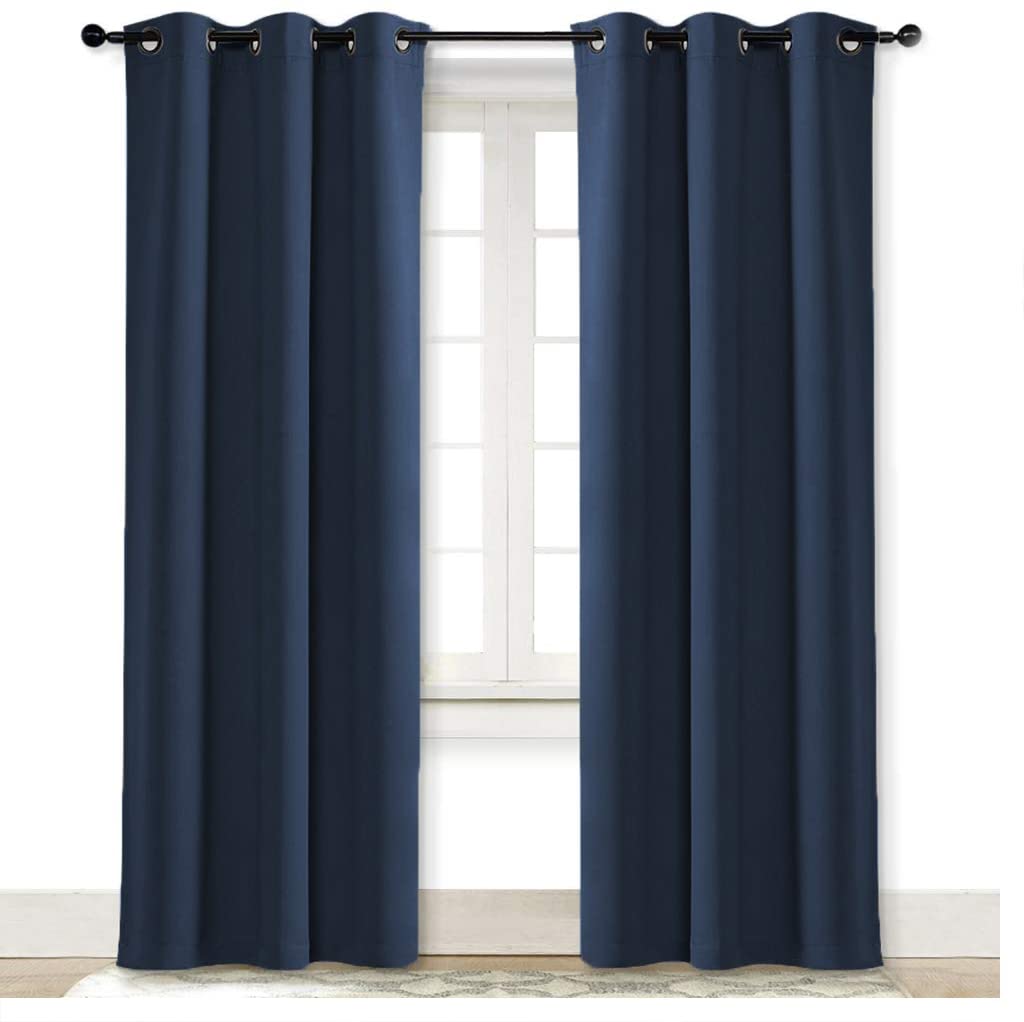 These Nicetown noise-reduction curtains are an excellent solution if you want stylish but more efficient curtains to reduce the amount of sound escaping your room rather than your average curtain.
Being washable will allow you to regularly keep them clean, though doing this is a fairly challenging task, the fact that they are waterproof matters for a lot of musicians nowadays.
They also have light-blocking capabilities, and even if some of them do not block 100% of incoming light, they are far better than many standard room curtains that are advertised as such.
In the end, you will do get the benefit of protecting your valuable instruments against harmful UV rays, which can discolor them very easily if the conditions are not perfect.
Nicetown curtains also offer an enormous range of color options, which means that your practice area can be fitted with the perfect color and style to match any previous palettes.
Pros:
Many color options to choose from.
Curtains are more dense than normal.
Very economical.
Rims use the same attractive textile front and back.
Cons:
Won't block 100% of incoming light.
Comes in a single panel.
BONZER Room Divider Soundproof Curtains
(link to Amazon.com)

BONZER room divider curtains are durable and also have a blackout fabric with soft and thick tissues, which can be used to block about 90% of sunlight and UV rays.
Just like a few other options on this list, its black window panels are easily able to fit in different locations and help reduce outside noise and isolate any room from extreme weather conditions.
If you're also looking for privacy improvements and the blackout of a certain space, then these curtains will also help you achieve that very easily.
On the other hand, if you just want to divide a room into two and block each other's view to create two different private spaces, this product is the perfect low-cost to that.
They are also washable but be careful, only use a cold-water washing machine, do not bleach, dry clean only, and if that wasn't enough, only iron them on low heat if required.
Pros:
Good quality.
Available in 10 colors.
Cons:
Can get easily wrinkled.
Some light can still go through.
Deconovo Room Darkening Noise Reducing Curtains
(link to Amazon.com)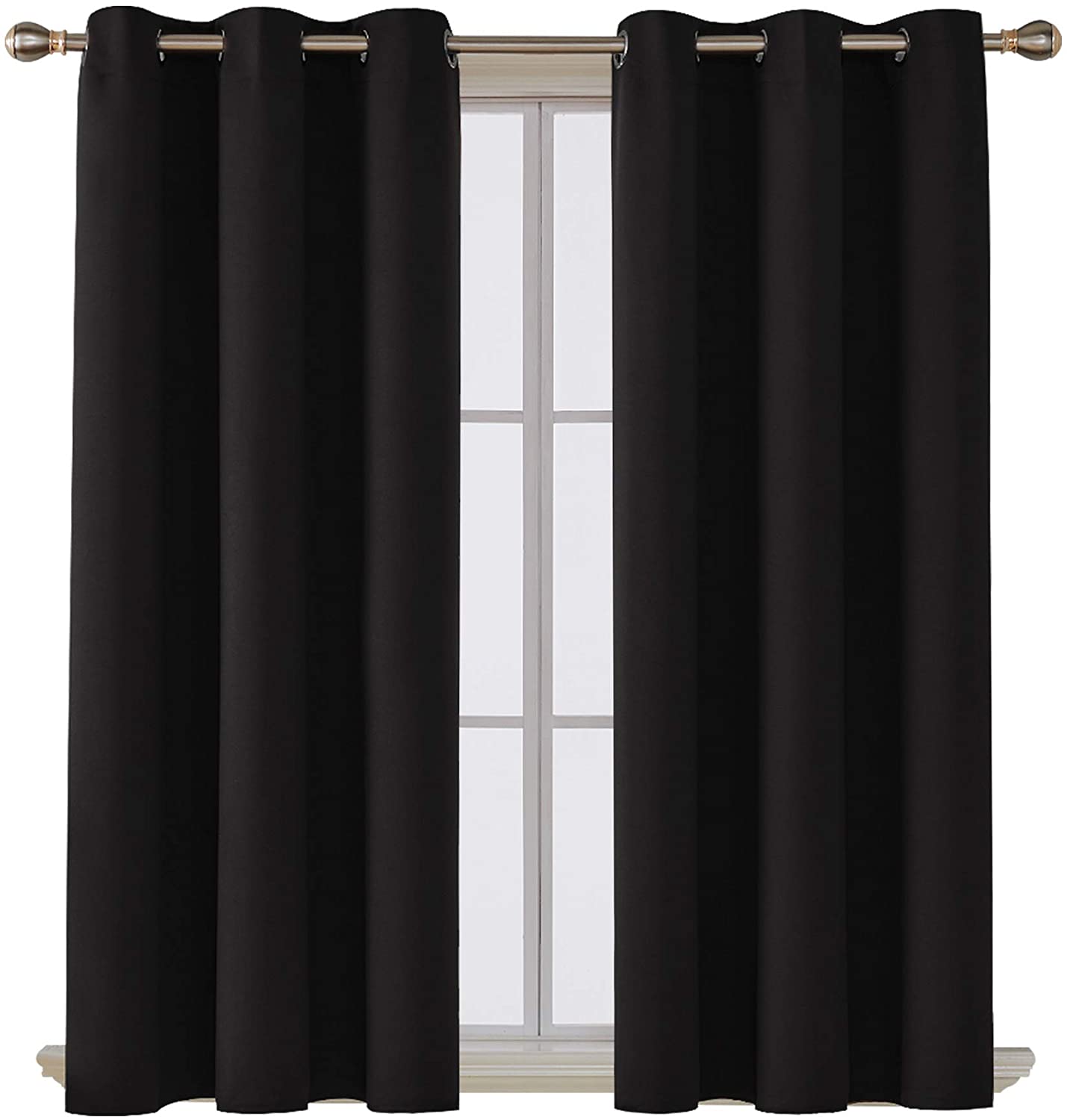 Here we have another set of thermal and soundproof curtains by Deconovo.
These are made of an intricate material that reduces sound transmission and improves thermal isolation in your home, similar to the Nicetown blackout curtain.
They come in a wide array of colors and are significantly better in terms of noise reduction when compared to standard curtains.
Make sure that they are as close as possible to the windows and doors to make maximum use of these features and capabilities.
These sound-blocking curtains are another solid, affordable curtain alternative to minimize the amount of sound that your instruments transmit into the outside of your home and vice versa.
They also have the advantage of reducing your energy charges as they have a generally much-improved insulation level.
Pros:
Polyester made.
A wide range of color choices.
Light and sound blocking.
Thicker than standard and most curtains.
Cons:
Do not completely decrease heavy sound signals.
Limited size options are available.
RYB HOME Sound Absorbing Blackout Curtains
(link to Amazon.com)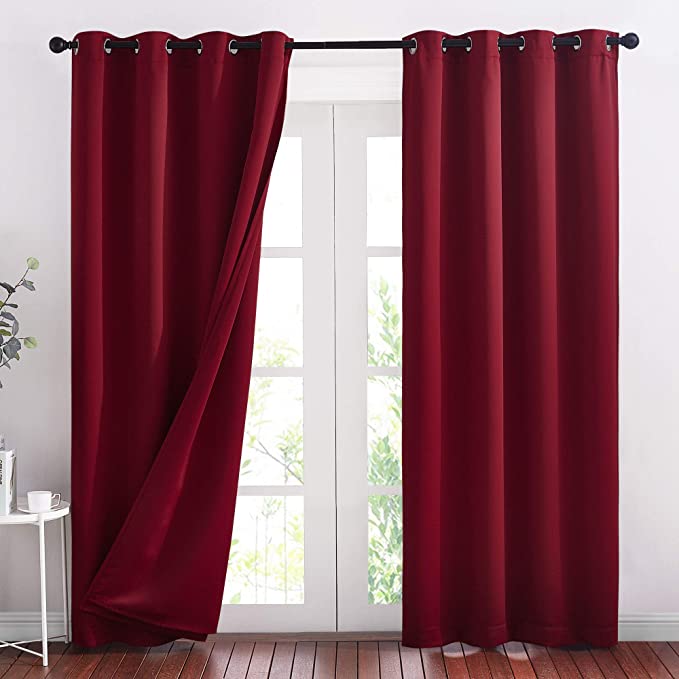 These curtains are designed for multifunctional purposes and help blackout sunlight up to 100%.
Its triple weave blackout fabric and 3 layers design make it possible to completely keep out the harsh light and UV rays.
The middle of the three-layer has a detachable material liner that makes the curtain more noise absorbent, in other words, you can detach and reinstall the felt liner through the sticky top by yourself.
Note that this exact felt liner can not absorb 100% noise, but will definitely reduce it to the maximum of its capacity.
On another note, RYB HOME's curtains are available and come in two separate panels with a total width of 104 inches.
You can either tie the curtain up with sightseeing straps or leave them untouched for complete privacy.
Its energy-efficient fabrics reduce the cost of heating and cooling while at the same time preventing sun exposure to your furniture.
Pros:
Outstanding quality.
Washable fabric makes cleaning and maintenance easy.
Thermal insulating material prevents light, isolates summer heat and chills in winter.
High quality and three-fold fabric of woven polyester offer more extended durability.
Cons:
Only four sizes are available for you to choose from.
The selection of color is very limited.
Hiasan Sound Blocking Room Divider Curtains
(link to Amazon.com)

These blackouts and energy-efficient space divider curtains consist of 100% durable and triple-weave polyester fabric.
They are heavy and thick and can block sunlight and room temperature by insulating against summer heat or winter cold.
About 90%-98% of sunlight will be blocked, hence any room temperature can easily be balanced with any of the darker colors designs.
The curtain has the same color on both sides, which for those of you looking for a room divider curtain, this simple feature ensures that both sides will be aesthetically compatible with the overall room appearance.
For complete privacy and soundproofing, reducing external noise, and creating a quiet and dark atmosphere, this Hiasan curtain is another excellent product that you should look into.
Pros:
Heavy blackout abilities.
Made of 100% durable and triple-weave polyester fabric.
Available in many different sizes.
Cons:
Requires careful washing and drying.
Excessive heat may damage this curtain.
FULAN Soundproof Living Room Curtains
(link to Amazon.com)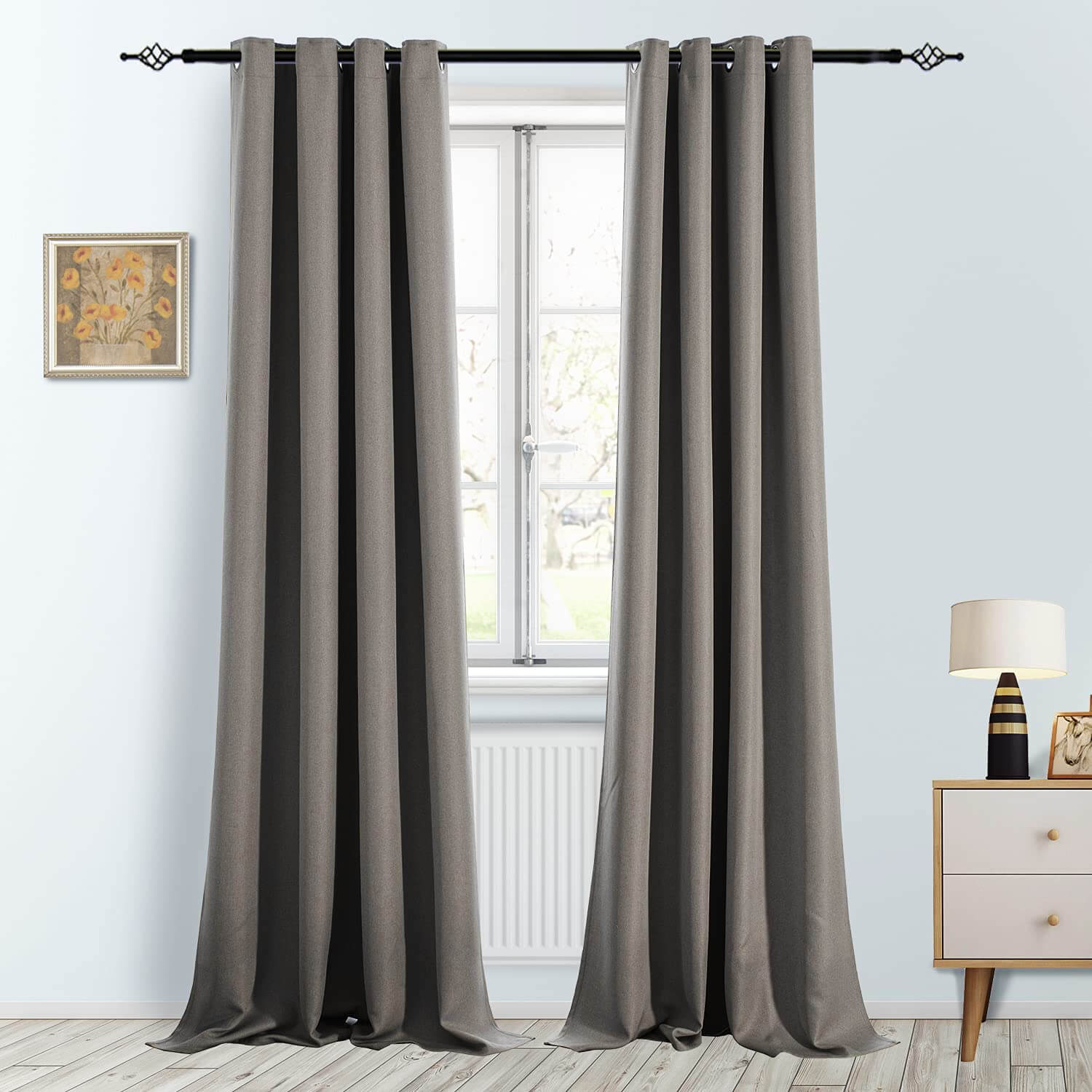 The classic Fulan curtain panel offers every home style and energy efficiency solution possible for those looking to soundproof a room.
The solid woven design with an easy hanging top grommet is perfect and fits any room decoration.
All panels are 100% polyester with a triple fabric design that blocks light, heat, and cold isolation.
At the same time, also know that just like other curtains on this list, the darker the color, the higher the ability of the material to decrease incoming light from getting through.
Not only do these look fantastic, but they also have a high efficiency on thermal isolation, darkening of any room, soundproofing, but if that wasn't enough, protection and privacy of any indoor space.
Pros:
Dynamic design options are available.
The quality of the fabric is great.
Very energy-efficient.
Cons:
Color options do not include full back.
NUTRO CHILL White Curtains Noise Reducing Curtains
(link to Amazon.com)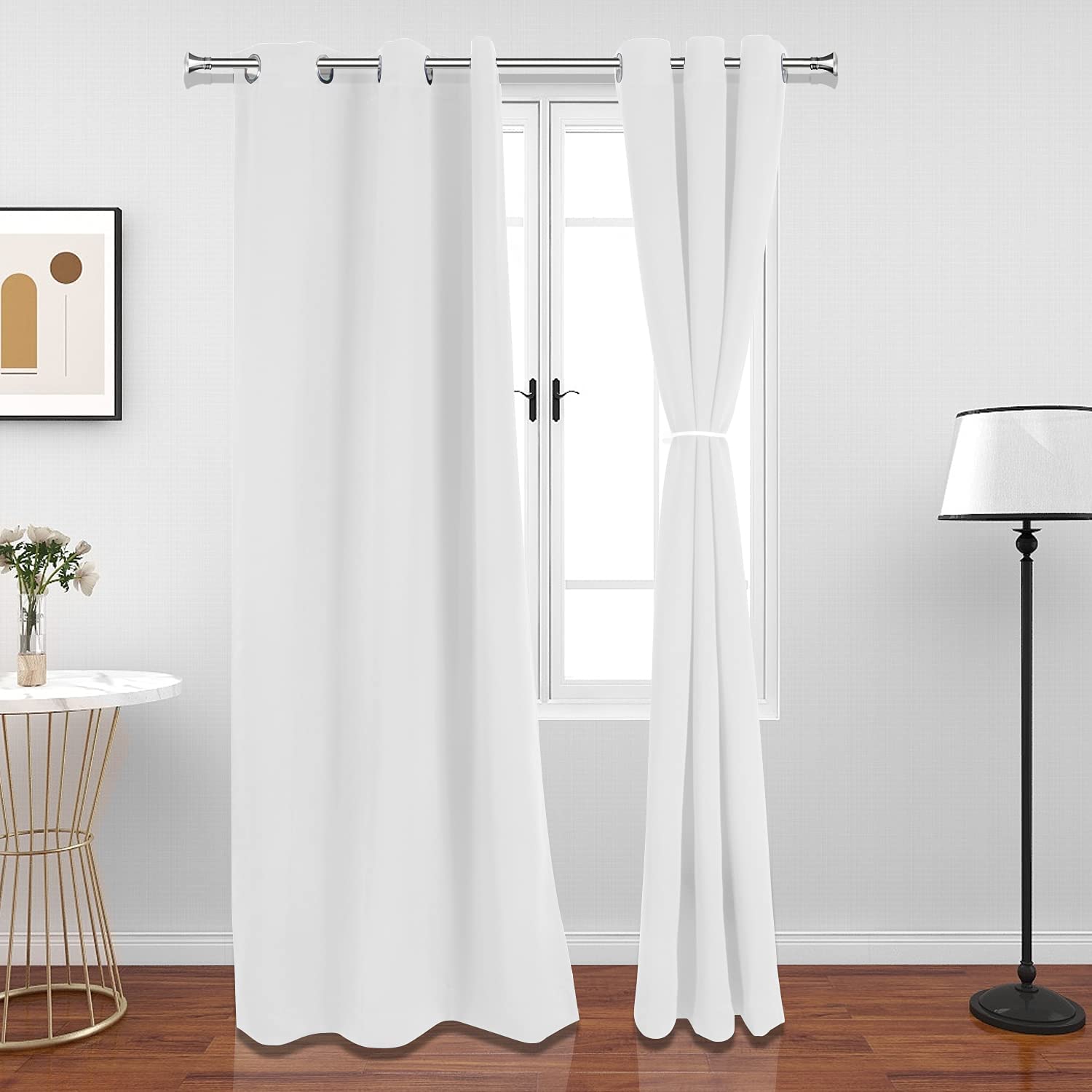 This NUTRO CHILL white curtain consists of high-weight blackout rims with three layers that can significantly reduce noise and offer you about 90% blocking light capabilities.
They are available in many different colors, which include beige, black, blue, grey, white, and mocha.
For those of you looking to soundproof a studio, or significantly reduce noise signals coming from outdoor sources, then these are another great curtains to look into.
No chemical coating, no formaldehyde, and being completely ECO-friendly are some of the best selling points from its manufacturer.
Aside from that, its good quality finishing will withstand years of use and they are also machine washable.
Pros:
Sustainable and ECO-friendly fabrics.
Very inexpensive.
Simple assembly and installation.
Machine washable.
Cons:
Light colors look slightly different from product pictures.
Beauoop Lattice Blackout Soundproof Curtains
(link to Amazon.com)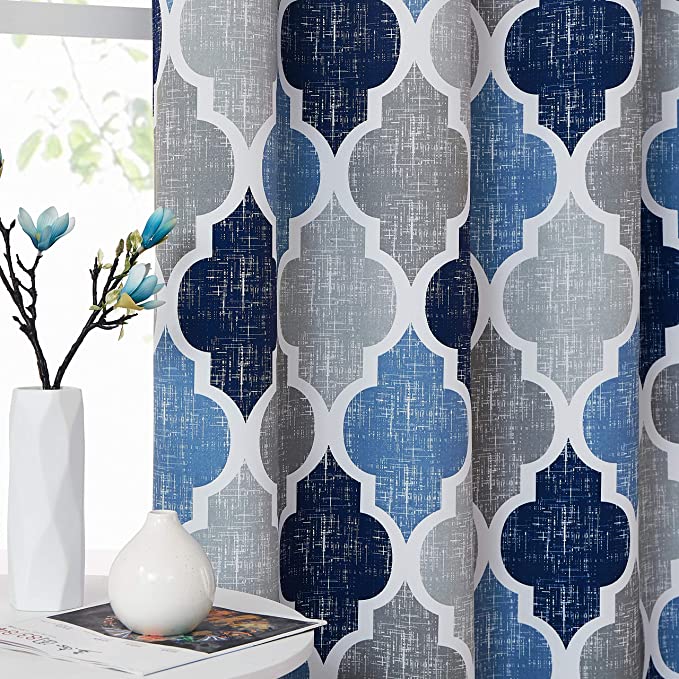 The curtains are made of triple-weave double-layer thermal insulated blackout fabric, which makes it very soft and for this purpose, they do a very good job of keeping the noise away.
The fabric looks smooth, is durable, and is highly environmentally friendly.
I wanted to share with you something outside of the classic solid color design that we're always seeing with these types of curtains.
As you can see, the geometric patterns on the blackout curtains add a gorgeous and contemporary sense to any room decoration.
The heavy blackout curtains can block out 95%-99% of light, in other words, it will ensure that only a tiny amount of natural light enters the room while still maintaining adequate privacy and soundproofing abilities.
Pros:
Different from all classic one solid color designs.
Blackout and absorption of sound.
Cons:
Can be an expensive alternative for some.
Colors can be slightly different from product pictures.
MIULEE 2 Panels Blackout Velvet Curtains
(link to Amazon.com)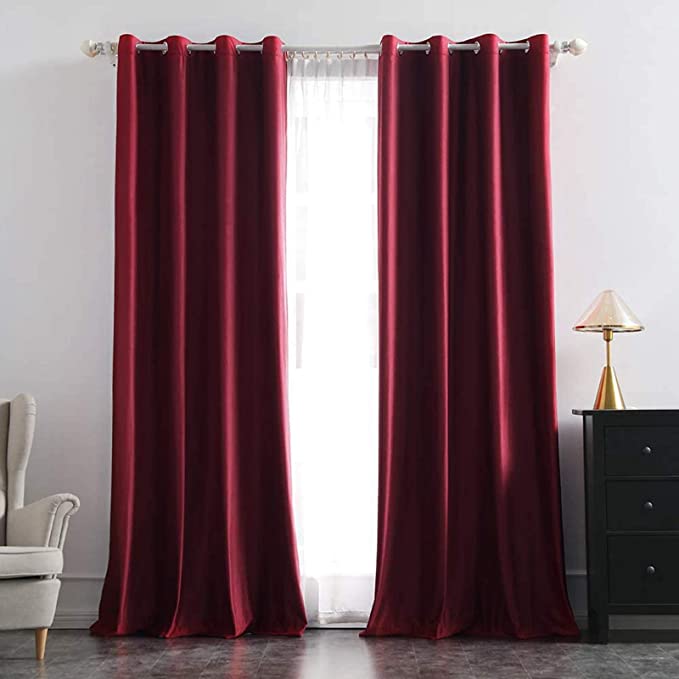 These thermally insulated and soundproof curtains are designed to also block light and noise signals from any outside sources.
Darker colored curtains can block about 70 percent of light and reduce heat during summer or stay warm in winter to achieve smart energy-saving and provide privacy to any room.
In a recording environment, these are perfect for any small home studio or similar project that requires noise to be kept out.
Out of all the other alternatives that we have already mentioned, MIULEE's curtains are the ones with easily the most color options to choose from (14 in total).
Some of the small details that this curtain has but most other lack is having a fine interior diameter of grommet hole of 1.6 inches and also being sewn very well at each edge of the curtain.
Pros:
Smart energy-saving.
Washable fabric.
Excellent material of excellent quality.
Cons:
How to select the best soundproof/noise-reducing curtains?
Many companies and brands seem very proud of claiming that they have and sell the best soundproof curtains, but the reality can be somewhat different.
In this section, we'll go over some of the things that you should look at and research more about before making any purchase and getting a new soundproof curtain set.
Size:
The main idea should be that the curtains are actually soundproof, but at the end of the day, if they don't cover an entire wall or window, then some noise signals will definitely be able to go through.
In this case, it highly depends on what you're trying to accomplish.
Do you want to soundproof an entire room? Or do you simply just want to isolate and soundproof a small window or door.
For the first scenario, you should have curtains that are long enough to entirely cover a wall from your ceiling to the ground.
On the other hand, if you just want to soundproof a certain window or door, you would just have to make sure that the curtains are long and wide enough to cover the actual size of the window.
In terms of understanding how these companies measure the length and width of their curtains, let's take a look at the following image: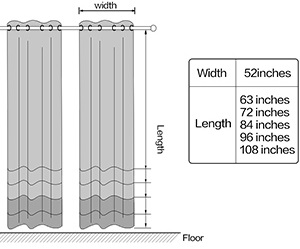 As you can see, you need to be careful whether or not they come as single panel or dual panels.
This will make a difference since manufactures tend to measure the width of just one panel instead of the entire curtains.
By having this in mind and paying great attention to all product descriptions you will prevent yourself from buying something that won't fit your necessities
The greater the cover, the greater the sound waves are absorbed, minimized, and degraded.
Overall weight:
Weight is also an important step when purchasing curtains, and is as important as height and width.
When you buy a curtain, you will most of the time just get the actual curtains and that's it.
You will need to buy the appropriate rod that's able to support these heavy curtains separately.
With that being said, if you believe that the heavier the curtains the more sound they will block, generally the answer is YES.
And this is because they will carry and have more layers and materials that will accurately stop and limit any noise.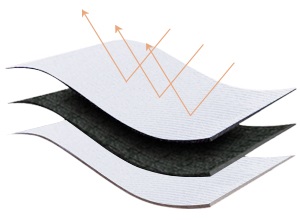 The lighter the weight, the less sound loss, and less absorption it generally causes.
Hanging these curtains is not easy either, but that is nothing compared to other soundproof alternatives out there such as building a new wall, floor, etc.
Let's take a look at LORDTEX's triple weave technology diagram: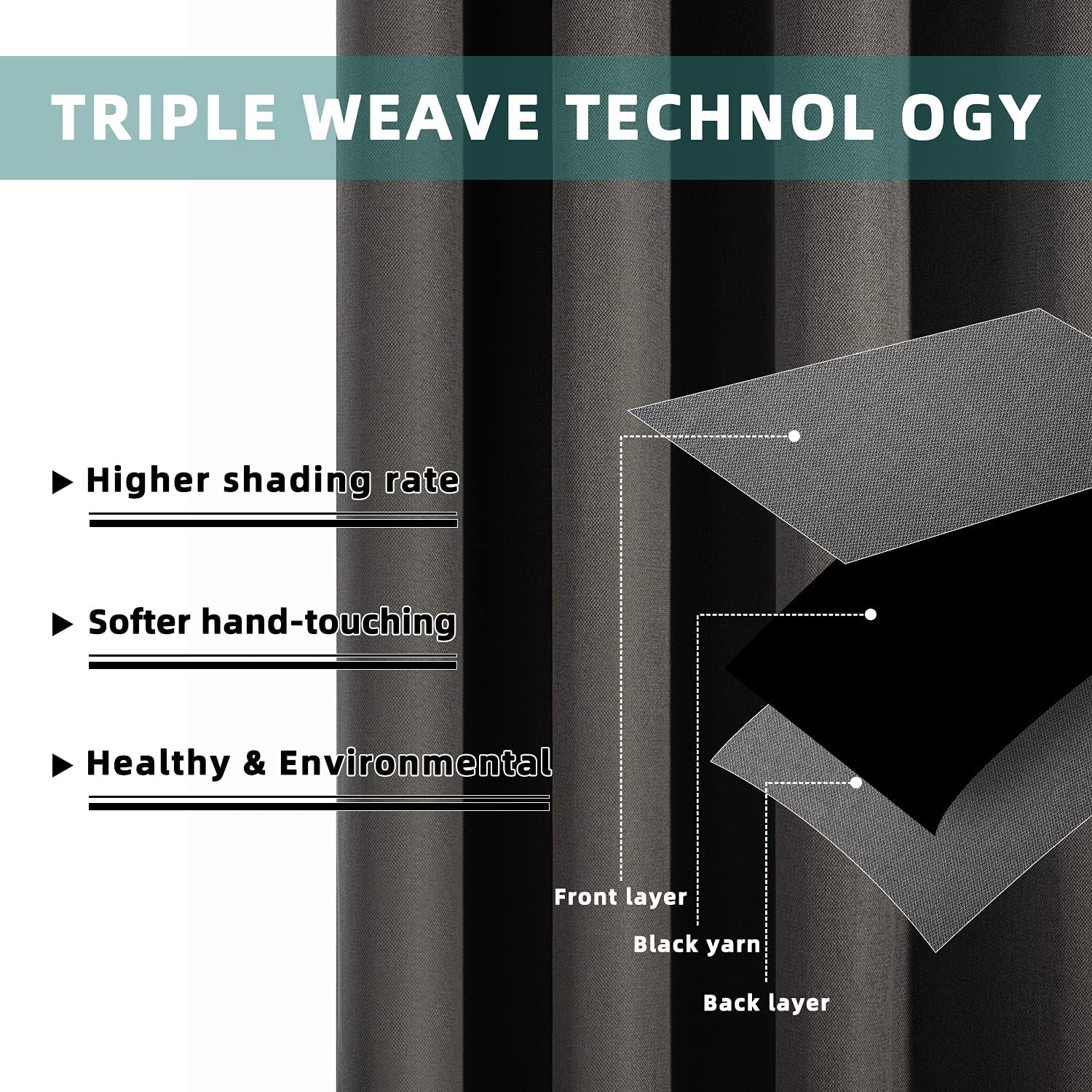 If you notice, the three different layers each have a unique purpose and provide a specific benefit to the curtain design.
From higher shading rate and softer hand-touching to healthy and environmentally friendliness.
When buying a soundproof curtain, make sure that at least one of these characteristics is included in the product.
Materials:
Extra fiber in curtains ensures that there is higher and better noise removal.
Usually, soundproof curtains are usually made with 100% polyester, suede, or velvet.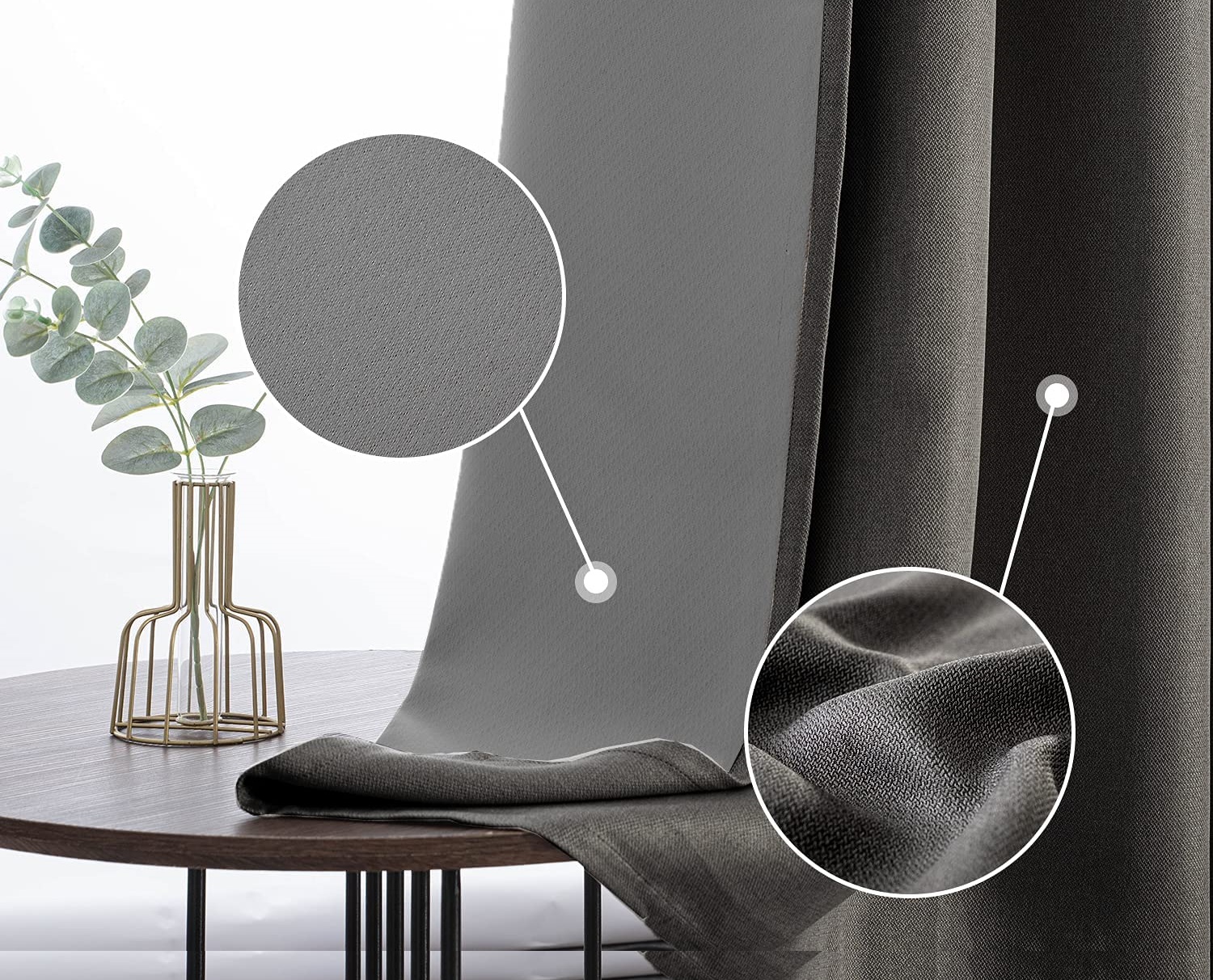 When looking at the different products available on the market, make sure that they use these materials or at least any other similar alternative that's as effective.
The other next best thing to do is see if the curtain quality has an extra thermal layer.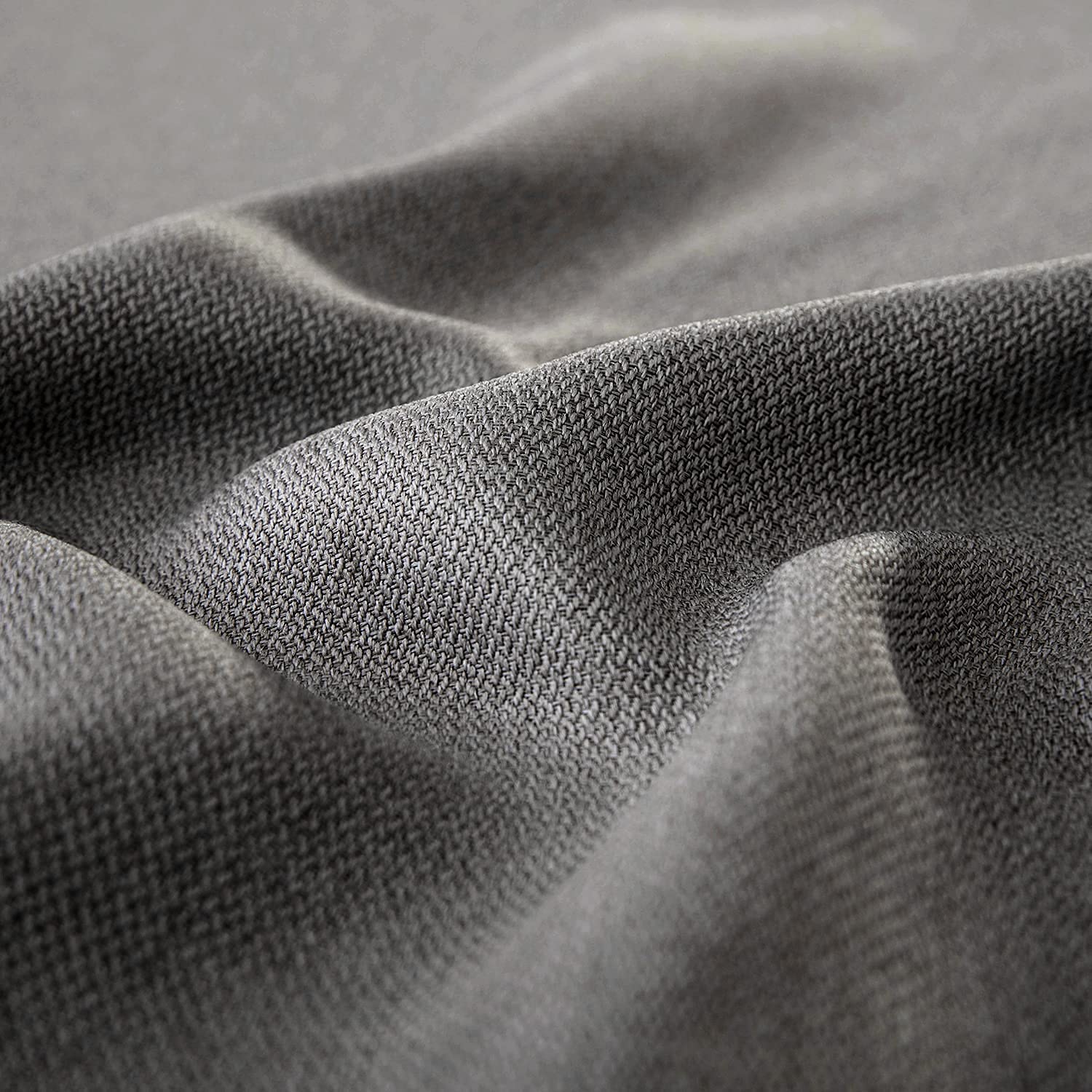 This will make it thermal insulated and increases the likelihood of noise coming in and out since this will act as an extra layer of protection and sound blocking.
At the same time and most importantly, this helps to keep heat/cold in and out of the room depending on the season and weather conditions.
Grommet construction:
For those of you that love to pay attention to small details, this will be really important.
If you're planning on soundproofing an entire wall by directly attaching the curtains to the wall, then having holes on the curtain won't be ideal.
On the other hand, if you're looking to hang the curtain with the help of a rod, you might want to pay attention to the diameter of the grommets, especially if you're buying the rod separately.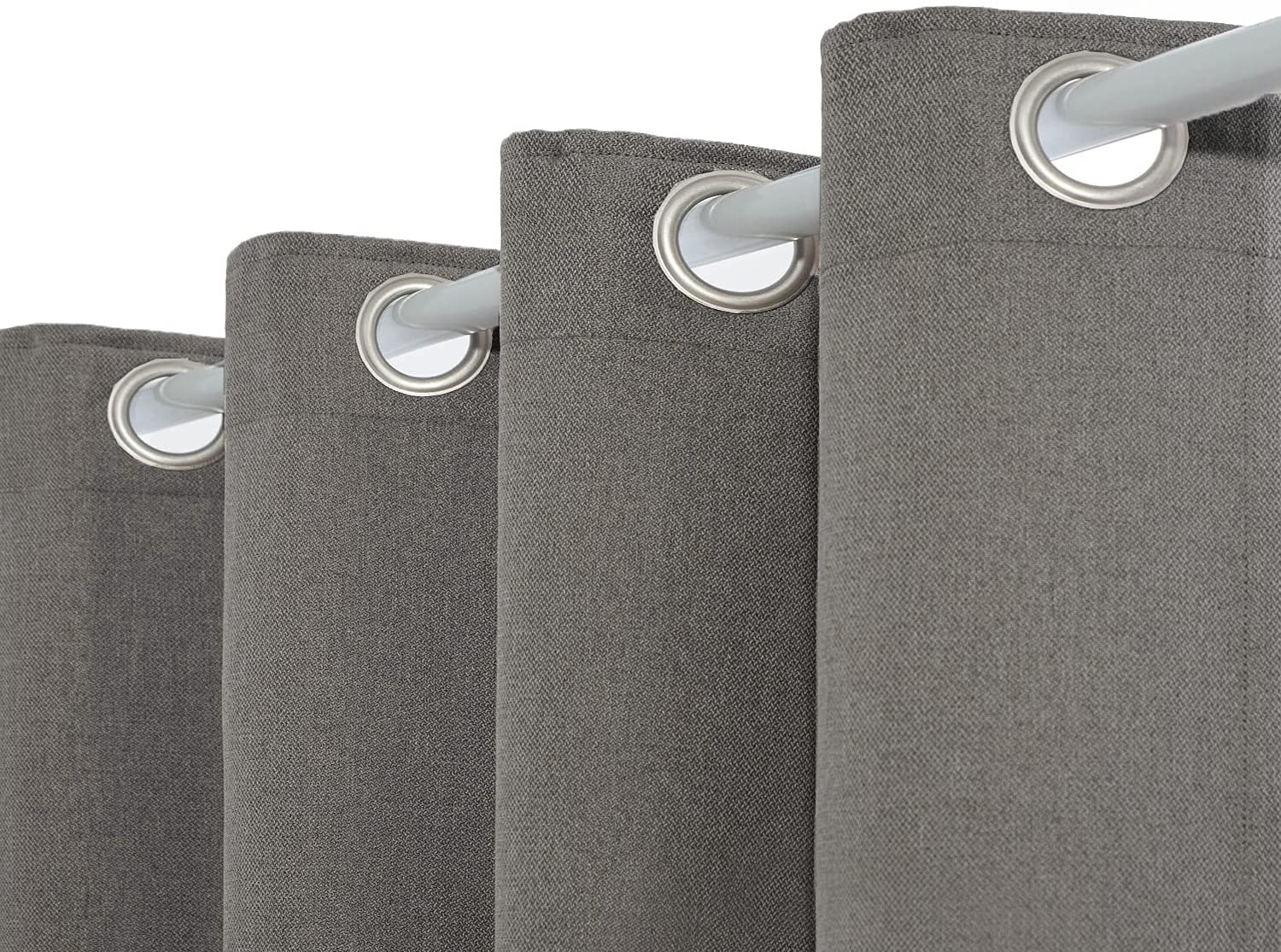 Most of the time, soundproof curtains will have stainless steel grommets with 1.6 inches of width.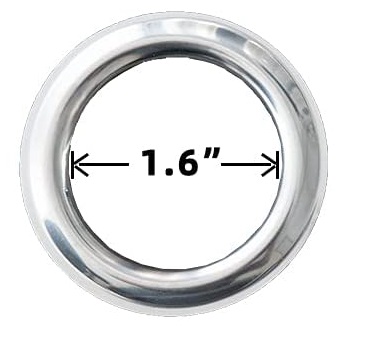 If you believe that you will need grommets of a more modest size or a different color, then this is something that you should also definitely spend some time researching.
Dual or solo panels:
Most negative reviews under these products seem to be people that bought a one-panel curtain expecting dual panels.
As a quick and effective solution, you can read the whole title of the product and check the description before assuming that you're getting two different pieces of curtains instead of one.
On the flip side, you might just need one panel instead of two.
In that case, this will not only save you from buying an extra curtain, but also from getting overcharged.
What are soundproof curtains?
They are similar in appearance to regular curtains, but science works the magic behind them.
They consist of absorbing materials that create a much quieter environment.
Soundproof curtains remove not all noise, but most of it!
Essentially, their job is to absorb sound waves and echoes in the room and hence reduce any unwanted signal while recording.
Does the color of the curtain affect soundproof capacity?
No, the color of the curtain won't directly affect its own ability to soundproof a room.
The material in which the curtain is made is actually the main factor that allows for this characteristic to exist.
Darker color curtains, though, are more resistant than light color curtains.
Therefore, for any project that requires sunlight to be blocked, this is still one of the most reliable low-cost fixes there is.
What are the advantages and disadvantages of using soundproof curtains?
On one side, they can surely help you reduce noise, but on the other, for some of you, it might just not be enough.
Whether you want to build a home studio, a home theater, or simply just want less noise inside your house, using soundproof curtains has its advantages and disadvantages.
Advantages:
Thermal insulation is the reduction of heat transfer between objects in thermal contact or in the range of radiative influence.
In other words, the majority of these curtains not only will help you reduce noise, but can also help you keep your room temperature low during the day,
Sound absorption is essentially when there's a decline of sound energy as sound waves come into contact with and go through a given thickness of a certain material.
In this specific case, the curtains will be the absorbent material, and the end result will be the sound not being reflected back and less noise being heard.
Want to stop sunlight from getting inside a certain room? Then most (but not all) soundproof curtains can help you achieve this.
Blackout means that any light will be entirely blacked out!
This is a very affordable way to block out any large percentage of the light that comes into your bedroom and still having it look very decently.
Disadvantages:
It is hard to wash soundproof curtains:
Sometimes hard to make them look aesthetically pleasing:
Do soundproof curtains actually work?
Soundproof curtains definitely work, but the answer to this question highly depends on what we want to achieve as our final result.
All of the curtains that we just listed absorb noise, but these materials are not sufficiently dense to absorb noise signals completely.
In other words, if you want complete silence, then you should definitely be looking for a completely different approach to your problem, for example changing the walls, floors, etc.
But yes, if what you want is your room to be as quieter as possible without any high-level construction, then with a single soundproof curtain in each door and window you should be fine.
I encourage you to watch this video by rdavidr on YouTube:
Sound Proofing My Drum Studio With Acoustic Blankets From Vocal Booth To Go
One of the things that I loved about this video is how he measures the loudness of his drum set using a Sound Level Meter before and after putting the curtains.
You can really hear the differences across the different rooms, and even from a neighbor's perspective outside of the house.
The exact curtains that he used for this particular video are VocalBoothToGo's Acoustic Sound Blankets.
One more thing
In the end, just remember that, yes, most curtains can be soundproof and able to reduce almost all noise, but they will never completely reduce ALL noise.
One thing though, the thicker and higher the quality of the curtain the better you can prevent noise signals, so have that in mind before you make any final purchase.
Now, this website is all about showing you a little bit more about guitars each day, finding ways to innovate, and have fun with this beautiful instrument that we love.
If you enjoyed this post, then I invite you to go check out our blog!
We're always sharing a lot of useful and helpful content that both beginners and advanced players can use to further develop their guitar-playing abilities.
As always, thank you for reading and being here! 🤘