What are the best guitar humidifiers?
At some point, every guitarist considers taking extra care of their instrument and that's when questions like this one get asked a lot.
Giving the proper humidification to your instrument allows you to protect it from shrinking, warping, and cracking in the driest and toughest conditions.
The right humidifier will releases moisture evenly and will maintain your guitar at a constant and safe state so that no matter the condition changes, fewer potential problems will arrive.
In this post, I will be listing the best guitar humidifiers in terms of quality and price, and will also answer some of the most frequently asked questions around this topic.
Let's get started!
Best Guitar Humidifiers
Summary of all the products that we'll talk about:
Oasis Humidifier (OH-1)
(link to Amazon.com)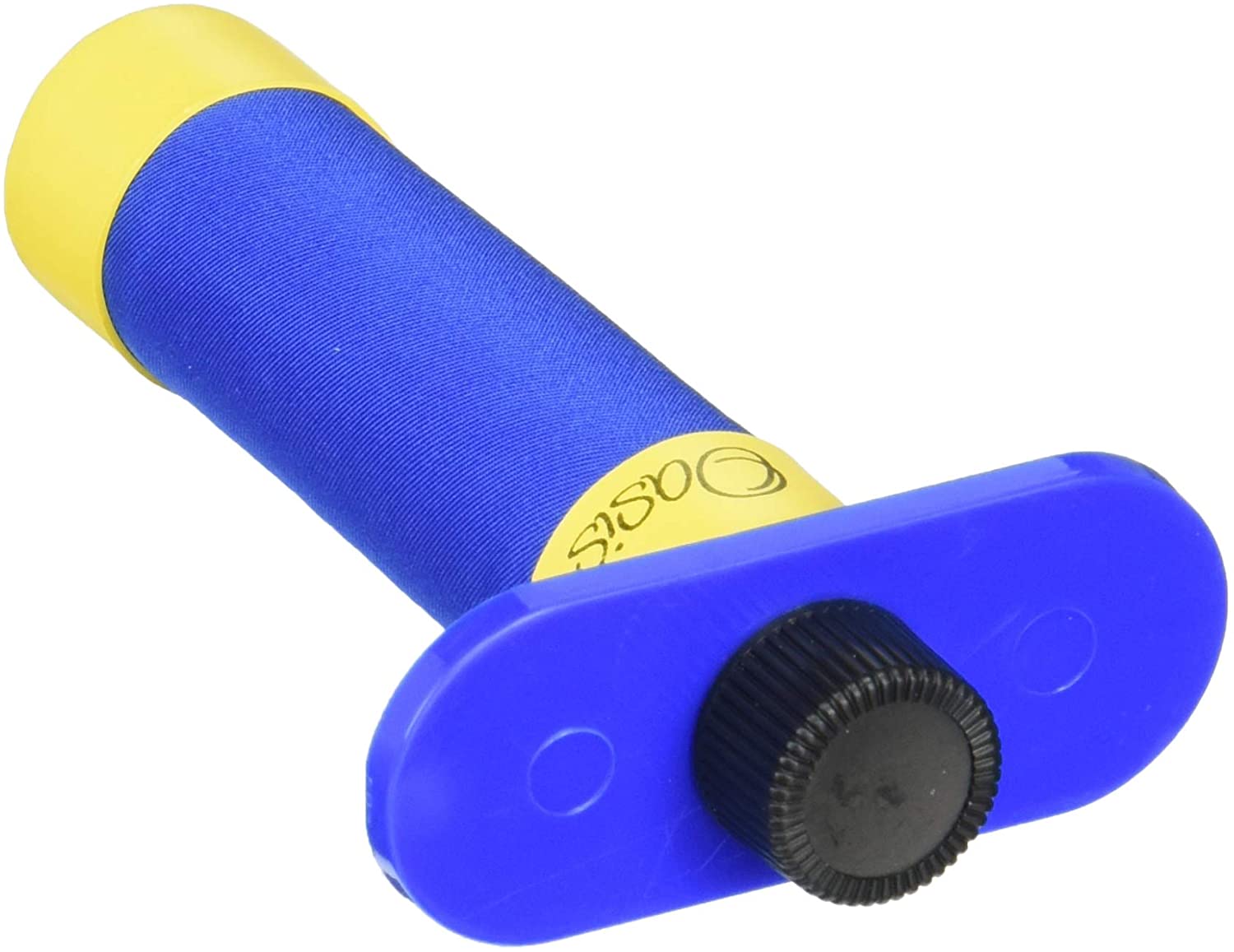 Oasis OH-1 Humidifiers are one of those options on this list that sits in between the strings and never touches your guitar finish; also known as a soundhole humidifier.
It was designed to maintain approximately 45-55% relative humidity inside the guitar body when the humidity outside the case is between 25-40%, provided that the guitar is already hydrated.
Aside from that, there's also a great fabric that will only let water vapor pass through, which in turn means no drips or mess inside the guitar.
By far, one of the easiest and fastest to set up, and at the same time, unlike others, it is easy to see when it needs more water.
This product comes with a stabilizer bar that lets you mount the humidifier and a 10 cc. syringe for distilled water filling control.
Other things to remember are that this unit was not designed to restore humidity to a dried-out guitar, and that distilled water is recommended to extend its useful life.
D'Addario Acoustic Guitar Humidifier
(link to Amazon.com)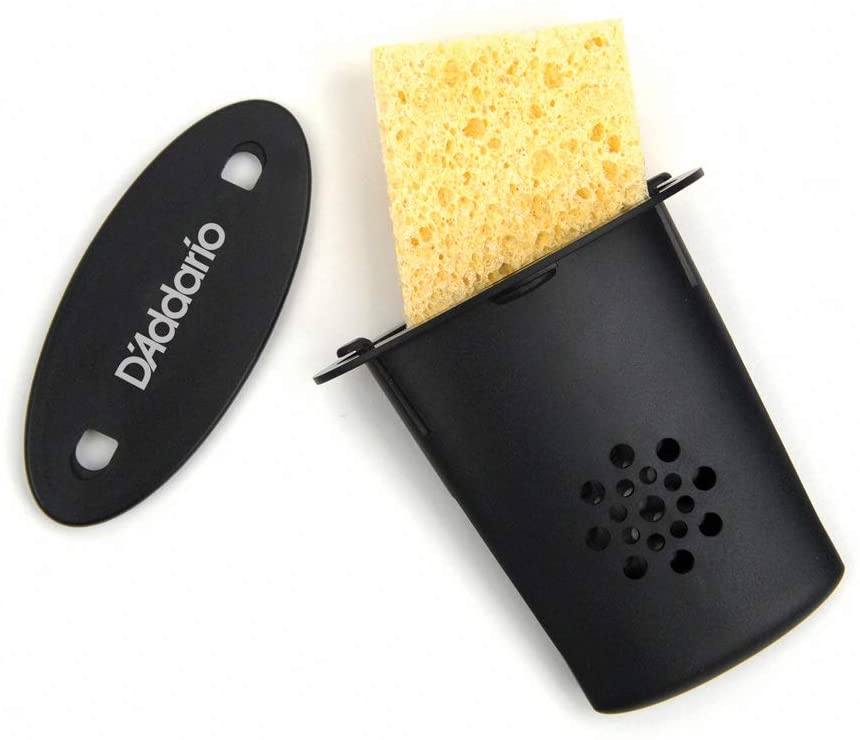 D'Addario's acoustic guitar humidifier is also a great alternative to protect your guitar without damaging the finish.
Just like a few others on this list, the humidifier won't get attached to your guitar body, but rather gets suspended by the strings.
With this product, you will be able to humidify your guitar's body and neck joint in the driest conditions possible; this could be while on display, or during times in which your guitar will be outside its case for a long time.
On the inside, you'll find a sponge with a non-drip design that releases moisture evenly and slowly, and after this sponge becomes overused, you can either replace it or moisten it once again.
If you're looking to protect your instrument against cracks, warped necks, and shrinkage, then this option will do just that.
Soarun Acoustic Guitar Humidifier
(link to Amazon.com)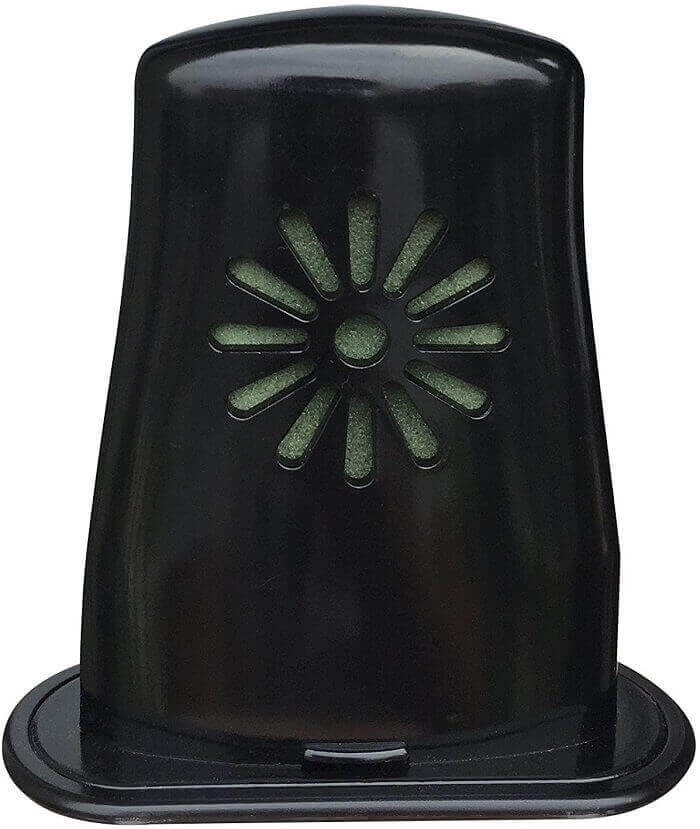 This Soarun acoustic guitar humidifier is extremely helpful and allows you to easily protect your guitar from being ruined by very dry weather.
Like most other options on this list, this humidifier works in a very usual way, that is being placed within your guitar strings and allowing moisture to be released evenly and slowly,
For a very affordable price, you will be able to add a layer of protection from warping, shrinking, and cracking in any unusual weather or environmental condition.
Its manufacturer advises that you only fill in the humidifier with water once a month for perfect guitar humidity and guitar tone.
In other words, this is once again a very low-effort solution that can benefit those that just want a set-and-forget approach to taking good care of their guitars.
A high absorption sponge is what maintains the proper humidity levels at all times when in use.
D'Addario Humidipak Automatic Humidity Control System
(link to Amazon.com)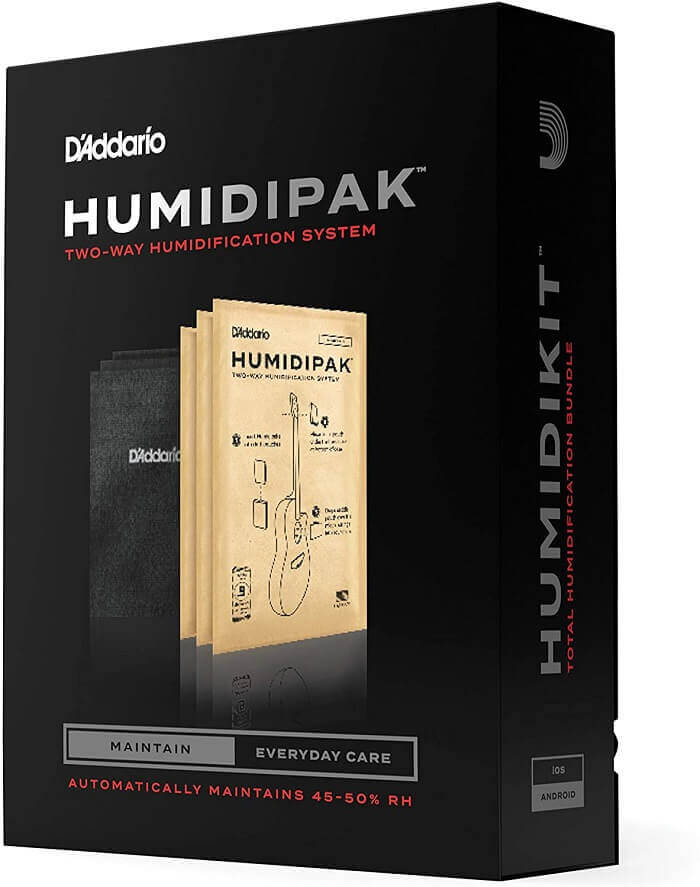 Now for this product, you'll notice that the way the humidifier works is slightly different from what we've been seeing so far.
To start, this is what they call a two-way humidifier that revitalizes extremely dry guitars and cases and quickly and safely restores relative humidity.
Even though it looks a bit complicated to use, the main idea remains the same, protecting your instrument against warping, cracks, and other damage caused by lack of proper humidification.
No more manual adjustments based on seasonal changes, temperature, or geographic locations; it automatically dispenses or absorbs the water vapor as needed.
This eliminates a lot of the guesswork of maintaining your instrument's proper humidity levels since, in other words, it adds or removes moisture accordingly.
MusicNomad Humitar Acoustic Guitar Humidifier
(link to Amazon.com)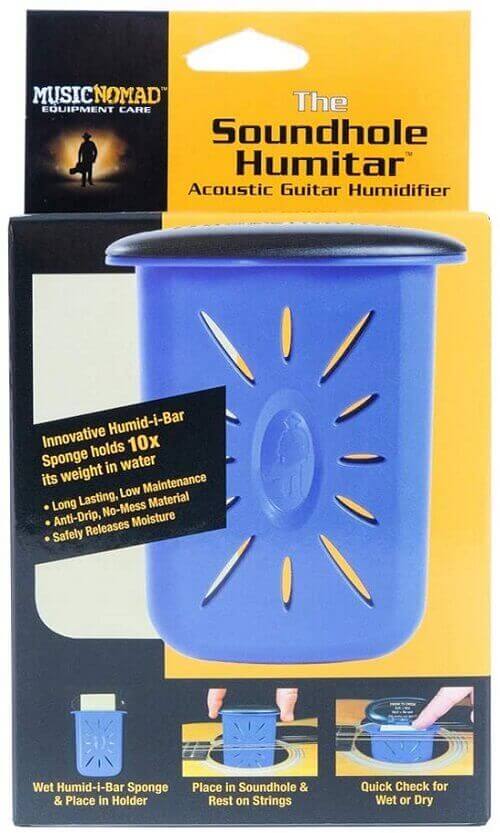 This is MusicNomad's soundhole guitar humidifier, which is very known to be an extremely long-lasting and low-maintenance acoustic guitar humidifier.
Once again, this is a humidity solution that won't get attached to your guitar body but rather will get suspended by the strings.
At the same time, it also safely releases moisture evenly to eliminate any potential warping, shrinking, or cracking on your guitar.
This product also uses a sponge to hold ten times its weight in water, and it features the so-called anti-drip design to prevent the water from directly damaging your instrument.
You shouldn't need to remoisten it more than once a week, and even then it has a convenient quick-flip top that lets you check if the sponge is wet or dry.
Herco HE360 Guitar Humidifier
(link to Amazon.com)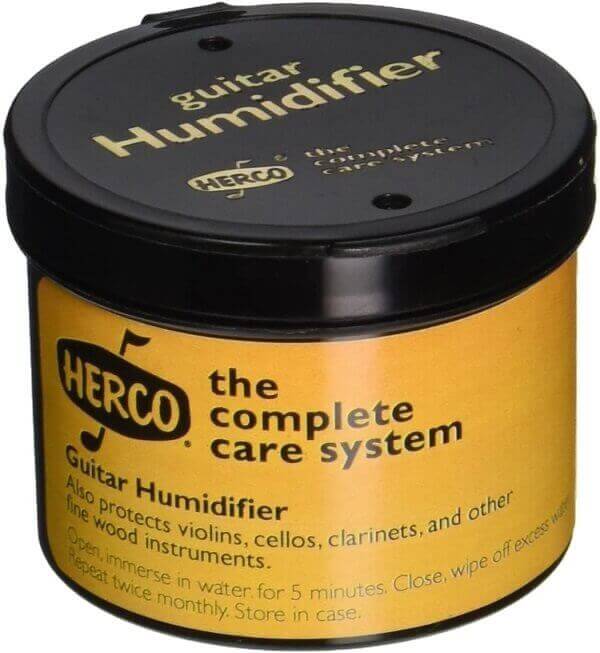 The Herco HE360 is definitely a bit more different than the other products that we've been seeing so far.
We've been reading a lot about soundhole guitar humidifiers, but this time, the HE360 is supposed to be stored in your guitar case instead.
Its manufacturer calls it "the complete care system," and advertises it as also being able to protect violins, cellos, clarinets, and other fine wood instruments.
When it comes to guitars, the underlying idea remains the same, preventing your guitar from drying out and cracking.
This product is essentially a clay-filled plastic container that will live in your guitar case, hold moisture, and release it gradually into the instrument.
If you're considering this option, just know that it looks bigger in pictures than it really is; its dimensions are 1.7 x 1.7 x 1.5 inches.
Guitto 2-in-1 Humidity Care System
(link to Amazon.com)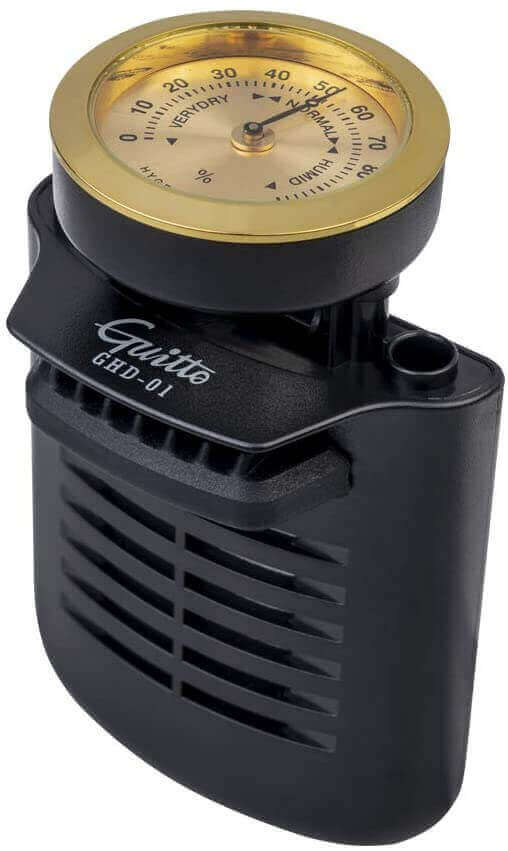 Guitto's 2 in 1 humidity care system comes with a precise indicating needle humidimeter head that uses no battery to be able to work and a black ABS plastic humidifier.
This unit performs real-time humidification and testing simultaneously, and again eliminates any potential problems such as warping, shrinking, and cracking.
In contrast to other soundholes solutions that we've already mentioned, this one doesn't sit on your guitar strings but rather on the actual edge of the soundhole.
Other things to know are that it's very easy to install and carry and that it usually takes a few seconds until it finds the right percentage of humidity.
This product's maker recommends that once the ambient humidity is above 70%, you shouldn't use this guitar humidifier, but of course, this depends on your own guitar and what humidity levels you're aiming to keep it at.
Other details include 3.4 x 2.1 x 1.5 in dimensions and 40g of weight.
CTOMOA Ultrasonic Cool Mist Humidifier
(link to Amazon.com)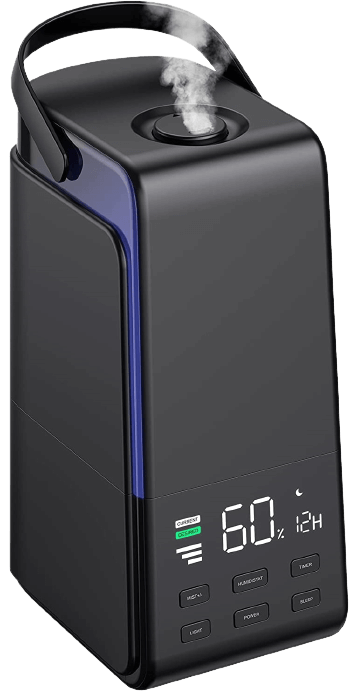 This humidifier is one of its kind on this list and was uniquely put in order to show other ways to humidify your guitars, that is using a room humidifier.
CTOMOA has a patented noise reduction technology that infuses your room with clean and fresh air at just 28dB, meaning there will be no disturbance at all wherever you put it.
It has a built-in humidistat, which is a small electronic device that works just like a thermostat, except it measures and responds to your room's humidity levels.
This product is a great alternative to actual guitar humidifiers and allows you to humidify more than one guitar at a time, which is extremely helpful if you have your instruments hanging on your wall.
Aside from that, it obviously can be used as a household humidifier to make your living space more comfortable, pleasant, refreshing, and healthy.
The actual humidifier dimensions are 15.2 x 11.1 x 8.5 inches.
O Oasis Humidifier (OH-5)
(link to Amazon.com)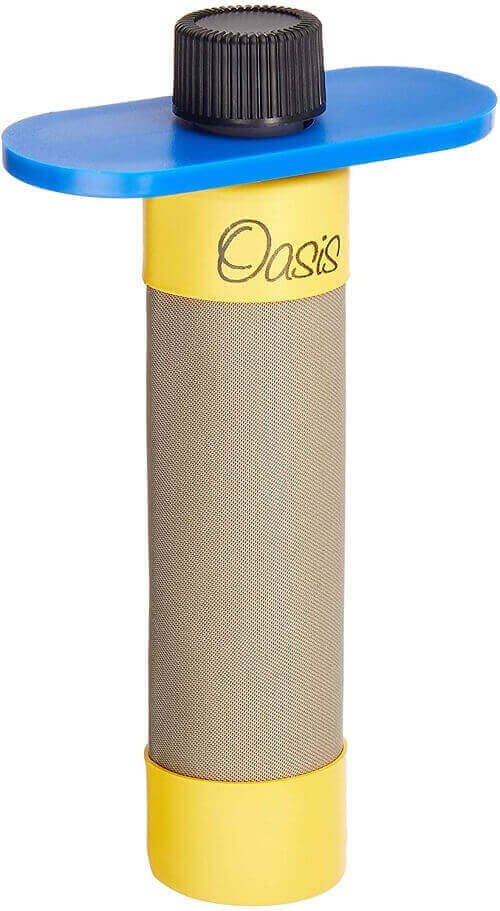 This is another Oasis humidifier (OH-5) designed for soundholes to maintain humidity inside the guitar body when necessary.
Just like the OH-1 model that we previously mentioned, this one also features a stabilizer bar for mounting the humidifier and a 10 cc. syringe for distilled water filling control.
This model was built since the humidity demands of deserts, mountain states, or frigid north exceeds the humidification capacity of the OH-1.
It has a 50% greater humidity output, and it's advised to use this unit when the environment outside the case has a relative humidity of 25% or less.
Sometimes tap and bottled water can have a lot of dissolved minerals that can really clog the liner, that's why using distilled water is a better option for these humidifiers since it extends their useful life.
Kyser Lifeguard Humidifier
(link to Amazon.com)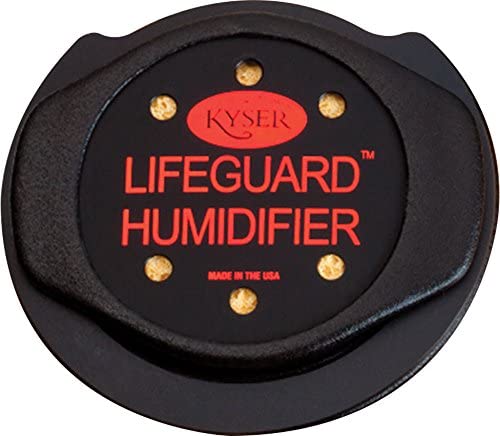 This Kyser Lifeguard humidifier is probably also one of its kind on our list since this alternative requires you to attach it directly to the actual soundhole and not the strings.
Just like any humidifier, this product also preserves the wood on acoustic guitars in a way that keeps its conditions at the proper humidity and prevents wood from drying out or cracking.
It's very important to notice that it only fits sound holes 3 3/4″ to 4 1/8", but aside from that, it's very easy and quick to set up and install, even though many people have a bit of trouble at first.
When you're storing your guitar in any dry area, then simply immerse the Kyser Lifeguard Humidifier in water, after that just shake off any water excess, and position it.
It will hold the humidity inside the guitar, which is especially useful if your home is almost humid enough but not quite to completely benefit your instrument.
What to consider before buying a guitar humidifier?
First of all, before buying a guitar humidifier you will need to ask yourself why you're thinking of buying one in the first place and whether you really need one right one or not.
Yes, this is a very incredible way to keep your guitars safe and prevent them from drying out and cracking, but not everybody needs to do this.
Unless you leave in a very dry city or will experience severe weather conditions and changes, then your guitar will be just fine.
You can opt to just search for your city humidity levels on Google: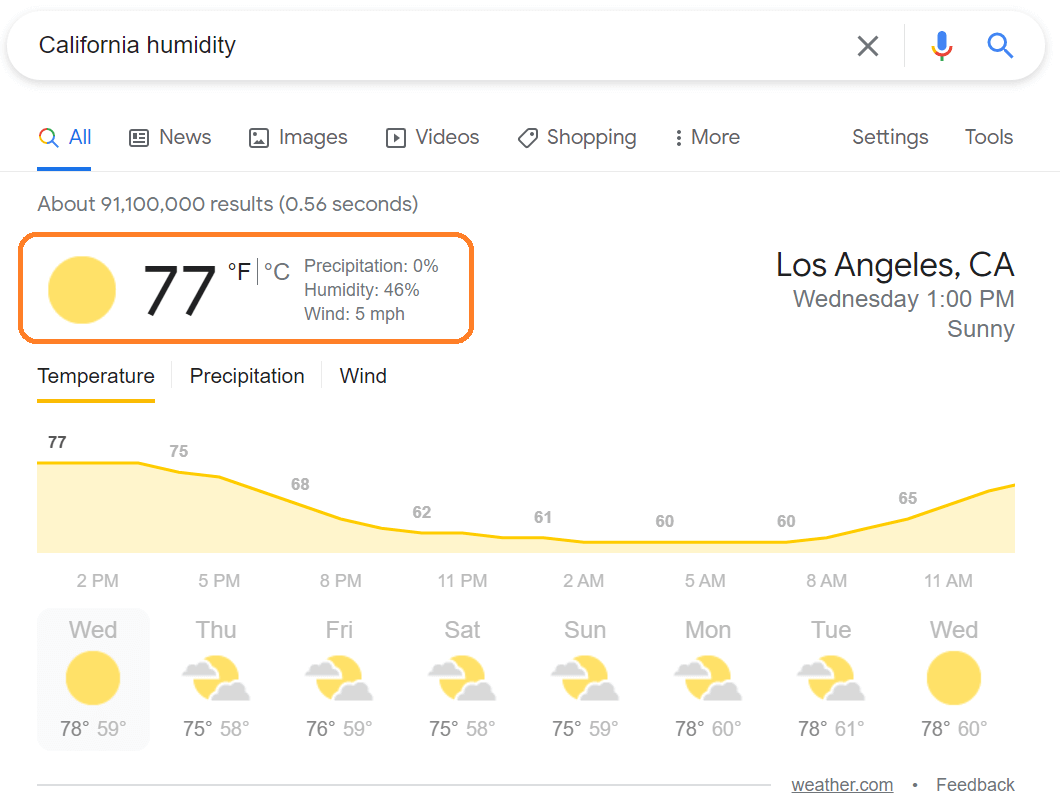 Before you spend any cash on a humidifier, you must have a notion of what humidity levels you're currently dealing with.
Or if you want to be more specific, then more often than not, this means that you will have to buy a hygrometer.

Inkbird Thermometer and Hygrometer | Amazon
But if you thoroughly read our list before, then you might have noticed that the Guitto 2-in-1 humidity care system comes with a built-in hygrometer for the same price, which in my opinion, is the smarter purchase.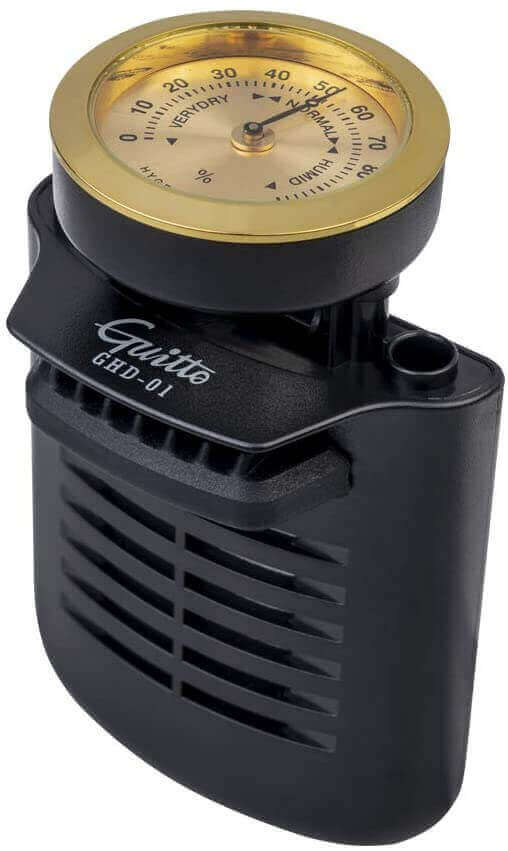 Guitto 2-in-1 Humidity Care System | Amazon
After you know the humidity levels that your instrument will be exposed to, make sure they are within the recommended range that most guitar companies advise their customers to keep their guitars at.
For example, Taylor Guitars says that:
The ideal humidity range for an acoustic guitar is 45-55 percent, but 40-60 percent is generally acceptable.
If we go back to the Google search that we previously showed, then you can see that the city humidity levels are within our desired range.
But be careful though, your room humidity levels can be much different from that, which in turn will definitely affect your instrument.
Other more advanced options such as the D'Addario Humiditrak are available, which sits in your guitar case and sends push notifications to your smartphone in the case of extreme humidity or temperature readings.
Types of guitar humidifiers
1. Soundhole humidifiers
A soundhole humidifier is a guitar humidifier that sits and gets suspended around your guitar's soundhole.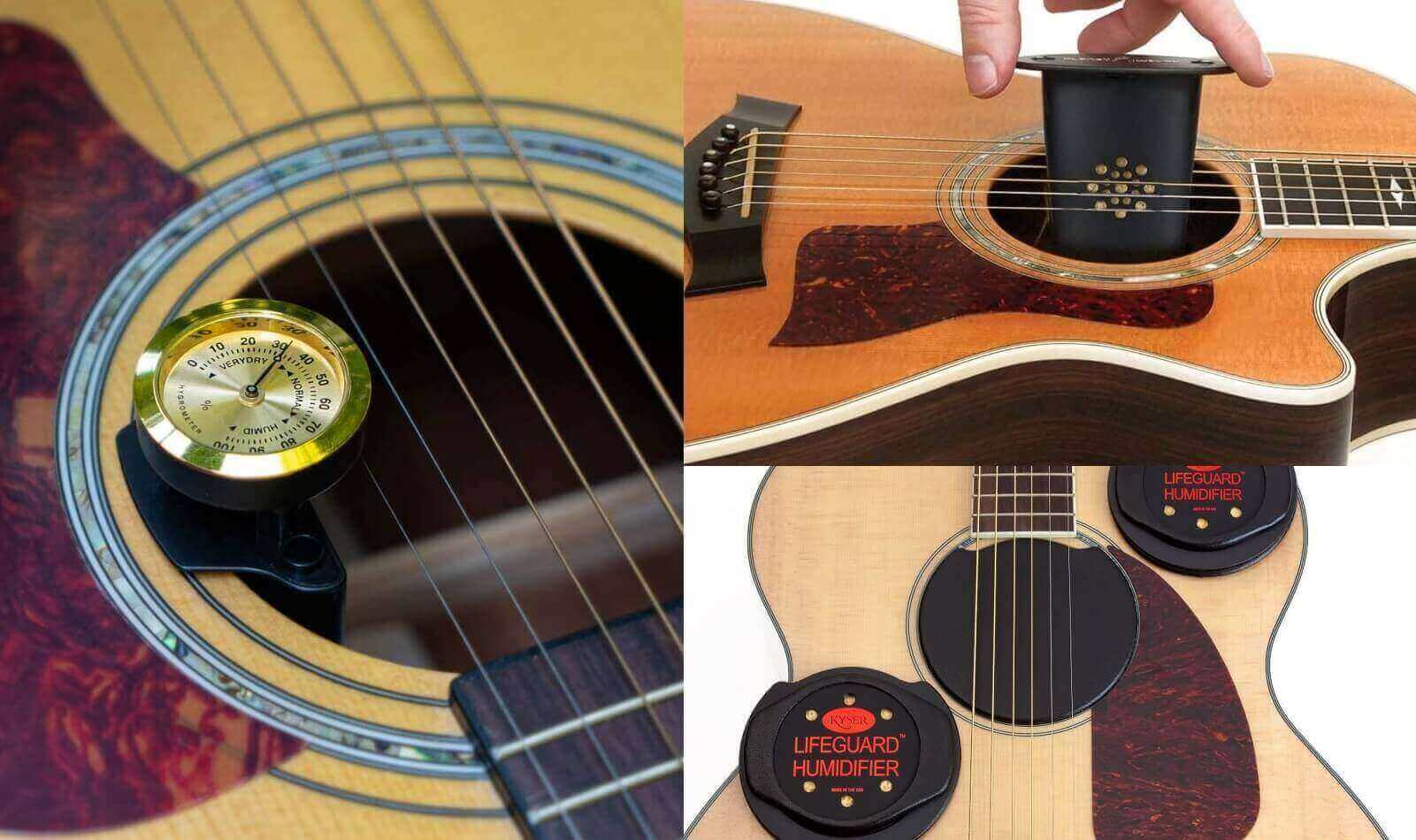 Most of the time, three different scenarios are likely to take place either the humidifier will:
Cover the entire soundhole by being placed below the strings.
Be placed on the actual edge of the soundhole.
Sit in between your strings.
Soundhole humidifiers tend to be more popular than other alternatives since they usually are very low-cost and require less effort on the guitar player's part to keep on functioning.
2. Guitar case humidifiers
A guitar case humidifier is basically what the name says, a humidifier that sits in your guitar case and keeps the entire case humidified and in a controlled environment.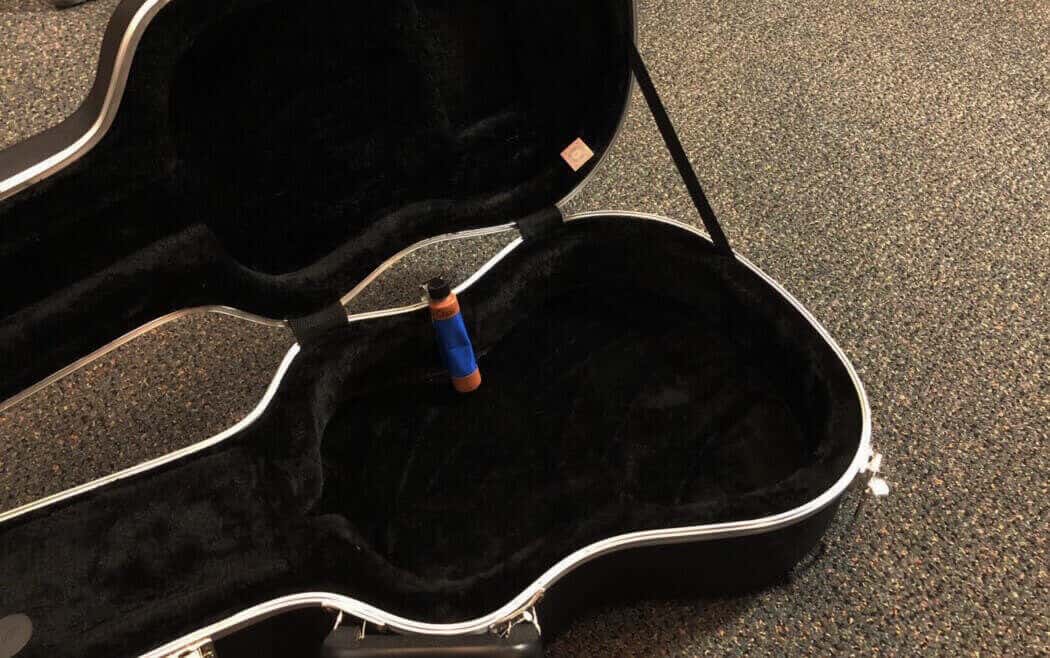 Image Source | Medium.com via Cascio Music
Most of the time, they take the form of a plastic tube or just a small plastic material that allows water vapor to pass through.
Guitar case humidifiers are an excellent option for those that keep their guitars in a hard case and play it consistently since you won't need to be installing and uninstalling the humidifier every single time.
3. Room humidifiers
There are many cases in which room humidifiers make more sense than any other type of guitar humidifier.
Room humidifiers are a type of humidifier that adds moisture to the air of the entire room and conditions more than just your guitar and guitar case.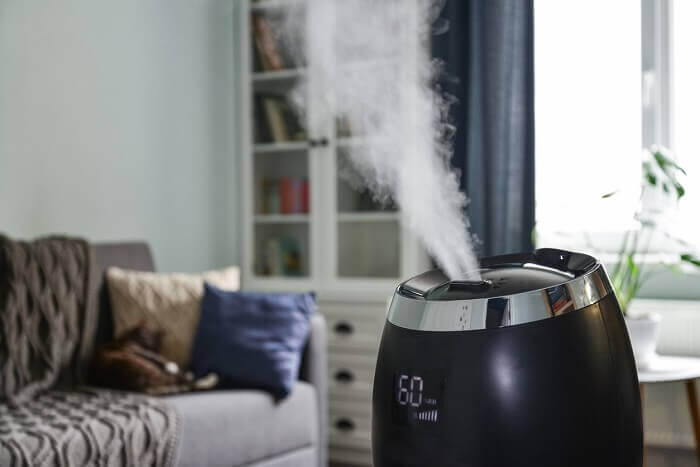 Aside from just protecting your instruments, room humidifiers are very useful when treating dryness of the skin, throat, lips, and nose.
For those that usually hang their guitars on a wall, or simply a guitar stand, getting a room humidifier will be the best option as they keep the entire room regulated and each instrument in the best condition possible.
Can I use a guitar humidifier on an electric guitar?
Even though we mostly see acoustic guitars being humidified, electric guitars are also made of wood and are also very likely to have problems such as warping, shrinking, and cracking.
While electric guitars don't depend on wood as much as a regular acoustic guitar and rely more on pickups and amplifiers, any instrument will always benefit from being properly taken care of.
In this case, it's obvious that most soundhole humidifiers are out of the picture, so any guitar case and room humidifier will be the better product to get.
How to recognize symptoms of a dry instrument?
Some of the things that make it easy to recognize a dry instrument are sharp fret ends, a lifted bridge, as well as any neck bow that is very noticeable to the human eye.
Aside from that, a sunken top, or any lower string height or notes that start to buzz will also indicate that your guitar is going through extreme condition changes.
Some other evident and clear indicators are when you see cracking of the neck and or guitar body, or a change in tone of your guitar.
This video by Sam Ash on YouTube is a great way to get a similar and very interesting point of view on this topic:
How To Humidify Your Guitar
I really encourage you to watch this video!
He mentions most of the guitar humidifier options that we already included in this post, and will once again show you a few tips that will help you take good care of your guitar.
One more thing
GuitarBased.com is all about showing you a little bit more about guitars each day and finding ways to innovate and have fun with this beautiful instrument that we love.
If you enjoyed this post, then I invite you to go check out our blog!
We're always sharing a lot of useful and helpful content that both beginners and advanced players can use to further develop their playing abilities.
As always, thank you for reading and being here! 🤘