So, you want a nice travel guitar to bring with you every time you go out? What are the best acoustic travel guitars? If you need the answer to this question, you are in the right place.
In this article, I will be talking about the guitars that I consider best for things like traveling or simply small places, and then I will be answering the most common questions that people usually have.
What should you be looking for?
In my opinion, you should pick a guitar that is small enough to carry anywhere with you, budget-friendly, and that sounds as better as possible.
Let's start…
Best Acoustic Travel Guitars
Martin Steel-String Backpacker Acoustic Travel Guitar

(link to Amazon.com)

The Martin Steel-String Backpacker Acoustic Travel Guitar is one guitar that people talk about a lot.
It features a solid spruce top, a solid tonewood back and sides, and chrome tuning machines.
This guitar is very small compared to others, it will fit almost everywhere.
As one of the best acoustic travel guitars, in my opinion, it will sound fairly good for its size and will handle a big amount of trips without breaking. 
Washburn RO10 Rover Travel Acoustic Guitar

(link to Amazon.com)

The Washburn RO10 Rover Travel Acoustic Guitar has a full 24″ scale and guitar sized neck. It features a mahogany body and solid spruce top as well as a rosewood fingerboard.
With a small size that makes it perfect for traveling, this guitar will also deliver a great tone that many will love.
I think it should be included on this list due to the price-quality relation and balance, and the enormous satisfaction that people have always had with this travel guitar
Luna Safari Series Muse Mahogany Travel Acoustic Guitar 

(link to Amazon.com)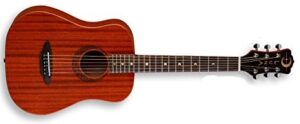 This Luna Safari Series Muse Tavel acoustic guitar features a Rosewood fingerboard, Satin finish, and Mahogany top, back and sides, as well as a Celtic laser etching around the soundhole.
With Sealed Die-Cast tuning machines and many other details, this guitar is also a great option for traveling.
Cordoba Mini O Travel Guitar

(link to Amazon.com)

The Cordoba Mini O Travel Guitar is another great option to consider.
With its full-size neck and nut width, and its great playability, this guitar is also very comfortable to play and easy to carry around.
It features Ovangkol top, back, and sides, and a Rosewood fingerboard. 
It comes tuned up from standard tuning (ADGCEA).
SX Trav 1 Traveling Guitar

(link to Amazon.com)

The SX Trav 1 Traveling Guitar has a solid spruce top, Mahogany truss rod adjustable neck, rosewood fretboard and bridge, and Graphtech NuBone saddle.
Compared to other guitars on this list, the price for this travel guitar might be more convenient for those that don't want to spend a lot of money.
Voyage-Air Transit Series VAOM-02

(link to Amazon.com)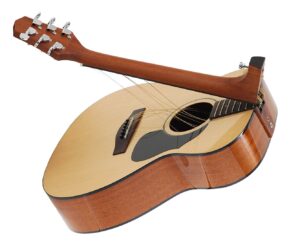 This Voyage-Air Transit Series VAOM-02 is one of its kind on this list (just look at the picture above).
Its back and sides are Mohagany, and also its neck. It has a rosewood fingerboard and bridge, chrome-plated die-cast tuners, and protective high-gloss finish.
With a 25.5" scale length, this guitar will be able to give you that full sound that we all want, and at the same time, will be very easy to travel with.
Why should I buy an acoustic travel guitar?
You should think about the things you want to do with a travel guitar in the case you buy one. If you travel a lot and like to play the guitar even more, then you should at least consider it.
Some travel guitars are great, even up to the point where they sound almost like a regular size guitar. One thing you will never take away from the people that own one of these guitars is the advantage of moving wherever they one in such an easy way.
Which acoustic travel guitar should I buy?
If you are looking for a travel guitar, but also seem interested in the size of it more than the actual quality of the sound and price, then go with the smallest option out there.
Now…
On the other hand, if you would like to have a guitar that's both cheap and good-sounding (which don't usually go together), then you should also consider the features that it has.
Things like the type of wood that was used and body shape and size will always have an impact on how your instrument sounds.
What should the best acoustic travel guitars have?
The guitars that I listed are simply the ones I consider best, there are surely many others that are great options as well for travel guitars.
In order to pick the best acoustic travel guitars, I tried basing my research on quality, price, and size.
Simple, but the thing is…
Since these three elements influence each other, is often hard to choose which one we should prioritize the most. In my case, I tried finding a balance between them, that's what the best acoustic travel guitars should have.
How do I know which acoustic travel guitars are the best for what I want?
You might want this type of guitar for many things. I will assume you will primarily want it for traveling. These will do the job. Most of them are very small and they will fit everywhere.
Now, you might also just want to have a small guitar to carry around the house. These are also capable of doing so. If your goal is to just have an easy way of playing your instrument everywhere you want, travel acoustic guitars might be what you need.
Aside from these two things, I don't see a difference between buying a travel acoustic guitar and buying a full-size regular acoustic guitar.
In the end, it comes down to what you want, so only you know what you want to buy and do.
How can I keep my travel guitar safe while I'm traveling?
This is a very important question to consider once you have your travel guitar with you. First of all, use its original case. They should be a specific case that this guitar was sold with, or in case you don't have it, make sure you find a way of looking for the closest one.
Once in its case…
Make sure you don't throw it everywhere and be careful with others around you being around your guitar (if that makes sense). Also, don't leave it unattended because it will get easily stolen, and make sure you clean it regularly.
This video by Guitar Goddess is probably one of the most helpful ones you will see on this topic.  
10 Tips for Flying ✈ Your Guitar // Travel Hacks
Are these guitars allowed inside an airplane?
Yes, they are allowed as carry-on. I've never had any problems with my guitars while traveling, they have always been with me.
Of course, things like guitar size, airplane size, airline, and whoever is in charge that day will influence whether you have a problem or not.
Pro tip:  According to USA Today, "You should also put some additional padding around the peghead. The peghead ranks as the most commonly damaged part of checked guitars, so stuffing extra padding around it is imperative." 
How often do travel guitars get out of tune?
This really depends on the quality of the travel guitar that you own and how often you use it. For the most part, if your guitar has been correctly assembled, it should not go out of tune too often.
On the other side, if you leave it in its case for a long period of time, then it will go out of tune as well. As a rule, remember that it is impossible for a guitar to be always in tune.
Are these travel guitars good for beginners?
In my opinion, any beginner will do well with one of these travel guitars. But the one thing they need to have in mind is the fretboard size and the tuning that their guitar is in.
Some of these guitars have a different tuning, and this can be a problem if it is not considered when playing and learning.
And when it comes to its fretboard, one of the problems that might occur is that when is time to change to a full-size guitar, if the fretboard size is not the same, then you will have to readapt to it.
These things aren't the end of the world, but they definitely need to be in the mind of any beginner purchasing a travel guitar.
Should I buy a travel electric guitar or a travel acoustic guitar?
Acoustic travel guitars are often more convenient because when we are traveling, the primary goal of owning a travel guitar is to take less space. So having an electric travel guitar might require an amplifier, which will take away the whole purpose of travel guitars.
Now…
If the electric guitar has the amplifier attached to the guitar in such a way that won't take away space at all, then it will just fall into a personal preference thing.
Does a travel acoustic guitar sound similar to a regular full-size guitar?
No, and the only problem is its size.
Yes, there are many travel guitars that sound very full, but generally, they won't compare to a regular guitar on that aspect.