Looking for the best acoustic-electric guitars?
In this article, I will be talking about the ones that I think are worth checking out.
There are surely many different options out there that have given guitarists a lot of benefits in terms of versatility and tone.
But again, since there're so many, which ones ultimately offer more advantages to the player?
To complete this list in a fair way, I will be considering tone, usability, price, and what experiences guitar players have had so far with each alternative that we mention.
Let's get started!
Best Acoustic-Electric Guitars
Martin DRS2 Dreadnought Acoustic-Electric Guitar
(link to Amazon.com)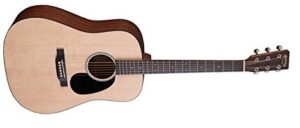 This Martin DRS2 dreadnought acoustic-electric guitar features chrome enclosed tuners and Fishman Sonitone Electronics.
Designed for great balance, tone, and projection, this Martin model also has an FSC Certified Richlite Modern Belly bridge with a 16-radius compensated white TUSQ saddle.
It also features a solid Sitka Spruce for its top, A-Frame X-1 top bracing pattern, Sapele back material, a rust strata bond neck, a black Richlite fretboard, and a piezoelectric guitar pickup configuration.
A little bit about Richlite fretboard is that they're known to be incredibly similar in look, weight, and resonance of ebony.
Just as beautiful as it looks and sounds, the DRS2 is a serious working musician's guitar built for on-the-road durability without a sacrifice of tone.
Taylor 214ce Deluxe Grand Auditorium Cutaway Acoustic-Electric Guitar
(link to Amazon.com)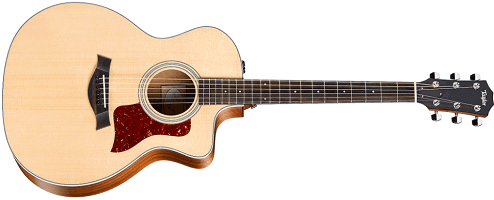 This 214ce Grand Auditorium Taylor acoustic-electric guitar has a solid Sitka Spruce top and a layered Rosewood back and sides.
It also features a Rosewood body and back, and when it comes to the neck and fretboard, they decided to use Sapele Wood and Ebony, respectively.
Full-gloss body, white binding, small diamond fretboard inlay, Venetian cutaway for a steeper slope and easier access to the treble-side frets, and aside from that, it includes Taylor Expression System electronics and a Taylor standard hardshell case.
As some of your might know, bigger Dreadnought was traditionally considered a flat picker's guitar and the smaller Grand Concert catered to finger stylists.
The Grand Auditorium design was eventually made to deliver on both fronts, which means this guitar is able to provide you with massive versatility, and huge tone advantages.
If you want a great all-purpose guitar, then this unite is one option that you should consider if you can.
Yamaha FGX820C Solid Top Cutaway Acoustic-Electric Guitar
(link to Amazon.com)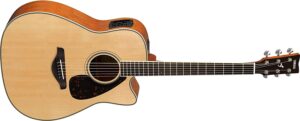 The FGX820C solid top cutaway acoustic-electric guitar has a solid Sitka Spruce top and Mahogany back and sides.
It features a Rosewood fingerboard and bridge, and Diecast Tuners, plus a precision chromatic tuner and an adjustable truss rod.
With great playability, tone, and quality, this Yamaha guitar has been the number one option for many professional guitar players in the industry.
Almost everything is crafted to be used for a wide range of styles; from dried woods to hand-sprayed finishes, this guitar is a great option to definitely look at.
When it comes to sound controls, you will find a 3-band EQ, an adjustable mid-range frequency control, and a precision chromatic tuner for optimum sound tailoring.
Other specifications include:
Fretboard Material Type: Rosewood
Guitar Pickup Configuration: Piezo
Guitar Bridge System: Fixed
Fender CD-60SCE Dreadnought Acoustic Guitar
(link to Amazon.com)

This Fender CD-60SCE Dreadnought cutaway acoustic guitar has a solid spruce top with scalloped "X"-bracing, and Mahogany back and sides.
Spruce is the standard modern tonewood for fashioning the tops of acoustic guitars and other acoustic instruments.
It features a Piezo guitar pickup configuration, dot position inlays, a black pickguard, as well as a hardtail guitar bridge system.
When it comes to its electronics, they consist of a Fishman classic design pickup with an active onboard pre-amp and a convenient built-in tuner, which are all very popular and wanted features among guitarists.
This guitar is a great option for those that don't want to spend too much money, but at the same time want to get a high-quality guitar.
Other specifications include:
Body, Neck & Fretboard Material: Mahogany
String Material Type: Phosphor Bronze
Ibanez AW54CEOPN Artwood Dreadnought Acoustic-Electric Guitar
(link to Amazon.com)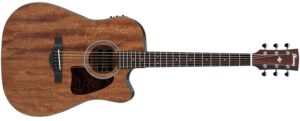 This Ibanez AW54CEOPN Artwood dreadnought acoustic-electric guitar deserves to be included in this list for a number of reasons.
It has a dreadnought body with cutaway, mahogany back and sides, and a rosewood bridge and fretboard.
On the other hand, it's been said that Ibanez made this guitar to keep its old and traditional sound, but at the same time, mix it with the upcoming modern technologies.
With a tortoise pickguard, chrome die-cast Grover tuners, and a preamp that features a simple 2-band control that makes adjusting the sound easy while providing plenty of bottoms, this guitar will provide you with incredibly warm tones.
It also gives you the ability to reduce your instrument's feedback with a phase switch.
The mahogany construction provides you with plenty of room to explore different tones, but once you need to plug it in, the AW54CEOPN also has a Fishman Sonicore pickup that allows you to further do so.
Other specifications include:
Back Material Type: Okoume
Hand Orientation: Right
Guitar Bridge System: Fixed
Scale Length: 25.5″ Scale
Epiphone Hummingbird PRO Solid Top Acoustic/Electric Guitar
(link to Amazon.com)

The Epiphone Hummingbird PRO solid top acoustic/electric guitar has a spruce top with a mahogany neck, back, and sides.
It also features a rosewood fingerboard with pearled parallelogram inlays and a Magnetic-combination guitar pickup configuration.
This guitar is known for bringing "the legendary country/rock "Hummingbird" into the 21st century", having the new Shadow ePerformer preamp and Shadow NanoFlex pickup system.
Controls such as Master Volume, Treble, Bass EQ, Mute, and Dynamics, can be used to modify this guitar tone to just about any richness, resonance, and depth levels.
This Hummingbird PRO has a cherry-faded color that's perfect for those that love their instruments to be colorful and exciting to look at.
Aside from that, you'll get a hardtail guitar bridge system, a SlimTaper "D" profile neck, and a guitar that has X-braced body bracing and 3-ply ivory/black binding.
Other specifications include:
Color: Faded Cherry Sunburst
Finish: Gloss Polyurethane
Fingerboard Material: Pau Ferro
Radius: 12″
Takamine GN93CE-NAT Nex Cutaway Acoustic-Electric Guitar
(link to Amazon.com)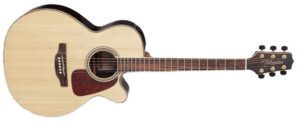 The Takamine GN93CE-NAT Nex cutaway acoustic-electric guitar might be a bit expensive for some people, but it's still below the $1,000 range and definitely a great guitar to check out.
For players seeking a well-balanced guitar with great performance features and refined looks, the GD93CE has a solid spruce top, rosewood sides, a 12″-radius bound rosewood fingerboard, and a beautiful three-piece rosewood/quilt maple back.
In addition to that, its preamp system provides guitarists with a built-in tuner, gain controls, a mid contour switch, and a three-band EQ that provides amazing versatility and sound quality.
You will also be able to notice that it has abalone dot inlays, as well as gold die-cast tuners and a gloss finish.
Other features include a maple body, neck, headstock binding, a dark wood rosette, and body purfling, and lastly a Piezoelectric pickup configuration
Seagull Entourage CW GT QI Acoustic-Electric Guitar
(link to Amazon.com)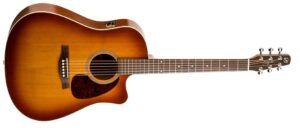 The Seagull Entourage CW GT QI acoustic-electric guitar is another great option that should be mentioned here.
This guitar is made in North America, and it features a double-action truss rod and a tapered headstock for precise tuning.
Its neck construction and mounting, known for being innovative, will definitely help you and any other guitarist by providing excellent playability and tone.
As the company itself has announced before, they are very perfectionists when it comes to the crafting and making of their guitars.
With laminated wild cherry back and sides, a high-gloss finishing, and Quantum I electronics, this guitar has put itself among those with high aesthetic charm.
Aside from that, this unit also features a TUSQ nut and compensated saddle for better intonation.
You will also be able to find a QIT guitar pickup configuration, Cedar top material type, a Cherry Wood back, and a Maple neck material with an Indian rosewood fretboard.
Kadence Acoustica Series Electro Acoustic Guitar

(link to Amazon.com)
This Kadence Acoustica Series electro-acoustic guitar features a simple head design and a rosewood bridge that has high hardness, strong vibration conductivity, and is also very stable.
When it comes to price, this is probably the cheapest option on this list, so this would be more appropriate for a beginner who's not trying to spend too much money on a guitar just yet.
The golden cutaway corner design is convenient for high position playing, which just like other guitars out there, it's great for those focusing on coordination and practicality.
A built-in truss rod can balance the tension caused by strings or temperature change shrinking, and its adjustable guitar neck allows your hand to stay in a comfortable position by keeping the strings at a perfect height.
Something very interesting about this guitar includes its built-in preamp for amplified use with volume control, 2 band EQ (bass and treble), and an integrated tuner for fast and easy tuning.
Other specifications include:
Nut Width: 43mm (1 11/16″)
Neck: Mahogany
Scale: 25.3″ (643mm):
Back and Sides: Zebra Wood
ADM Full-Size Acoustic-Electric Solid Top Guitar
(link to Amazon.com)

This ADM Full-Size acoustic-electric guitar has a cutaway guitar body shape featuring a solid Mahogany top, back, and sides.
At the same time, it also features a Nato neck, technology wood fingerboard and bridge, quality EQ, and a black ABS binding to add extra tactile and visual enjoyment.
All Days Music Inc. (ADM), was started on the principle that entry-level or student-level musical instruments should be of playable and enjoyable quality.
They always have one goal, and that is to ensure the success and enjoyment of the individual pursuing an instrument.
When it comes to the structure of the guitar, this unit has a dual-direction adjustable pole, rustproof die-cast tuners, and X bracing structure to provide extra protection.
If purchased, most of the time, it will include a padded travel bag, a 10-feet guitar cable, a polish cloth, and a service card.
ADM acoustic-electric guitar features a built-in 4-band EQ (Bass, Middle, Treble, and Presto) and volume control to be satisfied with the stage performance requirement of any guitarist.
What's the difference between an acoustic and an acoustic-electric guitar?
Most of us already know what an acoustic guitar is by now, but an acoustic-electric guitar is basically a regular acoustic guitar but with electronic components that allow us to magnify the sound.
In other words, an acoustic-electric guitar is an acoustic guitar fitted with a magnetic or piezoelectric pickup or even microphone.
They are packed with pickups, which are responsible for converting the string's vibration into an electrical signal that can be magnified into an amplifier.
Any acoustic guitar that has any sort of electronics that allows it to amplify or simply pick up its natural sound, can definitely be considered an acoustic-electric guitar.
Aesthetically, if you put a regular acoustic guitar side-by-side to an acoustic-electric guitar, they are about 98% the same.
How is it that an acoustic-electric guitar work?
As I mentioned before, an acoustic-electric guitar will work just about the same as a regular acoustic guitar.
The only difference will be the pickups and how the guitar's electronics work once you plug it in.
These can essentially be used to boost your guitar sound by the use of an amplifier.
You can play whatever you want, and if your guitar is properly connected, the pickups will take the vibration of your strings and after converting them into an electrical signal, they will allow your amp to transmit the sound.
I found this cool YouTube video from eHow, where they further explain this: 
How an Acoustic Electric Guitar Works
Why choose an acoustic-electric guitar?
To be honest, you don't have to specifically choose an acoustic-electric guitar.
A regular acoustic guitar will work and provide you with as many features and quality.
If you don't want to spend the money, you can instead buy a microphone, and use it to amplify your instrument.
You will be able to achieve a very similar result.
Now, on the other hand, if you are thinking about playing in front of a crowd, then you have no choice but to get an acoustic-electric guitar.
Unless you're performing in front of a very small audience, then the benefits and advantages of an acoustic-electric really outweigh playing with regular acoustic guitars.
What should I look for in an acoustic-electric guitar?
Just as in any other guitar, you should be aiming for the best quality at the lowest price possible.
This can be tough, but if you take your time, you will find great deals out there.
Look for the kind of tone you wish to have, and then if you know about gears and alternatives, then I'd say always try at least 3 different guitar models before buying one.
If you are going for a specific style or tone, then Google what artists have used a specific guitar for their projects and use any video that you find as a starting point.
Go to any local guitar store, and play as many guitars as you can (as many as they allow you to).
Then see which one feels better to you when playing.
Sticking to this idea will ensure that any instrument that you get will not only provide the exact specifications that you're looking for but also will help you develop an amazing musician-instrument relationship.
How to choose the right acoustic-electric guitar for me?
These are some of the things that you should definitely pay attention to before buying an acoustic-electric guitar:
The guitar's body style:
If you're buying a new acoustic-electric guitar, then know that the body shape of that said guitar will have a huge influence on how comfortable you feel when playing.
Not only that, but this will also have a lot of influence on what tone and volume you hear get when playing.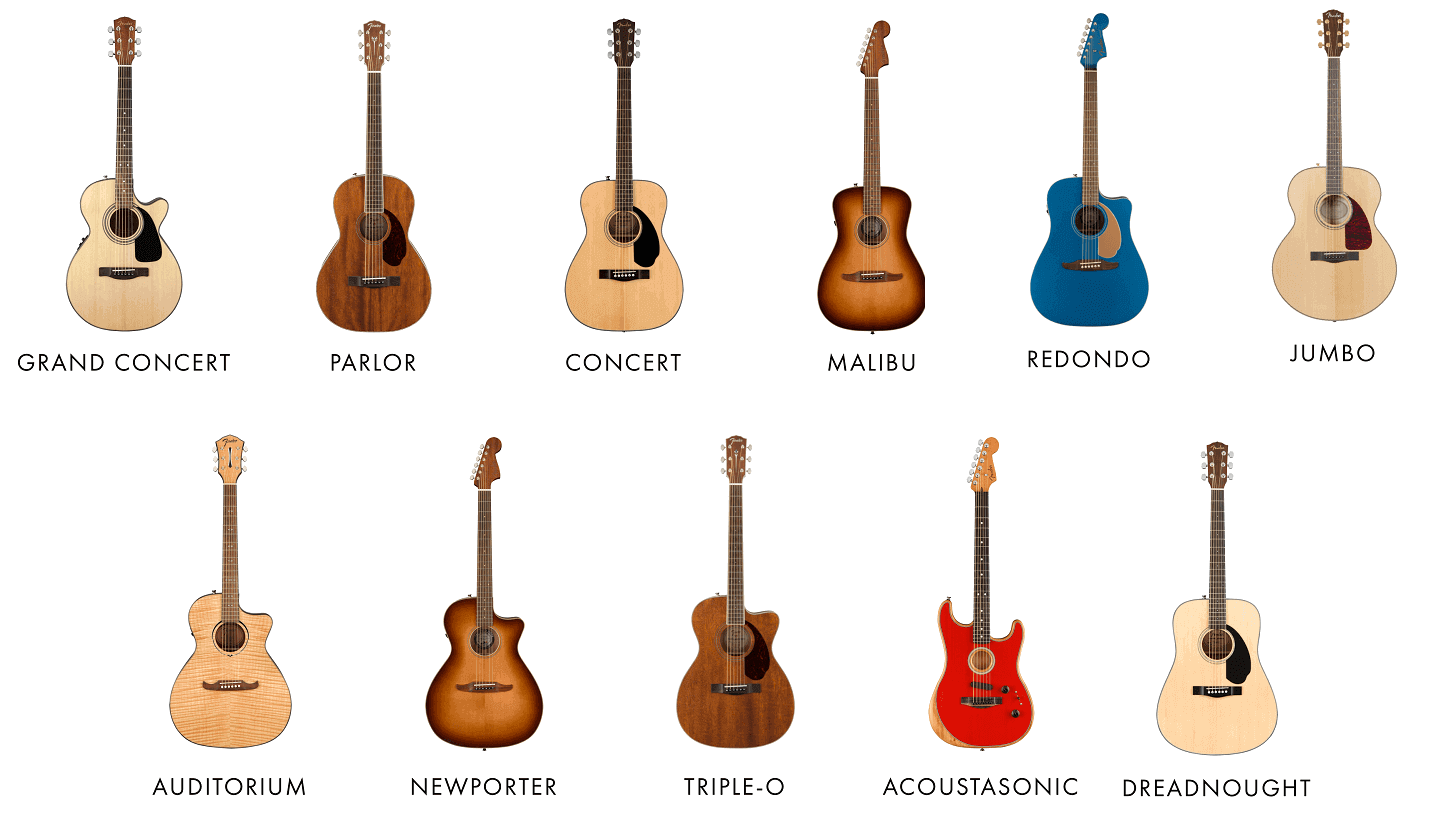 Image Source: Fender
I really encourage you to research this a bit more if you think that what you are trying to achieve in terms of tone is somehow unique or different.
Describing each body style and its cons and pros is beyond the scope of this post, but as a rule of thumb, you would want a guitar that's big enough to have decent resonance.
Your budget:
Think about how much money you are willing to spend.
We all know that the more money you spend on a guitar, the higher the quality usually will be.
The guitars that we mentioned above are in the $100 – $600 range, but some others are in the $500 – $1500 range.
Needless to say that those that cost more money have better playability and allow for more quality and versatility.
Many people think that learning with an expensive guitar is way better than learning with an inexpensive guitar, and this is simply because of the mentioned differences in quality.
Some others say that it really doesn't matter the quality of the guitar, but how much effort you put into learning to play.
I learned to play guitar with a $30 acoustic guitar as some of you might already know.
At the end of the day, I managed to learn to play, which is essentially what's important.
Today, after years and years of playing guitar, I would never recommend this to beginners since it really makes it harder for those that have never touched a guitar in their lives.
Guitars need to be manufactured at a cost that allows some profit to the builder or seller, so a low price inevitably means an unskilled assembly line with low to no quality control.
Strings, do they matter?
It doesn't matter what guitar you have, if you are using low-quality strings, then you will sound awful.
But at the same time, we shouldn't really base our decision just on what strings the acoustic guitar originally comes with.
This is simply due to the fact that you can easily change them anytime.
I personally think that a guitar's strings are among the most important things that you should consider at all times.
Acoustic guitar strings are the core of the instrument since, at the most fundamental level, a guitar string's vibration is what delivers the sound.
With that being said, once you're actually trying out guitars in a store, for example, always make sure to know what strings you're playing with, so that you can appropriately judge the instrument after.
Does an acoustic-electric guitar need an amplifier?
This depends on what you want to use your guitar for.
If you just want to have a small jam section in your bedroom, you won't really need an amplifier.
On the other hand, if you want to play live shows or stuff like that, then you will most likely need an amplifier.
I said "most likely" because as I was talking about earlier, you can also just use a microphone to boost the sound of your guitar.
Most venues nowadays will have all this equipment already, and they will most likely allow you to use it, so that's another thing that you should remember.
Which acoustic-electric guitar is best for beginners?
For any beginner, any acoustic-electric guitar will generally work.
I've always said that the better the quality of the guitar, the easier it could be to learn to play (notice that I said "could").
Now…
I would say that the best one for beginners is the one they would really love playing all day if they could.
At first, one can get really discouraged.
That's why I always recommend having an instrument that you really enjoy having and are passionate about since you will be more likely to want to keep playing it.
The Fender CD-60SCE is a great guitar that I would advise all complete beginners to consider and check out.
What's the best size for an acoustic-electric guitar?
For the most part, adults don't have a problem with full-size guitars.
But if you, for example, have small hands, then you need to consider a smaller guitar.
There is not such a thing as "best size for a guitar", but there will always be a size that will suit you the most. Only you know which one that is.
I would say try playing some guitars of different sizes and then think about which ones you felt more comfortable with.
I have found a great video by Acoustic Letter, where they talk about this in more detail:
How To Choose Your Acoustic Guitar Size & Body Style
What type of strings do I need?
There are mainly two types of guitar strings you will end up thinking about:
Steel strings
Nylon strings
They sound different and each of them will suit a different style or genre.
They will also be easier to play, or harder to play, depending on the person's experience and technique.
For example, nylon string guitars tend to be easier to play (at least it was for me when I was starting out).
The first time I played the guitar with steel strings, it felt very bad and uncomfortable, it hurt more than I expected.
But now that I think about it, I believe it was all about the technique I was using, which at the time, was a bad one.
So, I would say that the one you think will be best for you, and you like how it sounds, is the one you need and should use.