I wanted to talk about the best electric guitars for metal.
Lately, I've been getting many messages about this topic, so I thought this is the perfect time to also answer the most common questions that I see people having.
As I always say, the best guitar is that one that you like and feel comfortable playing it all the time.
Simple, right?
I say this because this list is only an opinion, but you are free to use it as a guide if you find yourself looking for a good metal electric guitar to buy.
Best Electric Guitars for Metal
Jackson King V KVXMG X Series Electric Guitar

(link to Amazon.com)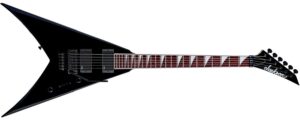 The Jackson King V KVXMG X Series electric guitar is very known in the metal scene. It features a maple neck, a rosewood fingerboard, and a basswood body. With sealed die-cast tuners, gloss polyurethane body finish, and the traditional Jackson Pointed 6 In-Line headstock, this electric guitar will be both appealing and good sounding to anyone out there. Many professional guitarists have used this one specific guitar for many years, and it seems to always offer a good value in terms of tone. 
Schecter Hellraiser C-1 Electric Guitar 

(link to Amazon.com)

This Schecter Hellraiser C-1 electric guitar features a quilted maple top, a mahogany body, a rosewood fingerboard, and EMG Active 81TW/89R pickups. This guitar has a 3-way pickup switch and a TonePros TOM style bridge with a thru-body design, and also a black chrome color hardware and an arched top. This one guitar is also one that you can consider for this genre; it will put your playing to the next level.
Ibanez Prestige RG655M Electric Guitar

(link to Amazon.com)

The Ibanez Prestige RG655M electric guitar has a basswood body, a maple fretboard with black dot inlay, and DiMarzio Air Norton, True Velvet, and Tone Zone pickups. Throughout the years, Ibanez has been known to be a great pick for metal musicians, and this guitar, it's been said to be one of the most recognizable models in their line. It has an Edge tremolo bridge and jumbo frets with Prestige fret edge treatment. This guitar is one that many should be looking into if they really want to invest in an all-around instrument. 
ESP M LM1001STBLK Solid-Body Electric Guitar

(link to Amazon.com)

The ESP M LM1001STBLK Solid-Body electric guitar has a maple neck, a rosewood fingerboard, and it features a Floyd Rose bridge and a set-thru neck construction. This guitar will come with black nickel hardware color, Grover tuners, and with Extra Thin U neck contour. With a professional tone and quality, this guitar sells at a price that might be high for some people but is definitely worth its price. It features controls such as volume and tone, and a 3-way pickup selector.
PRS CM2VST SE Custom 22 Electric Guitar

(link to Amazon.com)

The PRS CM2VST SE Custom 22 Electric Guitar features a beveled maple top with flame maple veneer, a rosewood fretboard, mahogany back, mahogany neck, PRS designed tuners, and nickel hardware. This guitar comes with a PRS designed Stoptail Bridge, PRS tone furnace pickups, and has the common volume, tone, and 3-way pickup selector controls. With a vintage feel, this guitar will provide you with the ability to play anything you want.  
Dean RZR DB GMG NC Electric Guitar

(link to Amazon.com)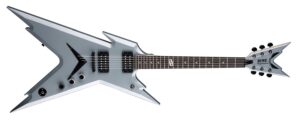 This Dean RZR DB GMG NC electric guitar features a mahogany top, neck and body, a rosewood fingerboard, and bolt-on neck. It has black hardware color, Grover tuners, Floyd Rose Special bridge, and V neck shape. This guitar, because of its appearance, people often say that it was just made for metal, and in a sense, it is what most people use it for. But looking into its features and characteristics, this guitar seems to be a very versatile one that could work for more than just that.
DBZ Barchetta ST-FR Electric Guitar

(link to Amazon.com)

The DBZ Barchetta ST-FR electric guitar features a Floyd Rose Pro locking bridge, Grover tuners, mahogany body and neck, and an ebonized rosewood fingerboard. WIth DBZB and DBZ5 pickups with coil tap, nickel hardware, and many other features, this guitar will always suit your Metal playing with great playability and a warm and thick tone. For many, this guitar is very affordable compared to others on this list, but you get a lot of value from it no matter how much you pay for.
B.C. Rich Warlock Mk3 Electric Guitar

(link to Amazon.com)

This B.C. Rich Warlock Mk3 electric guitar features a double-cutaway body shape, hard maple neck wood, gloss body finish, dual-action truss rod, and satin neck finish. With a rosewood fretboard, die-cast tuning machines, and a B.C. Rich Double Locking Tremolo bridge design, this guitar stands out as a very affordable one that features many qualities of other electric guitars that are even selling at higher prices.
How to choose the best electric guitar for metal?
As I always say, you should simply choose the one that you really like and will feel like playing without getting tired of it.
Now…
If you want a short guide on how to go about the details and features of the guitar, you should first see what your budget is. Usually but not always, the more you pay the better quality you will get.
You will want an electric guitar with humbucker pickups since they give a thick and full tone, which is good for metal.
When it comes to the style of the guitar, for example, its body shape or color, choose what you think you want for yourself. Generally, metal players don't use hollow-body guitars, but you are more than welcome to do it if you want.
Think about the brand that you want. The most named ones were the ones that I listed, but as always, there are many others out there that will work just fine.
Which one should I choose?
After you went ahead and thought about it, see which you will always like to be playing. It always sounds weird, but the best guitar you could ever own is the one that you really feel a connection with and simply like for no specific reason other than your own feelings.
Also, try finding a guitar that is costs something that you could really afford. Unless you have the money to spend, I never recommend, let's say a beginner, to spend a fortune on a guitar. Don't get this wrong, having an expensive guitar will always put your playing on a higher level, but it is simply not necessary.
Should I care about my electric guitar having a seventh string?
Some people prefer to have a seventh string on their electric guitars, but this is not something that is even close to being necessary.
One of the most obvious advantages is that you will be able to have a longer scale length and play at really lower tunings. Yes, sometimes you could tune down a 6-string electric guitar to whatever tuning you are trying to accomplish, but it will eventually have some intonation issues if you abuse it.
If you are really trying to play at a very low tuning then you might as well think about it, but no, you should not care, and you will still be able to play metal with a 6-string electric guitar.
Why are these the best electric guitars for metal?
I get this question a lot, and I always say the same thing. These are just my personal selection, and I know that there are way more electric guitars for metal that deserve to be here.
The list would have been too long, and that is why I limited myself to just eight of them. These are here as "best electric guitars for metal" because I've used them in the past and I know that they do quite a decent job with this genre.
Can these electric guitars be used for other styles or genres?
Yes, "somehow they will make noise", as one of my friends always says. But if you are really trying to play a completely different genre, let's say jazz, then I would try a different style of guitar.
But, again…
You might as well invent something new by playing a genre on the opposite side of the spectrum with one guitar that "looks" like it was made for playing metal.