When talking about the best acoustic guitar starter packs for beginners people tend to have different opinions.
That's good since it creates healthy discussions around the topic, but why is this?
We tend to look for different things in guitars, some guitarists might be looking for a good tone, while others might be looking for just a comfortable and easy to play guitar.
In this article, I will be listing the best acoustic guitar starter packs for beginners in terms of quality, longevity, tone, and price, and will also answer some of the most common questions on this topic.
By the way, make sure to also check out the best electric guitar starter packs for beginners as well, in case you're considering an electric guitar instead.
Let's get started!
Best Acoustic Guitar Starter Packs for Beginners
Summary of all the products that we'll talk about:
Fender Acoustic Guitar Bundle
(link to Amazon.com)
This package includes a Fender acoustic guitar, a tuner, strings, picks, a strap, a hard case, a stand, a polishing cloth, and an instructional DVD.
When it comes to the guitar in itself, it has a full-size dreadnought body for a rich and versatile acoustic tone and it features a rosewood fingerboard that has 20 frets and dot inlays for easy navigation.
Also, its laminated spruce top with a gloss natural finish ensures your guitar will sound great for years to come.
For its price, the value that you get from this bundle is more than what you would pay for each individual product.
The Fender digital chromatic clip-on tuner is a must for anyone who loves to tune their guitar, especially those who do it very regularly.
Austin Bazaar is the instructional DVD that's included and covers how to set up your guitar, play chords, and more.
It is the perfect start for all aspiring musicians looking forward to their guitar playing!
Yamaha Gigmaker Deluxe Acoustic Guitar Package
(link to Amazon.com)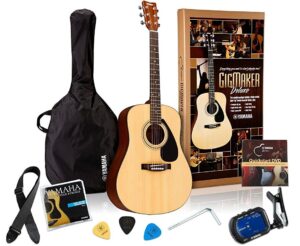 This Yamaha Gigmaker Deluxe kit is another starter pack I would like to include on this list due to how much quality I think the brand has always delivered.
In itself, the package includes a gig bag, a strap, a tuner, strings, picks, an instructional DVD, and of course, the acoustic guitar.
While staying at a fairly low price, the guitar delivers good playability and comfortability due to the good work in the finish that they have put in.
It also has a solid spruce top and nato sides/back for superior tone and projection, and a rosewood fingerboard.
While this package is a fantastic option for those with more experience, it's the perfect first guitar as well.
The DVD will cover beginner things like picking, chords, tuning, and changing strings.
Ibanez IJVC50 Grand Concert Acoustic Guitar Package
(link to Amazon.com)
This Ibanez IJVC50 acoustic guitar package will include a strap, a tuner, picks, a gig bag, and a pouch.
Ibanez is a Japanese guitar brand and it was one of the first Japanese musical instrument companies to gain a significant foothold in import guitar sales in the United States and Europe.
The company always makes sure that its products have been crafted with care and attention to detail,
When it comes to the guitar itself, it features a solid spruce top, meranti body and back material, a nato wood neck, and a rosewood fretboard.
The tone you can expect to get from this guitar is rich and full, perfect for any aspiring musician looking to make their sound shine bright.
It can potentially be good for you even after you are no longer a beginner, and it's definitely a great way to get started without spending a lot of money.
Fender Squier Dreadnought Acoustic Guitar Pack
(link to Amazon.com)
This Fender Squier Dreadnought pack includes a gig bag, a clip-on chromatic tuner, a strap, strings, picks, a string winder. and an instructional DVD.
With this guitar, you will be able to sound as good as you want to sound, and you will be able to experiment with as many styles as possible.
The guitar features a gloss body finish, mahogany laminated back and sides, and a stained maple bridge.
Aside from that, it has a scalloped "X" bracing, a mahogany neck, and a durable dark-stained maple fingerboard to give you an instrument that looks as good as it sounds.
Other details include having a dual-action truss rod, chrome hardware finish, and covered chrome tuning machines.
Donner DAG-1 Beginner Acoustic Guitar Kit
(link to Amazon.com)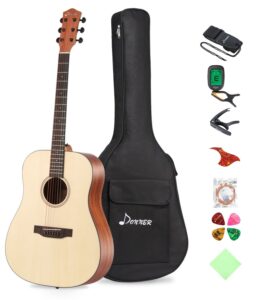 This comprehensive beginner's set comes with everything you need to get started, including an acoustic guitar, a padded gig bag, a strap, a digital clip-on tuner, a capo, pickguard, an extra pack of strings, 4 picks, and a clean cloth.
When it comes to the product page in itself, you'll be able to choose from three different paint styles, that is natural, sunburst, and black.
If that wasn't enough, it also lets you choose between a dreadnought and a cutaway body style.
I think that not a lot of brands offer as many options as this one does in the buying process, so they've really found a great way to be unique and distinctive in that sense.
Also, the rich-warm and clear sound of the spruce top mahogany body is sure to please any guitar player.
This is because it has a balanced tone with full intermediate frequencies, and it prolongs resonance for an even more satisfying experience!
Ranch 41″ Full-Size Acoustic Guitar Kit
(link to Amazon.com)
The Ranch 41″ Full-Size Acoustic Guitar Kit is also worth a mention due to the positive feedback it has received so far.
As for what's included in the pack, you'll find a Ranch BH-2 cutaway acoustic guitar, a gig bag, a digital clip-on tuner with battery, a capo. a polishing cloth, extra strings, a strap, one adjustment tool, and two picks.
A particular thing about this guitar is that its arched-back design and resonance box create a remarkably full and rich sound that is pleasurable to listen to.
The B-grade spruce and Sapele wood construction also make it easy to play in combination with a smooth polished body and Okoume neck.
On the other hand, the chrome die-cast tuning pegs are simple to use and will keep your instrument sounding great at all times.
This guitar is great for any beginner out there as it will give them a significant start with quality and numerous accessories to experiment with.
Guitar For Dummies Acoustic Guitar Starter Pack
(link to Amazon.com)
The Guitar For Dummies acoustic guitar starter pack is perfect for anyone who wants to learn how to play guitar and still doesn't want to spend a lot of money at first.
As a whole, the package includes the guitar, a gig bag, a clip-on tuner, 3 picks, and the audio CD with the 110-page book that covers all the basics of playing guitar.
One notable thing about the Guitar For Dummies starter pack is that just as its name implies, it was basically made for beginners only.
The guitar is available in a natural color with a spruce top, maple neck, linden back and sides, and a rosewood fretboard.
Its tone can be described as rich, clear, and mellow, and can easily fill a room with its powerful resonance.
Although in my opinion, they could've included a few other accessories like maybe a guitar strap, or extra strings, this is still a decent option to think about.
BCP Beginner Acoustic-Electric Set
(link to Amazon.com)
This is BCP's beginner acoustic-electric set and in contrast to the other options on this list, this is the only acoustic-electric guitar that we've mentioned so far.
As to what's included in the package, you'll get an amplifier, a capo, a carrying case, a strap, a pick set, a clip-on chromatic tuner, extra strings, a cleaning cloth, and of course the guitar.
The guitar features an Okoume top, back, and neck, a basswood body, a piezoelectric guitar pickup configuration, and a fixed guitar bridge system.
Since this is an acoustic guitar, once you connect it to the amp, you can experiment with its tone by adjusting the treble, bass, middle, tone, and volume knobs from both the guitar's body and amplifier.
With a cutaway shape that allows you to more comfortably reach past the neck and hit higher notes on the fretboard, you'll have no problem exploring different guitar positions when playing.
Lastly, when it comes to colors available, you can choose between an all-black, blue, natural, or sunburst guitar body color.
Pyle Classical Acoustic Guitar Starter Kit
(link to Amazon.com)
This is Pyle's classical acoustic guitar starter kit and it includes a gig bag case, a pitch pipe tuner, spare strings, picks, a cleaning cloth, and much more.
As for the guitar in itself, it has a traditional body style with a natural Linden wood top, body, back, and neck, a dyed maple wood fretboard, a birch headstock, chrome 3-in-line machine heads, and a total length of 36 inches.
When it comes to colors, you'll be able to choose between midnight black, natural gloss, ocean blue, sunburst, rose bloom, and western sunset.
Classical guitars come with nylon strings, hence beginners will have an easier time learning on one because there's no need for extra pressure on the frets.
Also, for those who travel frequently, the durability of this guitar is perfect, plus its size makes it very convenient to move it around.
For its price, you'll be getting a lot of value in each of its accessories and the overall playing experience that you'll have.
Bailando 41 Inch Full-Size Dreadnought Acoustic Guitar Kit
(link to Amazon.com)
The Bailando 41 inch acoustic guitar kit has the guitar, extra set of strings, 10 picks, a capo, a chromatic clip-on tuner, a strap, a waterproof thicken gig bag, and more.
Bailando doesn't seem to be known as a mainstream guitar brand by any means, and that comes with its benefits and disadvantages.
For one, you'll find fewer reviews online from real people that have bought the product, but you'll also tend to get more accessories inside the starter pack.
In itself, the guitar is a full-size dreadnought model with thick heavy mahogany back and sides, a natural satin finish, and fully closed die-cast chrome tuners.
At the same time, its high-quality spruce top provides a brilliant and vibrant voice that instantly adds clarity and direction to your tone.
Although this type of color generally is less available in many brands, a Zebrano body always adds an extra touch of uniqueness and elegance to any guitar.
If you're a beginner that's trying to save money, having in mind all the extra accessories it comes with and the overall decent quality of the instrument, this pack is a great one to consider.
Should you buy a beginner guitar starter pack?
If you're a beginner, it might be a good idea to buy a starter pack that includes a guitar, plenty of accessories, and some instructional materials. This will give you everything you need to get started.
However, if you're more experienced, you may want to buy a guitar that's specifically tailored to your needs, so in that case, a starter pack may not be the best option.
Also, consider the amount of knowledge you have about acoustic guitars and how much time you are willing to spend looking for the right gear.
You should buy a beginner guitar starter pack if you also somehow need all the accessories that come with them and don't want to spend time buying them individually.
A beginner starter pack generally comes with:
A tuner
Extra strings
A guitar strap
A handful of picks
A capo
An instructional DVD
And obviously, a guitar
If you think about it, it's definitely a great and much faster way to start learning and playing the guitar.
What should you be looking for in an acoustic starter pack for beginners?
If you are a complete beginner you should look for a guitar that you both like how it sounds and looks.
Simple, right? This is why I believe that…
As I've seen throughout the years, beginners tend to get more attached to certain guitars, sometimes it is just because of how they look and/or which popular guitarists have used them in the past.
If you want to learn how to play, I would say that almost every guitar will work to a certain extent.
But since the majority of us get discouraged very fast when we don't know what to do, it helps to have a guitar that we truly enjoy having and playing.
If you want to go the extra mile, then you should be researching about the guitar tone in specific and the brand's popularity.
See what you like and what you don't about every option you have, and then based on that choose which one is best for you.
As a rule of thumb, don't overcomplicate things at first, just start playing, and as you get more comfortable, start upgrading your gear.
Should you spend too much money on buying an acoustic starter pack?
I always have almost the same answer to this type of question.
You should be spending whatever amount of money you can afford to spend.
Generally, the more money you pay, the higher the quality of the guitar and the accessories will be, but this doesn't mean that you won't be able to learn with a cheap setup.
Having expensive gear will help you a lot if you are starting out since you will be more comfortable when playing and the guitar's playability will be extraordinary.
Now, remember that when you buy a starter pack, you will be getting more value than if you were buying just the guitar by itself.
Try to find a balance between the quality of the guitar and the money you can allow yourself to spend, and then you will be on the right path.
Here is a YouTube video where Paul Davids compares two acoustic guitars, notice how well they sound without even considering their price tags.
$5000,- VS $150,- guitar | Sound Comparison | Martin D-42 |
How can you tell which one is the best option for you?
You can do some research by reading a few reviews about the guitars themselves and watching some videos of people playing them.
This will give you a rough idea of whether or not these guitars are the ones you should get.
Now, what else can you do?
If you want to go a bit deeper into the subject, then you could just go to a local guitar shop, and try the guitars using your very own hands.
Ask the people over there to give you extra help by mentioning specific features of the guitar, and also by recommending other options as well.
If you don't know how to play the guitar yet, having the actual guitar in front of you will always help you decide on which one to buy.
This is because you will be looking at the guitar at an obviously much closer distance than in pictures, and as I have personally experienced before, there is a huge difference once you get to touch it.
Instead of playing a song, the simple act of comparing and feeling the fretboard with your hands will just give you more or fewer reasons to get the guitar.
Is it better to buy all the accessories by themselves?
I was getting this question a lot for the last couple of weeks, there are many things to consider.
Buying all the accessories by themselves has its own advantages and disadvantages, for example, a good thing about it is that you will be able to pick the ones that you think are the best and that you actually need.
On the other hand, if you buy a started pack, the company that sells it will be the one selecting which accessories get included when you buy the pack.
Since businesses strive for profits, some products tend to be outsourced to countries such as China and the production line will most likely not have a high-quality control.
When you buy them separately, as I said, you can pick whatever you want and you can also choose the brand or model you like.
Prices tend to get higher, though! And this is a very common disadvantage that people face.
For guitar players that don't want to spend too much money, I recommend you buy everything together, and for those that don't really care, then you can get what is best and necessary for you.
If I'm not a beginner, will these still work for me?
If you are not a beginner these will definitely work for you as well.
Some people buy these acoustic guitar packages even when they are on a more advanced level just because of the value they get with their purchase.
Some of these guitars could provide you the same benefit if you already know how to play.
Even though I've named this article "best acoustic guitar starter packs for beginners", everyone could consider these options.
Some advanced players still buy them because people tend to have them for traveling, parties, or just jamming in small places.
They come as a very reliable and easy way to bring all your guitar gear to other places.
Can you teach yourself how to play the guitar?
Yes, you can definitely teach yourself guitar, it might take some time and practice to get good at it, but it's definitely doable.
There are a few different ways that you can go about teaching yourself guitar, and one of them is to find some instructional materials online or in stores and follow the lessons step by step.
You can also find videos on platforms such as YouTube to help you out; for example, we recommend this quickstart by Guitareo:
Learn How To Play Guitar - Beginner Guitar Lesson #1
Another option is to find a guitar teacher nearby who can teach you in person, this one would be the ideal scenario for the first 2-5 lessons, but it can be very expensive.
Whichever way you choose, be sure to practice regularly and stick with it, and you'll be playing guitar in no time!
One more thing
GuitarBased.com is all about showing you a little bit more about guitars each day and finding ways to innovate and have fun with this beautiful instrument that we love.
If you enjoyed this post, then I invite you to go check out our blog!
We're always sharing a lot of useful and helpful content that both beginners and advanced players can use to further their playing abilities.
As always, thank you for reading and being here! 🤘