There are a lot of great overdrive pedals on the market these days, and it can be tough to choose the right one for your setup.
Whether you're looking for a classic rock-style sound or something more modern, there are so many options out there that it becomes hard to decide which ones are actually worth getting.
So how do you choose? And more importantly, what makes a great overdrive pedal?
In this blog post, we'll take a look at our picks for the best overdrive pedals on the market, some of the factors to consider when choosing one, as well as the answer to the most frequently asked questions on this topic.
So, without further ado, let's get started!
Best Overdrive Pedals
Summary of all the products that we'll talk about:
Donner Overdrive Guitar Pedal
(link to Amazon.com)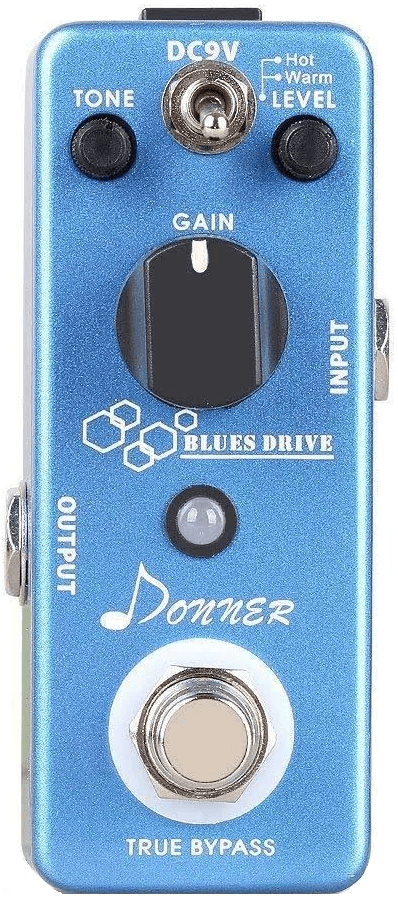 This Donner overdrive guitar pedal features two overdrive modes – warm and hot – to give you a wide range of sounds to choose from.
When it comes to the 'Hot' mode, it gives you a more powerful, tightened sound while the 'Warm' mode replicates the classic TS (Tube Screamer) overdrive sound.
You also have complete control over your tone with the Level, Tone, and Gain knobs, which are all very easy to use.
The 'Level' control will let you change the output volume, the "Tone" control will allow you to change the brightness of your sound, while the 'Gain' control is the one that lets you change the overdrive amount.
Plus, with true bypass circuitry, your tone will remain pure and unadulterated when the pedal is turned off.
Again, this pedal was inspired by the legendary TS-style vintage tube overdrive pedal and its famous mods, so if you think that you're looking for a more classic-sounding overdrive, then this one is a great option to consider.
Overdrive pedals are an essential part of any guitarist's arsenal, and TS-inspired pedals, in particular, have a sweet spot where they can provide just enough distortion without getting muddy or soaring above your instrument.
Boss SD-1 Super Overdrive
(link to Amazon.com)
The Boss SD-1 Super Overdrive pedal is a classic overdrive that has been used by some of the world's greatest guitarists.
Released in 1981, the SD-1 has been the core gain pedal for generations of players across every musical genre and it quickly became a favorite among musicians looking for a clean, transparent overdrive sound.
It is based on the revolutionary asymmetrical clipping circuit from the Boss OD-1 overdrive pedal, and it delivers a very rich, smooth, and full tone, ensuring your guitar always fits exactly in the mix.
Even after so many years, this pedal is still in production today, and just like all Boss pedals, its design is distinguished by being very simple and having a lot of switch space.
This pedal is ideal for use with clean and slightly driven amps, and it works great for bringing tightness and definition to high-gain amp tones, plus, it stacks well with boost and distortion pedals.
Whether you're looking for a mild overdrive to push your amp into saturation or a full-on distortion sound, the SD-1 can surely deliver.
Fulltone Full-Drive 2 MOSFET Overdrive Pedal
(link to Amazon.com)
The Fulltone Full-Drive 2 MOSFET overdrive pedal has Volume, Tone, Overdrive, and Boost knobs along with toggle switches for selecting Vintage/Comp-Cut modes and MOSFET/Standard overdrive styles.
When it comes to the 'volume' control, this will just increase or decrease the overall level of both channels.
The 'tone' control affects both channels, turning this clockwise increases brightness, and turning counter-clockwise smooths out the sound without changing any midrange or bass content.
Now, the 'Overdrive' knob controls the distortion level of the Overdrive Mode only, and turning this clockwise will increase overdrive and sustain.
Lastly, the "Boost" control, which is actuated by stepping on the "Boost" footswitch located at the lower right, transforms the pedal into a medium to higher-gained distortion, and turning this clockwise will increase the distortion of your sound.
Each of the two switches offers a different characteristic to your tone, with either more or less attack, softness, mids, lows, trebles, etc.
Lastly, it also has a true bypass with LED indicators, so when the pedal is off, the signal path will go directly from the input jack to the output jack.
Behringer TO800 Vintage Tube Overdrive Pedal
(link to Amazon.com)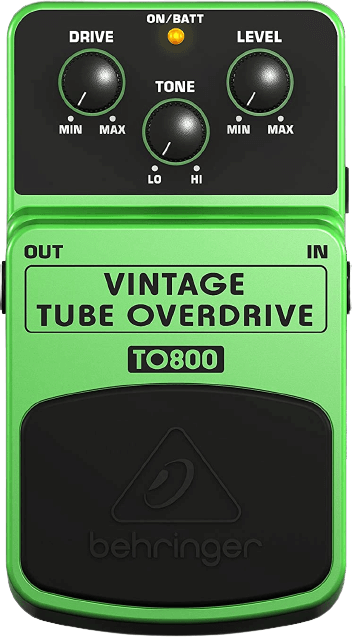 The Behringer TO800 vintage tube overdrive pedal, just as its name suggests, will give you a very vintage overdrive that's distinguished by smooth sustain and a screaming full tone.
The resulting output that you'll get from using them is very faithful to that of vintage tone machines that made rock and roll history.
With its original 4558 IC plus MA150 distortion diodes and Drive, Tone, and Level controls for an authentic vintage sound, the TO800 is sure to satisfy most guitarists.
The Drive knob adjusts the intensity of the overdrive effect, the Tone knob allows you to shape the overall sound, and lastly, the Level knob adjusts the output level.
Also, the status LED tells you when this pedal is activated, and the first-class electronic on/off switch gives you the highest signal integrity in bypass mode.
These pedals were designed and engineered by BEHRINGER in Germany, and they run on 9V batteries.
Maxon Reissue Series OD808 Overdrive
(link to Amazon.com)
The Maxon Reissue Series OD808 Overdrive pedal gives you that classic tube overdrive sound that's perfect for blues and rock.
With its flexible tone controls (Drive, Tone, and Balance), you can dial in the perfect sound for your playing style and because of it being true bypass, your tone will remain pure and unadulterated when the pedal is off.
It offers that extremely smooth and natural overdrive of a full-up tube amplifier and is incredibly dynamic since it responds precisely to playing nuances and allows your instrument's natural tone to shine through.
Like all Maxon pedals, the OD808 is built with high-quality components and construction to last a lifetime.
This pedal features a JRC4558 integrated circuit chip, which is the most imitated and most lauded overdrive circuit of all time.
If you're looking for a versatile and all-around overdrive pedal with a natural, mild overdrive of a tube amp that doesn't sacrifice your guitar's original tone, then this is a great option to think about.
Joyo JF-02 Ultimate Overdrive Pedal
(link to Amazon.com)
The Joyo JF-02 is an excellent overdrive pedal that can be used to create a variety of different tones.
It has a simple, yet effective, design that makes it easy to use, and is also very affordable, which makes it a great option for budget-conscious musicians.
This pedal recreates the sound of a late 70s overdriven tube-amp and features Gain, Level, and Tone knobs, as well as a Hi/Low tone switch that allows for an even brighter top end.
The tone it creates is soft when just a little bit of gain is dialed in, but then as you start to turn up the drive and volume knobs, the ultimate drive really begins to be highlighted!
Such tones are reminiscent of Guns 'N Roses, AC/DC, and even Pink Floyd, so this vintage-style effect will have you rocking out in no time with the timeless styles of the classic rock era.
It also has been wired for true-bypass, has an LED on/off indicator light, and features a metal shell-casing with quality connectors and well-built controls.
Fulltone OCD Guitar Pedal
(link to Amazon.com)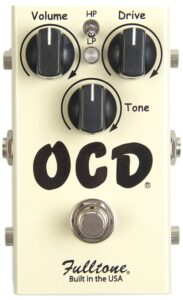 The Fulltone OCD (Obsessive Compulsive Drive) guitar pedal is a great pedal for guitarists who are looking to add some serious distortion to their tone.
This pedal is capable of delivering some truly monstrous tones, and it is also very versatile, allowing you to dial in the perfect sound for your needs with lower gain levels.
It features mainly 3 controls, Volume, Tone, and Drive, but it also has an HP/LP (High Peak/Low Peak) switch that takes the pedal from a clean boost to an insane, sustain-laden distortion.
In comparison to the classic OCD, this one is actually the V2 of that pedal, so it comes with various updates such as an internal switch to choose between enhanced bypass and true-bypass and its output buffer.
This buffer also had a positive effect on the sound, since it reduced loading on the pedal's hard-clipping stage and allowed more sustain of both the sound and the overtones.
On the other hand, this pedal is true-bypass, which means that once it's switched off, the signal is completely disengaged, ensuring no tone coloration.
Ibanez TS9 Classic Tube Screamer
(link to Amazon.com)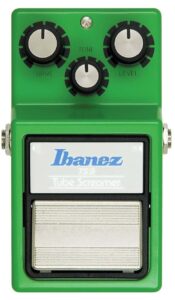 The Ibanez TS9 classic tube screamer is one of the most popular guitar pedals ever made and is a reissue that's just like the original in so many ways.
Same factory, same components, and with the same circuitry that made the first one so famous and greatly desired by guitarists.
It features 3 main controls (drive, tone, and level) that give you access to a warm, amp-like overdrive and lets you adjust it to whatever needs you have.
When it comes to the 'drive' knob, this one modifies and increases the amount of distortion when turned clockwise.
On the other hand, the 'tone' knob is responsible for adjusting the amount of high-frequency contour, and lastly, the 'level' knob adjusts the output volume of the pedal.
The TS9 is often used by blues and rock guitarists to get that classic tone from older songs, and can also be the perfect way to boost your guitar's signal for solos and lead sections.
Boss BD-2 Blues Driver Guitar Effect Pedal
(link to Amazon.com)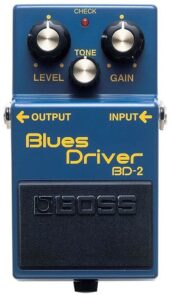 The Boss BD-2 guitar pedal is a great option for blues and rock musicians and is one of my favorites on this list.
It has a warm overdrive sound with a lot of sustain and is also very responsive, which makes it easy to dial in and get those classic "bluesy" guitar tones that simulate vintage tube amplifiers.
When it comes to controls, it has a LEVEL knob to control the amount of signal going to the amplifier and a TONE knob to control the tone of the distortion.
Turning this TONE knob clockwise will create a sharper sound with emphasized treble while turning it counterclockwise simply creates a soft sound with cut treble.
Lastly, it also has a GAIN knob that allows players to go from light overdrive to full distortion when turned clockwise.
Electro-Harmonix Soul Food Guitar Pedal
(link to Amazon.com)
The Electro-Harmonix Soul Food guitar pedal is a great pedal for those who are looking for a vintage-sounding overdrive pedal.
It's based on the Klon Centaur, and it offers a wide range of tones that can be achieved at a much more affordable price.
At the same time, it's very responsive as well, which means that you can tweak your sound until it's just right and achieve either distorted, fuzzed, or overdriven tones.
The Soul Food delivers transparent overdrive with a great touch and its circuitry features boosted power rails to provide abundant headroom and increased definition in your signal.
Lastly, it features selectable true bypass and buffered bypass modes.
In true bypass mode, your guitar's signal goes straight through the pedal without any modification, this is great for keeping your tone pure and unaltered.
In buffered bypass mode, the Soul Food adds a tiny bit of buffer to your signal which can help prevent high-frequency loss that often occurs with long cable runs.
What exactly is an overdrive pedal?
An overdrive pedal is a type of guitar effects pedal that amplifies the signal of a guitar or other instrument, making it sound "overdriven" or louder.
Overdrive in itself is a form of audio signal processing used to alter the sound of amplified electric musical instruments, usually by increasing their gain.
They can be used to create a wide range of sounds, from a gentle boost to a full-on fuzz, but at the same time, they can also simply enhance the natural tones of your guitar.
When used judiciously, these pedals can give your guitar playing more definition and clarity and can help you shape your sound in new and exciting ways.
Some people also define overdrive pedals as an attempt to imitate the sound of a tube amplifier being pushed to its limits.
Ibanez TS9 Tubescreamer - The MUST HAVE Overdrive Pedal! - Review & Demo
Although the exact definition and where the effect originated from is most of the time opinion-based, the tone, and sound of it are undoubtedly very easy to spot.
Is an overdrive pedal the same thing as a distortion pedal?
No, an overdrive pedal is not the same thing as a distortion pedal.
An overdrive pedal is designed to produce a milder type of distortion, while a distortion pedal is designed to produce a more aggressive type of distortion.
While overdrive and distortion pedals both create a similar effect of making the guitar sound louder and more aggressive, they actually achieve this in different ways.
Distortion pedals achieve their sound by clipping the peaks off of the waveform, which creates a kind of "fuzzy" sound.
Overdrive pedals, on the other hand, gently compress the waveform, giving it a smooth, rounded sound.
In general, overdrive pedals are used to create a warmer, more natural-sounding distortion, while distortion pedals are better for achieving a harsher, more metallic sound.
Of course, both types of pedals can be used to create a variety of sounds, so it's ultimately up to the player to decide which one is right for them.
Can you use overdrive, distortion, or fuzz together?
The answer is yes! In fact, combining these two effects can help you create a range of different sounds.
Overdrive adds a smooth edge to your sound, while distortion gives it a more rough and aggressive tone, so when you combine these two effects, you can produce thick, rich tones that are perfect for both lead and rhythm playing.
Plus, by tweaking the settings on each of the pedals, you can further customize your sound however you like it.
Now, most people refer to this as gain stacking!
Gain stacking is a technique used to increase the gain of an amplifier or pedal.
This is done by stacking multiple gain pedals together, or by using a pedal with a built-in boost function.
When stacking overdrive pedals, it's important to make sure that the gain stages of each pedal are compatible with one another.
Some pedals have a lot of gain power, while others have very little, doing so ensures that you don't get too much or too little gain.
What should you look for in an overdrive pedal?
As a guitar player, you know that overdrive pedals are a must-have in your arsenal.
But what should you look for when you're shopping for one? In this section, we'll give you the rundown on the features to keep your eyes peeled for when you're shopping for an overdrive pedal.
1. The pedal introduces the correct amount of gain
First, you'll want to make sure that the pedal has enough gain to give you the sound that you're looking for.
This means that it can be used to push your amp into overdrive or to increase the volume of your signal without adding any additional distortion.
Too much gain can cause your signal to become muddy, so you'll want to find a balance that works for you.
2. It doesn't color your tone in the wrong ways
Next, you'll want to consider the tone of the pedal by making sure that it doesn't color or alter your sound too much, and that it'll work well with the rest of your pedals.
In other words, you need to be aware of how it affects the low, mid, and high frequencies of your guitar signal and that these changes are aligned with what you're actually wanting to sound like.
Once you hear the distortion that is capable of producing, you'll also want to ask yourself whether this distortion is pleasing and adequate.
You must also notice how transparent the overdrive is at a minimum distortion since this will dictate how versatile the pedal will be and the different uses it'll allow you to have.
3. It has true-bypass circuitry
You'll also want to think about whether you want a true bypass pedal or not.
A true bypass pedal routes your instrument's signal directly from your input jack to your output jack, without passing through any of the pedal's circuitry.
This is important because it ensures that your tone is not affected by the pedal's tonal characteristics, which can often degrade your sound quality or add noise to your signal.
4. You can buy it at a good and affordable price
When looking for an overdrive pedal, it is important to find one that has a good price and is affordable.
You don't want to spend a lot of money on a pedal that you won't use often so you want to find one that stays within your budget.
Overdrive pedals usually go for around $100, but some can be found for less. If you are looking for a more high-end pedal, you can expect to pay around $200 or even more.
I encourage you to watch this YouTube video by JHS Pedals titled: "Understanding The Types Of Overdrive Pedals On The Market"
Understand The Types Of Overdrive Pedals On The Market
He talks about the different types of overdrives you'll find out there, how they sound, the way they were built, and also gives examples of each one of them.
This is a great way to hear how each pedal sounds to decide the one that suits you best.
Where do overdrive pedals go in your signal chain?
Overdrive pedals are a great way to add some extra power and punch to your guitar sound, they can be used to replicate the sound of a cranked tube amp or to create their own unique distortion tones.
When positioning overdrive pedals in your signal chain, there are a few things to keep in mind.
One of them is that overdrive pedals generally sound best when placed in front of distortion pedals, this allows the overdrive pedal to add its own unique flavor to the distortion, rather than being overwhelmed by it.
It's generally best to place overdrive pedals before modulation effects
Also, it's generally best to place overdrive pedals before modulation effects like chorus and flanger pedals since this helps to keep the overall sound from getting too muddy or cluttered.
Finally, remember that each pedal will interact with the others in your signal chain, so it's important to experiment with different configurations to find what sounds best to you.
To summarize, tuners, volume, dynamics, filters, and pitch shifters pedals typically go at the beginning of the signal chain.
Then after that, effects such as overdrive and distortion pedals followed by modulation effects such as chorus, flangers, and phasers typically come next in the chain.
One last thing
GuitarBased.com is all about showing you a little bit more about guitars each day and finding ways to innovate and have fun with this beautiful instrument that we love.
If you enjoyed this post, then I invite you to go check out our blog!
We're always sharing a lot of useful and helpful content that both beginners and advanced players can use to improve their playing abilities.
As always, thank you for reading and being here! 🤘