What are the best carbon fiber guitars?
There are many choices out there that will definitely give you a lot of benefits in comparison to other guitars, but what exactly is the most important thing to consider when purchasing a carbon fiber guitar?
In this article, I will be reviewing the most popular options in the industry by considering tone, playability, price, and what experiences other guitarists have had so far with each guitar that we mention.
Aside from that, we'll briefly explain what makes carbon fiber so amazing for building guitars, and why you're definitely on the right track if you're considering buying one.
Let's get started!
Best Carbon Fiber Guitars
Summary of all the products that we'll talk about:
KLOS Black Carbon Fiber Travel Acoustic Guitar

Rich, loud and resonant with a nice balanced tone

Check Price
LAVA ME 2 Acoustic-Electric Travel Guitar

FreeBoost technology uses rear surface as a speaker

Check Price
RainSong Concert Hybrid Acoustic-Electric Guitar

Single cutaway, composite fingerboard, and high gloss urethane body finish

Check Price
Journey Instruments Carbon Fiber Travel Guitar

Patented removable neck system and quality fabrics on all core components

Check Price
Enya Carbon Fiber Acoustic-Electric Guitar

Elevated neck design releases the pressure to the top created by the fretboard

Check Price
McPherson Touring Carbon Guitar

Very resistant to any change in humidity and temperature

Check Price
Composite Acoustics Cargo Carbon Fiber Acoustic Guitar

 A travel-size instrument that sounds like a full-size guitar

Check Price
Emerald Guitars X20 Carbon Fiber Finish Guitar

Designed for the guitarist searching for a rich and full acoustic sound

Check Price
KLOS Black Carbon Fiber Travel Acoustic Guitar
(link to Amazon.com)


This KLOS Black Carbon Fiber Travel Acoustic Guitar seems to be one of the most famous options out there among all carbon fiber guitars.
Just as obvious as it is, the back, body, and top of this guitar are made of carbon fiber.
It features a Brazilian Cherry fretboard, magnetic-double-coil guitar pickup configuration, 24″ 3/4 scale length, and custom light string gauge with D'Addario EJ26 string material.
Its neck is made of Mahogany, and it has a hardtail bridge system.
According to the product description on many of the guitar sites that sell this instrument, the KLOS carbon fiber travel acoustic guitar is known to have a sound and tone that people describe as "very rich, loud, and resonant."
This guitar only weighs about 2.88 pounds, which just as its own name implies, makes it the perfect travel guitar as well.
And just as if that isn't enough, this guitar also has a removable neck that disconnects in seconds by removing 4 screws.
LAVA ME 2 with Effects 36-Inch Acoustic-Electric Travel Guitar
(link to Amazon.com)

The LAVA ME 2 Acoustic-Electric Travel Guitar is another awesome guitar choice that a lot of guitarists seem to love.
It features an L2 pickup system with FreeBoost features, Super Airsonic (carbon fiber composite) top material type, carbon fiber back material type, Airsonic body material, and HPL (High Pressure Laminate) neck, fretboard, and bridge material.
The main difference between Super AirSonic and AirSonic is that even though they have the same weight, Super AirSonic it's 20% stronger.
This guitar weighs approximately 3.7 pounds, which the company likes to advertise as "lighter than a kitten," and most laptops.
It has a light string gauge as it comes with Elixir Nanoweb 012 phosphor bronze strings, and it also includes a double guitar bridge system and 21:1 ratio aluminum alloy tuning machine heads.
The most unique and important thing about this guitar is that you can play with effects without plugging in.
In other words, the FreeBoost Technology on the L2 pickups uses the rear surface of the LAVA ME as a speaker.
The cool thing about this is that it allows you to openly play your guitar with delay, chorus, and reverb without an amplifier.
RainSong Concert Hybrid Acoustic-Electric Guitar
(link to Amazon.com)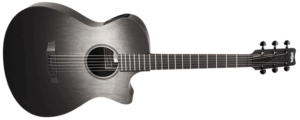 This RainSong Concert Hybrid Acoustic-Electric Guitar features an OM body type, single cutaway, composite fingerboard, 24.87 inches scale length, and high gloss urethane body finish.
With an all-carbon-fiber unidirectional top wood, carbon/glass hybrid back and sides, 3-band preamp EQ with Garrett Null notch feedback filter, and Black Gotoh tuning machines with 1:18 gear ratio, this guitar is another amazing option that you should consider as well.
The stunning high-gloss finish on the soundboard is complemented by a visually pleasing satin body and the comfortable playability of a satin neck.
It has an excellent projection, a good deep-bass response when playing, and incredible clarity and resonance.
A little bit more about its three-band EQ is that it has phase inversion and is capable of delivering warm, clean, and fresh sounds with different settings.
For this guitar, RainSong matched their most refined shape, the warm and responsive soundboard from their Concert Series, the mellow Carbon/Glass body construction from their Hybrid Series, and an intimate short-scale 12-fret neck.
In other words, this guitar slightly takes the best out of the other guitars that its manufacturer builds.
Journey Instruments Carbon Fiber Travel Guitar
(link to Amazon.com)

This Journey Instruments Carbon Fiber Travel Guitar is a very interesting choice on this list.
This right-handed black guitar has Matte Polyurethane finish, unidirectional carbon fiber top wood, fiberglass reinforced carbon fiber back and sides wood, traditional C neck shape, and Grover Mini Chrome 18:1 ratio tuning machines.
With a patented removable neck system, this acoustic-electric guitar is capable of collapsing into a size that's tailor-made for airline carry-on compartments, which makes it another great travel guitar alternative on this list as it can be assembled and disassembled in a matter of seconds.
It also features Journey under-saddle transducer pickup electronics, carbon fiber fingerboard, and bridge material, and when it comes to measurements, a 24.5″ scale length, 1.75″ nut width, and 18″ body length, which in total gives it a 35.5″ overall length.
Aside from that, it comes equipped with Elixir Phosphor Bronze Nanoweb Lights strings, and despite its small comfortable body, the overhead delivers a clear, resonant tone with surprising volume and projection.
This guitar's offset soundhole maximizes the resonance of its soundboard, and its temperature-resistant carbon fiber construction prevents cracking and warping in case of excessive use.
Enya Carbon Fiber Acoustic-Electric Guitar
(link to Amazon.com)

This Enya Carbon Fiber Acoustic-Electric Guitar has carbon fiber & polycarbonate back and sides, composite body material, Richlite & Silicon Crystal Inlay fretboard material, tremolo guitar bridge system, and black die-cast tuning pegs.
Just like all the other guitars on this list, the strength and stability of graphite mean that this guitar is capable of surviving any changes in the environment such as drastic temperature while staying in tune.
Its elevated neck design, which removes the pressure to the soundboard from the fretboard below the 14th fret, is also able to reduce the pressure on the soundboard resulting in a good intonation transmission, which makes this guitar's tone be released fully in a much easier way.
Another thing to consider is that offset sound holes that are closer to the guitarist better project the sound to the player while not sacrificing sound to the audience; this can also improve the guitar's mid-range response.
The AcousticPlus system, using a built-in actuator, takes the string vibrations and enhances them to create chorus and reverb effects from the instrument itself.
In other words, you will be able to use guitar effects without the need of having to plug in your guitar to an amp. The body of this full-size (41″) guitar is cut away at the neck for better access and more comfortable playing off the top frets.
McPherson Touring Carbon Guitar
(link to McPhersonGuitars.com)

This McPherson Touring Carbon Guitar is one of the most expensive ones on this list, but it's worth mentioning.
It's said to be a mix of all the best of McPherson engineering and has both medium and low action saddles included.
It weighs about 4.25 pounds, has a 3/4 size body, a 22.75″ scale length, and a soft v-neck profile.
Just like other alternatives on this list, this McPherson guitar has an offset soundhole, which as was mentioned before, better projects the sound to the player, and it never sacrifices the actual sound that's delivered to any potential audience that you might be playing in front of.
Other features include a cantilevered neck, composite nut & saddle, enclosed Schaller tuners, and L.R. Baggs Element active system with volume control.
Aside from this, this right-handed guitar has a single cutaway, under-saddle pickup configuration, 1-band preamp EQ, and enclosed Hipshot tuning machines.
The body, neck, bridge, fretboard, and bracing of this McPherson Touring are made fully of carbon fiber, with a blend used on the back and sides, which makes it very resistant to any change in humidity and temperature.
The durability of the material translates to a powerful, yet intricate acoustic tone.
From fingerstyle to strumming, and everywhere in between, these guitars can do it all. And, best of all, it easily fits airline overheads or anywhere space is tight.
Composite Acoustics Cargo Carbon Fiber Acoustic Guitar
(link to Amazon.com)

This Composite Acoustics Cargo Carbon Fiber Acoustic Guitar is the ultimate instrument for having a great tone, amazing durability, and incredible versatility.
A right-handed guitar that features a carbon fiber top, back & sides, and "C" neck shape.
It has black chrome hardware, reinforced Polymer fingerboard, proprietary carbon composite bridge, L.R. Baggs Active Element pickup, high gloss body finish, and aluminum dot inlays.
Composite Acoustics made it clear with this guitar that it's definitely possible to have a travel-size instrument sound like a full-size guitar.
With its 22.75" scale length, its ultra-precise tuning machines with an 18:1 ratio, and its proprietary carbon fiber bridge and saddle materials for maximum sound transfer, this guitar is definitely another great option that surely deserves a spot on this list.
It seems that a lot of carbon fiber guitar manufacturers prefer the use of offset soundholes on their instruments and Composite Acoustics is not an exception.
The Cargo Carbon Fiber Acoustic Guitar features an offset soundhole with integrated top bracing technology.
What this soundhole allows you to do is hear a closer representation of what your audience hears, simply put, how your guitar sounds to others when you play.
Other things that you should know about this guitar include having a rigid one-piece neck/body construction for long-term stability, and that it also easily fits airline overheads or any place where space is tight.
Emerald Guitars X20 Carbon Fiber Finish Guitar
(link to EmeraldGuitars.com)


This Emerald Guitars X20 Carbon Fiber Finish Guitar has a high gloss finish on all surfaces, 24 medium stainless steel frets, cosmo black Gotoh 510 tuners with 18:1 ratio, Graphtech low friction nut, and saddle, and an LR Baggs Element Active System VTC under-saddle acoustic pickup.
With just a weight of 4.4lbs or 2kg, the addition of the extended access neck design and a subtle rib bevel, help with ergonomics and feel.
On the other hand, the contoured fretboard end and redesigned bridge, give a fresh new look while retaining the essence of the X20 acoustic guitar.
This guitar also features an ergonomic forearm bevel and rib bevel to give great comfort while playing seated and an extended access neck design that features a heelless cutaway that gives great access to the upper frets.
If having your guitar sit more comfortably and securely on your knee is important to you, the unique asymmetrical side contour of this guitar makes that happen very easily.
Esmerald Guitars also added a custom pinless bridge design that features a slotted keyway which allows you to lock the strings in place easily while also giving a beautiful clean look.
When it comes to tone and playability, this guitar doesn't fail to provide that in the best way possible.
Tonally this guitar has a big voice with a laminate structure that gives a richer fuller sound.
At the same time, its unique soundhole placement, gives great projection to the player, while still giving the audience the fullness of the performance.
Which carbon fiber guitar should you buy?
At the end of the day, it's all about personal choice!
I get this question a lot and I understand the reasons why people ask it since I used to do the same thing all the time before buying any instrument.
If you read all the descriptions of the guitars we mentioned above, you will simply realize that most of them have similar features with a few differences here and there.
All carbon fiber guitars are extremely lightweight, impervious to intense temperature and humidity changes, louder than wood acoustic guitars, and are ultimately very strong and powerful.
So, fundamentally, you will be getting all these benefits with any carbon fiber guitar, but of course, some brands are better than others and build their guitars differently.
If I were to be in a situation in which I want to buy a new carbon fiber guitar but have little knowledge of how they work, then I would start by reading this article:
After that, just see what things you are looking for in a guitar, and ask yourself why buy a carbon fiber guitar? Then based on your answer, pick the one you feel the most good about.
You could go in different routes, you could simply choose one that aesthetically pleases you more, or you can get into advanced topics such as what pickups they come with, or whether or not you wish to have built-in effects or not.
Think about what tone you want to achieve, and watch a lot of demos on YouTube; after doing all this, you will be in a better position to make the right choice.
What to consider before buying a carbon fiber guitar?
Let's take a look at some of the things that everybody should have in mind before buying any carbon fiber guitar:
– Budget
How much money are you willing to spend?
It's really no secret that generally, the more money you spend on a guitar, the higher the quality will be.
You will quickly find out that carbon fiber guitars are expensive, to say the least.
With that being said, they typically range from around $500 to $2000.
In order to properly build a carbon fiber guitar, many different processes must take place; these processes make the manufacturing of those same guitars complicated and costly.
See how McPherson Carbon Series guitars are made by watching their factory tour video on YouTube.
Of course, it all varies depending on the brand that's being discussed.
But generally, all these guitars are in the high-end price range since manufacturers must account for all the necessary labor, tools, and products to build the instruments and still run a profitable business.
If you are a beginner, you will find a lot of confusing information online.
Many people think that learning with an expensive guitar is way better than learning with an inexpensive guitar, and this is simply because of the mentioned differences in quality.
Some others say that it really doesn't matter the quality of the guitar, but how much effort you put into learning to play.
I personally learned to play the guitar with a $30 acoustic guitar.
At the end of the day, I managed to learn to play, which is essentially what's important, but I would never recommend this to beginners since it really makes it harder for those that have never touched a guitar in their lives.
This is due to exactly what I mentioned before, a guitar has to be manufactured at a cost that allows some profit to the builder or seller, so having a low price inevitably means having an unskilled assembly line with low-quality control.
– Body style
If you're buying a new carbon fiber guitar, then you should know that the body shape of that guitar will have a huge influence on how comfortable you feel and what tone, volume, and resonance you will get when playing.
These are some of the most popular acoustic guitar body styles: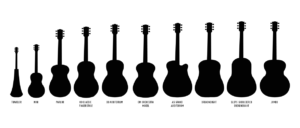 Talking about each guitar body style and its advantages and disadvantages is beyond the scope and purpose of this article.
But I really encourage you to research this a bit more if you think that what you are trying to achieve in terms of tone is somehow unique or different.
Carbon fiber guitars usually have dreadnought guitar bodies, which has become the most common for acoustic guitars in general.
The most popular carbon fiber guitar manufacturers seem to purposely restrict and limit themselves to this specific type of body since it provides the most benefit to the players.
– Playability
When it comes to playability, carbon fiber guitars are very similar to traditional acoustic guitars.
However, you should still be aware of a few things before purchasing one.
First, check the string action; the distance between the strings and the fretboard affects how easy it is to press down on the strings.
If the string action is too low, you might have difficulty playing chords; if it's too high, you might experience some discomfort in your fingers.
This is something you can easily adjust on most guitars, but it's still something to keep in mind just so that you're not surprised when you first start playing.
Second, you can take a look at the bridge and saddle materials that were used.
The bridge is the piece that the strings are attached to, and the saddle is what the strings sit on.
These elements, although debatable by some guitarists, can affect the tone of the guitar very slightly.
As for the carbon fiber in itself, you can look for things such as the number of plies used in the construction and the specific type of carbon fiber that was used.
The more plies, or layers, there are in the guitar, the stiffer it will be.
Different types of carbon fiber can affect the weight, stiffness, and even the look of the guitar so make sure to do your research on that as well.
– Sound quality
The sound quality of carbon fiber guitars is very similar to that of traditional acoustic guitars.
Make sure that the projection of the guitar is good; this means that the sound will be loud and clear even when you're not plugged into an amplifier.
Another thing to consider is the overall tone of the guitar.
Some guitars are brighter sounding, while others are more mellow sounding.
It really depends on your personal preference as to what you're specifically looking for in a guitar.
Carbon fiber guitars tend to have a bit more of a "zing" to their sound, so if you're looking for a guitar with a lot of personalities, this might be the material for you.
Overall, they're also loud and clear, which is always a good thing.
– Durability
The whole point of using carbon fiber in guitar construction is for the durability that it offers.
Carbon fiber is an incredibly strong and lightweight material, so you can rest assured knowing that your guitar will be able to withstand a lot of wear and tear.
This is ideal if you're someone who travels often or if you simply want a guitar that will last you for many years to come.
For temperature changes, carbon fiber is also a great material.
It won't warp or crack like wood can, so you don't have to worry about your guitar going out of tune if you take it from a cold place to a hot place (or vice versa).
– Electronics
Some carbon fiber guitars are acoustic-electric but some others aren't, so if you're looking for an electric guitar, make sure to check that before you buy.
Acoustic-electric guitars have pickups (the devices that amplify the sound) and preamps (to control the amount of amplification) built into them, so they'll be able to connect to an amplifier just like electric guitars can.
Not all acoustic guitars have this feature, however, so be sure to check before you buy if this is something that's important to you.
The ones that do have electric capabilities usually have a 1/4″ jack for you to plug into, and come with multiple effects, such as reverb, chorus, delay, and more.
Some even have a built-in tuner, which can be extremely handy.
– Aesthetics
This one is entirely up to you since the unique aesthetics of your instrument will also be what sets it apart from everyone else's.
The great thing about carbon fiber is that it comes in a variety of colors, so you're bound to find one that you like.
Another thing to keep in mind is the overall look of the guitar.
Some guitars have a more traditional look, while others are designed to be more modern.
Carbon fiber guitars come in all sorts of shapes, sizes, and colors.
You can find them with or without a pickguard, and with all sorts of different inlays and designs.
When it comes to their body, you can find tortoise shell patterns, camouflage, and even sparkles.
It really just depends on your personal preference as to what you want your guitar to look like.
Are carbon-fiber guitars good for traveling?
Carbon fiber guitars are generally excellent alternatives for traveling around.
Just like we referenced before while describing each guitar that we listed, some carbon fiber guitars out there actually break in half.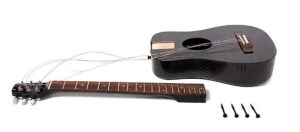 This guitar is the KLOS Black Carbon Fiber Travel Acoustic-Electric Guitar.
As shown in the image above, you can disconnect the neck in seconds by removing 4 screws.
Now, a detachable neck is not the only reason why carbon fiber guitars are good for traveling, particularly since not all carbon fiber guitars have a detachable neck.
What makes these guitars incredible traveling instruments is that all of them are exceptionally solid and lightweight instruments.
This makes them ideal for someone that is continually voyaging and truly doesn't need their instrument to break.
Best Carbon Fiber Guitar Brands
KLOS Guitars is a company that makes high-quality, durable, and affordable guitars.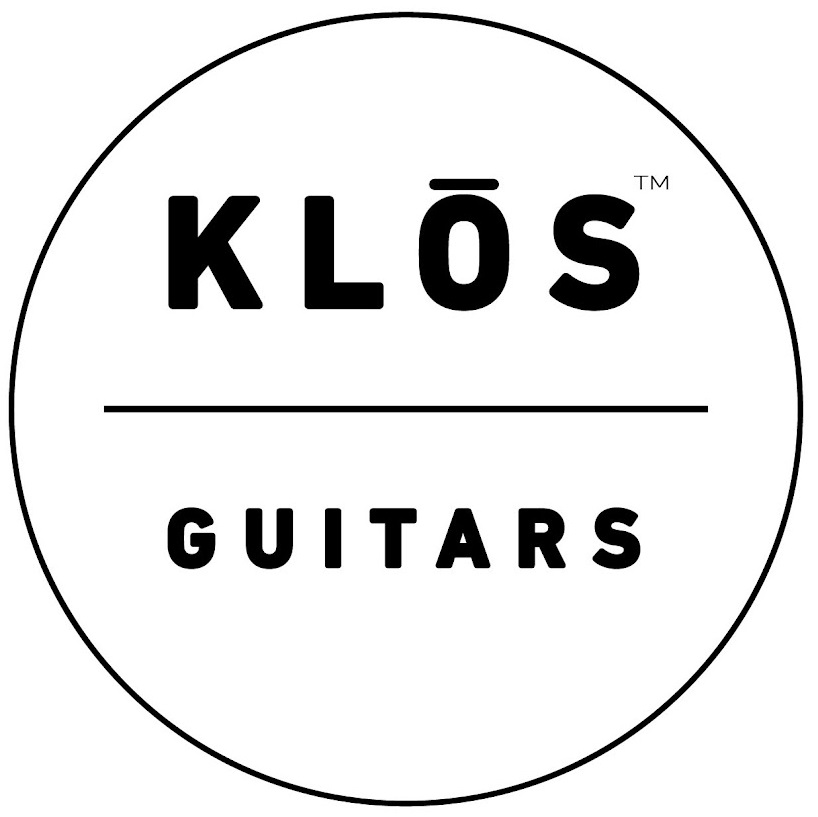 The company was founded by two brothers, Adam and Ian Klosowiak, who were looking for a better way to travel with their guitars without fear of damaging them.
After several prototypes and iterations, they arrived at the final product: a six-stringed carbon fiber guitar that is not only strong and lightweight but also sounds great.
The company is based in the United States and all of its products are made in-house.
They pride themselves on using a simplistic approach to design and manufacturing, focusing on the fundamentals that make a great guitar without any unnecessary parts or procedures.
One of KLOS Guitars' goals is to provide a great playing and traveling experience for their customers.
What are the key features of KLOS Guitars?
Carbon fiber construction makes the guitar strong and lightweight
Minimalistic approach eliminates unnecessary parts and manufacturing procedures
USA-based company with all products made in-house
Excellent customer service and support
LAVA MUSIC is a music technology company that designs and develops musical instruments with new materials and acoustic structures.

The company was founded in 2013 by Louis Luk, Zitian Lu, and Kayeung So, and it is headquartered in California, United States.
It is focused on the integration of technology and art, to make the creation of music easier and more enjoyable for people.
The company introduced the world's first innovative one-piece injection-molded guitar, along with the AirSonic carbon fiber material, on 11 October 2017.
LAVA MUSIC nowadays holds more than 40 patents in material, acoustic structure, and design fields.
What are the key features of LAVA MUSIC?
More than 40 patents offer unique products
Innovation one-piece injection-molded guitar
AirSonic carbon fiber material
Emerald Guitars specializes in building high-quality, custom-made guitars.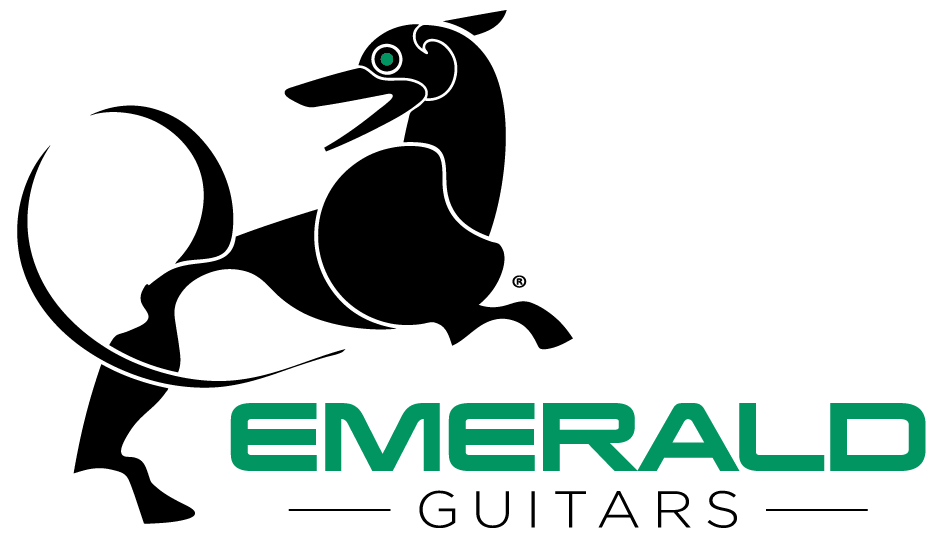 They have a wide range of models that are suitable for different playing styles and budgets.
The company is known for its use of unique materials and innovative designs and has a team of skilled craftsmen who build each guitar.
They also offer a bespoke service whereby customers can specify their own customizations and have their guitars built to their exact specifications.
This is exactly what makes them stand out from the rest – their ability to cater to the specific needs and wants of each customer.
So, if you're looking for a guitar that is truly unique and made to your exact specifications, then Emerald Guitars is the company for you!
Emerald Guitars has a strong online presence and is active on social media, they regularly post news and updates on their website and social media channels.
What are the key features of Emerald Guitars?
A wide range of models to choose from
Custom-made guitars
Unique materials and innovative designs
A team of skilled craftsmen
McPherson Guitars is a high-end guitar manufacturer company known for its innovative design, quality craftsmanship, and use of exotic materials.
They have a team of highly skilled luthiers who handcraft each guitar to the highest standards.
The company offers a wide range of custom options, allowing customers to create their perfect instrument.
Carbon fiber guitars, acoustic-electric hybrid guitars, and even left-handed models are all available.
Aside from helping you customize a guitar to suit your playing style and tonal preference, they'll be able to provide almost anything you're looking for.
Although they also build guitars using tonewoods, their Carbon Series is what makes them worthy of being mentioned here.
The McPherson Carbon Fiber Guitar is truly a work of art and it's made with a proprietary blend of carbon fiber that gives it an incredibly strong and lightweight body.
What are the key features of McPherson Guitars?
Handcrafted quality
Wide range of custom options
Carbon fiber guitars that are strong and lightweight
Journey Instruments is a company that specializes in travel guitars and instruments.

They aim to provide the best overall travel experience possible for artists and musicians.
Their products are developed after hundreds of hours of research and testing to meet the needs of traveling and touring musicians.
Journey Instruments employs patented and proprietary technology and uses premium materials such as premium grade woods, Grover tuners, Elixir strings, and premium grade carbon fiber materials.
Based in Austin, Texas, Journey Instruments was founded in 2011 by Rob Bailey.
When it comes to quality, Journey Instruments is a company that takes pride in its products and strives for the perfect balance of ergonomics, playability, tone, and travel size.
What are the key features of Journey Instruments?
Ergonomic design that is balanced and functional
Patented and proprietary technology
Premium materials make for a high-quality product
One more thing
GuitarBased.com is all about showing you a little bit more about guitars each day and finding ways to innovate and have fun with this beautiful instrument that we love.
If you enjoyed this post, then I invite you to go check out our blog!
We're always sharing a lot of useful and helpful content that both beginners and advanced players can use to further their playing abilities.
As always, thank you for reading and being here! 🤘