What are the best acoustic guitars for beginners?
Playing and learning to play the guitar is a great way to relax and have fun, and it's even better when you're doing it with a guitar that's high quality and sounds good.
If you're a beginner, you might be wondering which acoustic guitar is right for you; with so many products out there it has become harder to tell.
In this post, I'll list some of the best acoustic guitars for beginners in terms of quality, tone, price, and versatility, and will also answer some of the most frequently asked questions on this topic.
Let's get started!
Best Acoustic Guitars for Beginners
Fender FA-115 Dreadnought Acoustic Guitar 
(link to Amazon.com)

This Fender FA-115 acoustic guitar is one of those guitars that just feels great when you're playing it.
When it comes to the bridge on this dreadnought guitar, it's typically made from hardwood with compensated saddle which as we know is responsible for transferring the vibration of the strings to the body of the guitar.
Suitable for a wide range of tones and genres and it has a spruce top with an basswood back, which gives it a very bright and full sound.
It also features a protective and glossy finish, and a 20-fret fingerboard that's also walnut.
If you are looking for an acoustic guitar that doesn't need a big investment and that could easily help you if you're a beginner, then this guitar is absolutely one to consider.
Yamaha FS850 Small Body Solid Top Acoustic Guitar
(link to Amazon.com)

The Yamaha FS850 is a great choice for those who want an affordable acoustic guitar that still is able to sound amazing.
It's made with a solid mahogany top and back, making it loud enough to play in bands without having any trouble at all if you're doing any unplugged session.
At the same time, it also features a rosewood fingerboard and bridge, in addition to die-cast tuners and an adjustable truss rod.
This guitar is a great option for all beginners out there; it was designed to maintain a good warm tone while not sacrificing its playing experience.
Lastly, it has a new scalloped bracing pattern that's ideal for acoustic instruments since it maintains the top board's durability and brings out more sound with less interference.
This means you can play longer before needing another tune-up!
Seagull S6 Original Acoustic Guitar
(link to Amazon.com)

This Seagull S6 acoustic guitar has great intonation and is also a great alternative for starting up as a guitar player.
Featuring a double-action truss rod and a tapered headstock for precise tuning, this guitar will do the job that is required and much more. 
They make these in Canada with select pressure tested tops, TUSQ nut, a and compensated saddle for better sound.
On the other hand, the S6 is known as perhaps the instrument that best represents the Seagull "philosophy." so if you've ever considered this brand before, then this model is definitely the one to get.
When it comes to its dimensions and body depth, it has a body depth of about 4.9 inches and a body length of 19.8 inches.
Ibanez AW54OPN Artwood Dreadnought Acoustic Guitar
(link to Amazon.com)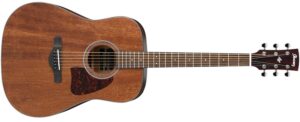 This Ibanez AW540PN dreadnought acoustic guitar features a solid mahogany top, neck, back, and sides, with a rosewood bridge and fretboard.
It is said to be a traditional modern guitar because of its rich traditional tone that features modern ideas of what a great tone and guitar should be.
If you're looking for an acoustic guitar that's both stylish and sounds great, this beautiful instrument is finished off with a tortoiseshell pickguard and chrome die-cast tuners, giving it a classic look that will never go out of style.
On the other hand, it also has an open pore natural finish that shows off the guitar's naturally rich woodgrain.
This guitar could be used for more than just your beginnings as a guitar player; it's usually used by many intermediate and advanced players out there as well.
Jasmine S35 Acoustic Guitar
(link to Amazon.com)

The Jasmine S35 acoustic guitar is on this list due to its low price and what you can get compared to other guitars out there.
With a satin finish, a spruce top with laminated nato back and sides, this guitar was made for all beginners out there who don't want to spend too much money on their first guitar.
The rosewood fretboard makes it easy to play intricate melodies, and the chrome-covered tuning machines keep it in tune even during long performances.
While this guitar won't sound like an expensive guitar or similar to other ones on this list, it's still an amazing choice for most.
Even more for those who are not even that sure about learning to play guitar.
In the end, it will surely do a good job for any person who just wants to explore this instrument for the first time.
Epiphone DR-100 Acoustic Guitar
(link to Amazon.com)

The Songmaker DR-100 acoustic guitar is perfect for players who want a classic dreadnought-style guitar with great features and sound.
The select spruce top combined with a mahogany body and neck gives this guitar a rich, mellow sound with good projection.
On the other hand, it also has a SlimTaper C-profile neck that makes it very comfortable to play with, and the Epiphone sloped dove wing headstock gives it a very elegant look.
Die-cast tuners are also present to make tuning easy and accurate. This ensures that the strings will be in tune with each other, providing a clean and crisp sound.
The guitar's fingerboard is constructed from rosewood and different finishes are available in various options.
To put it all together, it's good in looks, tone, and quality, and very capable of being used in a big variety of music genres.
Taylor Big Baby Acoustic Guitar
(link to Amazon.com)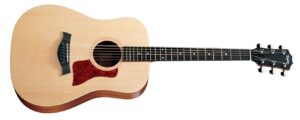 This Taylor Big Baby acoustic guitar is honestly a better option for those who've decided to spend a bit more on their first guitar.
A Big Baby model is a perfect guitar for those who want the full Taylor experience in a smaller package.
With a solid Sitka spruce top and Sapele back and sides, this guitar has a rich, full sound that belies its size in many ways.
Its 15/16 size dreadnought body is comfortable to play, while its 25-1/2 inch scale length gives you plenty of room to fret chords and melodies.
If you're looking for a smaller guitar with a big sound, the Taylor Big Baby is an excellent choice.
Taylor GS Mini Mahogany GS Mini Acoustic Guitar 
(link to Amazon.com)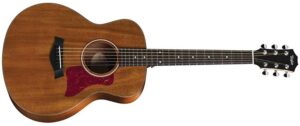 Another Taylor acoustic guitar is on the list; excluding it would completely ignore how great this guitar can be for newbies.
The Taylor GS Mini is the perfect guitar for players who want the feel and sound of a full-size guitar, but don't have the space for one.
With its scaled-down size, this guitar is easy to transport, making it perfect for taking with you on trips.
And thanks to its grand symphony body style and mahogany top, the GS Mini delivers a rich, full sound that's perfect for playing solo or in a band.
On the other hand, it has a matte 2.0 finish, genuine African Ebony fingerboard, Sapele neck wood, and a scale length of 23.5 inches.
This Taylor can be used for a big variety of genres and will do a great job in keeping itself tuned no matter how much you play it.
Alvarez Artist Series AD60 Dreadnought Acoustic Guitar
(link to Amazon.com)

This Alvarez Artist Series AD60 acoustic guitar is said to be made and designed so that every component of it does its best to sound and look good.
A hand-selected guitar with the finest materials and construction techniques.
Its solid Sitka spruce top provides exceptional projection, while the mahogany back and sides deliver a warm, mellow tone.
On the other hand, its die-cast tuners keep your strings in tune longer, while the Ivory ABS binding and Mother of Pearl inlays add a touch of elegance.
Plus, with a lifetime limited warranty, you can rest assured that your investment will last.
Even at intermediate levels, the Alvarez Artist Series can still accomplish a fine job, so if you are looking for a worthy acoustic tone, this guitar could also be one to consider.
Bristol BD-16 Dreadnought Acoustic Guitar
(link to Amazon.com)

The Bristol BD-16 is likewise great for beginner guitar players.
It features a very good tone and high volume and offers fast and easy action, plus very smooth playability.
With traditional sounds at a fairly affordable price, this line of guitars from this company has always ensured to please as many players as possible.
It has a mahogany back and sides for robust volume and responsive tone, and a slim mahogany neck to give you fast and inherently long-lasting stability.
There are many great acoustic guitars that are made by smaller companies or even by individual luthiers
While these may not be as well-known as some of the more popular brands, they can still be great choices for someone who is looking for an acoustic guitar.
Which acoustic guitar should I buy?
There are a few things to consider when purchasing an acoustic guitar.
Buying a new guitar shouldn't be complicated, but you might want to pay attention to a few small details that later on might affect the way you play tremendously.
If you're buying a new guitar, then you should know that the body shape of your guitar will have a huge influence on what tone and volume you will get when playing and possibly how comfortable you feel.
These are some of the most popular guitar body shapes that you encounter: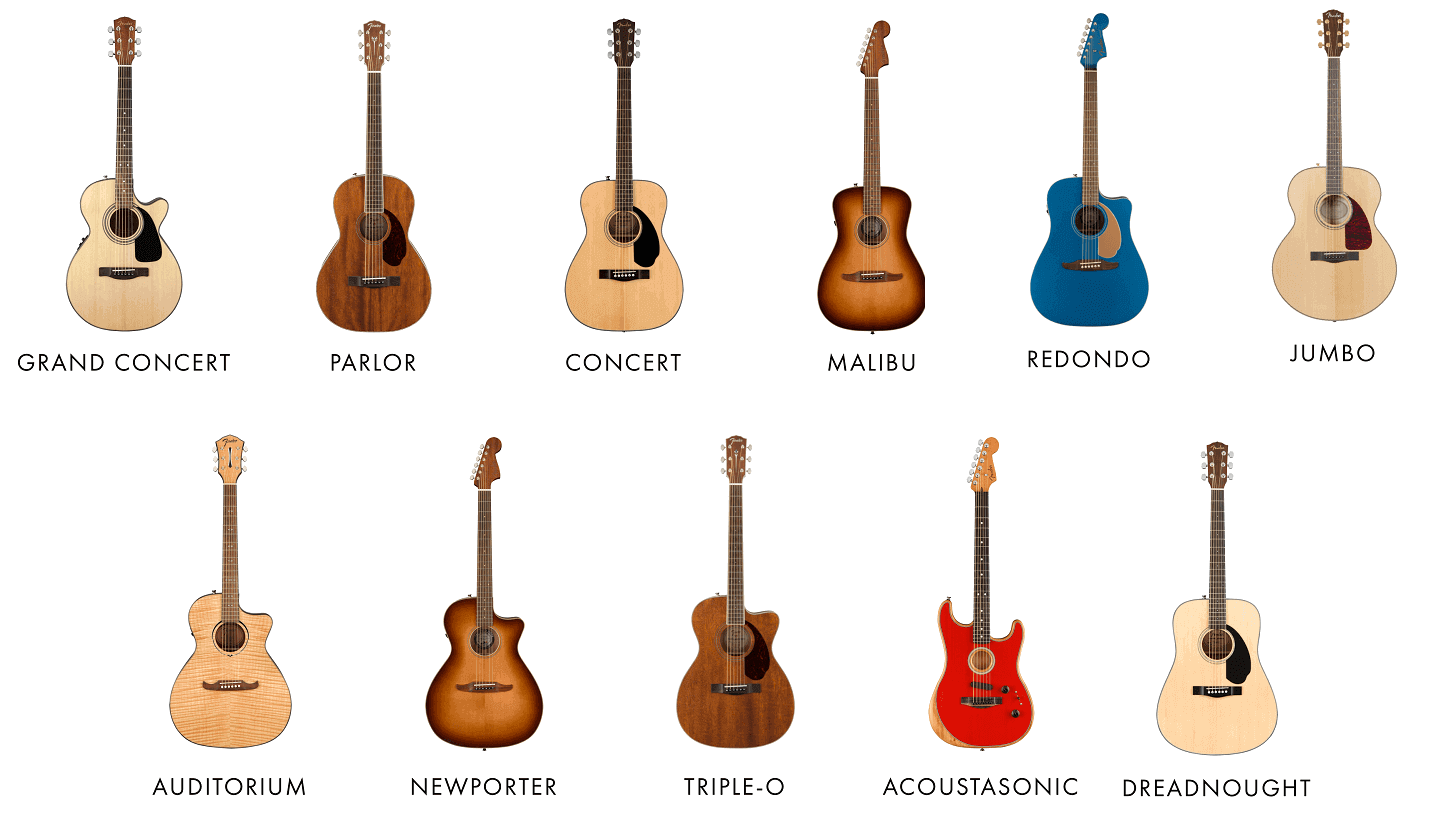 Image Source: Fender
On the contrary, when it comes to quality, it's no secret that the more money you spend on a guitar, the higher the quality will be.
Those guitars that cost more money generally have better playability and allow for more versatility and sound quality.
I personally learned to play guitar with a $30 acoustic guitar. Ultimately, I WAS able to learn to play, which is what's important!
But if I really had to think about it, I would never recommend this to beginners since it really makes it harder for those that have never touched a guitar in their lives.
This is because guitars need to be manufactured at a cost that allows some profit to the builder or seller, so in other words, having a low price inevitably means having an unskilled assembly line with low-quality control.
Other things to consider are:
The brand of the guitar: not all guitars are created equal, so it's important to pick a reputable brand that produces quality instruments.
The style of the guitar: there are many different styles of acoustic guitars available, so it's important to choose one that fits your personal taste.
The accessories: when purchasing an acoustic guitar, it's important to buy the necessary accessories such as strings, a tuner, and a case. These items will help you keep your guitar in good condition and make playing it more enjoyable.
The warranty: most acoustic guitars come with some type of warranty, so it's important to read the fine print and understand what's covered before making your purchase.
The return policy: before purchasing an acoustic guitar, it's important to find out the store's return policy in case you need to return the instrument for any reason.
When purchasing an acoustic guitar, it's important to keep these factors in mind in order to make sure you end up with a high-quality instrument that you'll enjoy playing for years to come.
Now, I also love to say that the answer to this question also highly depends on what you are looking for.
Some beginners like to choose their first guitars based on which famous guitarist has played one, and some others just choose simply by how they look.
This is fine as long as it helps you stay motivated and play more regularly, if you see a professional player using a certain guitar, chances are, that guitar is a very high-quality one.
Are acoustic guitars good for beginners?
Yes, acoustic guitars are often recommended for beginners!
They are relatively easy to hold and play, and they don't require any extra equipment (amplifiers, etc.).
Additionally, acoustic guitars can be used for a variety of genres, so you can experiment and find the style that suits you best.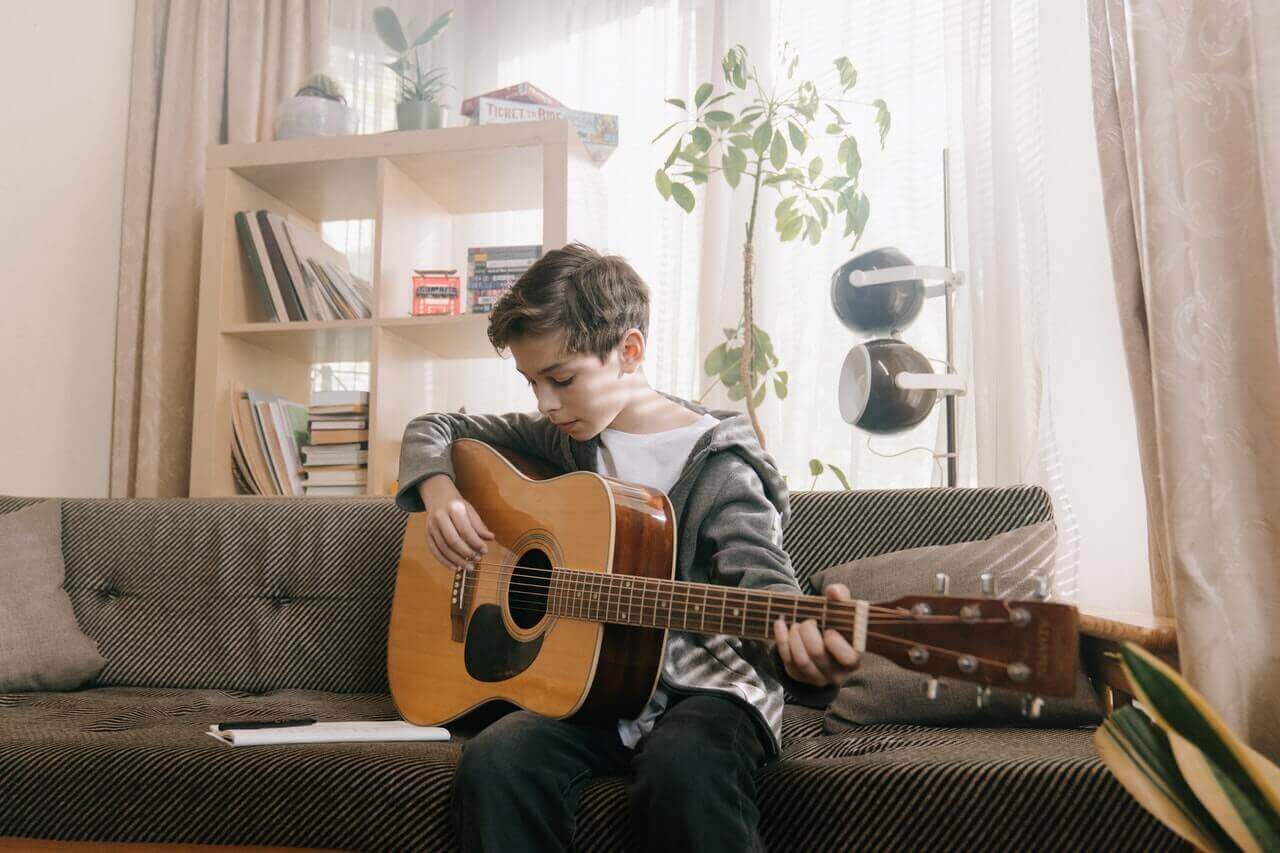 On the other hand, though, some beginners may prefer electric guitars because they have more volume and can be played with distortion effects.
I learned with an acoustic guitar, and many professional guitarists also learned with acoustic guitars, some others guitarists have learned with electric guitars from the start.
So in other words, this doesn't really have an impact on whether you're able to properly learn or not.
In the end, this should be a matter of personal preference, so whatever type of guitar you feel more inclined to play and own should be the one you get in an ideal world.
If your end goal is to play an electric guitar, the transition from acoustic to electric is generally very easy for some people.
How much should I spend on my first acoustic guitar?
This is a tough question, as it depends on your personal budget and the type of guitar you're looking for.
You can find decent acoustic guitars for as little as $100, but if you're looking for a high-quality instrument that will last you for years, you'll likely need to spend closer to $500- $1,000.
It's important to remember that you don't always have to buy the most expensive model to get a great guitar – there are plenty of affordable options out there that will still offer quality sound and playability.
When shopping for your first acoustic guitar, be sure to try out several different models and make sure the one you choose feels comfortable in your hands.
Also, consider the guitar's tonal quality – some instruments sound better for certain styles of music than others.
If you're not sure which guitar is right for you, it's always a good idea to consult with a professional guitar instructor as they'll be able to help you find the perfect instrument for your playing style and budget.
Are these acoustic guitars only good for beginners?
No, these guitars aside from being good for beginners are also great options for more intermediate and advanced players.
And this is a good thing because most of the time there won't be a point in the future in which you'll need to buy a newer one if you've kept the first one in good shape.
Generally speaking, acoustic guitars can last anywhere from 10 to 30 years or more with proper care.
The lifespan of acoustic guitars can depend on a few different factors, the main one is how well the guitar is taken care of.
If it is kept in a dry environment and is not exposed to a lot of humidity, then it will likely last longer.
Another factor is how often the guitar is played, to put it another way, the more it is played, the more wear and tear it will experience.
What are the parts of an acoustic guitar?
Some people may think that an acoustic guitar is just a wooden box with some strings on it, but there's actually a lot more to it than that!
By understanding all the components of your instrument, you can better take care of it and make sure you're getting the most out of your playing experience.
To start, I encourage you to watch this YouTube video by Guitareo:
The Parts Of The Guitar - Beginner Guitar Lesson #4
I think they do a fantastic job in explaining each part, and for those who prefer to learn things in a visual way, this video will be extremely helpful.
Acoustic guitars models will have different body shapes, and these will influence how each one of them sound.
The body could be made of different types of wood, and they also play a big role in how bright or warm the tone of the guitar is.
At the same time, guitar bodies also vary in color, but this doesn't influence their sound characteristics very much.
The tuners need to be in good shape so your guitar can sound good.
These are located in the head of your guitar and essentially make your strings tight or loose so that you can pitch the note to the correct frequency.
The head or headstock of an acoustic guitar is the part of the instrument where the tuning pegs or machine heads are attached.
It is typically located at the upper end of the guitar's neck and may also be home to other features, such as a truss rod adjustment nut, string trees or retainer bars, and sometimes the manufacturer's logo.
For one, the purpose of the headstock is to support the strings of the guitar. The strings are wrapped around tuning pegs (or machine heads) that are inserted into holes in the headstock.
The acoustic guitar neck is the strip of wood that extends from the body of the guitar down to the headstock.
It houses the guitar's fretboard and is where the guitarist's left-hand fingers are placed when playing the instrument.
The acoustic guitar neck is generally narrower than that of an electric guitar, and has a flatter radius; this makes it easier for the left hand to move up and down the neck when playing chords and melodies.
An acoustic guitar fretboard is a wooden strip on the neck of the guitar where your fingers press the strings.
The main purpose of the fretboard is to provide a place for the frets, which are metal strips that go across the neck and are used to create different notes.
A fret is a thin metal or plastic strip on the neck of a guitar that marks the position of each note.
Frets are placed along the fingerboard or fretboard, running perpendicular to the strings. When you press down on a string against a fret, it stops the vibration of that string.
This makes it possible to play notes that are higher or lower than the open string. Acoustic guitars typically have 20 frets, while electric guitars may have anywhere from 22 to 24 frets.
An acoustic guitar bridge is a piece of wood or plastic that is attached to the soundboard of an acoustic guitar.
The bridge helps transfer the vibration of the strings to the soundboard, which amplifies the sound of the guitar.
On the other hand, this bridge also helps hold the strings in place, and it is typically adjustable to allow for proper intonation.
How hard is it to play the acoustic guitar?
It's not hard to play the acoustic guitar at all, in fact, anyone can do it with a little bit of practice.
The best way to learn how to play acoustic guitar is by taking lessons from a professional guitar instructor.
However, if you're determined to teach yourself how to play, there are plenty of instructional materials available online and in bookstores.
Start by learning basic chords and strumming techniques, and then gradually progress to more complex songs and melodies.
If at first, you don't complicate things and use the proper techniques, you will be learning very fast.
Now, if you start to learn improperly and get used to bad habits, then it'll be hard to get rid of those, and eventually, it will delay the entire process.
If you put enough time into practicing, things will get very easy in a very short period of time.
We asked 150 beginner students this same question and this is the data that we were able to collect: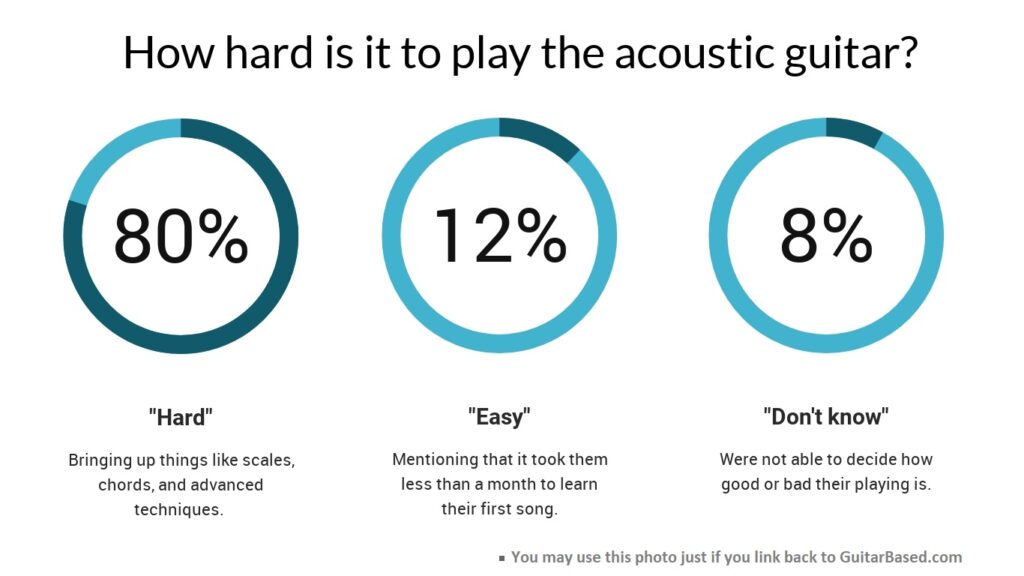 A big majority of new players (80%), answered that it's hard to learn to play the acoustic guitar.
They brought up things like scales, learning and properly playing chords, and other advanced techniques such as picking, vibrato, and bending.
The people that responded that playing the acoustic guitar is easy to seem to just want to learn a few songs, just for fun. They weren't interested in knowing about theory, reading tabs, or anything like that.
I suppose we can safely say that the level of difficulty just depends on your end goal, how much you want to learn, what you want to learn, and how you approach learning.
One last thing
Our website is all about showing you a little bit more about guitars each day and finding ways to innovate and have fun with this beautiful instrument that we play.
If you enjoyed this post, then I invite you to go check out our blog!
You might find something new about guitars that you didn't know before, and most importantly you might grow an interest in being involved in our amazing community.
As always, thank you for reading!