What are the best guitar cables?
Having the right cable that's both high quality and long-lasting has always been a struggle for most guitar players.
At the most fundamental level, a guitar cable is what carries your guitar signal and allows a connection between your amplifier and the instrument.
Low-quality cables oftentimes break or just end up making your guitar sound awful in the first place; that's why finding the right option is such an important thing to do.
In this post, I will list the best guitar cables in terms of quality and price, and will also answer some of the most frequently asked questions around this topic.
Let's get started!
Best Guitar Cables
Summary of all the products that we'll talk about:
Ernie Ball Instrument Cable
(link to Amazon.com)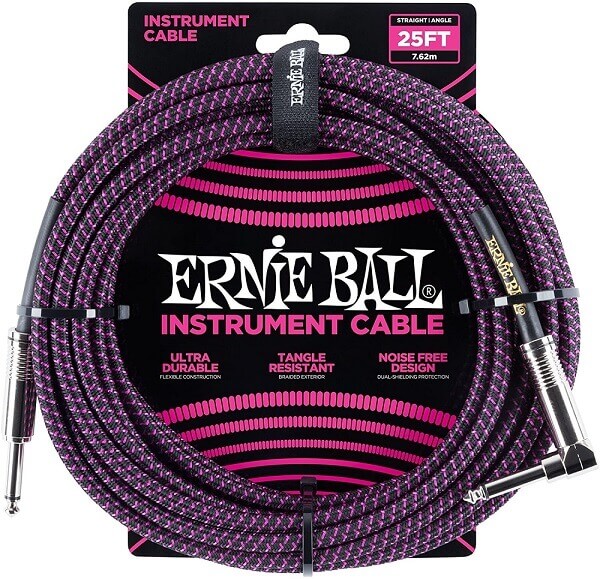 Ernie Ball is a world-leading manufacturer of premium electric and acoustic guitar strings, bass strings, and guitar accessories.
This cable is one of the most durable and high-quality alternatives that you will find out there nowadays.
It was built using a flexible, tangle-resistant construction, and it has a dual-shielded, and dual-conductor design for durability and low noise.
In other words, this cable will not only last more than your average cable, but it will also help you reduce your guitar's noise signal.
With superior components that are built to last, this cable will deliver you a reliably clear tone with "crisp highs, tight mids, and rich harmonics."
Another thing worth noting is how there's a straight-to-angle braided cable approach, which depending on your guitar, will extremely benefit you when playing.
Out of all options on this list, this product is the one that has the most color options as well, these include black, neon green/black, orange, pink, yellow, gold, and many more.
Fender Performance Series Instrument Cable
(link to Amazon.com)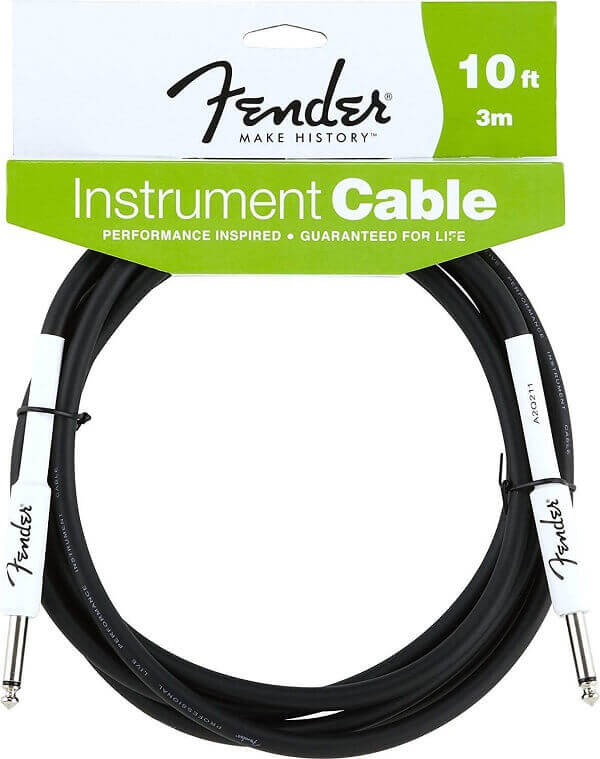 As most of us know, Fender is an American manufacturer of stringed instruments, amplifiers, and guitar accessories, and is definitely a company that every single guitar player is very aware of.
While most of us know Fender as just a guitar manufacturer, they have surely made themselves known in other guitar aspects as well, and one of them is cables.
This Fender Performance Series cable features ultra-low capacitance levels that allow for a greatly superior and outstanding guitar tone and sound.
For those guitarists that are tired of having their cables break very easily and have always played with low-quality cables, then getting this one will be a game-changer.
The extra-thick PVC jacket diminishes unwanted clicks and pops when playing at high volumes, and thanks to its flexible cable construction, all twisting, kinking, and tangling will definitely be significantly reduced.
Aside from that, it is made out with a 90% copper coverage shield, which according to this product's description, cuts down electronic buzz and minimizes noise interference.
GLS Audio Braided Tweed Guitar Cable
(link to Amazon.com)
This is the GLS Audio Braided Tweed cable, a product that was designed with the finest materials, and built to last.
Just like other options on this list, this cord is made with high-quality oxygen-free copper, which allows it to last a little bit longer than your average guitar cable.
Aside from that, it features extreme flexibility as it was made to coil neatly, which in turn prevents twists and tangles while you're playing your instrument and also while kept aside.
If having low noise levels is also something that you're looking for, then know that its double insulator shields for maximum isolation, and that this cable also has low capacitance.
Lower cable capacitance allows for more natural presence and brightness in your guitar tone, this can let your instrument's treble controls be run lower, which as a result gets rid of most unwanted noise.
These cables are also braided in a flexible tweed cloth jacket for longevity that also protects it from unnecessary pulling and tearing.
Mogami Gold Series Guitar Cable
(link to Amazon.com)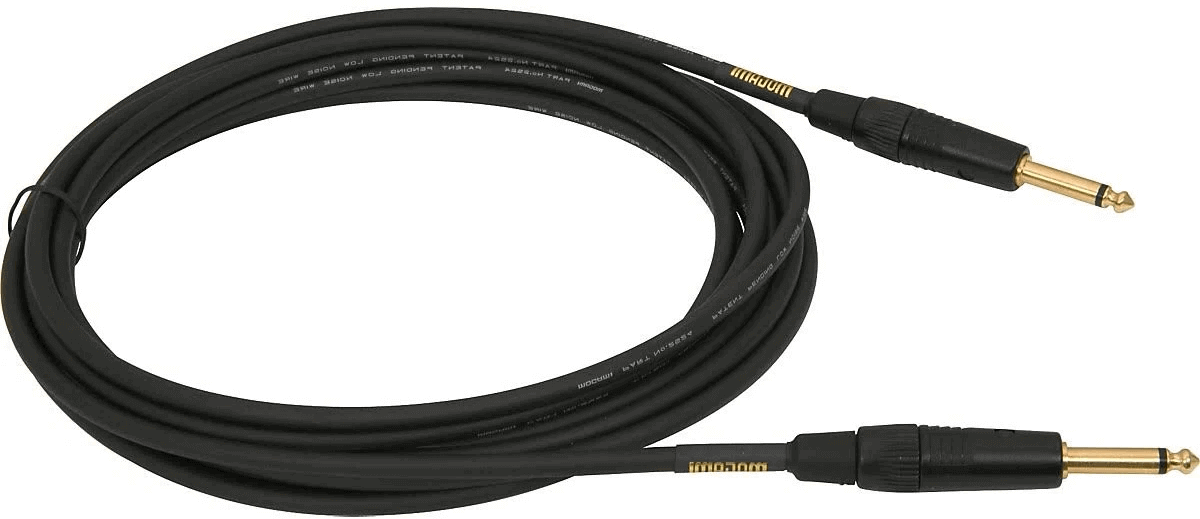 Mogami Gold Series guitar cables seem to always be recommended by most other guitar websites once you start doing some research on this topic.
These cables provide a beautiful crystal-clear tone and again, as with many other options on this list, reducing your signal noise can also be easily achieved.
This is because they were designed with a carbon-impregnated PVC anti-static shield layer that helps with preventing all handling noise.
When it comes to length, the options available in most stores as of right now are 3ft, 6ft, 10ft, 18ft, and 25ft.
A very interesting thing to notice is that these are constructed with a conductive polymer sub-shield, an ultra-high density spiral shield, and if that wasn't enough, an oxygen-free copper core.
All these features help exhibit amazing clarity and preserve the unique personality of your instrument and effects, furthermore, at its core, it was engineered to have the highest level of transparency,
D'Addario American Stage Instrument Cable
(link to Amazon.com)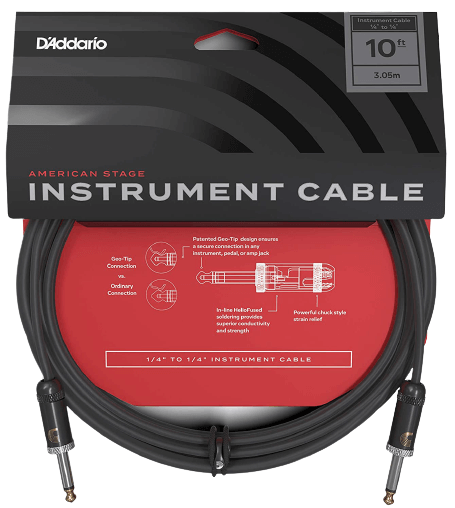 D'Addario is also a manufacturer of musical instrument strings and accessories and has been around since 1974.
Its American Stage instrument cable has proven to be a very effective and high-quality alternative that a lot of guitar players seem to favor a lot nowadays.
These cables are built to ensure that your tone comes through exactly the way you want it.
A little bit more about the manufacturing process is that they are designed with audiophile quality wire, made in the USA, and they reproduce the natural tones of any instrument with zero interference.
At the same time, these cables avoid handling noise with 100% shielded coverage and 95% tinned copper braiding.
On the other hand, the unique shape of the GEO-TIP connection design, an exclusive patented tip design for improved fit in all jacks, provides a secure connection between your instrument and the pedal or amp jack.
Orange Crush Instrument Cable
(link to Amazon.com)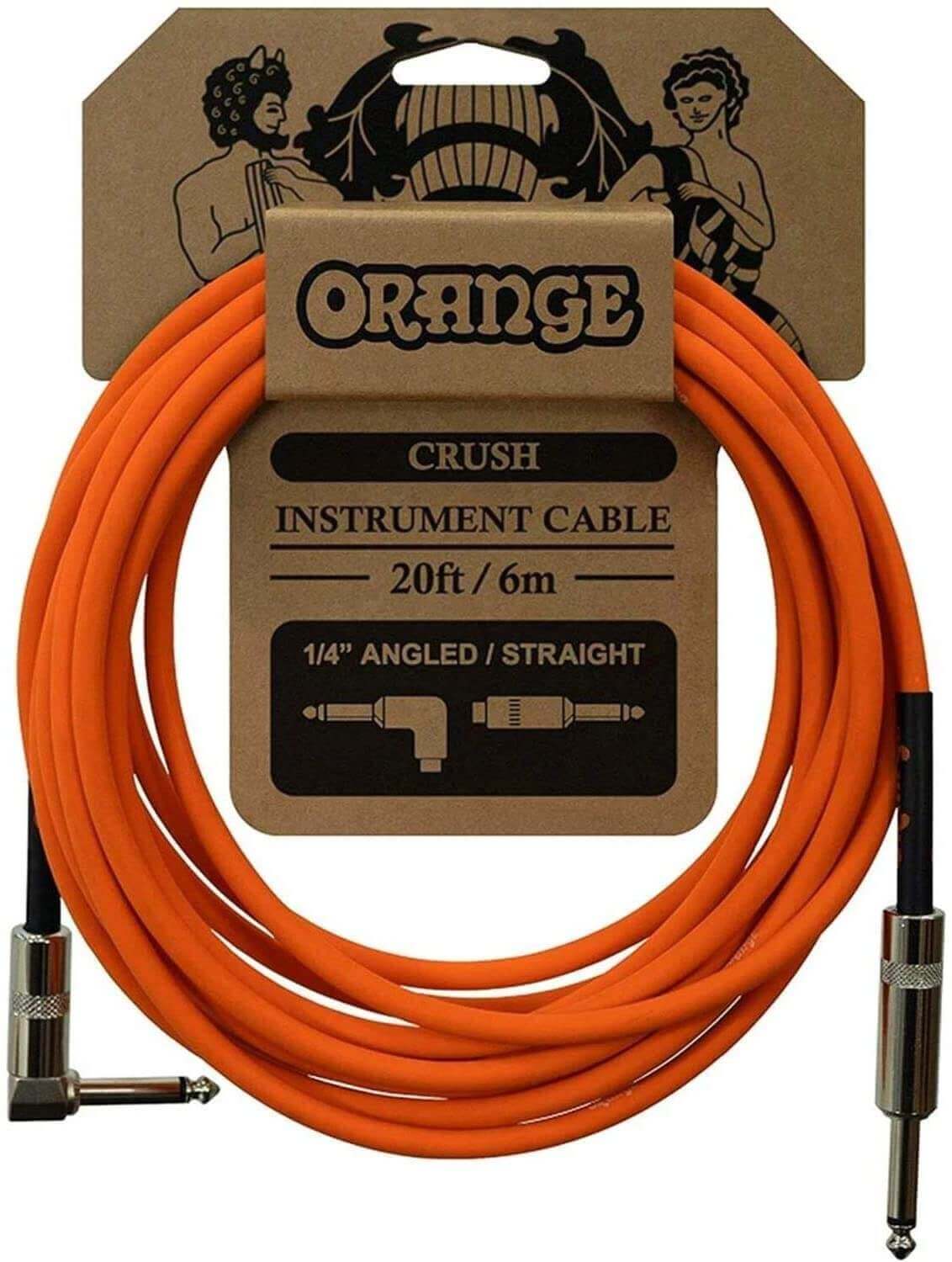 This is the Orange Crush instrument cable, know to be a very high-quality guitar cable built to last, and made from high-grade, oxygen-free copper for superior signal clarity.
Even though we've been used to hearing and seeing this company build amplifiers, they have also designed guitar accessories for a while as well.
With the same level of quality utilized for their world-renowned amps, Orange also manufactures a hand-soldered-with-nickel-plated-jacks cable that ensures top-notch corrosion resistance and stellar conductivity.
At the same time, they made sure to include multiple layers of shielding in order to decrease handling noise and electromagnetic interference, which in turn helps to keep your signal much cleaner.
When it comes to length, the options available in most stores as of right now are 3, 10, and 20ft.
On the other hand, most retail stores also give you the option of choosing angled to straight, or straight to straight jacks.
Red / White Dragon Amboz Instrument Cable
(link to Amazon.com)

This cable seems like a very strong and high-quality alternative just from looking at it since we can easily see the combination of textile structure that allows it to be tangle-free and last long.
It features an oxygen-free copper core, great flexibility from PE (Polyethylene) insulation, and it also further prevents handling noise as well as crackling noises with a conductive PVC layer that acts as an electrostatic shield.
On the other hand, corrosion-resistant gold-plated jack plugs are also equipped as hand soldered connectors that ensure optimum connectivity.
The length options that are available in most stores as of right now are 10ft, 15ft, and 20ft, with each one of them allowing you to choose between angled to straight, and straight to straight jacks.
When it comes to colors, some of the most popular versions include black, blue, red, and white.
This cable's crystal clear and neutral sound will definitely let you hear the full spectrum of high and low frequencies with the absolute most clarity and brilliance.
Lastly, a very simple but useful detail about these cables is that they come with special length-labeled cable holding bands to help you identify your different cable lengths.
Fender California Series Instrument Cable
(link to Amazon.com)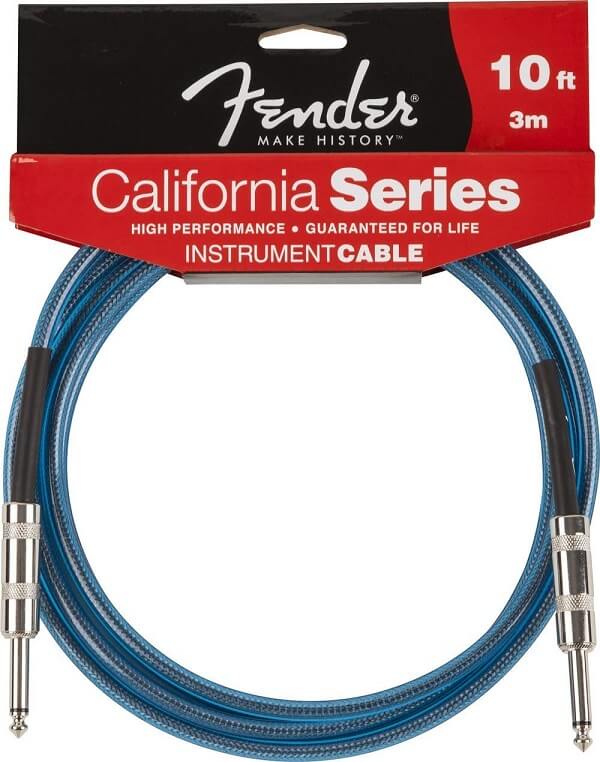 This is the second cable from Fender that I mention in this list, but I genuinely think they both deserve their respective spot.
Fender's California Series cables are designed specifically for high performance and are used by a lot of guitar players worldwide.
Its braided shield is optimally arranged with oxygen-free copper for superior sound quality and frequency balance that ultimately helps in giving you that clean tone we all desire.
Something very important to notice is that the braided shield comes hidden under a fairly strong but thin plastic cover that's available in blue, red, and green.
When it comes to cable length, the options available online and in most retail stores as of right now are 10ft and 20ft depending on the color that you choose.
Spectraflex Original Series Instrument Cable
(link to Amazon.com)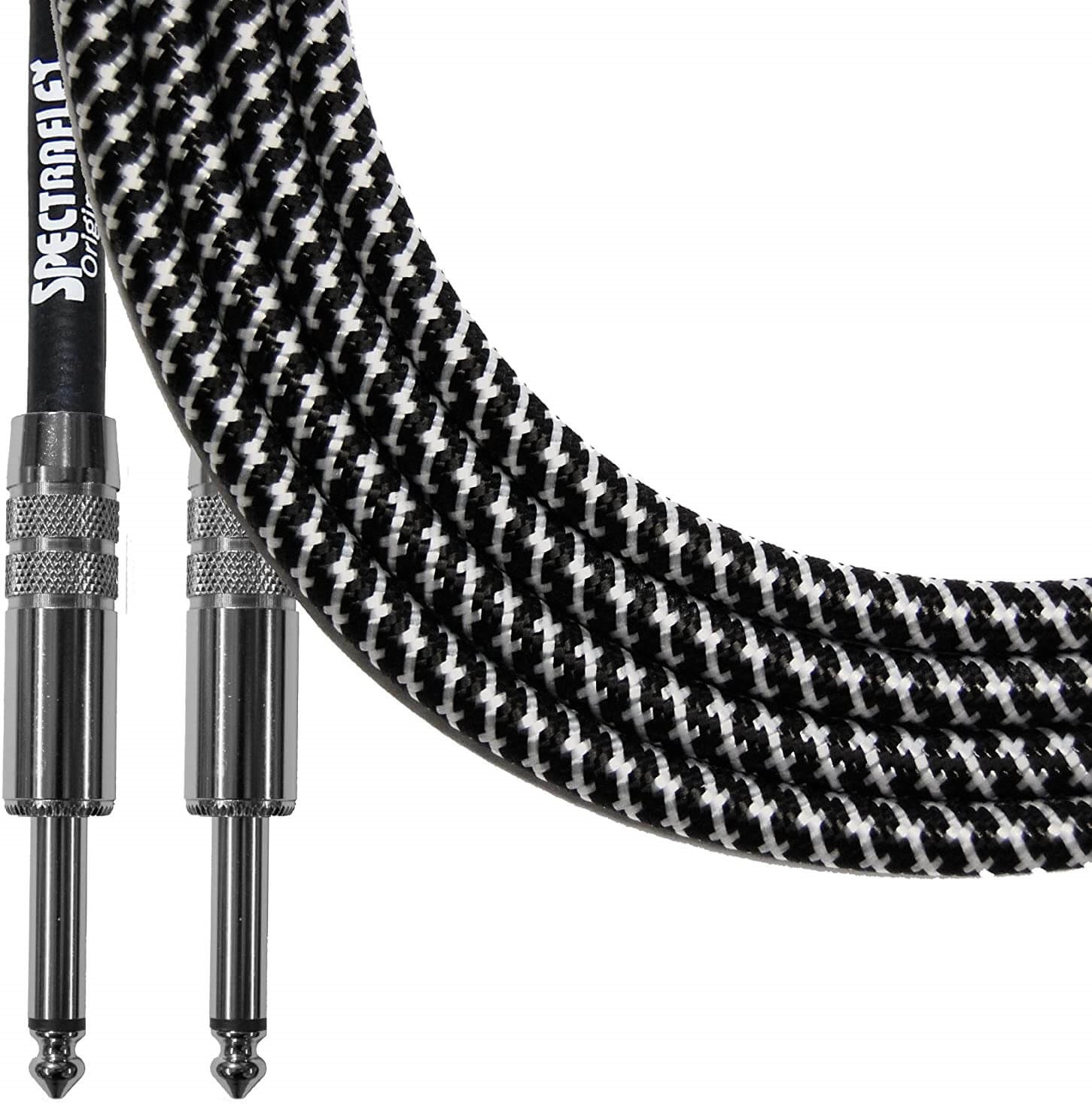 Spectraflex's Original Series cables is another name that you'll see in many lists like this one.
This cable features 100% copper and conductive polymer shield coverage, rugged and high-performance connectors, and it's made in the USA.
Once again, just like a few other options on this list, this cable provides a lot of flexibility and durability due to its strong braided design, and it has extended frequency response and extremely low handling noise.
It comes in a variety of color and pattern combinations that include black, blue, green, red, tweed, and violet.
Twists and tangles will also be prevented while you're playing your instrument and also while kept aside, and even when they do tangle up, they are easier to untangle than other types of cables.
On the other hand, regarding cable length, the options currently available in most stores are 6, 10, 14, 18, and 21ft depending on the color that you're looking for.
KLIQ Guitar Instrument Cable
(link to Amazon.com)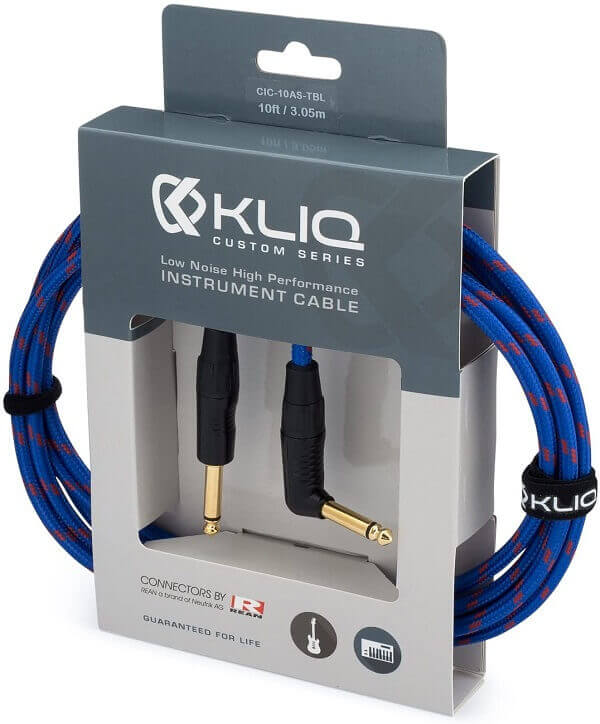 KLIQ cables feature low capacitance for enhanced frequency response, triple shielding with 100% coverage for maximum handling noise rejection, and ultimate durability.
Just as many of its product descriptions state, even though there're many layers of shielding and insulation put in place for maximum noise isolation, this cable remains very flexible and doesn't get easily tangled.
It also has a 24AWG (American Wire Gauge) oxygen-free pure copper core and mainly comes in 10 and 20ft of length with either 1/4″ straight-to-straight or straight-to-angled plugs.
KLIQ partnered up with Rean (Neutrik) and designed exclusive gold-plated plugs that are very much capable of resisting corrosion and reliably transmit your guitar signal every time.
With a very strong chuck-type strain relief and an armor-like tweed outer shell, this cable was built to take any amount of usage and stand the test of time.
Also, a hook-and-loop cable tie is included to help you keep your cable neat when not in use; this is frankly something most cables don't really come with.
What guitar cables do pros use?
As it is very hard to list every single guitar player that plays professionally nowadays, I will say this, professional guitarists don't seem to have a go-to guitar cable.
They individually have different types of cables and brands that they prefer and stick to.
For example, this video shows Slash's guitar tech talking about why Mogami cables are his top choice:
Adam Day (Slash's Guitar Tech) On Why Mogami Cable Is His Go-To Choice
Though the video seems a bit promotional, it truly shows Slash's real guitars and gear.
Aside from that, if you do a little bit of research or watch a few live performances on YouTube, you will also quickly notice that most of them actually use wireless systems.
These wireless systems allow guitarists to freely move throughout the entire stage without having to worry about their guitar cables getting twisted or tangled.
How much money should you spend on a guitar cable?
When it comes to spending money on a guitar cable, the decision should be solely yours.
Think about how much you're willing to spend and what the benefit that you will get in return will be.
Remember that buying a guitar cable is not about creating a better tone, but keeping the original tone that you already should have.
In other words, a guitar cable will not improve or make your guitar sound better, it will simply keep the tone that is originally there.
You might just be buying a cable simply for the sake of connecting your guitar to your amp.
In that case, then just go for a cable that's known to last longer than other regular alternatives; these will generally be any of the braided cables that were mentioned above.
Does the quality of a guitar cable affect a guitar's tone?
In short, yes, the quality of the guitar cable that you're using does affect your guitar's tone.
But again, just like I mentioned before, a guitar cable won't create a better tone, but simply keep an already good tone.
With that being said, the materials being used, the cable's design, and the manufacturing process are all factors that can make or break a cable's quality.
You should definitely watch this YouTube video by Darrell Braun Guitar:
Do Expensive Guitar Cables REALLY Sound Better? - Let's Find Out!
He does a phenomenal job in comparing four different cables in four different price ranges.
This video alone will not only help you hear the difference in sound but also help you see their difference in material quality, and overall design.
Are long guitar cables bad?
Some people might think that this question is not an important one to think about, but in my opinion, it's the complete opposite.
I think that every guitar player should have at least some decent knowledge of the many different factors that impact their tone and sound.
Even though this topic usually brings a lot of discussions and contradictions, the overall accepted idea is that cable length does impact a guitar's tone to some extent.
What creates these contradictions is actually the ability of the guitarist to detect this change; many are able to, and many aren't.
The longer the cable, the higher the capacitance and therefore the more high-end signal lost you would expect.
Capacitance is defined as:
The ratio of the change in an electric charge in a system to the corresponding change in its electric potential.
For some players, this is nothing to worry about since sometimes, having fewer high signals could be something that we actually would want to do with our sound on some occasions.
My advice is to just try to keep your total cable length under 25ft, and in case you require a longer solution, just try to use the minimum required length possible.
I encourage you to watch this video by Guitareo on YouTube:
What does 200' of cable do to your guitar tone?
They conducted this amazing experiment in which they tested different cable lengths and tried to see if this made any difference in their guitar tone at all.
Make sure to use headphones while watching the video and you will very quickly notice that as the cables get longer, there will be some differences that are very easy to spot.
More importantly, make sure to watch the video until the end, since they will link two 100ft cables and test what the outcome would be.
Anatomy Of Guitar Cables
1. Outer Jacket
The outer jacket is what protects every single internal part of a guitar cable.
In other words, this is what we're able to touch and see; ultimately what gives a guitar cable its overall appearance in terms of color, material, and texture.
This part makes the least impact on your guitar sound quality but it's as important since it dictates the overall durability of the cable.
2. Center Conductor
This is what, in theory, carries the audio signal.
A conductor is an object or type of material that allows the flow of charge (electrical current) in one or more directions.
3. Insulation
According to Google, to insulate is to protect something by interposing material that prevents the loss of heat or the intrusion of sound.
When it comes to cables, the insulation material that is used and its thickness can be a very important factor in determining the flexibility of the cable.
In simple terms, this is what surrounds and protects the central conductor and it keeps it isolated from the other parts.
4. Electrostatic shield
A cable's electrostatic shield is what actually reduces the handling noise of your signal.
In other words, as your cable gets flexed and bent, simultaneously, the copper shield rubs against the insulation and generates static electricity.
Without an electrostatic shield, this would cause and generate a lot of crackling noises.
5. Shield
Your cable's shield is what acts as the return conductor for the signal current and as a barrier to not let interference reach the "hot" center conductor.
In simple terms, it blocks interference from any outside sources.
Unwanted types of interference encountered and blocked include radio frequency, electromagnetic (power transformers), and electrostatic (dimmers, fluorescent lights).
Now that we're on the same page about what each of these parts means, in order to visualize them in a much better way, let's take a look at this next diagram.
On the left side, we'll have an actual picture of a guitar cable, and on the right side, there is an illustration showing exactly where each part is located.

Source: Coda-Effects.com
Something that you must remember is that not all cables will have this exact design.
This is really why some guitar cables are better or worse than others!
Companies use different techniques and approaches to building and manufacture their guitar cables; ultimately this makes them either unique for the better or worse.
What to consider before buying a guitar cable?
Ideally, before you buy any cable, you should do a little bit of research online.
In other words, this means reading reviews, watching demo videos, or simply asking around.
These are some of the things that you can use as a guide to help you make the right decision:
1. Durability
How long does the guitar cable seem to last to the average guitar player?
Maybe you're a touring artist and will be using it more than usual, can the cable remain undamaged or unaffected by so much use?
This is where looking into the materials used and the actual cable design is so important since some materials tend to last longer than others.
In my personal case, braided and coiled cables have always lasted longer than the usual rubber options out there.
2. Length
If you've read the previous sections, then you should already know that cable length is another factor that can impact your tone and sound quality.
For the most part, any cable beyond 25-35ft would be unnecessary unless you're touring and playing in huge stages.
As a rule of thumb, just make sure to choose the minimum length size possible.
3. Budget
Guitar cables can sell for anything from $10 to $5,999, and yes, that's not a typo, there are currently cables that are being sold at that price.
Of course, I wouldn't recommend anybody to spend too much money on just a guitar cable, but at the same time, just remember that you'll get what you pay for.
If you buy a $10 cable, you should expect it to perform as such.
I wouldn't spend more than $50 on just a guitar cable unless I'm playing professionally or have enough money to spend.
Types of guitar cables
1. Rubber
Rubber guitar cables normally consist and are known for their black outer sheath or jacket of rubber.
These cables are among the most sold guitar cables out there, not because they're better or worse than other options, but simply because they've been the standard and go-to alternative for years.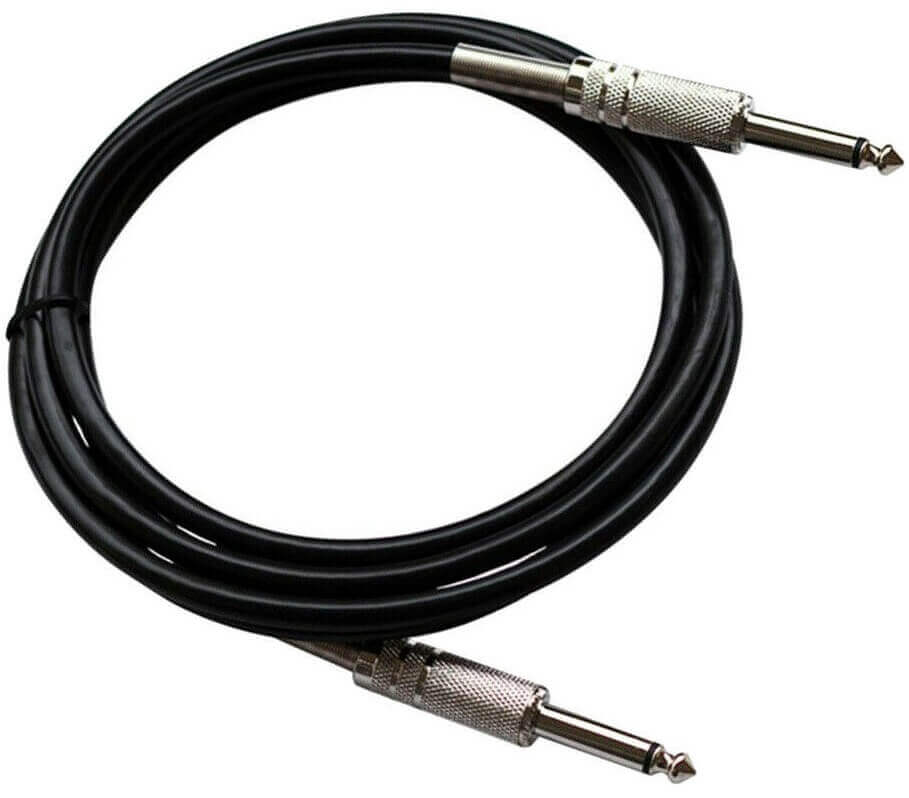 Rubber is a material that is very good at diminishing corrosion and water damages.
2. Braided
A braid, according to Oxford Languages, is threads of silk, cotton, or other material, woven into a decorative band.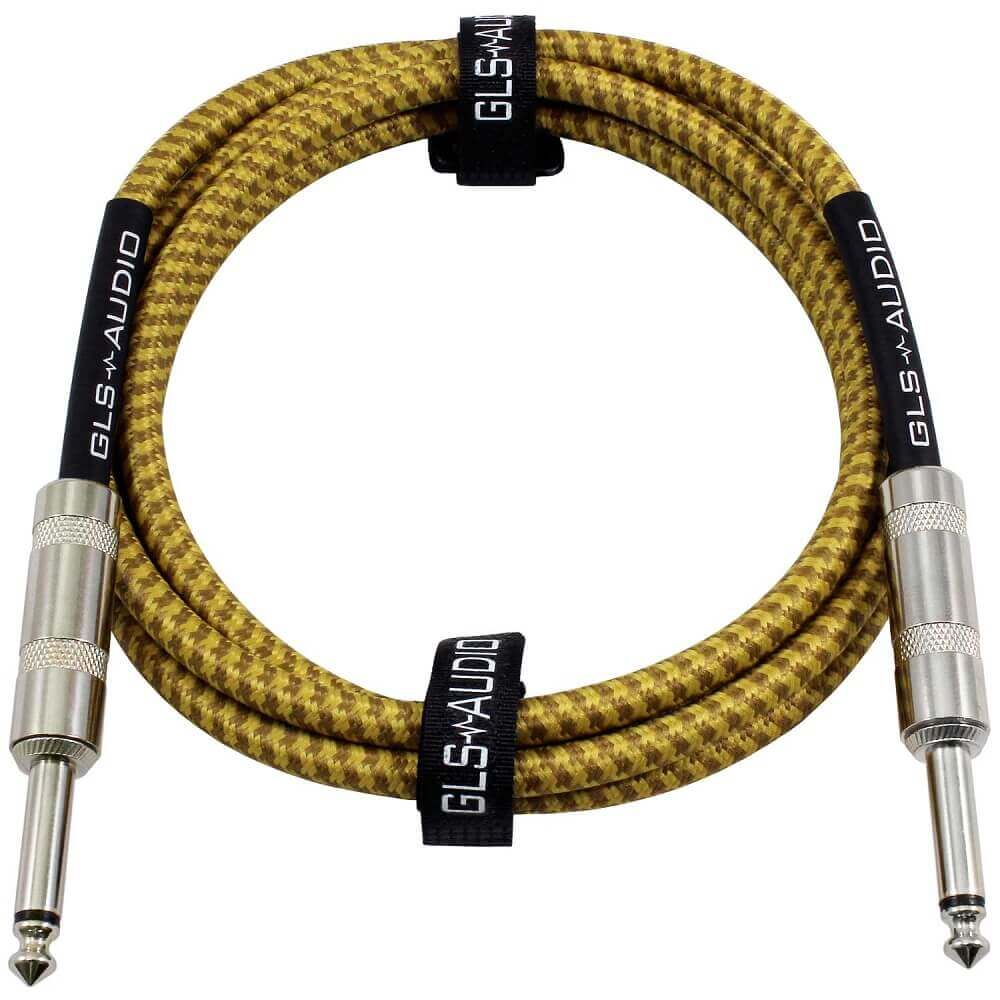 When it comes to guitars, braids are used to increase the flexibility, durability, and strength of the cable itself, and more importantly, to protect its inside from any possible damage.
3. Coiled
Coiled guitar cables are very easy to spot because of their unique shape.
One of the main benefits of these cables is how easy it is for them to be extended and have their length increased.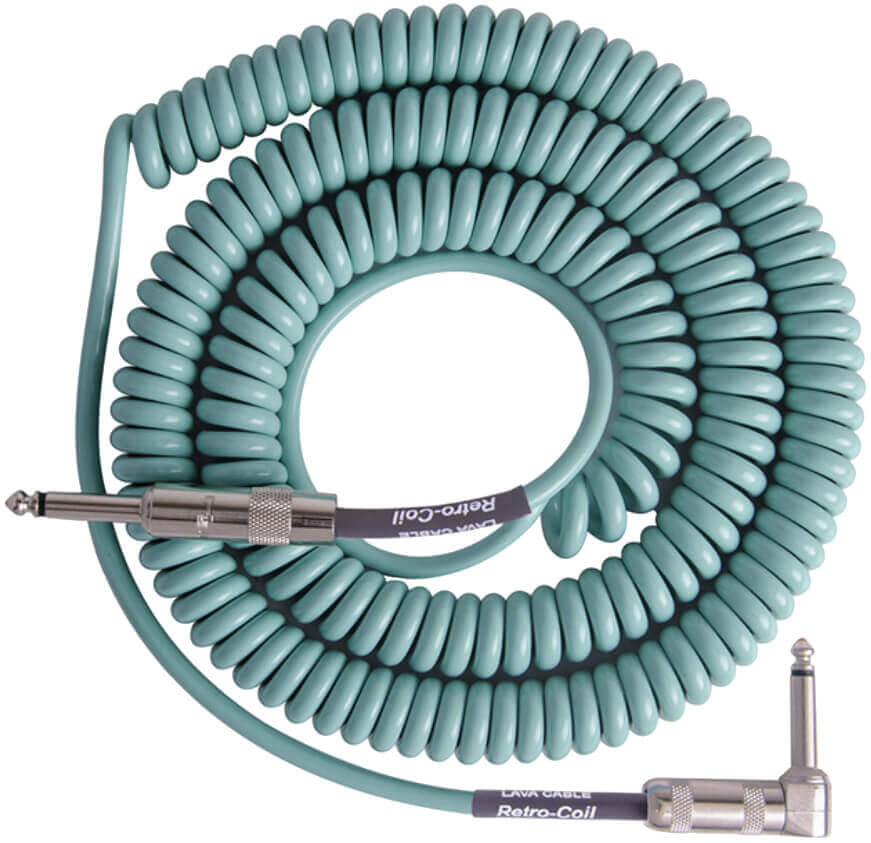 Aside from that, they're also very flexible, durable, don't tangle as often, and take less space.
These are really some of the things that ultimately made them so popular among guitar players.
One more thing
This website is all about showing you a little bit more about guitars each day, finding ways to innovate, and have fun with this beautiful instrument that we love.
If you enjoyed this post, then I invite you to go check out our blog!
We're always sharing a lot of useful and helpful content that both beginners and advanced players can use to further develop their guitar-playing abilities.
As always, thank you for reading and being here! 🤘