What are the best electric guitar strings?
Picking the right electric guitar strings is very important if you want to sound as best as possible
There are a lot of factors to consider when choosing the best electric guitar strings for your playing style.
Gauge, type of metal, and coating are all important considerations, but with so many different types of electric guitar strings available on the market today, it can be tricky to choose the right ones.
In this article, I will be listing the best acoustic guitar strings in terms of quality, longevity, tone, and price, and will also answer some of the most frequently asked questions on this topic.
Let's get started!
Best Electric Guitar Strings
Summary of all the products that we'll talk about:
Ernie Ball Regular Slinky Electric Guitar Strings
(link to Amazon.com)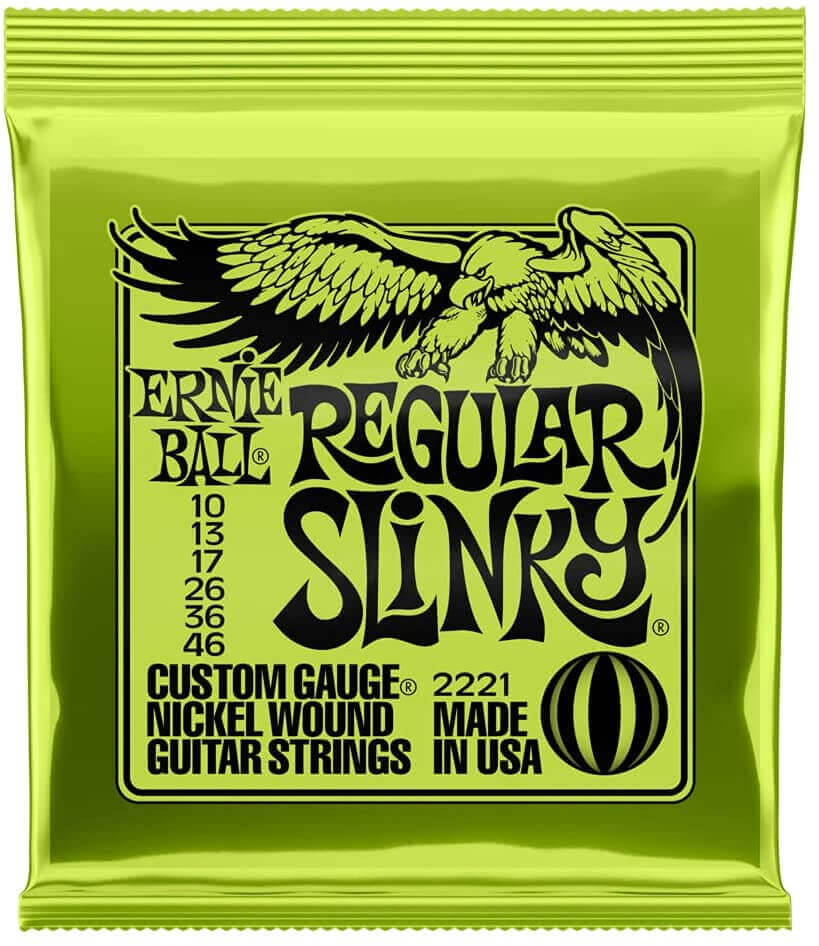 Ernie Ball Regular Slinky Electric guitar strings are made in California, U.S.A. with the finest and freshest materials.
They're are precision wound with nickel-plated steel and high-carbon steel hex cores, which provides for better durability and strength.
At the same time, you'll be able to hear that rich balanced tone and signature slinky feel.
The element shield packaging in which they come in protects against corrosion, ensuring your strings sound fresh for longer and that you can keep them saved for future use.
A series of lock twists that are the perfect solution to secure the wire around the ball end is also present in this product, this enhances stability and strength, so you can trust that your string will stay put, no matter how hard you play.
These are played by many different and popular musicians around the world including Jimmy Page, Slash, Metallica, Eric Clapton, and many more.
D'Addario Nickel Wound Electric Guitar Strings
(link to Amazon.com)
The company that would eventually be known as D'Addario had its roots in the 1930s when they started producing strings for guitars.
The oldest and best-known guitar string manufacturer worldwide today dates back to this era!
Guitarists around the world use these strings to achieve their desired tone since they're an excellent choice for beginners and experienced players alike because of how well they respond across different styles.
NYXL strings are designed to offer you the best tuning stability so that your guitar can stay in tune better than ever before.
This happens by utilizing a completely reinvented wire drawing process coupled with a revolutionary "fusion twist" process for the plain steels.
Their corrosion-resistant packaging ensures they stay fresh and ready for any occasion, and on another note, they're made in the United States using the highest quality and performance-focused materials.
Fender Stainless Steel 350's Electric Guitar Strings
(link to Amazon.com)

Fender has been the leading manufacturer of musical instruments for many years now.
While they produce some high-quality guitars like the Stratocaster and the Telecaster, they also sell guitar accessories products such as strings.
These stainless steel guitar strings are perfect for heavier styles of music, such as hard rock and heavy metal.
The pure stainless steel wrap that they use has a high resistance to oil, acid, and sweat, which ensures that it'll last longer than other types on guitar fretboards before needing maintenance or replacement!
Also, these strings are ball-end and come in color-coded pairs which makes them easy enough to set up by just comparing the color on the end of the string to the chart provided.
When making a purchase, you'll have two choices when it comes to gauges, one is light (9-42) and the other one is regular (10-46).
Elixir Electric Guitar Strings With Nanoweb Coating
(link to Amazon.com)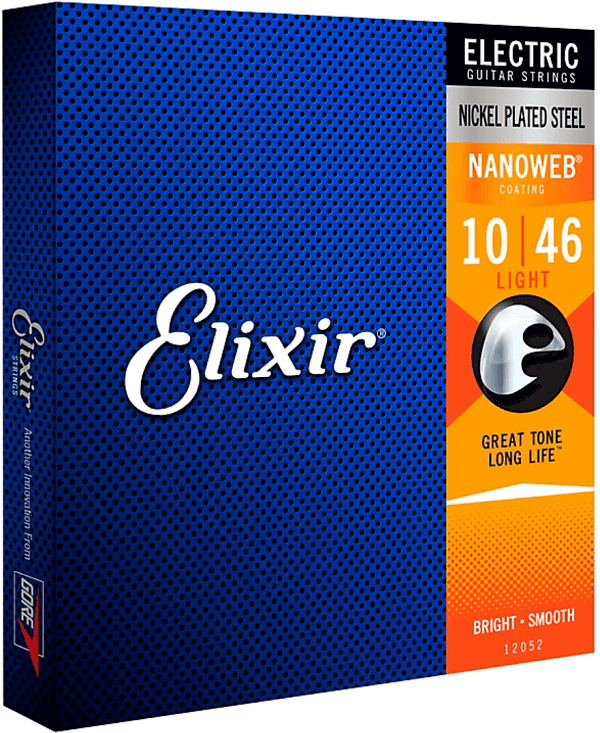 These Elixir electric guitar strings come with Nanoweb coating and are constructed with nickel-plated steel wrap wire.
Nanoweb coating is applied to electric guitar strings as a way of protecting them against wear and tear.
This can prolong the life of your strings, but it also usually makes them more expensive.
If you're a beginner, you may not need to worry about this extra layer of protection and can save some money by opting for uncoated strings.
However, some guitarists still believe that coated strings sound better than uncoated ones. So, even as a beginner, if you're looking for the best possible tone, you may want to go with a set of coated strings.
Guitarists everywhere have been enjoying the benefits of Elixir Strings, like longer-lasting tuning and more consistent sound.
The synthetic material used in these strings is much closer to a natural feel than other options on today's market which mean they stay nicely tensioned without ever having an issue with getting loose!
Lastly, even in the most unpredictable of environments, these are made to last. They can withstand wildly fluctuating temperatures and even the worst humidity levels.
Dunlop Nickel Wound Electric Guitar Strings
(link to Amazon.com)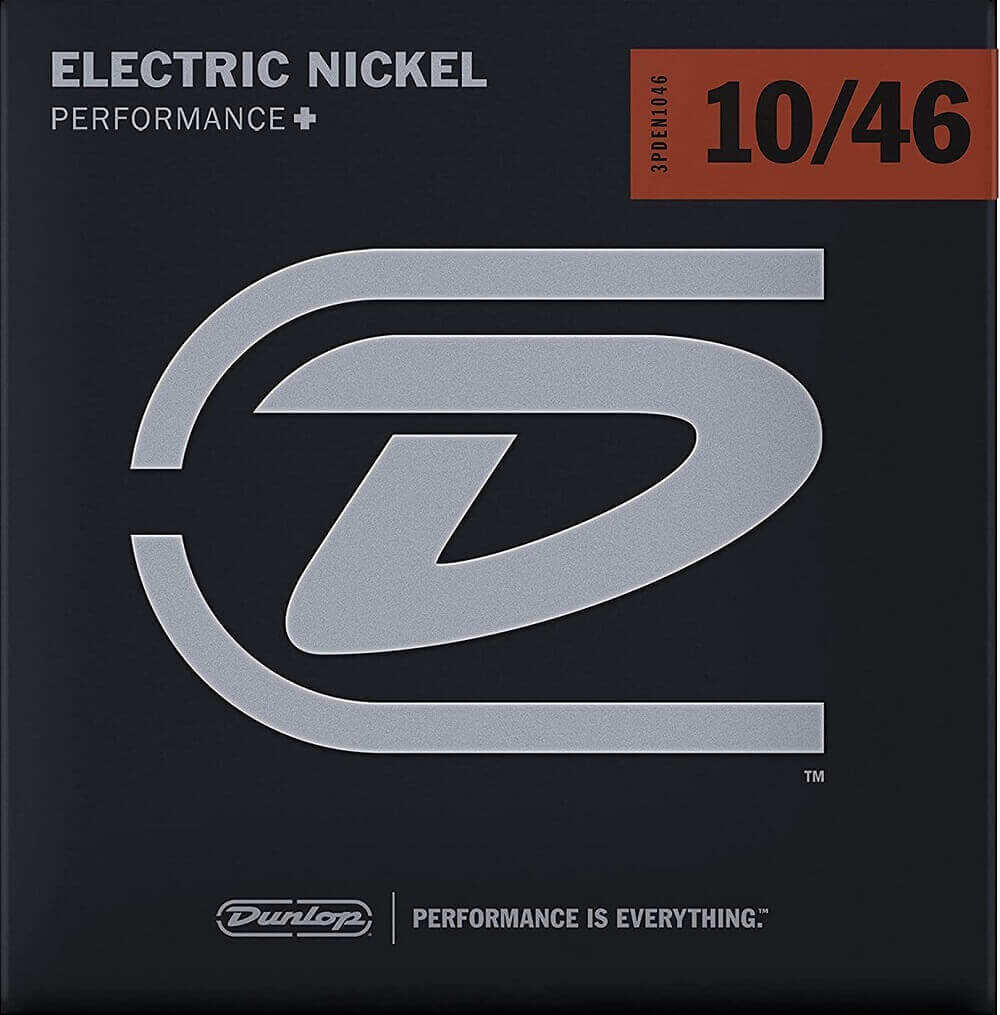 These Dunlop nickel-wound electric guitar strings are crafted in the USA with a smooth feel and balanced response of smooth highs focused mids and defined lows.
They provide excellent dynamics, warm and aggressive mid-range tones, and are suitable for a wide range of music genres, including blues, country, jazz, metal, rock, or R&B.
When it comes to packaging, there will be no plastic bag to worry about at the time of opening or disposal.
This is because the company has replaced it with new VCI (Vapor Corrosion Inhibitor) paper envelopes that keep out moisture and rust,
This package in specific includes 3 sets with gauges: .010, .013, .017, .026, .036, .046.
While buying only 1 set is optimal for some people, getting either 3 or 6 at the same time saves you a lot of money.
Playability, tone, and feel are just as important to a guitarist's happiness on stage as it is in the studio, and with these strings, all of those are assured.
DR Strings Tite-Fit Electric Guitar Strings
(link to Amazon.com)
DR Strings might be the less known brand out of the others we've already mentioned on this list, but they still produce great and high-quality electric guitar strings.
As an all-American family-owned business, DR is known for its hand craftsmanship and is referred to in advertisements as: "The Handmade String".
These are a great option for those looking for flexibility, long life, and to use it in music genres such as rock, blues, metal, or even jazz.
Tite-fit round wound and nickel-plated electric guitar strings are also a great option for beginners and experienced players alike.
Designed to be a great all-around string with a light yet durable winding that allows you to play effortlessly with a clear tone that won't break the bank!
On the other hand, they're based upon a round core using very old construction techniques, but with the use of newer core and wrap-wire materials, they ensure that their classic design meets modern performance standards.
In other words, they've attempted to mix in and unite the best of the old with the best of the new.
GHS Strings Nickel-Plated Electric Guitar Strings
(link to Amazon.com)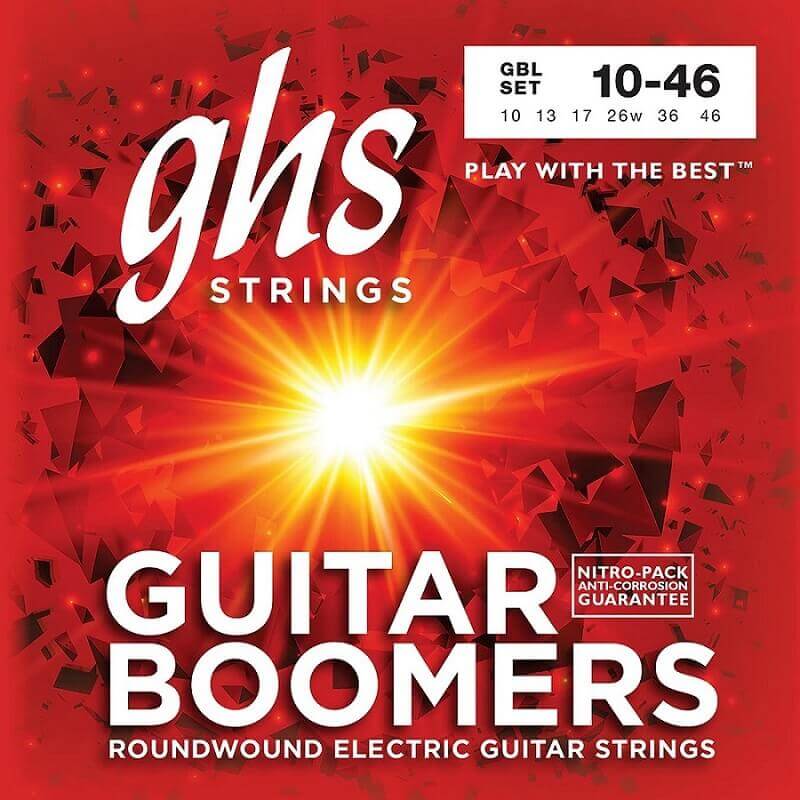 GHS Strings is an American company that specializes in the production of guitar strings.
It was founded on August 1, 1964, by Robert and Russell McFee with a focus primarily on electric guitars as well acoustic models since 2005.
They are made using round-wound nickel-plated steel on a hex core and offer a brilliant tone and powerful attack.
Hex core strings are becoming more popular because they offer a few benefits over the traditional round core strings that we've been using this whole time.
Some of those benefits are that they stay in tune longer, have a brighter sound, are easier to stretch, and have a more precise intonation.
One thing that I find very unique about these strings is that each string of the set comes in what they call a nitro-pack.
This simply means that every single string is sealed in a nitrogen environment, eliminating all oxygen in a tear-resistant sleeve.
Gibson Les Paul Premium Electric Guitar Strings
(link to Amazon.com)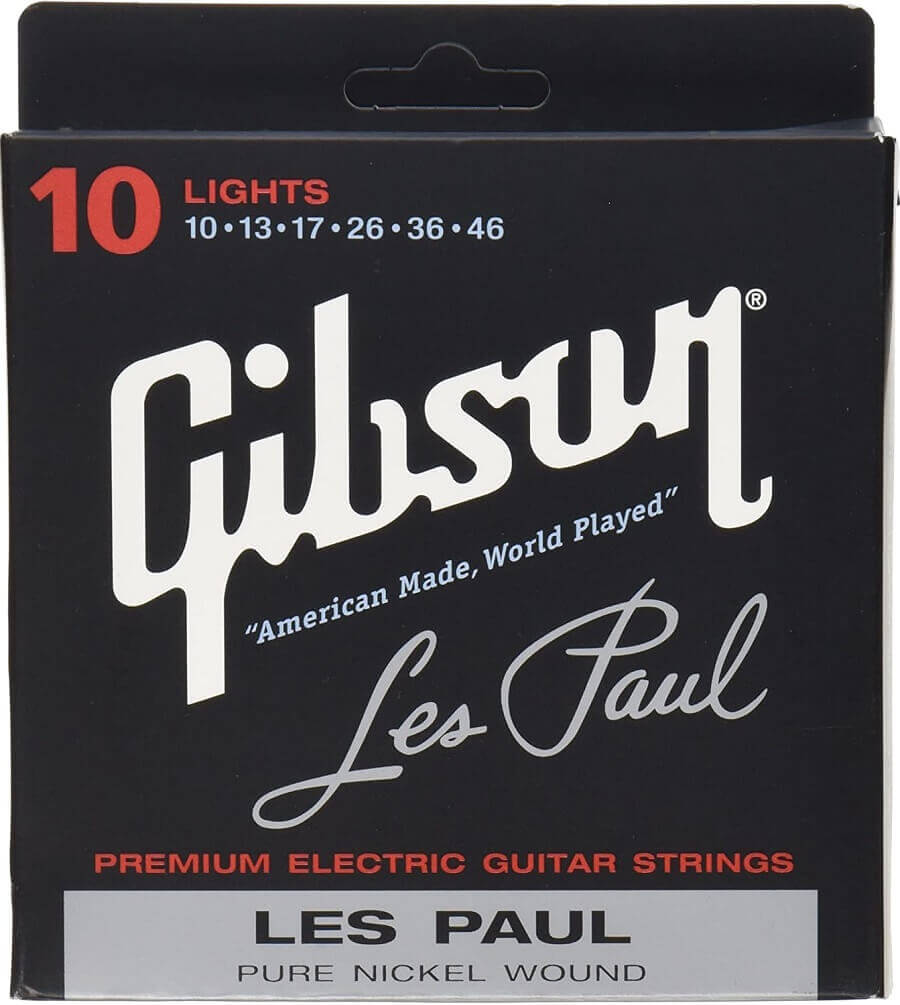 Gibson is one of those brands that need little introduction to those who have been guitar players for a decent amount of time.
You can depend on these strings to give you the perfect tone for any occasion.
They're made with pure nickel wound, so they have a smooth warm sound that delivers just enough punch when needed without being too harsh or booming.
Its durable hex-core construction ensures your tone can flourish for countless performances, providing you with the sustain and resonance you need to make your music heard.
And they're crafted with unique silk ends, tested by master luthiers at Gibson's esteemed USA factory, ensuring that coveted Gibson personality decorates your playing.
Les Paul Signature strings come in his preferred gauge which is a lighter gauge on the treble side for easier bending, and a heavier gauge on the bass side for more volume during chord work.
Lastly, is worth noting that the silk-wrapped ends of these strings eliminate ambient noise which if you plan on recording your guitar at any point, will help you stay focused on what really matters.
D'Addario EXL110-3D Nickel Wound Electric Guitar Strings
(link to Amazon.com)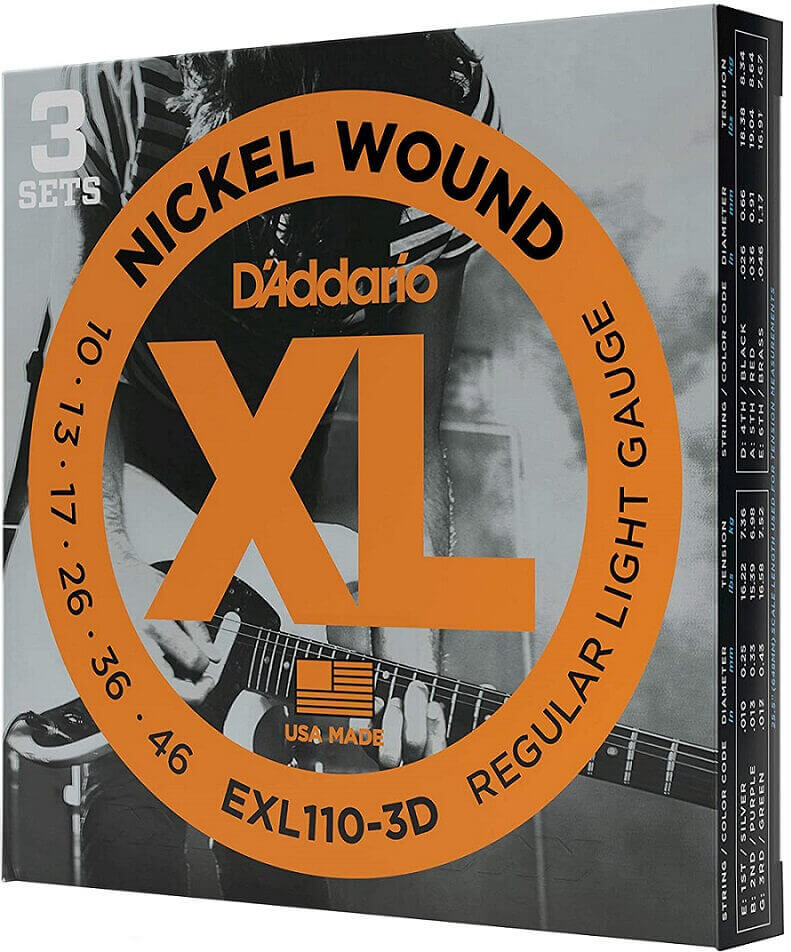 This is D'Addario's best-selling electric guitar string set and is perfect for beginners and professionals alike.
The long-lasting, bright tone that these strings deliver will have you pursuing your guitar-playing passion with ease!
Not only do they come in a 3 pack so no need to worry about one breaking and not having a replacement, but their corrosion-resistant packaging means each string will always be kept fresh.
Also, XL nickel wound electric strings are very known to deliver great sound and durability, this in big part because of their hexagonally shaped, high carbon steel core.
On the other hand, the gauges in this electric string set include: plain steel (.010, .013, .017), and nickel wound (.026, .036, .046).
Just like many others on this list, they are perfect for a good variety of guitars, genres, playing styles, and guitarists of all backgrounds.
So if you feel like you're still experimenting with your music or might change your style in the future, these are perfect for that.
Ernie Ball Paradigm Electric Guitar Strings
(link to Amazon.com)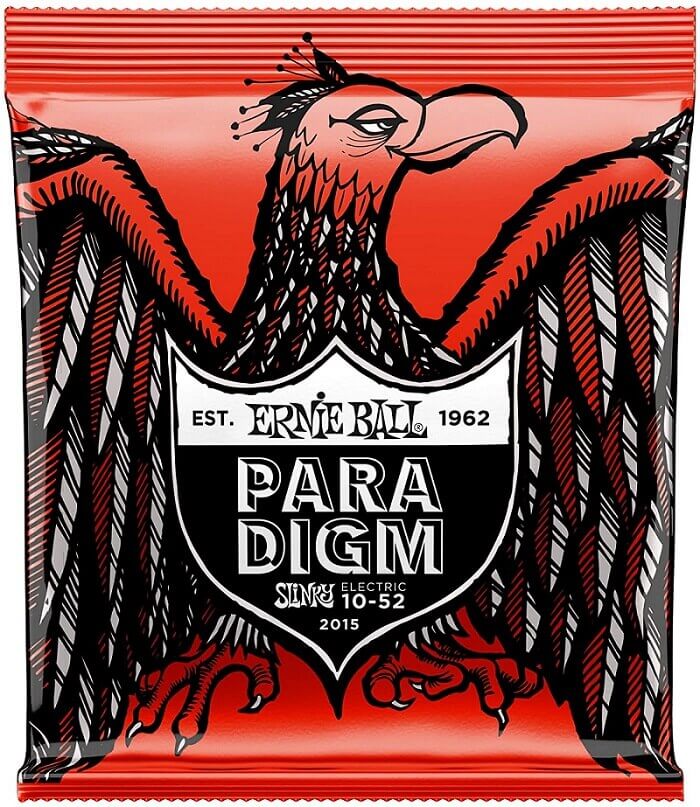 Ernie Ball Paradigm electric guitar strings have been a favorite among musicians and they're sure not to disappoint.
These strings were made using their new state-of-the-art wire drawing process combined with patented RPS (reinforced plain string) technology, which aims at making them even stronger.
Its plasma-enhanced wrap wire also provides an excellent coating for improved corrosion resistance, making it ideal in harsh environments.
If that wasn't enough, Ernie Ball has a patent for their Everlast nano treatment which prevents sweat from accumulating on the strings, giving you better tone and more sustain.
With their ultra-high-strength steel, they also ensure your strings will never go out of tune and that you can experience longer-lasting strings that are worth playing with little compromises.
This reinforcement is present at the ball end twist of each plain string to provide superior tensile and fatigue strength which makes for strings that lock into tune fast.
These gauges on this set are as follows: .010, .013, .017, .030, .042, and .052.
What to consider before buying electric guitar strings?
When it comes to choosing electric guitar strings, there are a lot of things to consider.
From the type of string to the brand, there are a lot of factors that go into finding the right set for your playing style.
In this next section, we'll take a look at some of the things you should think about before purchasing new electric guitar strings.
By understanding what's available on the market, you can make an informed decision and get the most out of your playing experience.
So, without further ado, let's dive in!
1. Materials
The most popular type of metal used in electric guitar strings is nickel-plated steel.
There are other materials that can be used:
Bronze
Brass
Chrome
Titanium
Cobalt
Copper-plated steel
And more…
It is important to experiment with different types of strings to find the ones that best suit your playing style.
For example, pure nickel strings are a little bit warmer sounding than nickel-plated steel strings.
Some people also find that they feel a little bit smoother to play, however, nickel-plated steel strings tend to last a lot longer than pure nickel strings.
Bronze, chrome, titanium, and cobalt electric guitar strings tend to have a brighter, crisper sound than other types of strings.
Copper-plated electric guitar strings, on the other hand, are said to have a warmer sound and are good for blues and jazz.
2. Tension
Electric guitar strings come in various tensions.
The 3 main different types that exist are light, medium, and high tension strings.
Light-tension strings are easier to play and are better suited for beginners.
Medium-tension strings provide a good balance of comfort and sound quality.
High-tension strings produce a more powerful sound but can be more difficult to play.
Many beginning guitarists start out with light-gauge strings because they are easier to press down on the fingerboard and produce a softer sound.
But as you progress, you may want to experiment with different string gauges to find the tension that is best for your playing style.
3. Coatings
The type of coating on the strings can also be a factor in choosing the right set.
Some coatings are designed to make the strings last longer, while others are meant to provide a better tone.
Coated strings can be more expensive and may produce a slightly different sound than uncoated strings, but they'll save you time as you don't have to change them so often.
Uncoated strings, on the other hand, are not as corrosion resistant and may be more susceptible to wear and tear.
There are also a lot of different types of protective coating; most of them feature the same protection and extend tone life, but differ in tone and feel.
Let's take a look at Elixir Strings and their coating types as examples:

As you can see, coating types are generally either Polyweb, Nanoweb, or Optiweb.
Each of those offers a different type of tone and feel, so depending on what sound you're looking for, you can decide on which to get.
4. Gauges
The gauge of the string is probably one of the most important factors in choosing the right set.
Heavier strings are going to be louder and sound fuller, but they will also be harder to play, on the other hand, lighter strings are easier to play but may not be as loud or full sounding.
The word "gauge", for those that don't know, is really just a fancy way of referring to the thickness of the string; it can be measured in thousandths of an inch.
Gauges tend to be categorized as:
Of course, in-between those categories, you'll also find extra light, custom light, light top, super heavy, heavy bottom, and many more.
There are no rules when it comes to a manufacturer naming their string gauges, so in other words, a brand's light gauge can be slightly different from another.
Let's take a look at D'Addario's XL nickel string gauge guide for example: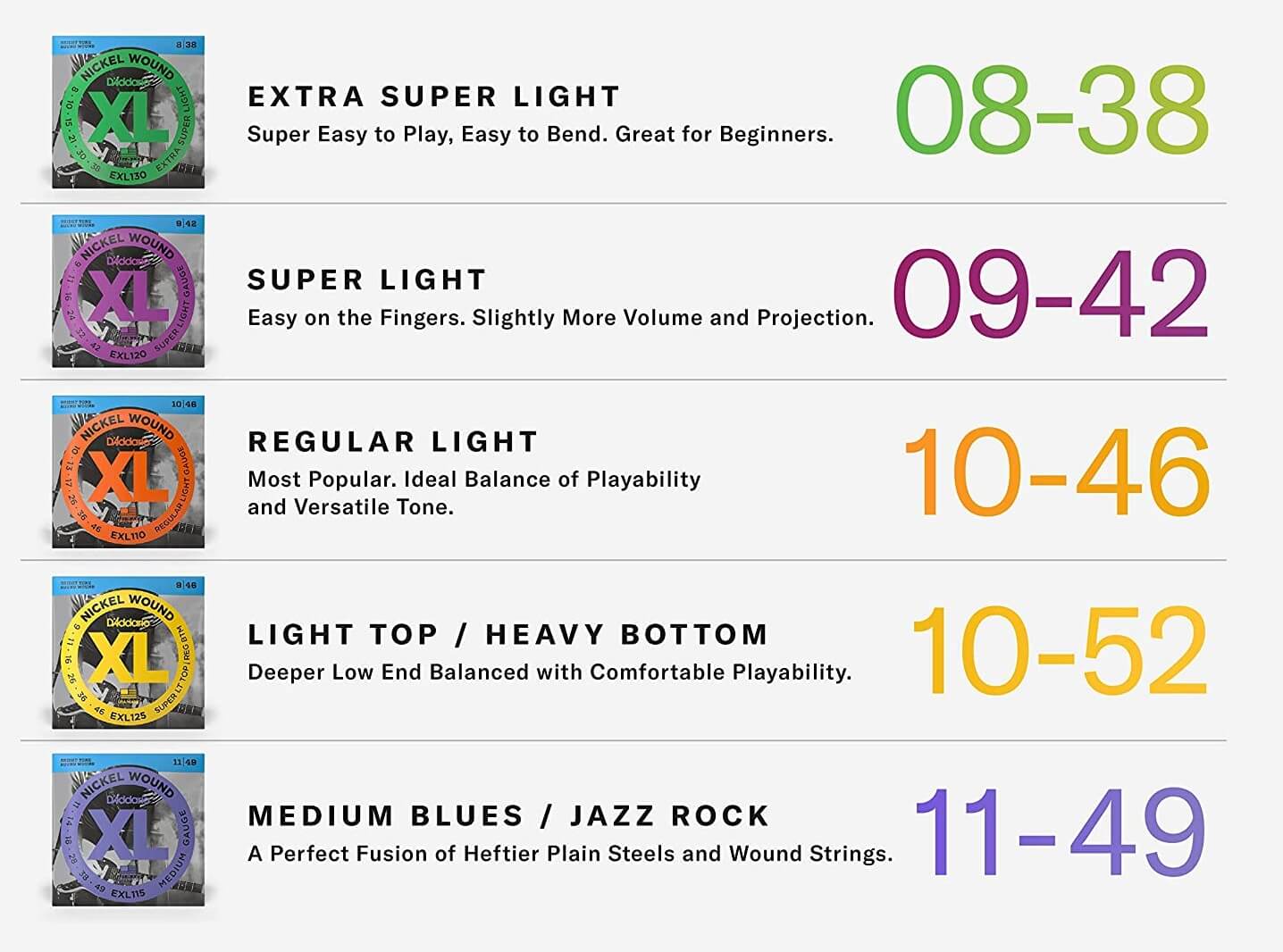 Here you'll find that heavier-gauge strings will be louder and have a fuller and deeper low-end sound, while lighter-gauge strings will be easier to fret and bend, and will have a brighter tone.
This graphic alone goes to show how much detail there is to choosing the right strings, but don't get too caught up in deciding which one you should get.
At the end of the day, it's about personal preference, so allow yourself to slowly experiment and discover which one is the right type for you.
5. Life
We all know that some strings last longer than others; that's no secret to anyone who has used at least two different guitar string brands throughout their playing journey.
The lifespan of an electric guitar string varies depending on the type of metal it is made out of, how often it is played, and how well it is taken care of.
If you want to rely on the string manufacturer's expectation of how long their product will last, then you can do that, they usually have it somewhere in their product description.
More often than not, is better to check out the review section of each product to see what other guitar players have said about them and how much they usually last.
6. Construction
There are two main types of string constructions: round core and hex core.
The difference between round-core and hex-core strings is that the former has more traditional fingertips feel, while the latter offers greater consistency.
Round core strings are the most common type of string, and they are made of a single filament of metal wrapped around a central core.
Hex core strings have a hexagon-shaped central core that is made of multiple metal filaments.
Round core electric guitar strings are known for their warm and mellow tone.
This is what round core strings look like on the inside: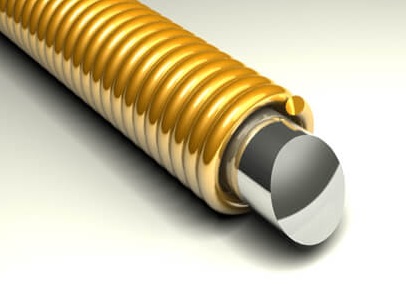 Now, when it comes to hex core strings, this type of construction is becoming more popular because it offers a few benefits over round core strings.
One of the main benefits is that they stay in tune longer, have a brighter sound, and are easier to stretch.
This is what hex core strings look like on the inside: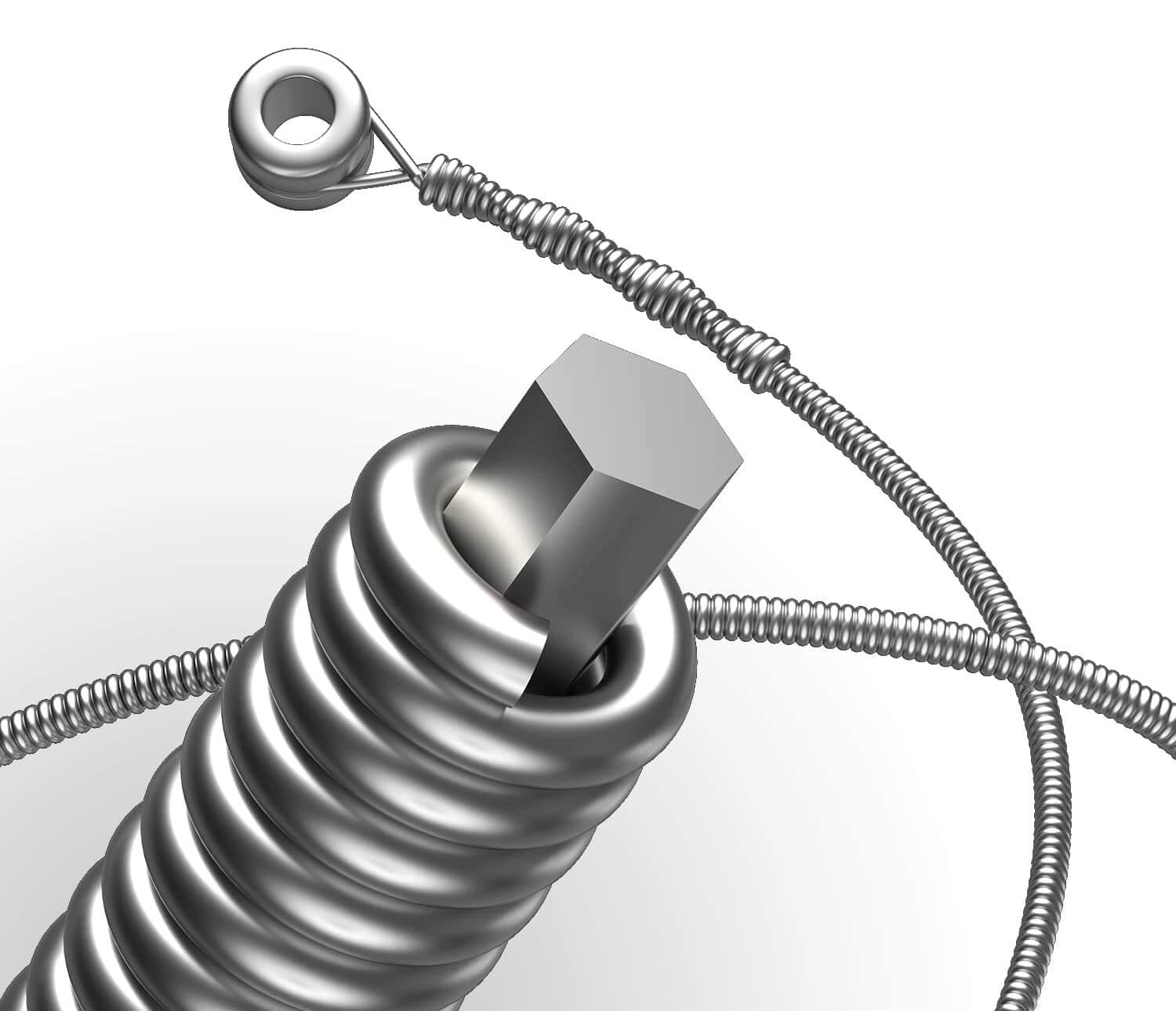 On the other hand, they also allow the wrap wire to grip the core for superior dimensional stability, and overall a more precise intonation.
7. Prices
The price of electric guitar strings can vary depending on the type and brand.
Generally, they can range from around $5 to $25, with the average set costing around $10.
Higher quality strings will last longer and sound better than cheaper ones, but yes, they will cost you the most.
On the other hand, if you buy cheap guitar strings, they'll break often and it can end up costing you more in the long run.
How often should you change electric guitar strings?
This is a difficult question to answer, as it really depends on how often you play your guitar, and how quickly the strings tend to tarnish.
If you play daily, some people recommend you to change your strings once a month (which I've never done) or every 2-3 months or so.
On the other hand, if you don't play often, you might be able to wait longer between string changes.
There are also some types of guitar strings that last longer than others.
If your electric guitar strings are starting to sound dull, or they're breaking more frequently, it's probably time for a change.
You can always consult with your local guitar shop or luthier to get their opinion on when to change your strings.
If you're not professionally playing guitar, you can honestly disregard most advice you find online and just change them whenever you need to.
Are there any differences between acoustic and electric guitar strings?
Acoustic and electric guitar strings may appear to be similar, but there are actually several key differences between them.
For one thing, acoustic guitar strings are usually made from steel, while electric guitar strings can be made from a variety of materials including steel, nickel, and even cobalt.
Acoustic guitar strings also tend to be thicker than electric guitar strings, which gives them a warmer sound.
They also typically have a wider string spacing than electric guitars, which means that the strings are more likely to vibrate independently and produce a fuller sound.
Electric guitar strings, on the other hand, are made of nickel-plated steel or stainless steel, which gives them a bright, powerful sound.
They're also thinner than acoustic guitar strings, so they're easier to play and bend.
Acoustic guitar strings are harder to press down on the fretboard and may require different playing techniques and more effort.
Can you put acoustic guitar strings on an electric guitar?
This is a common question that many people have, the answer, however, is not as simple as one might think.
Yes, you can technically put acoustic guitar strings on an electric guitar, but the sound that is produced will likely be different than what you are used to hearing.
The two types of guitars are designed to be used with different types of strings.
Here's a YouTube video by Stringjoy in which you can hear the difference in tone between the two:
We Put Acoustic Guitar Strings On Electric Guitar—So You Don't Have To
If you watch the entire video, you'll hear him say something along the lines of pickups working on magnetic output from the strings.
This is totally true, and the point is that acoustic guitar strings tend to have a steel core wrapped around a non-magnetically active material.
Hence, the signal that the electric guitar pickups will receive it's still there, but is way less than we'd want.
Ultimately, it's up to you to decide whether or not to use acoustic guitar strings on an electric guitar.
While experimentation is always fun, always make sure that whatever you do, is not damaging your guitar in any way.
How long do electric guitar strings usually last?
This is a difficult question to answer, as it depends on a number of factors, such as how often you play, how well you take care of your strings and the type of strings you use.
Generally speaking, however, most guitarists will need to replace their strings every few months to a year, depending on their playing habits.
If you're someone who plays frequently or is gigging regularly, you may need to change your strings more often.
Conversely, if you don't play as often or take particularly good care of your instrument, you may be able to stretch the life of your strings a bit longer.
That said, here are a few things you can do to help prolong the life of your electric guitar strings:
Clean them after each use,
Avoid exposing them to excessive moisture or heat
Store them properly when not in use
Do light guitar strings break easier?
Light guitar strings tend to break not "easier", but we can definitely say more often than heavier guitar strings.
This is because they have less tension and are more susceptible to damage; if you strum or pluck the strings hard, they will break regardless of their weight.
Lighter strings generally have less mass to absorb the energy of the string vibration, meaning they are more likely to break.
Other factors such as your guitar's bridge design and even your playing style also play a role in string breakage.
In the end, if you handle them with care, they will last just as long as you can possibly use them.
Should you change all guitar strings or just the broken/bad ones?
If one or more of your guitar strings are broken or otherwise in bad shape, you may be wondering whether you should change all of them or just the damaged ones.
Generally speaking, it's a good idea to change all of your strings at once.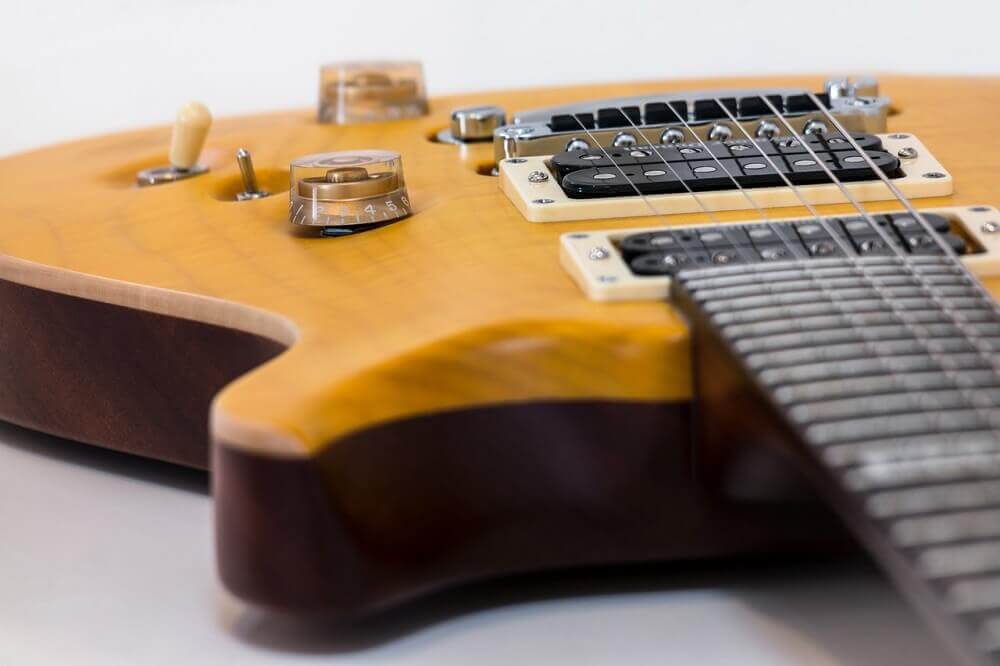 This way, they'll all be the same age and wear out at roughly the same rate, plus, if one string breaks, you'll know that the other strings aren't far behind.
Of course, there are exceptions to this rule!
If you're happy with the way your guitar sounds and only need to replace a few strings, then by all means, just change those.
Similarly, if you're in the middle of a gig or recording session and can't afford to stop to change all of your strings, you may have to just do what you can.
How to change electric guitar strings?
Changing electric guitar strings is a simple process that can be done at home with a few tools.
This is not a difficult task but is definitely one that requires a bit of patience and care.
We recommend you watch the following YouTube video by Fender:
How to Change Your Electric Guitar Strings | Fender
The video will show you how to change your electric guitar strings step-by-step, so you can get back to playing in no time, and will include small tips to make the entire process better.
One more thing
GuitarBased.com is all about showing you a little bit more about guitars each day and finding ways to innovate and have fun with this beautiful instrument that we love.
If you enjoyed this post, then I invite you to go check out our blog!
We're always sharing a lot of useful and helpful content that both beginners and advanced players can use to further their playing abilities.
As always, thank you for reading and being here! 🤘