What are the best acoustic guitar strings?
It's no secret that one of the keys to sounding good and having a great guitar tone is to use the best strings out there.
Although the process of finding the perfect set is usually a hit or miss and requires a lot of time and money, there are many ways to prevent all that from happening.
By just getting informed and doing a little bit of research you're more likely to end up making the right purchasing choice
In this article, I will be listing the best acoustic guitar strings in terms of quality, longevity, tone, and price, and will also answer some of the most frequently asked questions on this topic.
Let's get started!
Best Acoustic Guitar Strings
Summary of all the products that we'll talk about:
Ernie Ball 2146 Earthwood Acoustic Guitar Strings
(link to Amazon.com)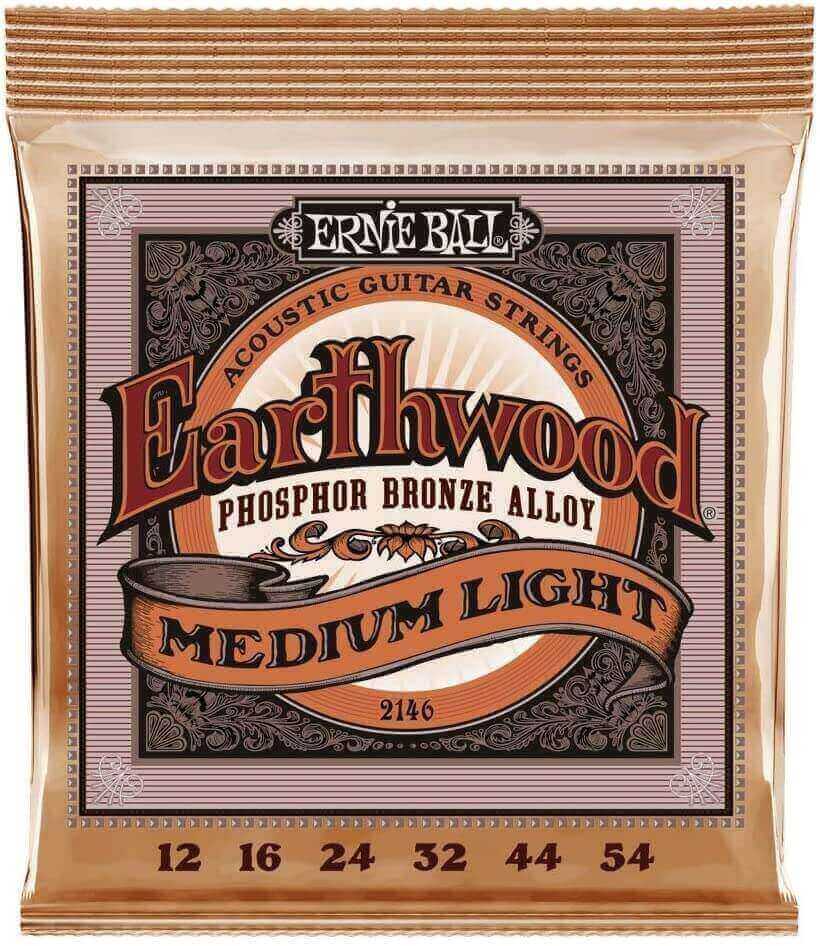 Ernie Ball is one of the world's leading manufacturers of electric and acoustic guitar strings and has been around since 1958.
This string set in specific is made from 92% copper, 7.7% tin, 0.3% phosphorus wire wrapped around brass plated hex-shaped steel core wire.
From musicians such as Paul McCartney and John Mayer to Brad Paisley and Billie Joe Armstrong, these strings have been used by many professional players for many years now.
Their excellent clarity, expressive sound, natural feel with excellent projection, and warm rich tone have been some of their most significant selling points.
When it comes to the core of the string, this one is made from brass plated high-carbon steel hex wire, which along with many other benefits, provides great durability.
Lastly, they're also made in the United States, specifically in the state of California, and are available in a wide range of string gauges for you to choose from.
D'Addario Phosphor Bronze Acoustic Guitar Strings
(link to Amazon.com)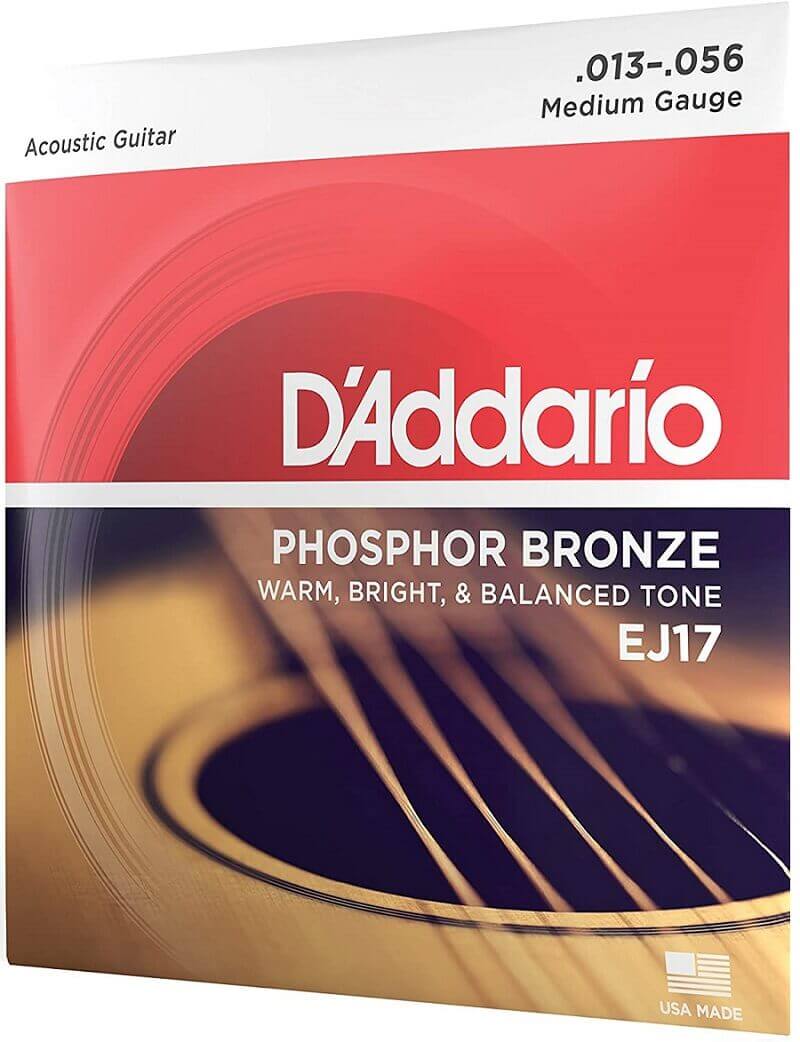 D'Addario is another manufacturer of musical instrument strings and accessories, although founded in 1974, they've actually been making strings since the 1930s.
These phosphor bronze acoustic guitar strings are one of their most popular and bought products since they're known for their amazing long-lasting warm tone, comfortable playability, and excellent intonation.
Phosphor bronze strings are precision wound corrosion-resistant, and in this case, there're carefully drawn around a hexagonally shaped, high-carbon steel core.
The company in itself has a very good reputation and leverages years of string-making knowledge and advanced computer-controlled winding technology to bring you durable and consistently excellent strings.
Also, the product is sealed inside and out using environmentally friendly processes that keep them in always fresh and ready-to-use conditions.
Out of many of the strings alternatives out there, this one is without a doubt the one that gives us the most options to choose from in terms of gauge and packaging styles.
In other words, if you feel like you might be looking for a very specific type of strings, then this one is worth checking out before the other ones.
Elixir Strings 80/20 Bronze Acoustic Guitar Strings
(link to Amazon.com)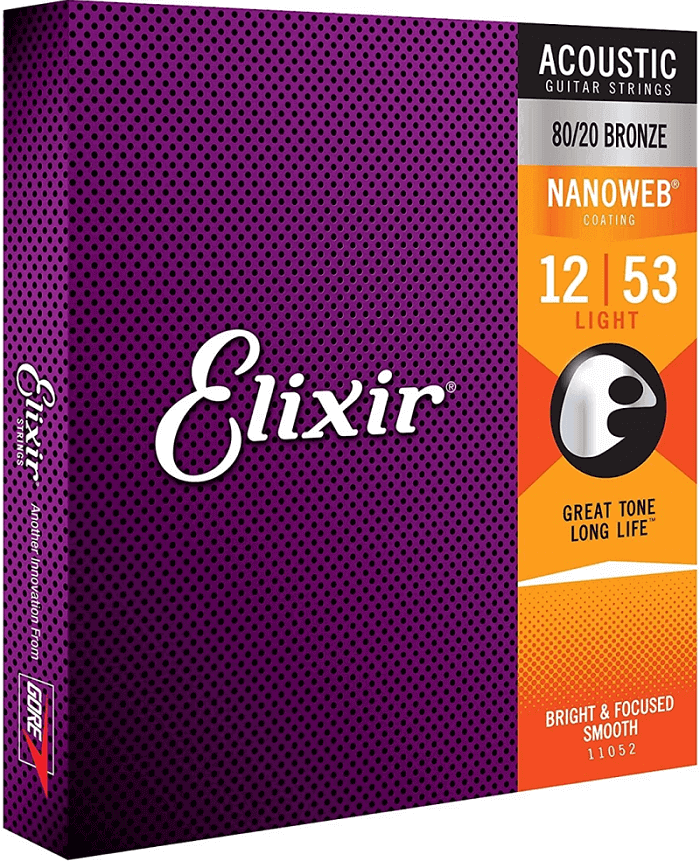 Elixir Strings as in the company has been around since 1997 but its parent company holds immense experience in the manufacturing of different types of products since 1958.
They are made with 80/20 bronze wrap wire, which would be the equivalent of 80% copper and 20% zinc.
When it comes to tone, you'll be able to achieve a highly crisp and bright tone with an absolute expressive, vibrant, and smooth overall feel when playing the guitar.
These strings also feature ultra-thin nanoweb coating, which provides a more traditionally textured alternative in comparison to many other brands out there.
With such coatings and anti-rust plating, you'll be fairly protected against most potential damages caused by humidity, sweat, and room dust without sacrificing tone.
On the other hand, if you're looking for a long-lasting product that you won't have to replace every so often, then with the right maintenance and care, these are perfect for you.
Lastly, this set is also known to stay in tune for longer periods of time and can withstand and resist significantly fluctuating temperatures.
Martin Retro Acoustic MM12 Guitar Strings
(link to Amazon.com)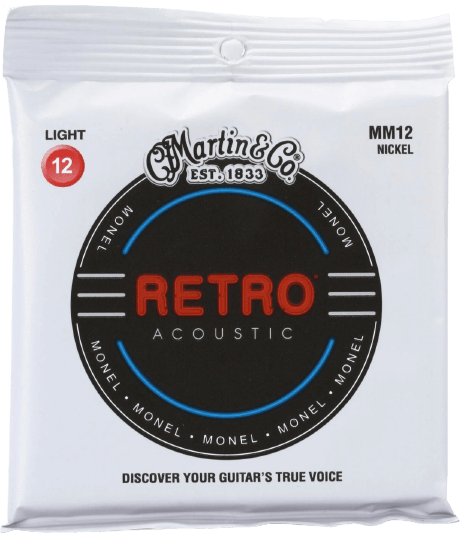 Martin Guitar has been producing high-quality guitars and accessories since 1833, which makes them one of the oldest most popular brands in the industry.
These guitar strings are made from solid nickel and copper alloy blends and are corrosion resistant while providing excellent tuning stability.
When it comes to the type of music, since they were designed to bring out a warm and mellow tone from your guitar, you can use them for a wide range of music genres such as bluegrass, country, ragtime, blues, etc.
They also provide incredible note separation and balance which lets your guitar's natural wood tones really be heard and highlighted.
At the same time, if what you're looking for is more of a vintage tone and sound, then these strings are definitely worth checking out before any of the others.
This total set of strings will sound great plugged into an acoustic-electric guitar or played with a guitar slide and can hold up after hours and hours of playing.
Gibson Masterbuilt Premium Acoustic Guitar Strings
(link to Amazon.com)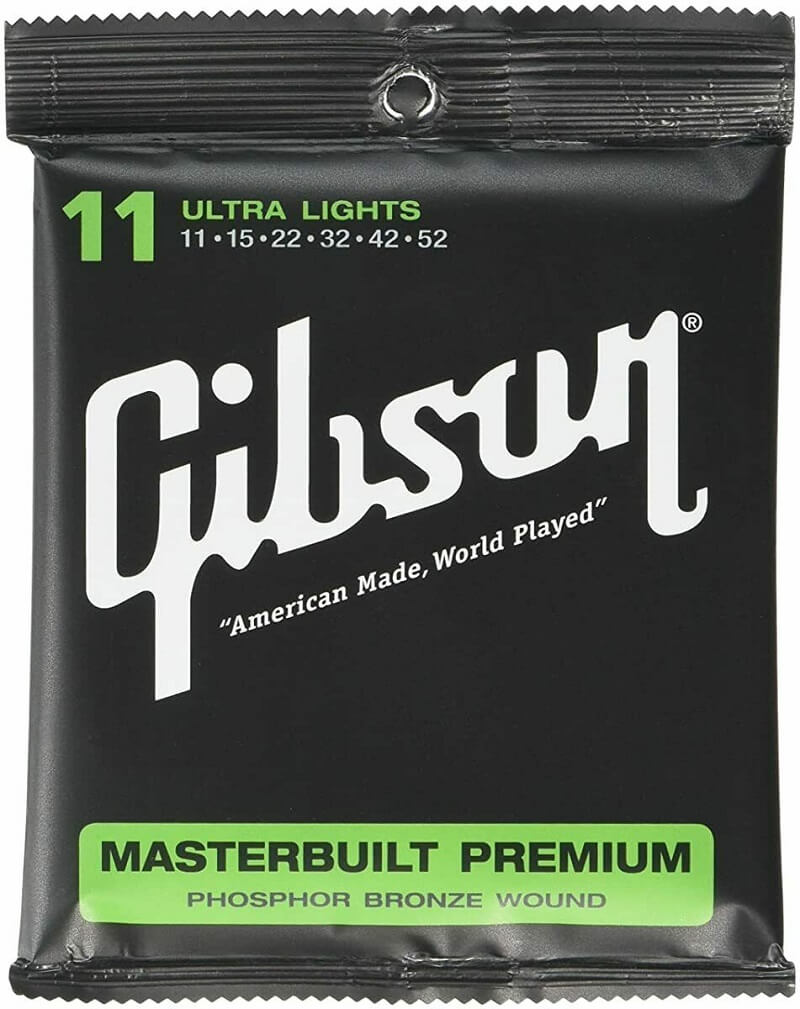 Gibson requires no introduction, but for those who might not be aware of them, they're a manufacturer of guitars, accessories, and professional audio equipment.
These strings are phosphor and bronze wound and provide your acoustic guitar with a radiant attack, sustained warmth, plus great intonation for better playability.
Although these acoustic guitar strings were specifically designed for Gibson Montana's flat top guitars, they can surely be used for other models and brands as well.
If you're looking to get a natural and expressive tone from your guitar, then this product might be a great option to consider.
For those of you playing mainly fingerstyle, these strings have great prestige among a lot of players since they don't have an overwhelming bright sound but are rather very calm balanced.
Each set is American-made and vacuum sealed for extreme freshness and extended life once you open the package and start using them.
Fender 60CL Phosphor Bronze Acoustic Guitar Strings
(link to Amazon.com)
Fender is an American manufacturer of stringed instruments and amplifiers, particularly the Stratocaster, Telecaster, Jazzmaster, and many other guitar models.
Although you might not be aware, they also sell their own phosphor bronze acoustic guitar strings set version.
These strings are an awesome choice for solo musicians and singer/songwriters as the warmness and richness of phosphor bronze strings always add depth to the sound of acoustic guitars.
Phosphor bronze is actually known for keeping a flat and well balance response as it doesn't have those really peaky highs, nor those really strong bass signals either.
This ends up making it have a very natural sort of sound with great intonation for better playability.
Aside from that, the strings also have color-coded ball ends to help you identify which string is which and are available in extra light, light, and medium gauges
Lastly, they utilize modern Vapor Corrosion Inhibitor (VCI) technology to make sure that the strings stay fresh in their package, which is also fully recyclable.
D'Addario XT Phosphor Bronze Acoustic Guitar Strings
(link to Amazon.com)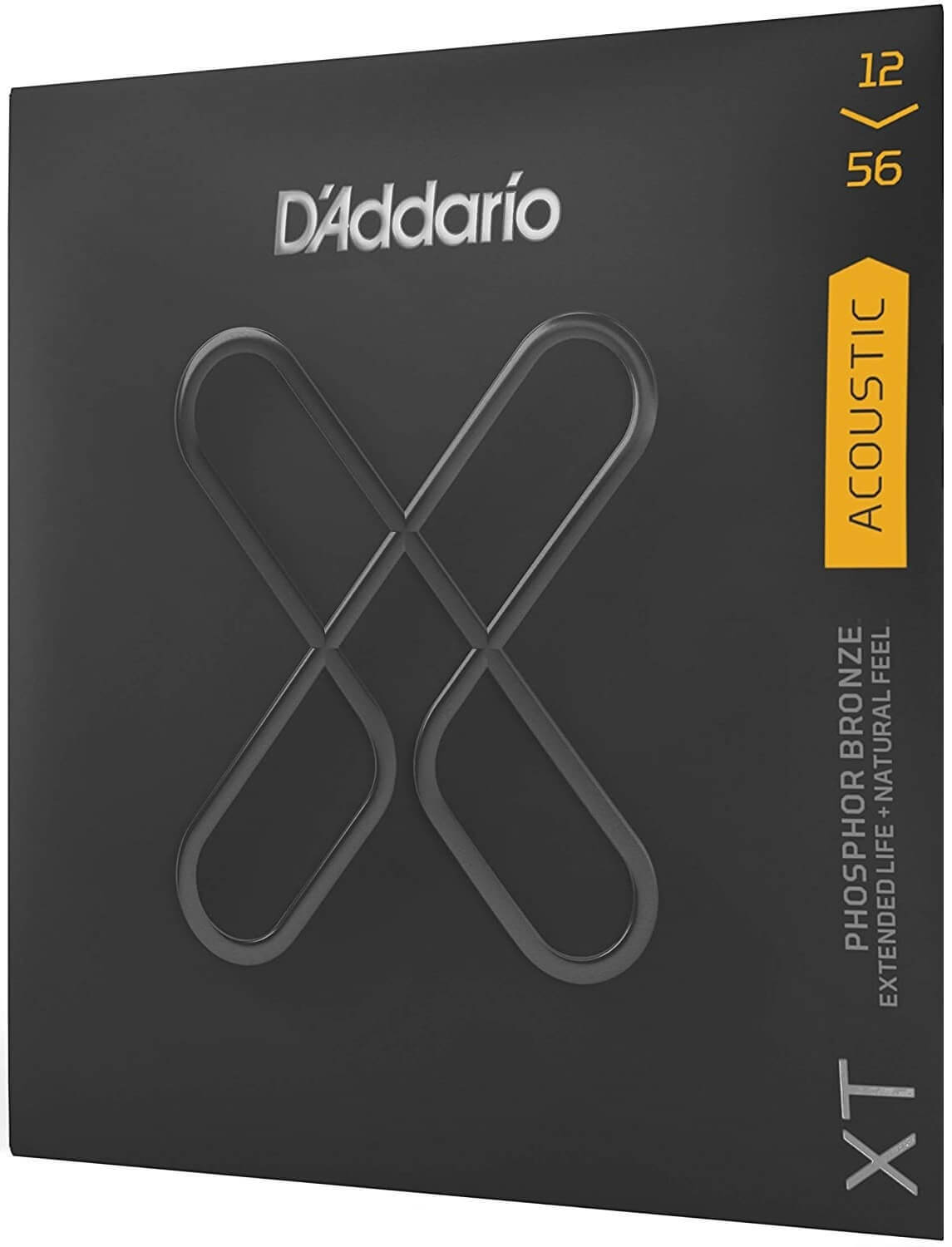 These are the D'Addario XT phosphor bronze acoustic guitar strings and they feature high carbon steel wire and fusion twist technologies that deliver unrivaled tuning stability and break resistance.
By using innovative lifespan-increasing technology on every string, they managed to bring you enhanced pitch stability and lasting performance, all while preserving the natural tone and feel of the strings.
On many of their product descriptions, they state that XT strings are up to 40% stronger than standard strings.
To put it another way, at a bend of two whole steps higher, they're still at less than 75% of their breaking point, which is pretty impressive.
When it comes to packaging, this product features a re-sealable zip closure that's very practical and easy to open as well as the fact that it can be used to store unused strings afterward.
They are available in multiple gauges ranging from extra-light and light to medium and baritone, which is perfect to suit a variety of playing styles and personal preferences.
As for tuning or pitch stability, D'Addario also claims that these can stay in tune 131% more than standard strings.
Ernie Ball Aluminum Bronze Acoustic Guitar Strings
(link to Amazon.com)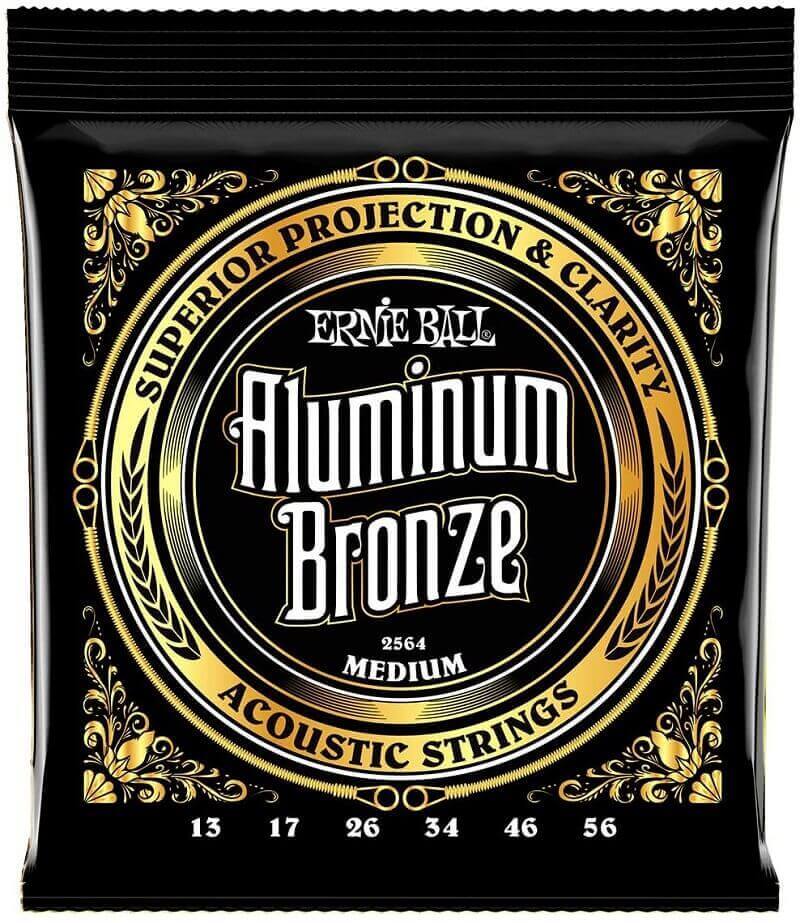 This aluminum bronze string set by Ernie Ball is another great alternative to consider for acoustic guitars.
Aluminum bronze acoustic strings have a lot more projection and clarity than traditional bronze strings and at the same time provide improved corrosion resistance.
On the other hand, this material also gives a richer and fuller tone with powerful low-end response and crisp bright high signals.
The core is made from a maraging steel hex wire, this helps with having good tuning stability, note separation, intonation,  consistency, and fatigue strength.
They also feature a series of lock twists to help secure and tie the wire around the ball end, prevent slippage, and ensure a long-lasting product.
Also, they come in Ernie Ball's element shield packaging which extends the shelf life of each string and keeps strings as fresh as the day they were made.
Finally, they're made in The United States, specifically in Southern California, and are available in extra light (10-50), light (11-52), medium light (12-54), and medium (13-56) gauges.
GHS Strings S325 Acoustic Guitar Strings
(link to Amazon.com)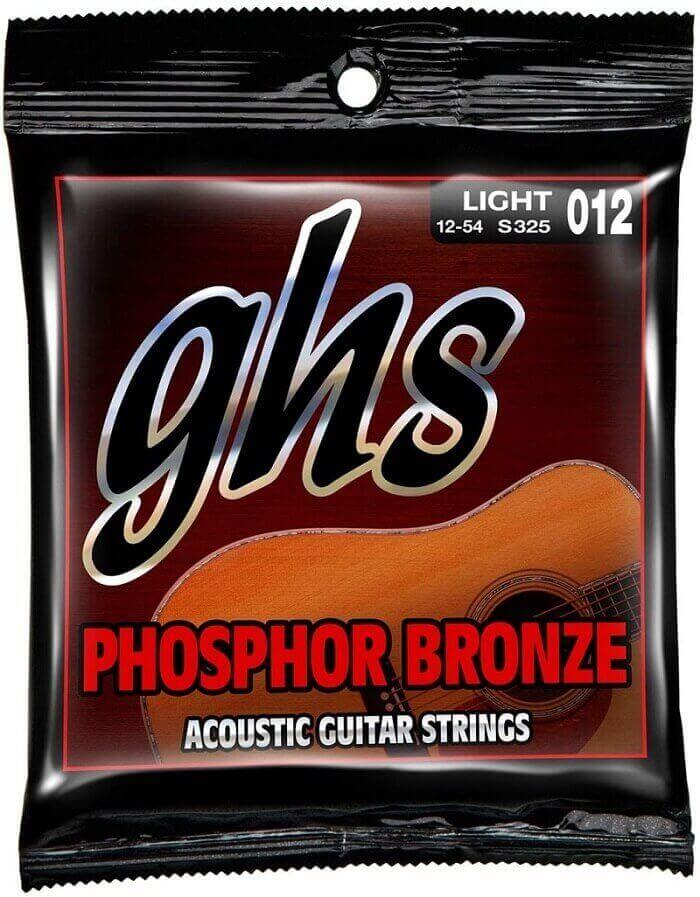 GHS Strings is an American string manufacturer, specializing in electric, acoustic guitar, and bass guitar strings with headquarters in Michigan.
These strings in specific are made with phosphor bronze and feature a special durable alloy of copper, tin, and phosphor wind over a hex core.
Such combination brings a long-lasting, rich, and bright tone to your guitar and along with a redesigned core-to-cover ratio, there will be more brightness and flexibility without any sharp overtones.
At the same time, every single string is sealed in a separate nitrogen environment, which eliminates all oxygen in a tear-resistant package.
This is a great detail that allows guitarists to either use all strings at once or just use one as a replacement; it also makes the rest of the strings fresh and brand new as the day they were sealed.
Available in extra light, light, and medium gauges and can be purchased as a single set or a bundle of 6 different string sets.
Dean Markley Blue Steel Acoustic Strings
(link to Amazon.com)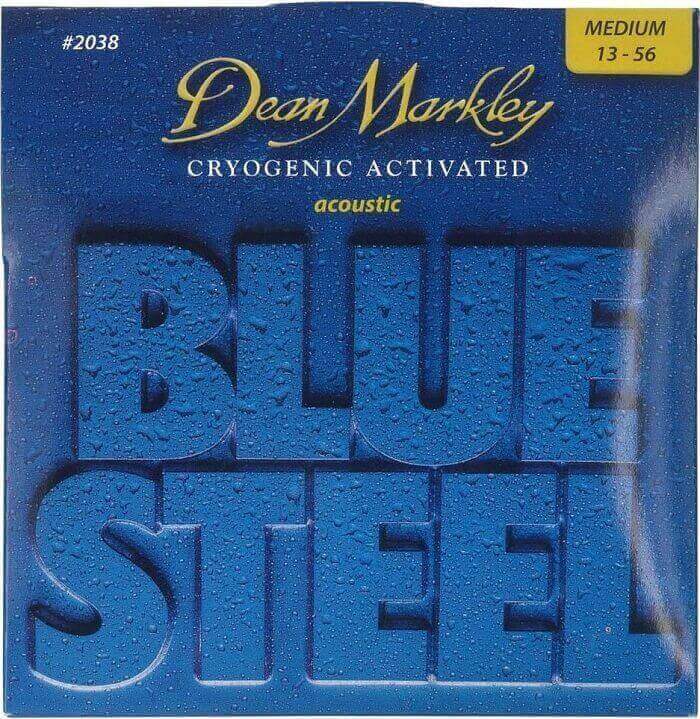 Dean Markley is an American company that manufactures musical instrument-related products, primarily strings for acoustic, electric, classical, and bass guitars.
These strings have a bright, richly resonant, and responsive tone that will be perfect for any style of acoustic guitar playing.
Blue Steel strings are frozen at really low temperatures with a blast of liquid nitrogen which gives them better sustain and endurance.
The reason why doing so is effective seems to be that by freezing strings down to -320ºF, they're able to tighten the molecules and therefore minimize microscopic gaps.
Such a process also removes transient frequencies that produce harsh highs and muddy lows and it creates a more consistent string with proper tone and more extended life.
Lastly, for the most part, they are usually available in extra light, light, medium-light, and medium gauges and are made of 92% copper and 8% zinc.
What to consider before buying acoustic guitar strings?
There are many different factors to consider when purchasing acoustic guitar strings.
One of the most important decisions is the type of string material, nylon or steel?
There are benefits and drawbacks to both types, so it's important to understand which option is best for you before making a purchase.
In the following section, we'll discuss the pros and cons of each material, as well as some other factors you'll want to take into account when buying new strings for your acoustic guitar.
These factors include things such as material, tension, coatings, gauge, life, construction, brand, and price.
So, if you're in the market for a new set of strings, keep reading! We'll help make the decision process a little bit easier.
1. Materials
When shopping for acoustic guitar strings, it is important to consider the materials used in their construction.
Most guitar strings are made of metal alloys, such as bronze, brass, phosphor bronze, and stainless steel.
These tend to sound brighter, and also tend to last longer, although they may be more likely to break under heavy use.
Some other strings are also made of nylon or silk, which can provide a softer, mellower sound, and are usually less likely to break.
Different materials can affect the string's tone and also its lifespan, so it is a good idea to experiment with different types of strings to find the ones that sound and feel best to you.
Ultimately, the choice of material is a matter of personal preference and the type of sound you are trying to achieve.
2. Tension
Acoustic guitar strings come in different tensions, which is a measure of how much the string is stretched during tuning.
The 3 main different types that exist are light, medium, and high tension strings.
Light-tension strings are easier to play and are better suited for beginners.
Medium-tension strings provide a good balance of comfort and sound quality.
High-tension strings produce a more powerful sound but can be more difficult to play.
Again, the best way to choose the right tension for you is to experiment with different types of strings until you find the ones that feel best to you.
3. Coatings
Some acoustic guitar strings are coated with a thin layer of plastic, which can help to protect them from damage and increase their lifespan.
Coated strings can be more expensive and may produce a slightly different sound than uncoated strings, but they'll save you time as you don't have to change them so often.
Here's a closer look at what it means when a guitar string is coated: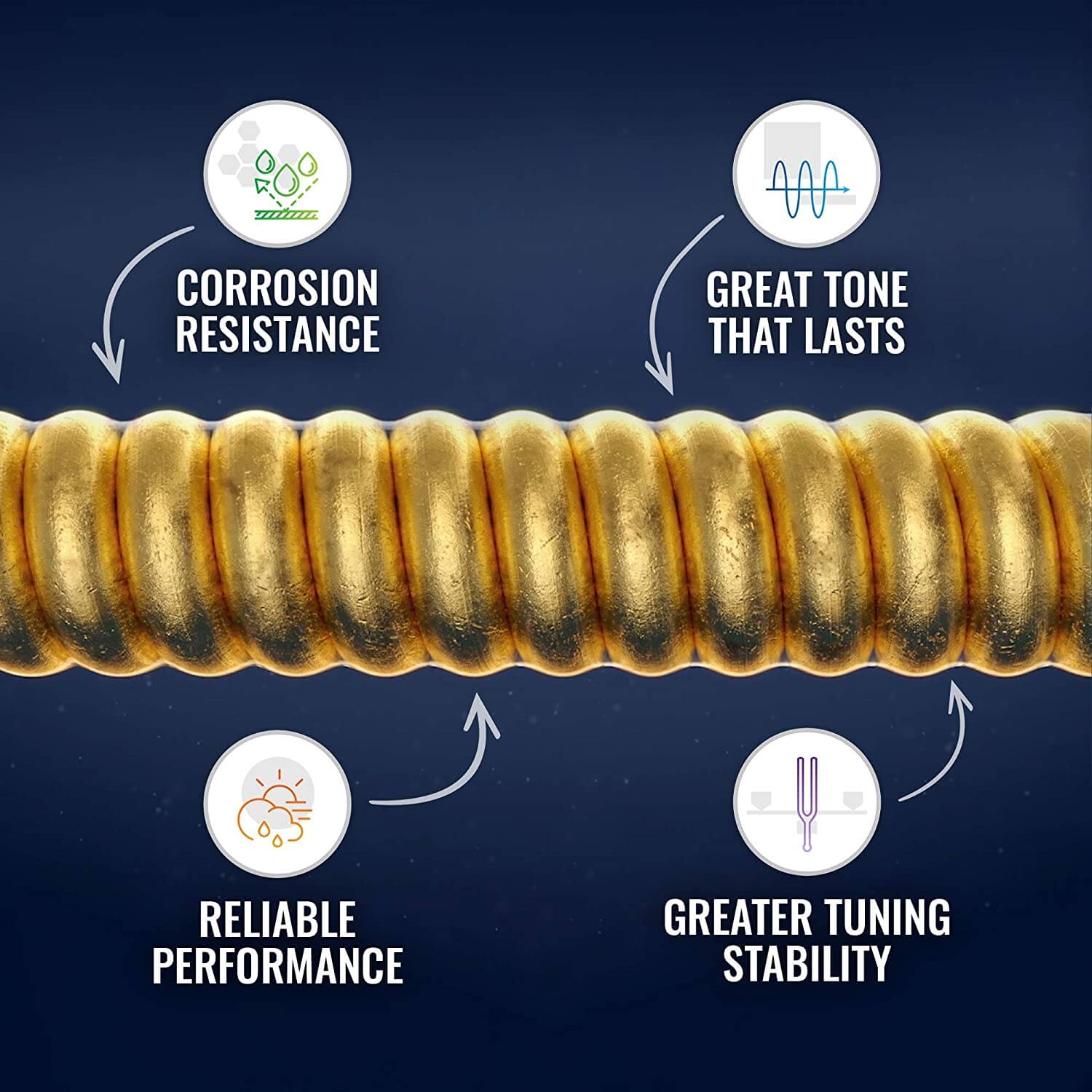 As you can see, the coating is usually a transparent and very thin layer that wraps the entire string.
Uncoated strings, on the other hand, are not as corrosion resistant and may be more susceptible to wear and tear.
They also lack the protective coating that helps with protecting against unwanted attention from external elements like dirt or water, so you'll have to find different ways of keeping them clean!
Nevertheless, they are often less expensive and produce a more "natural" sound than coated strings.
Some brands such as Elixir or D'Addario offer very thin coatings, such as in the image above, that protect the strings from moisture, dirt, and rust, while still sounding very decent.
In such cases, I'd say that you're technically getting the best out of both worlds.
4. Gauge
The gauge of any acoustic guitar strings is an important factor to consider before making your purchase.
The word "gauge", for those that don't know, is really just a fancy way of referring to the thickness of the string; it can be measured in thousandths of an inch.
The higher the gauge number the thicker the guitar string will be!
Acoustic guitar strings come in a variety of gauges, so it is important to find the right ones for your instrument.
Let's take a look at D'Addario's string gauges for example: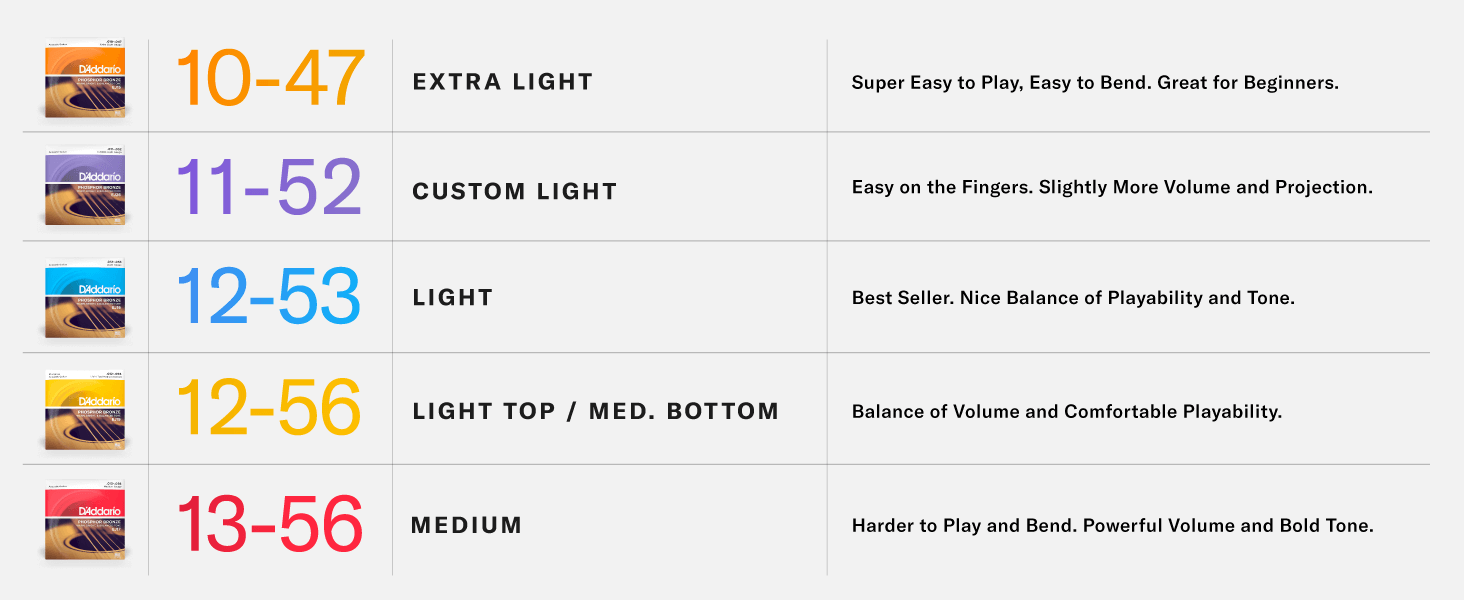 Heavier-gauge strings will be louder and have a fuller sound, while lighter-gauge strings will be easier to fret and bend and have a brighter tone.
5. Life
Some strings last longer than others, and that's no secret to anyone who has used different guitar strings throughout their playing journey.
The lifespan of an acoustic string depends on how often it is played, how often it is replaced, and what type of strings are used.
If you want to trust the string manufacturers on their expectation of how long their product will last, then you can do that.
But more often than not, is better to check out the review section of each product to see what other guitar players have said about them.
6. Construction
There are two main types of string constructions: round core and hex core.
Round core strings are the most common type of string and they are made of a single filament of metal wrapped around a central core.
Hex core strings have a hexagon-shaped central core that is made of multiple metal filaments.
Round core acoustic guitar strings are known for their warm and mellow tone.
This is what round core strings look like on the inside: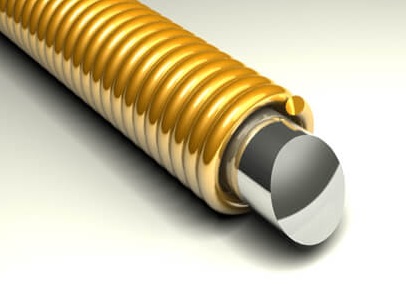 Now, when it comes to hex core strings, this type of construction is becoming more popular because it offers a few benefits over round core strings.
One of the main benefits is that they stay in tune longer, have a brighter sound, and are easier to stretch.
This is what hex core strings look like on the inside: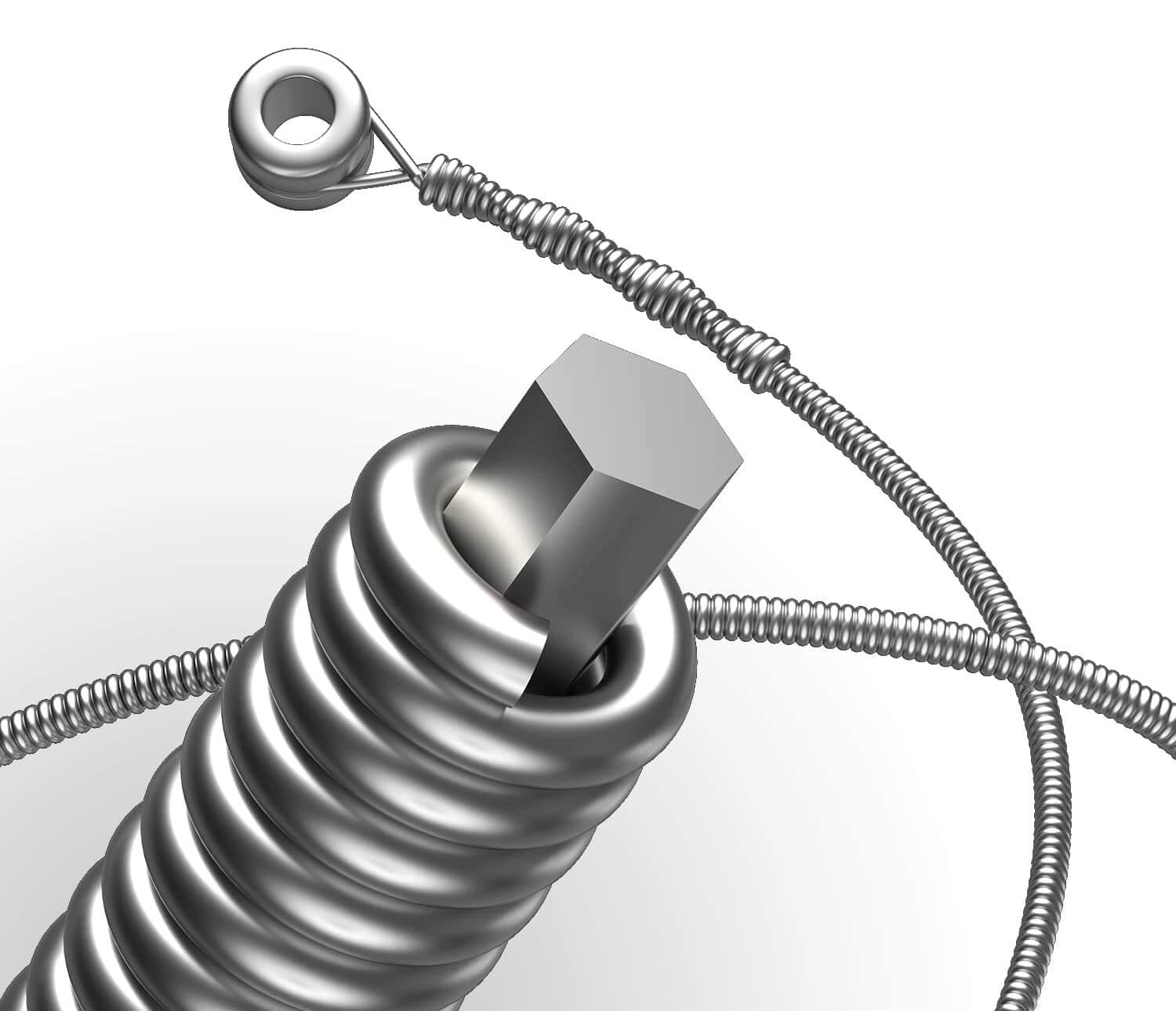 These also allow the wrap wire to grip the core for superior dimensional stability, and overall a more precise intonation.
8. Price
The price of acoustic guitar strings can vary depending on the type and brand.
Generally, they can range from around $5 to $25, with the average set costing around $10.
Higher quality strings will last longer and sound better than cheaper ones, but yes, they will cost you the most.
On the other hand, if you buy cheap guitar strings, they'll break often, it can end up costing you more in the long run.
How often should you change acoustic guitar strings?
This is a difficult question to answer, as it really depends on how often you play your guitar, and how quickly the strings tend to tarnish.
If you play daily, some people recommend you to change your strings once a month (which I've never done) or every 2-3 months or so.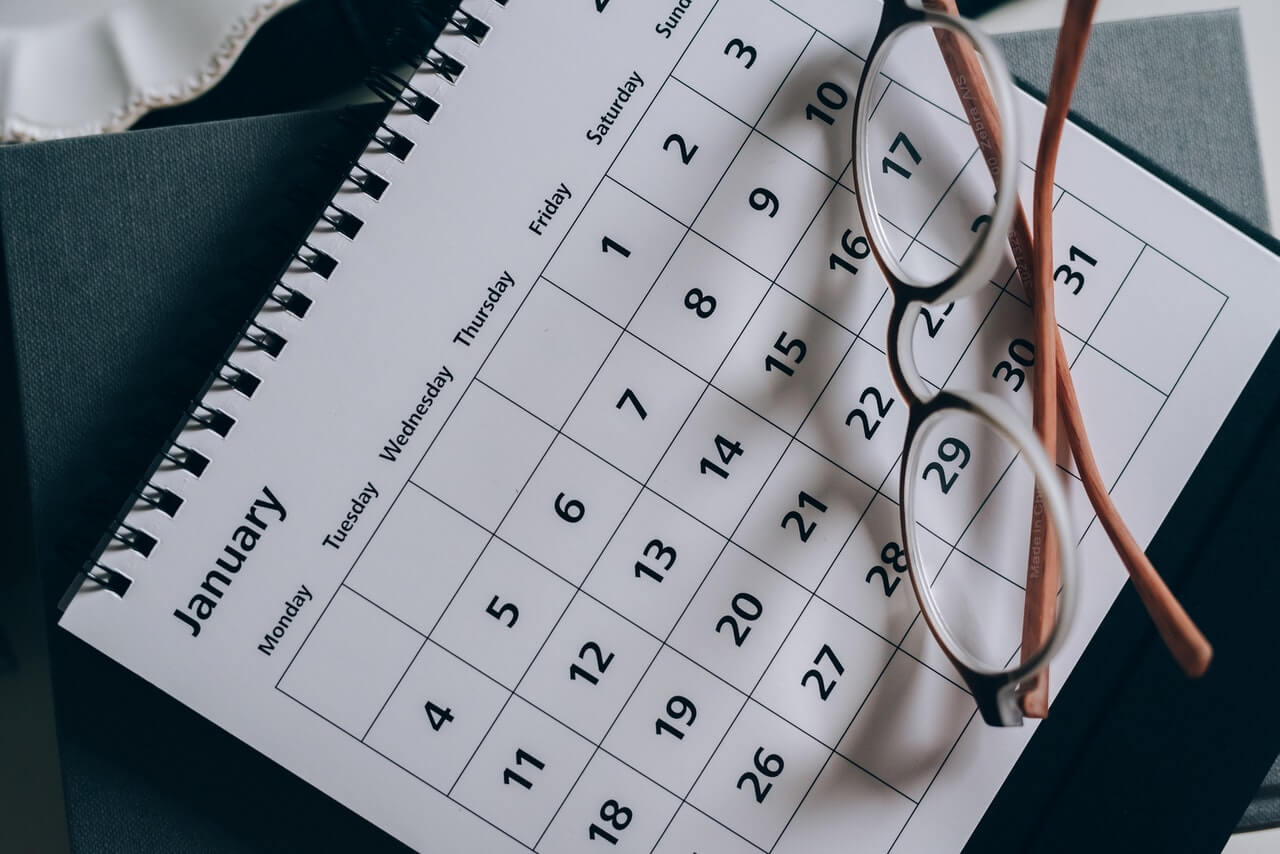 On the other hand, if you don't play often, you might be able to wait longer between string changes.
There are also some types of guitar strings that last longer than others.
If your acoustic guitar strings are starting to sound dull, or they're breaking more frequently, it's probably time for a change.
You can always consult with your local guitar shop or luthier to get their opinion on when to change your strings.
They'll be able to give you a more accurate estimate, based on the make and model of your guitar, as well as the current string brand that you're using.
If you're not professionally playing guitar, you can honestly disregard most advise you find online and just change them whenever you need to.
Are there any differences between acoustic and electric guitar strings?
Yes, there are a few key differences between acoustic and electric guitar strings.
For one thing, acoustic guitar strings are usually made from steel, while electric guitar strings can be made from a variety of materials including steel, nickel, and even cobalt.
Acoustic guitar strings also tend to be thicker than electric guitar strings, which gives them a warmer sound.
They also typically have a wider string spacing than electric guitars, which means that the strings are more likely to vibrate independently and produce a fuller sound.
Another thing to have in mind is that acoustic strings use heavier gauge strings than electric guitars.
This can make them harder to press down on the fretboard and may require different playing techniques and more effort.
Can you put electric guitar strings on an acoustic guitar?
Electric guitar strings can be put on an acoustic guitar, but it is not recommended because it can damage the acoustic guitar.
The two types of guitars are designed to be used with different types of strings.
Electric guitar strings are much thinner than acoustic guitar strings, and they're also made from a different material.
If you try to put electric guitar strings on an acoustic guitar, although they won't just break, the sound won't be what you'd expect.
Here's a YouTube video by Stringjoy in which you can hear the difference in tone between the two:
What Do Electric Guitar Strings Sound Like on Acoustic Guitar?
This video is a good counterpoint to those who say that we shouldn't put electric guitar strings on an acoustic guitar, me included.
If you watch the entire video, you'll hear that some electric guitar strings can actually sound good on an acoustic guitar, depending on the gauge that you use that is.
At the end of the day, I still say if you are looking to electrify your acoustic guitar, it is best to invest in an actual electric-acoustic guitar.
This will give you the best sound and prevent any damage to your instrument.
How long do acoustic guitar strings usually last?
Acoustic guitar strings generally last anywhere from two weeks to a few months, depending on how often you play and the type of strings you use.
If you play frequently, you may need to change your strings more often.
Also, different types of acoustic guitar strings will last longer or shorter depending on their quality and construction.
That said, there are a few things you can do to help prolong the life of your acoustic guitar strings:
Clean them after each use,
Avoid exposing them to excessive moisture or heat
Store them properly when not in use
By taking these simple steps, you can keep your acoustic guitar sounding great for months to come!
Ernie Ball vs D'Addario: Which one is better?
There is no clear-cut answer to this question as it really depends on what you are looking for in a string.

With so many different guitar strings brands on the market, it can be tough to decide which one to go with.
If you are looking for a string that will give you a bright sound, then the Ernie Ball strings may be a better option for you.

On the other hand, if you are looking for a string that has a bit more of a mellow sound, then the D'Addario strings may be a better option.
It's VERY important that you understand that this is a very opinionated answer; somebody out there might think the complete opposite and that's actually okay.
Ultimately, it really comes down to personal preference and what type of sound you are trying to achieve.
Both of these brands offer high-quality strings that sound great and last a long time, so either of them is a perfect choice.
Should you change all guitar strings or just the broken/bad ones?
The general consensus among guitarists is that you should change all of your strings at once, even if only one or two are bad.
Strings take time to stretch all the way, if you change just one string, the new string will likely not be in tune with the other strings, which can also affect your sound.
Changing all strings ensures that your strings are all of the same age/wear levels, which helps keep your sound consistent.
Plus, either way, it's just good practice to keep your guitar in top playing condition!
Now, if you are a beginner, or if you don't play your guitar very often, then you might not need to change all of your strings at once.
You can probably get away with changing just the broken or bad strings.
However, if you are a more serious player, or if you play your guitar frequently, then again, it is a good idea to change all of your strings at once.
How to change acoustic guitar strings?
Changing acoustic guitar strings is a simple process that can be done at home with a few tools.
This is not a difficult task but is definitely one that requires a bit of patience and care.
We recommend you watch the following YouTube video by StewMac:
How to String an Acoustic Guitar
The video will show you how to change your acoustic guitar strings step-by-step, so you can get back to playing in no time!
One more thing
GuitarBased.com is all about showing you a little bit more about guitars each day and finding ways to innovate and have fun with this beautiful instrument that we love.
If you enjoyed this post, then I invite you to go check out our blog!
We're always sharing a lot of useful and helpful content that both beginners and advanced players can use to further their playing abilities.
As always, thank you for reading and being here! 🤘