What are the best cheap acoustic guitars out there?
It's no secret that any decent guitar will cost you a lot of money, but is it possible to get a good guitar without breaking the bank?
There are many acoustic guitars out there that will definitely provide you a lot of value in exchange for less than $100.
In this post, I will be listing those guitars below, and will also answer some of the most frequently asked questions around this topic.
I will be considering tone, playability, price, and what experiences people have had so far with each guitar that we mention.
Let's get started!
Best Cheap Acoustic Guitars
Summary of all the products that we'll talk about:
Jasmine S35 Acoustic Guitar
(link to Amazon.com)

This Jasmine S35 acoustic guitar is the perfect first guitar for those that are not interested in spending too much money but still want something with as much quality as possible.
A great-looking dreadnought guitar with a big bold sound, Laminate Nato back and sides, and a spruce top.
This guitar also features a smooth satin finish to maximize resonance for optimal sound quality, chrome-covered tuning machines, and a rosewood fretboard.
When it comes to the guitar neck, it has a slim neck and full 25 1/2″ scale length which both provide a comfortable feel and incredible playability.
Jasmine's S35 model is built to last and sound as powerful and clean as we all want, hence, its styling and time-tested construction methods help in achieving just that.
Ibanez IJV50 Acoustic Guitar Pack
(link to Amazon.com)

This Ibanez IJV50 acoustic guitar pack is another great option that most people should consider.
Ibanez is a very mentioned and popular guitar brand; a very interesting thing about this specific product is that it also comes with an electronic tuner, a gig bag, a guitar strap, and an accessory pouch.
Aside from that, this model features a laminated spruce top material type, Agathis back and sides, mahogany neck, and a rosewood fretboard.
Its natural gloss finish is also a factor that allows this instrument to be durable since it was built with the idea of lasting for years.
When it comes to aesthetics, the fretboard has white dots inlay, and you'll also get chrome tuners and a black pickguard that provides a great contrast to the instrument's body color.
The saddle is made using the same rosewood material for increased consistency.
Ibanez produces the IJV50 as an amazingly low-priced package with very useful accessories for any beginner guitarist.
Jasmine S34C NEX Acoustic Guitar
(link to Amazon.com)

This Jasmine S34C NEX acoustic guitar is a very modern-looking grand orchestra-style instrument.
It has a rich, well-balanced sound and a graceful Venetian-style cutaway, but aside from that, you'll also get a guitar with a rosewood fretboard and bridge, and a mahogany neck.
S34C NEX also features a Spruce top with Jasmine Advanced "X" bracing, Sapele back and sides, a 25 1/2″ scale length, and synthetic bone nut and saddle.
This Jasmine is also perfect for any guitarist seeking an easy-playing guitar since its slim neck and length definitely provide a comfortable feel and excellent playability.
A guitar with a Satin finish also allows for maximum resonance and optimal sound quality.
Jasmine Guitars has always been focused on making good quality instruments at a very low which let us all get a new guitar with exceptional value.
Kadence Acoustica Series Electro Acoustic Guitar
(link to Amazon.com)

This Kadence Acoustica Series electro-acoustic guitar features a simple head design and a rosewood bridge that has high hardness, strong vibration conductivity, and is also very stable.
When it comes to its pricing, this is probably not the most inexpensive one but definitely a guitar that provides a lot of quality and value for such a low cost.
The golden cutaway corner design is convenient for high position playing, which just like other guitars out there, it's great for those focusing on coordination and practicality.
A built-in truss rod can balance the tension caused by strings or temperature change shrinking, and its adjustable guitar neck allows your hand to stay in a comfortable position by keeping the strings at a perfect height.
Something very interesting about this guitar includes its built-in preamp for amplified use with volume control, 2 band EQ (bass and treble), and an integrated tuner for fast and easy tuning.
Other specifications include:
Nut Width: 43mm (1 11/16″)
Neck: Mahogany
Back and Sides: Zebra Wood
Scale: 25.3″ (643mm)
Yamaha FG800 Solid Top Acoustic Guitar
(link to Amazon.com)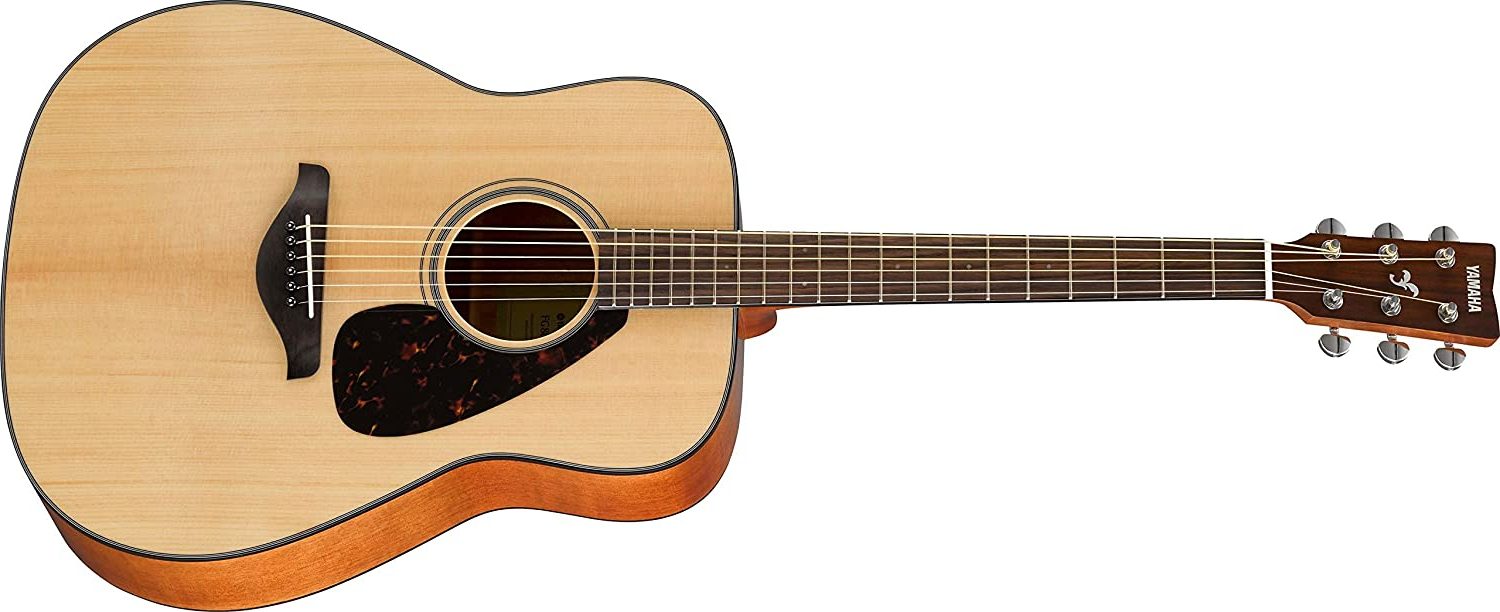 This Yamaha FG800 solid top acoustic guitar features a Spruce top material, a mahogany body, a Nato wood back and sides, and a rosewood fretboard.
Yamaha decided that on their 800 Series they would feature a new scalloped bracing pattern, which is ideal to maintain the durability of the top board while bringing out more of a natural sound.
Aside from that, you will also find diecast tuners, an adjustable truss rod, and every aspect crafted to make a better guitar.
Dried woods and beautiful hand-sprayed finishes with detailed quality control are some of the things that Yamaha has always portrayed as what makes them different.
If you're a beginner or just a guitar player that always focuses on the instrument's playability, build quality, and tone, and also don't want to spend a lot of money just yet, this guitar is a great option to consider.
The 800 Series is also loud and has a very strong sound in the low mid ranges.
Ibanez AW54OPN Artwood Dreadnought Acoustic Guitar
(link to Amazon.com)

This Ibanez AW54OPN acoustic guitar is probably the most expensive option on this list, but it's also one of the most popular ones.
Aesthetically, this guitar features a dreadnought body, a mahogany neck, top, back, and sides, and a rosewood bridge and fretboard.
Ibanez's Artwood Series is a traditional modern guitar because of its rich traditional tone that features modern ideas of what a great tone and guitar should be.
This specific unit was finished off with a tortoiseshell pickguard, has chrome die-cast tuners, and an open pore natural finish that highlights its naturally rich woodgrain
When it comes to the quality of this acoustic guitar, this model can easily satisfy your needs even if you're potentially not a beginner anymore.
X bracing is also implemented to give you a wide-ranging tone, which also helps you avoid any muddy or indistinct tone.
Fender FA-115 Dreadnought Acoustic Guitar
(link to Amazon.com)

This Fender FA-115 dreadnought acoustic guitar features a Spruce top with "X" bracing, basswood back and sides, Nato wood neck, and a 20-fret walnut fretboard.
Spruce is known by many as the standard tonewood for acoustic guitar tops since only a few kinds of wood can get close to beating it in strength and dynamic range.
Aside from that, with this unit, you will also get a laminated body material, chrome hardware finish, a 25.3″ (643 mm) scale length, and a fixed guitar bridge system.
When it comes to aesthetics, white bridge pins with black dots, covered chrome tuning machines, dot position inlays, and a black pickguard are some of the things that make this guitar look incredibly good.
To add more value, this model usually comes as a bundle, which includes everything you need to start playing immediately: a gig bag, an easy-to-use clip-on tuner, a strap, extra strings, picks, and an Austin Bazaar instructional DVD.
Other player-oriented features are its tone-enhancing bridge with compensated saddle, and quality construction built for the ultimate full and resonant sound.
Gretsch Guitars Jim Dandy Flat Top Acoustic Guitar
(link to Amazon.com)

This Gretsch Guitars Jim Dandy flat-top acoustic guitar is another great option that you'd see less in this type of list but definitely deserves to be mentioned.
With this instrument, you will be able to find a basswood body with X-bracing, nickel hardware, and 1950s-style vintage die-cast tuning machines.
Aside from that, it also features an Agathis top and back, a Nato wood "C" shaped neck, and a rosewood fretboard and bridge.
This model embodies a lot of what a first great guitar should be as it is perfect for both picked and fingerstyle playing and comes with a powerful and resonant voice.
Aesthetically, this unit is very different from many other options on this list; Pearloid dot inlays, a single-ply white pickguard with a "G" graphic, and a classic two-tone Sunburst finish make this guitar astonishing pleasing to look at.
Perfect for practicing, songwriting, or just as a travel guitar, beginners or seasoned pros could find a lot of value with this acoustic guitar.
Other specifications include:
Scale Length: 24″ (610 mm)
Truss Rods: Double-Action
Hardware Finish: Nickel-Plated
Tuning Machines: Open-Back Geared
Epiphone DR-100 Acoustic Guitar
(link to Amazon.com)

An Epiphone DR-100 acoustic guitar will always deserve a spot in certainly almost all "best" list out there.
This guitar is an incredibly affordable acoustic guitar since when compared to the value that it provides, it definitely overshadows any cost that comes with it.
It was built with real tonewoods and Epiphone's years of experience, and it features a Spruce top, and mahogany neck, back, and body.
Aside from that, you will also find a rosewood fretboard material, the classic go-to dreadnought shape, premium machine heads, and a SlimTaper neck profile.
The DR-100's tone will improve with age as the wood matures; while the price usually reflects more beginner-targeted instruments, this model has a tone and feel that you'll never want to give up even at more advanced levels.
Other features include having chrome hardware, precision construction, and rosewood fingerboard with dot inlays.
This instrument exemplifies Epiphone's focus on affordable and low-cost guitar quality.
Donner Black Acoustic Guitar
(link to Amazon.com)

This Donner Black acoustic guitar is another option that makes an incredible choice for the ultimate low-cost guitar.
It features a Spruce top, mahogany back, neck, and sides with X bracing, and a very appealing black color spray painting.
In addition to that, its full-size dreadnought body, just like most other options on this list, will allow for a full and vibrant tone suited for most styles of music.
This unit also comes as a guitar bundle that includes the acoustic guitar, a padded gig bag, a digital clip-on tuner, a capo, one strap, an extra string pack, and if that wasn't enough already, an Allen wrench, picks, and a cleaning cloth.
Aesthetically, besides the already mentioned black color spray paint, you'll also be able to choose between natural color and sunburst.
Personally, my first acoustic guitar also came with black spray painting, and after a decent number of uses, it all started to wear out, so just have that in mind before making a selection.
But to finish on a brighter note, Donner seems to take good care of their instrument and by always doing a careful screening of wood, and then let them expose to air and dry naturally for three years.
For anybody starting to play guitar, this instrument could definitely help you do that successfully.
Which low-cost acoustic guitar should you buy?
This question is one that people usually ask a lot after reading something like this, and I understand why people ask it since I used to do the exact same thing all the time prior to purchasing any instrument.
My answer is that I feel that it's all about your personal choice!
See what things you are searching for in an acoustic guitar, and then pick the one you have a positive outlook on.
Consider what style of music you want to play, what tone you need to accomplish, and possibly research other musicians that you look up to and what guitars they use.
You should also consider if you want a nylon-string or steel-string guitar since these essentially are two different instruments.
What to consider before buying a cheap acoustic guitar?
These are some of the things that you must have in mind before buying any of these acoustic guitars:
The guitar body:
Buying a new guitar shouldn't be complicated, but you might want to pay attention to a few small details that later on might affect the way you play tremendously.
If you're buying a new guitar, then you should know that the body shape of your guitar will have a huge influence on what tone and volume you will get when playing and possibly how comfortable you feel.
These are some of the most popular guitar body shapes that you encounter: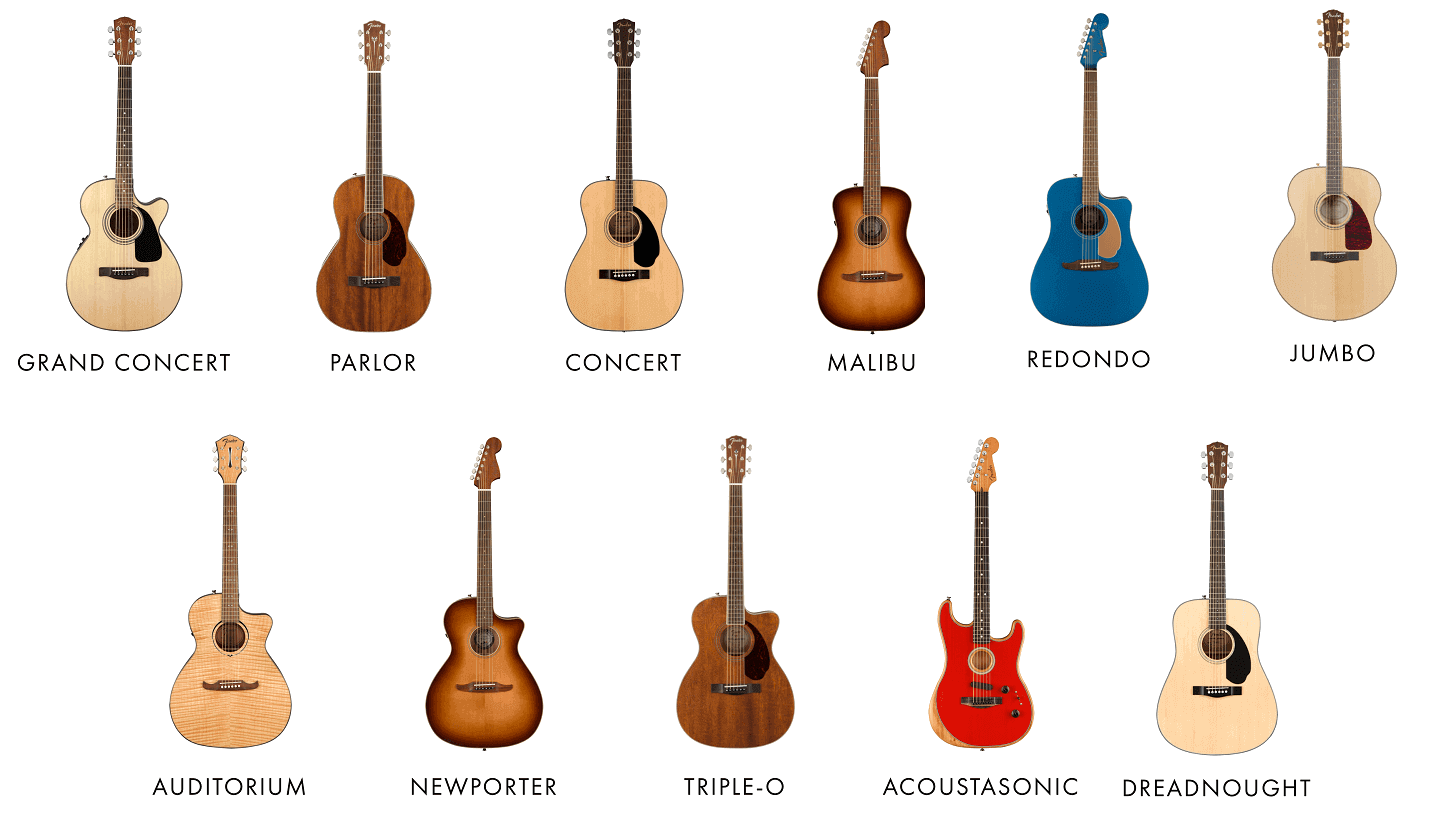 Image Source: Fender
For this specific post, talking about each body style and their advantages and disadvantages go beyond the scope of the information we think is valuable to you.
But I really encourage you to research this a bit more if you think that what you are trying to achieve in terms of tone is somehow unique or different.
Your specific budget:
Even though this post was specifically written to show you some of the best low-cost guitars out there, it's no secret that the more money you spend on a guitar, the higher the quality will be.
With that being said, those that cost more money generally have better playability and allow for more versatility and sound quality.
I personally learned to play guitar with a $30 acoustic guitar.
Ultimately, I was able to learn to play, which is what's important!
But if I really think about it, I would never recommend this to beginners since it really makes it harder for those that have never touched a guitar in their lives.
This is because guitars need to be manufactured at a cost that allows some profit to the builder or seller.
In other words, having a low price inevitably means having an unskilled assembly line with low-quality control.
The guitar's strings:
If you are using low-quality strings, then you will sound awful, it doesn't matter what guitar you have.
You shouldn't really base your decision just on what strings the acoustic guitar originally comes with, though, since you can easily change them anytime.
But you should definitely know that this is a big factor in how good your tone will be.
The strings that you use for playing are among the most important things to consider.
At the most fundamental level, a guitar string's vibration is what delivers the sound in an acoustic guitar.
What is the difference between cheap guitars and expensive guitars?
They are all pieces of wood, right? What could possibly make a guitar cost more money than others?
Well, cheap guitars are essentially made out of cheaper materials, and expensive guitars are built using materials in better conditions.
Also, just like I said before, generally, guitars are manufactured at a cost that allows some profit to the builder or seller.
In the end, a business will do business, so having a low price inevitably means having an unskilled assembly line with low-quality control.
Cheaper guitars also come with cheaper paints and finishes.
This video by Paul Davids is an incredible way to compare, side by side, how two guitars sound at two different prices:
How bad are cheap guitars? // I tested 4 affordable models
I encourage you to watch the video since he will help you analyze the guitar's playability, setup, tone, workmanship, hardware, and woods.
Hearing them one after the other really helps you pay attention to small details that we could otherwise ignore.
What strings are best for an acoustic guitar?
The ones I use a lot are the Elixir Strings Phosphor Bronze Acoustic Guitar Strings (link to Amazon.com).
At the same time, it currently has 5 stars on Amazon with more than 10,000 different reviews.
So this pack seems to be working very well for a lot of people.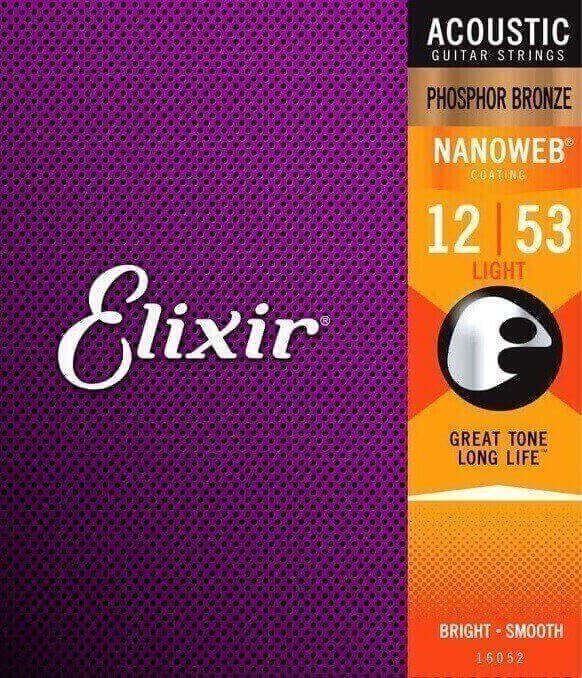 Now, as to this specific question, I think that it really doesn't make sense to name one specific pack, as the absolute "best".
People have different opinions and needs, therefore, what works for you might not work for the next person.
There are surely many other different options out there that could give you the same result that you are expecting.
Picking a set of strings has always been about trial and error in my personal experience.
What I did to know which one works best for me was buy a pack, use it, then buy another one, use it, and then another one, and so on, until I got to stick to the one I like the most.
Sounds crazy, but this wasn't done in a year. Don't go now and buy too many sets at the same time just to try them at once, instead, let it happen naturally over time.
One more thing
Our website is all about showing you a little bit more about guitars each day and finding ways to innovate and have fun with this beautiful instrument that we play.
If you enjoyed this post, then I invite you to go check out our blog!
You might find something new about guitars that you didn't know before, and most importantly you might grow an interest in being involved in our amazing community.
As always, thank you for reading!