What are the best delay pedals?
There is a world of difference between a cheap, store-bought delay pedal and a high-end model.
When it comes to choosing your perfect delay pedal, it's important to understand the different types of delays available and what each one can do for your sound.
In this post, I will be listing the best delay pedals on the market today in terms of quality, durability, versatility, and price, and will also answer some of the most frequently asked questions on this topic.
We'll discuss the features of each pedal and how they can improve your music-making and playing experience, so whether you're a beginner or a professional musician, there's sure to be something in this list that meets your needs!
So without further ado, let's get started!
Best Delay Pedals
Summary of all the products that we'll talk about:
BOSS DD-8 Guitar Effect Delay Pedal
(link to Amazon.com)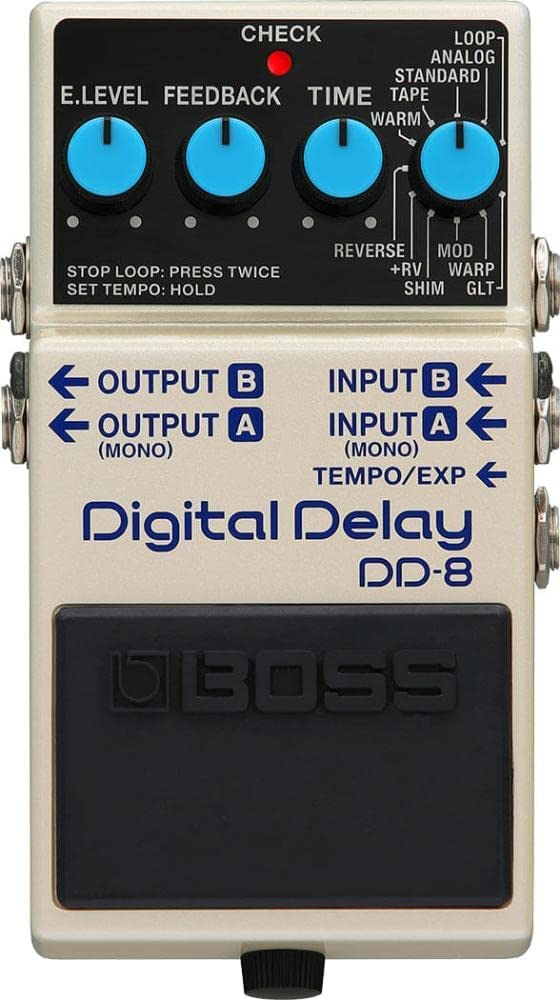 The BOSS DD-8 is one of the most advanced compact series delays ever made.
It combines the best of the old and the new, with classic digital delay sounds plus some great new ones that you won't find anywhere else.
This pedal is designed around a high-quality 24-bit A/D converter and a powerful 32-bit DSP engine.
Such a combination gives you CD-quality stereo sound with a wide dynamic range and realistic response to your playing dynamics.
You also get eleven great modes: including basic digital delay, vintage echoes, shimmer, mod, looper, and more.
There's also a tap tempo function that lets you set your own tempo easily by tapping your foot on the pedal.
On the other hand, there's a modulation mode that turns the pedal into a kind of tremolo effect, and its extra-bright display allows you to see it clearly even on dark stages or in dimly lit rooms.
And it's housed in a rugged metal housing for years of reliable use without fail.
Pros:
Good value-price ratio
Solid and strong
Allows for many sound customizations
Cons:
MXR M169 Carbon Copy Analog Delay
(link to Amazon.com)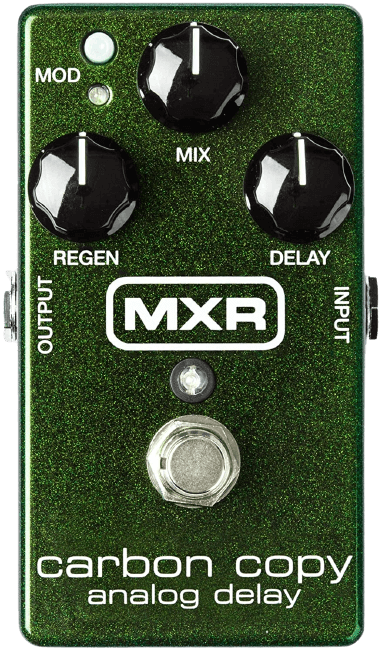 The MXR Carbon Copy M169 pedal is a great analog delay pedal, has an amazing sound, and is easy to use.
The pedal has three knobs that control the delay, mix, and regen (feedback).
You can also control the rate of the repeats and the volume of the repeats with two footswitches on either side of your pedalboard.
The pedal is made to last and has been tested and used by many professional guitarists who say they are very happy with the product; it has a lot of positive reviews from customers online, too.
The MXR Carbon Copy M169 has some great features for a pedal at this price point.
It comes with true bypass switching so that your signal isn't affected when it's not in use, and it runs off a standard 9V power adapter (batteries are not included).
The only downside to this pedal is that it doesn't have any tap tempo capabilities, but if you're looking for an affordable analog delay pedal then this one is definitely worth checking out!
Pros:
Warm sounding guitar pedal
Authentic, natural modulation sounds
Cons:
Can be noisy and make humming sounds
No tap tempo
JHS Pedals 3 Series Delay
(link to Amazon.com)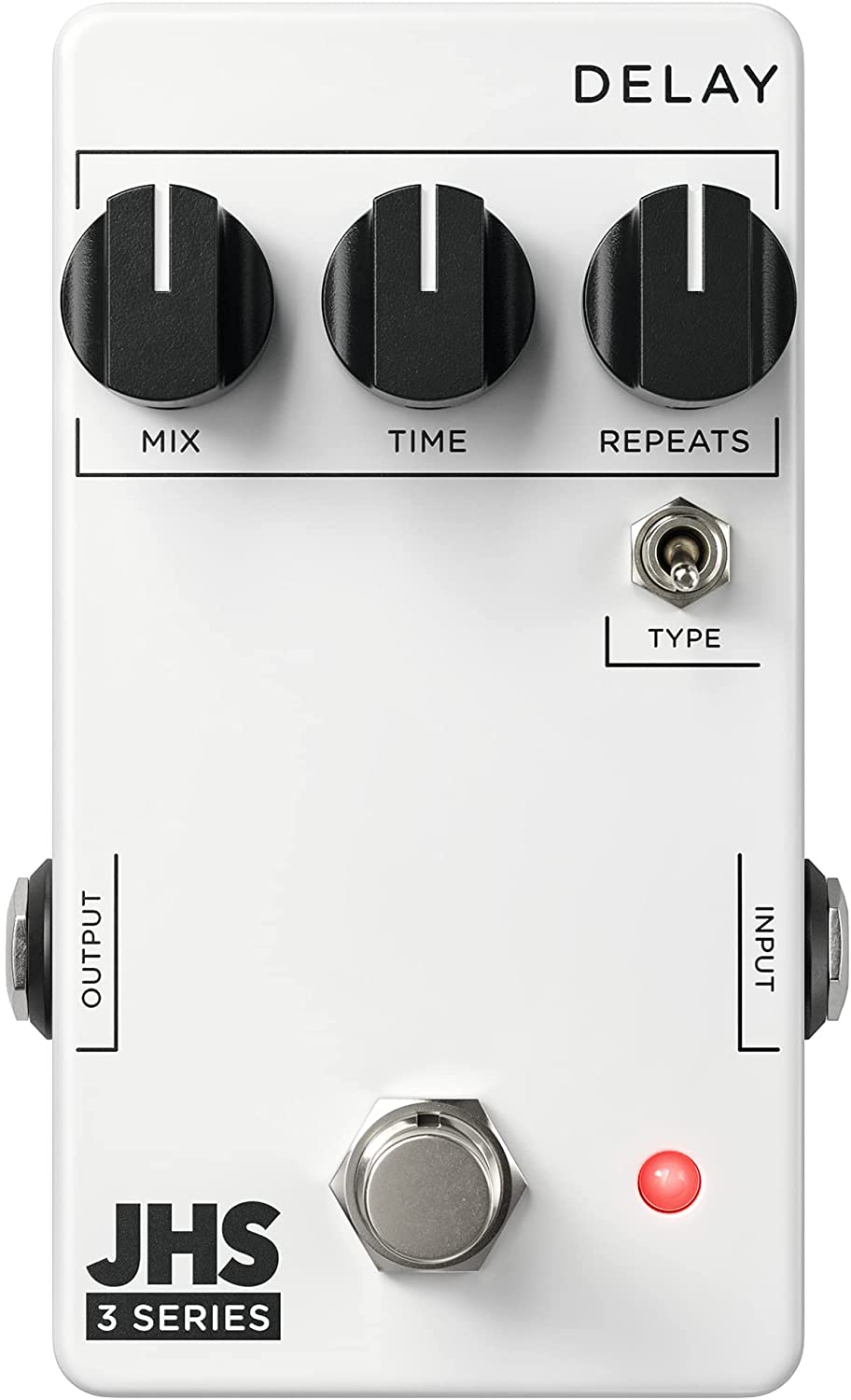 JHS Pedals is a boutique pedal manufacturer with headquarters in Kansas City, Missouri. JHS Pedals was founded in 2007 by Joshua Heath Scott, who has been in the music industry for many years prior.
The JHS guitar delay pedal has 80ms to 800ms of delay time and it features a knob for mix, time, and repeats.
The pedal also features a switch that allows you to choose between two modes, one for slower more ambient delays, and one for faster more aggressive delays.
It can be powered by either a 9v battery or an optional AC adapter, which are sold separately.
If you want to get some great classic sounds out of this pedal, use it with an amp that has a lot of headroom (i.e. not too much distortion).
You'll find that this pedal responds best to amps that have a lot of gain on tap but don't distort too much when you turn them up high.
This will allow you to get the most out of this pedal's unique features such as its high pass filter and modulation capabilities.
Pros:
Outstanding technology and delay/modulation computer chips
Warm echoes and outstanding modulation styles
Big community and support online
Cons:
TC Electronic Flashback 2 Delay Effects Pedal
(link to Amazon.com)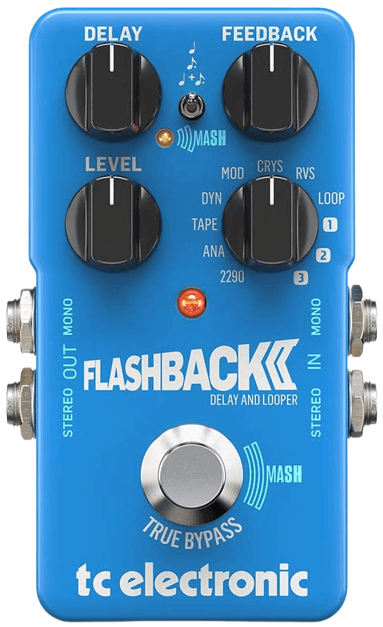 If you're looking for a versatile delay pedal with lots of options, the TC Electronic Flashback 2 delay effects pedal is a great choice.
It features a footswitch for on/off and four knobs that control the parameters Delay, Feedback, Level, and Mode.
When it comes to these modes, they are a total of eight types of delays, which include: 2290, Analog, Tape, Dynamic, Modulation, Crystal, and Reverse.
Aside from you also have 3 dedicated TonePrint slots for storing signature effects, which works with the help of the free TonePrint app for PC, Mac, and iPad.
The so-called MASH technology footswitch, on the other hand, gives you powerful effect-specific mix, modulation, or feedback control, which you can feel from the second you step on it.
For some people, this is a great way to add more expression to their playing, and it accurately responds to your touch and saves a lot of pedalboard space.
As a small detail and extra feature, is worth mentioning that there's an ethereal crystal delay algorithm that pitches your delays up an octave through each feedback loop, which will give you an amazing shine and bright tone.
Pros:
TonePrint app
Multiple modes
Reputable brand
Great sound quality
Cons:
Hard to change the subdivision while playing guitar
Donner Yellow Delay Guitar Pedal
(link to Amazon.com)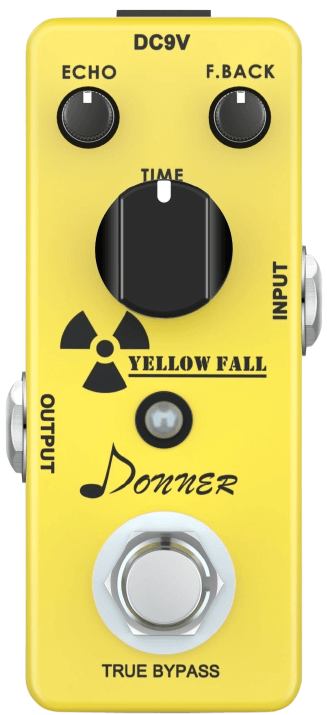 If you're looking for a delay pedal that's affordable and versatile, we recommend checking out the Donner Yellow delay guitar pedal.
It's not a high-end delay pedal, but it has all the essential features you need to get started as an entry-level delay pedal.
This unit in specific has 3 different main easy and flexible knobs: ECHO, F.BACK, and Time.
When it comes to the ECHO knob, this one controls and adjusts the delay level, the F.BACK knob adjusts the amount of feedback, in other words, the number of repeats.
Lastly, the TIME knob adjusts the delay time from 20ms to 620ms, which essentially can help you customize your echo time on the fly.
This pedal also features true bypass circuitry, so you don't have to worry about any coloration of your tone when the pedal is turned off.
To put it another way, this means there's no degradation in tone when you turn the pedal off!
Pros:
Lightweight, compact construction
Affordable price tag
Powerful even though a smaller size
Cons:
Small knobs
Lacks additional features
Dunlop Echoplex Delay Guitar Pedal
(link to Amazon.com)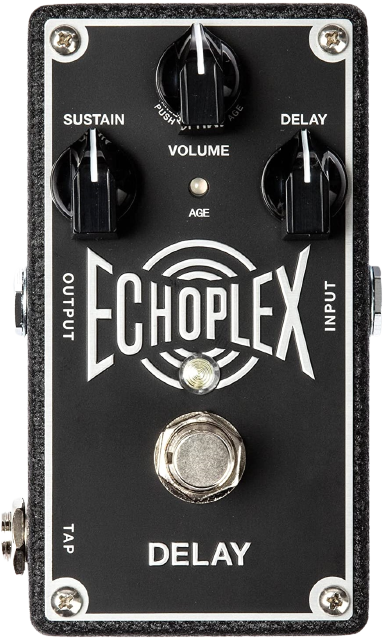 If you're looking to add some vintage warmth and modulation to your sound through a delay, then the Dunlop Echoplex EP-3 delay guitar pedal is a great option to consider.
This pedal allows you to dial in a variety of delay tones, from pristine to dark and dirty, while the 'age' control varies the delay tone's character.
With up to 750 milliseconds of delay time available, you can create any kind of soundscape you please, plus, the tap tempo functionality makes it easy to get the timing just right.
The Dunlop Echoplex EP-3 Tape Echo goes by the standard by which all other delay pedals are measured.
Dunlop is bringing back some of that classic tape delay in a pedal that captures every nuance of the original versions — as we said earlier, from its warm analog tone to its smooth modulation.
It also has a footswitch for true bypass switching and an LED indicator for power status, which comes very handy for live performances.
Pros:
Compact size and quality materials
Easy to use
Lots of sustain
Cons:
The effect sometimes comes out distorted
Lotmusic Analog Delay Effect Pedal
(link to Amazon.com)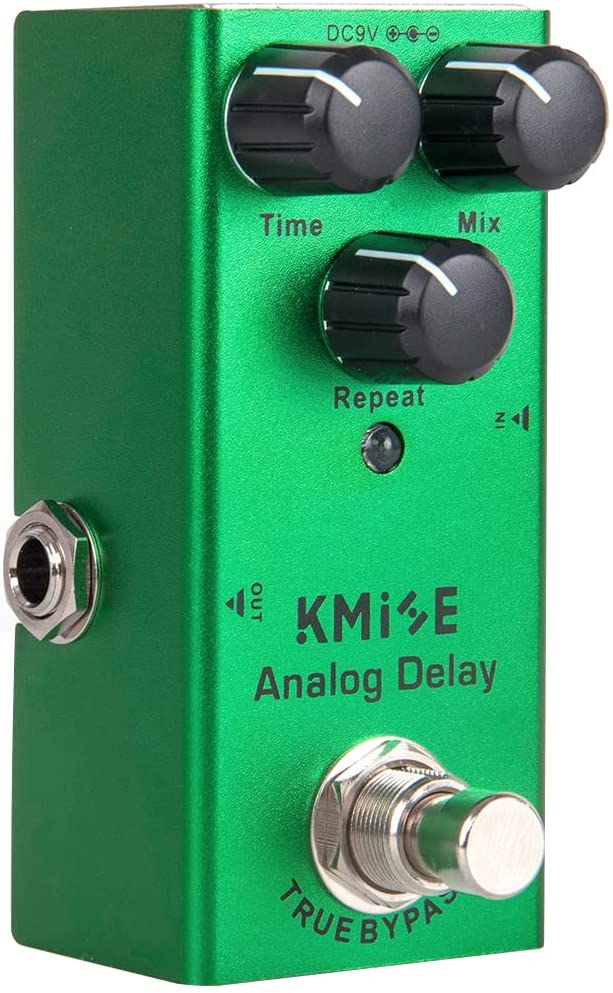 This simple-to-use Lotmusic analog delay effect pedal features a knob that allows you to select the delay time and a knob that allows you to control the mix between dry and wet sounds.
Its third knob is the Repeat control which adjusts the intensity of the feedback signal to whatever degree you wish.
The pedal also has a full metal shell with an aluminum alloy casing and a stoving varnish finish and features true bypass circuitry, so you don't have to worry about any coloration of your tone when it's turned off.
One of the biggest pluses that I see is also its integrated noise reduction capabilities, which was developed with the intention of reducing noise swells common with analog delay circuits.
It has an adjustable delay time ranging from 20ms right up to 600ms, useful for a wide range of music styles and for obtaining a variety of different delay effects.
Lastly, is worth mentioning that for those of you who are looking for an affordable and versatile delay pedal, this is a great option to consider.
Pros:
Has noise reduction capabilities
Great ambient sounds and soundscapes
Very affordable price
Cons:
Very small and not the most durable on the market
Way Huge Analog Delay
(link to Amazon.com)
This Way Huge analog delay pedal has mainly 3 knobs and a footswitch that toggles the effect on and off and adds a bypass.
All three of the controls have different tasks, for one, the DELAY knob adjusts warm organic delay times between 20ms and 300ms and the FEEDBACK knob sets the number of echo repeats.
Lastly, the BLEND knob regulates the ratio of dry to delayed signal in your mix.
With these options alone, you can create a variety of different sounds, from subtle slapback echoes to long and sustained delay tails.
The other thing to note about this pedal is that it uses a bucket brigade device (BBD) to create its delay sounds, which gives it a very warm, organic tone.
Some other delays on the market use digital delay chips, which can sound a bit sterile in comparison.
Pros:
Lots of modulation tones
Great interface and durable
The basic sounds are full and warm
Cons:
FLAMMA Digital Stereo Delay Pedal
(link to Amazon.com)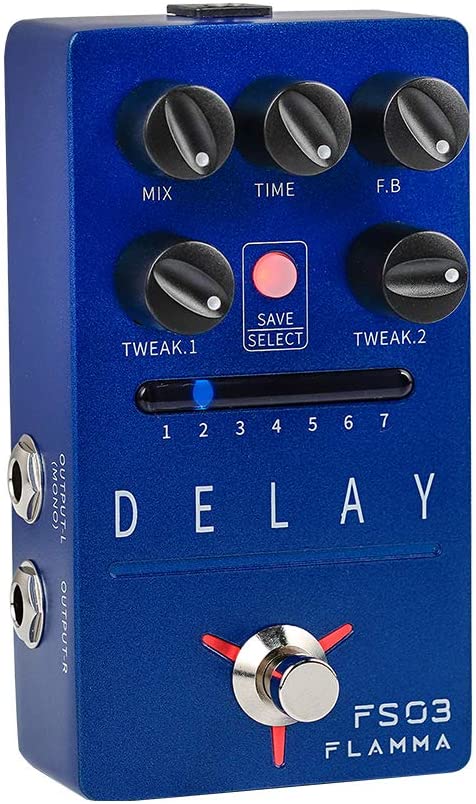 The Flamma delay pedal has six traditional stereo delay effects: Tape, Liquid, Rainbow, Galaxy, Mod-verse, and Low-bit; each effect can be tweaked using the dedicated controls for Mix, Time, Feedback, and Tweak 1 and 2.
All of these effects can be accessed through the Save/Select switch, which lets you easily change them, and if you long-press this button, it will save the settings as presets.
The Tap Tempo function on the Way Huge Analog Delay pedal allows you to control the delay time according to the gap between two taps on the footswitch.
This is a great feature if you want to be able to create delayed effects that are in time with the tempo of the music you are playing.
On the other hand, there's a trail on function that when is on, the effect will remain for a few seconds and then fade out naturally after turning off the pedal with the footswitch.
Going back to the Tweak 1 and 2 knobs, is worth mentioning that these serve a specific purpose for each effect.
For example, when you're using the Tape effect, you can tweak it to make it sound like an old tape recorder or vinyl record player, these two knobs become Filter and Vibrato.
They can also adjust the input level, flanger, chorus, and many more, depending on the effect that's being played.
Pros:
Great analog circuitry
Thick modulation flavors
Cons:
Seymour Duncan Vapor Trail Delay Pedal
(link to Amazon.com)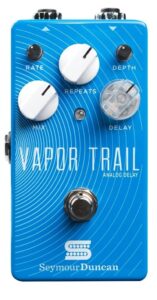 The Vapor Trail is an analog delay pedal with warm, authentic vintage tones, and rich modulation options available.
With its TRS insert jack, you can process the repeats through additional effects to unlock your creativity and redefine what you can do with analog delay.
Whether used for blues, country, rock, or metal, the Vapor Trail will give you those classic tones you love with the right warm, smooth, ambient vibe of a Bucket Brigade Device (BBD) analog delay pedal.
With the Rate and Depth controls located on the top panel you'll be able to go from slap-back echo, and ambient delays to rotating speaker and long delays.
On the other hand, the other knobs let you control the Repeats, Mix, and Delay settings of the pedal to the smallest of detail.
The pedal also has natural compression and treble-smoothing characteristics that give you thick, lush repeats with a musical quality.
Lastly, this Vapor Trail analog delay pedal is hand-made in Santa Barbara California USA by skilled technicians using only the highest quality components available.
Pros:
Outstanding ambiance and reverb with delay
Complex dynamic delay expressions
Great for solo guitarists
Cons:
A modern sound lacks the spring reverb style
What to consider before buying a guitar delay pedal?
Before you buy a guitar delay pedal, there are some things to consider, for example, some of these things include price, quality, and versatility, among other things.
If you're a beginner guitar player, you probably don't need a high-end guitar delay pedal, instead, you can choose a less-expensive model and focus on learning how to produce your own sound that way.
Buying a guitar delay pedal may not be an easy task, here are some tips for choosing the best delay pedal:
1. Price
Of course, one of the most important factors to consider when purchasing any pedal is the price.
Delay pedals can range in price from around $30 to $300, so it's important to find one that fits your budget.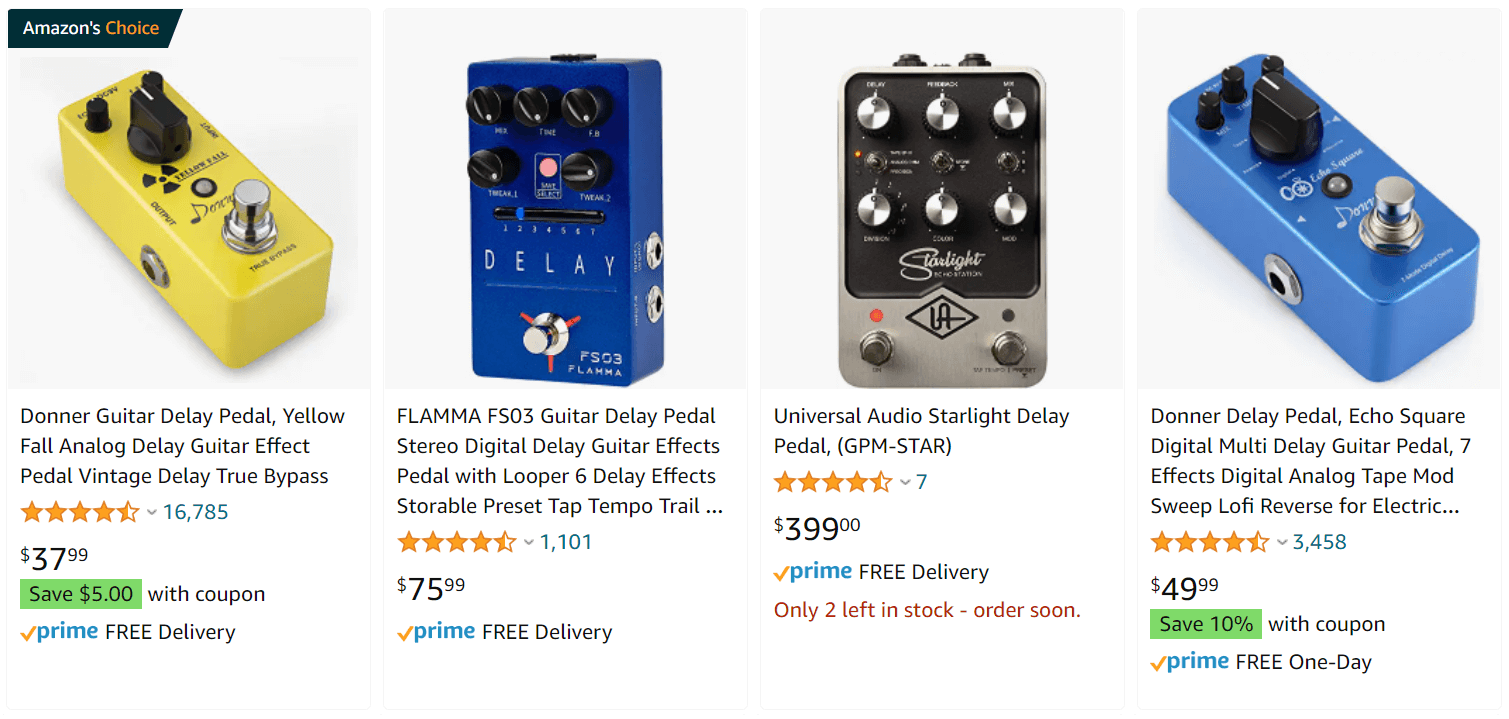 If you're a beginner, you may want to start with a cheaper pedal so you can see if a delay pedal is actually something you're interested in without breaking the bank.
On the other hand, if you're a more experienced player, you may be willing to spend more on a pedal that has more features and sounds better.
No matter your budget, there's a delay pedal out there that's perfect for you.
The average price of a guitar delay pedal will typically be around $100!
For most people, this is a relatively low price point, since as we all know, it can be expensive to buy a good quality delay pedal; this number will also vary from brand to brand and model to model.
The most basic models that we've seen start at around $30-$50, but these are usually quite underwhelming in terms of quality.
More expensive pedals will have more features and better sound quality than cheaper ones, however, this is not always the case, and there are some very good quality cheaper pedals available.
It is important to try out a few different pedals before making a purchase to find the one that best suits your needs.
2. Quality
Another important factor to consider is the quality of the pedal; there are many different delay pedals on the market, and some are better than others.
Do your research to read reviews from other guitarists and find a pedal that is known for being high quality so that you don't waste your money on a pedal that isn't going to sound good or last very long.
Make sure that the materials used in the pedal have a good reputation so that they will withstand heavy use.
On the other side, it's also important to find a pedal with good customer support in case you have any problems with it.
When I talk about quality, I mean to include the general way and structure of the buying process and overall experience, not just the pedal itself.
If a company has great customer service and is easy to work with, that's a big plus.
For example, let's take a look at JHS Pedals' contact page:
As you can see, they list a few resources so that their users can browse their website before asking any questions, and then on top of that, they of course give them the option of reaching out.
They encourage others to either ask a question or even suggest a pedal idea or an episode of The JHS Show, which I think is very awesome if they in fact listen to customers like that.
3. Versatility
Some guitar delay pedals can be extremely versatile while others aren't.
Many models have many settings and are highly customizable, so you can choose from multiple delay times, different pitch variations, and much more.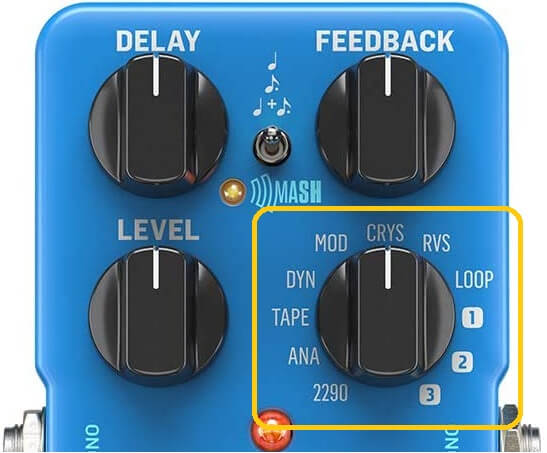 To go the extra mile, some of them allow you to save these as presets for future use, and even have a phrase looper included!
When buying a delay pedal, you'd want it to be as versatile as possible, meaning it should be able to produce a range of delay sounds.
In the end, it all comes down to what YOU want out of a delay pedal, since different people have different preferences, so make sure you try out a few before settling on one.
4. Types of delay
There are many different types of delay pedals on the market today.
Some pedals offer simple repeats, while others can create very intricate and complex sounds, if you're not sure which pedal is right for you, here is a breakdown of the most popular types of delay pedals available today.
– Digital
A digital delay pedal is a guitar pedal that produces an echo effect by repeating a section of your original signal. The delay effect is created by recording the guitar signal, then playing it back after a set amount of time.
This delay creates a precise, accurate echo effect with minimal noise.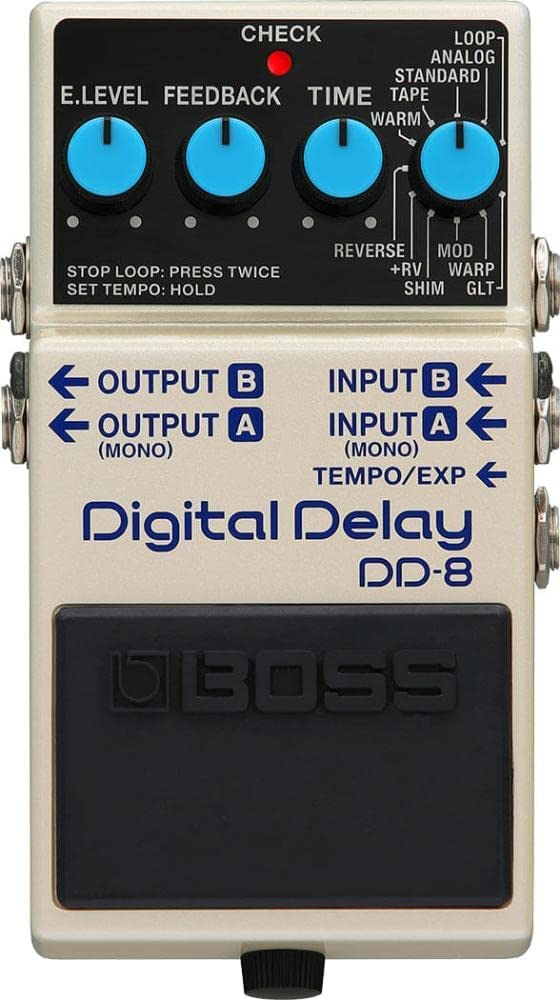 Digital delay pedals often have a longer battery life than other types of delay pedals, making them a good choice for those who need an extended performance time.
This type of delay pedal is more complex than analog pedals and they offer more options and controls.
They can be set up in a variety of ways and can produce multiple sounds at once, which is useful for creating rich textures in your music.
Some of these pedals also have presets or knobs that allow you to adjust different parameters for additional control over your sound.
We recommend:
– Analog
An analog guitar delay pedal uses a series of analog circuits to achieve its delay effect.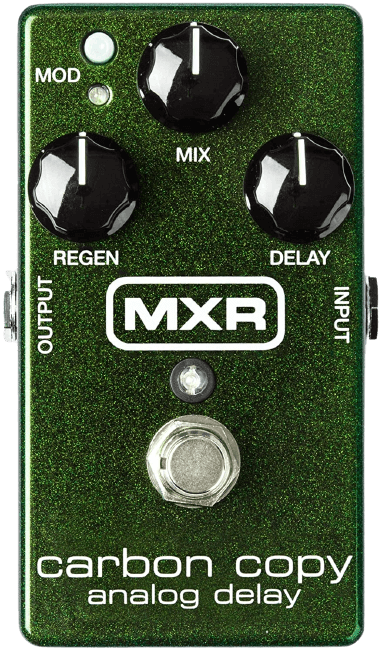 Analog delays are considered "warmer," or more musical, than digital delays because they produce a sound that is more similar to the original guitar tone.
Many guitar players prefer analog pedals because they don't add processing to the signal, which can alter your tone and playing style.
This can be especially important when recording live or performing in front of an audience.
Analog pedals also tend to be less expensive than digital pedal options because they use fewer components and less technology in their design.
We recommend:
– Tape
Tape echo is one of the earliest types of delay and the use of tape delay as an effect is often credited to the legendary guitarist and inventor Les Paul.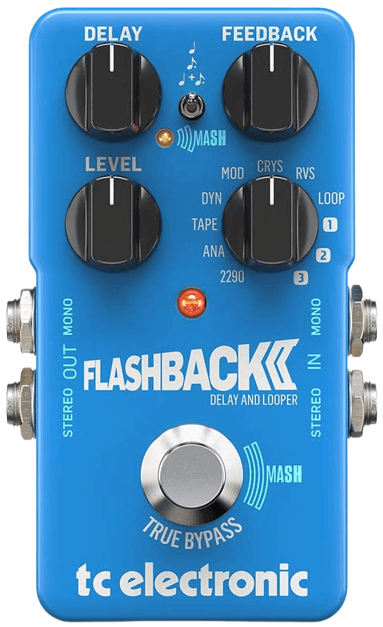 To create it, he used two different machines to record his signal and play it back.
Modern "Tape Echo" delay pedals try to replicate this effect, the tape used in the original versions was inconclusive, although the effect is similar.
Tape delay pedals have a distinctive decayed sound; that being said, not all delay pedals involve tape or would be considered a tape delay.
We recommend:
– Modulated
Modulated delays add modulation to the delayed signal, which can create a wider range of sound, so if you're looking for a more versatile delay pedal, a modulated delay may be the right choice for you.
Depending on the model, modulated guitar delay pedals can either add time or amplitude to an audio performance.
The length of the delay controls the amount of time the audio is delayed before it is replayed.
Short delay times are often used in old-school country and surf rock genres, while long delay times can create a canon effect.
Each of these options has its advantages and disadvantages. but in addition, they can be expensive sometimes.
In general, modulation tends to be more controlled and regular compared to random LFOs (Low-frequency oscillation).
Some delay pedals can even oscillate, which can be particularly useful for achieving specific sound effects, or for experimenting with various tones.
We recommend:
– Reverse
The reverse guitar delay pedal effect is credited by many to being invented by Danelectro in 1999.
Reverse guitar delay pedals allow you to tweak the wet and dry signal balance, mix, and repeat to create a variety of effects.
This is particularly useful for creating atmospheric layers and dreamy textures in your music.
A good tip to avoid creating a mess with the reverse guitar delay pedal is to always mix the signal at a low volume and lock it to the tempo.
We recommend:
5. Extra features
If you're looking to buy a new delay pedal, you'd want to make sure that there's more to it than just being a simple delay pedal.
Many guitar delay pedals come with a variety of different features that can be useful for your playing.
For example, some pedals have a tap tempo feature, which is great if you're looking to keep time with another musician or want to create a delay effect that's in time with the music.
Other pedals may have an analog or digital input/output, which can be useful if you're looking to use the pedal with other devices.
Some guitar delay pedals also come with other built-in effects, such as reverb or chorus; while these aren't essential, they can be helpful if you're looking to create a more textured sound.
On the other hand, some pedals can also come with a USB port, which can be handy if you want to use the pedal with a computer or other digital device.
Analog vs Digital delays: Which one should you use?
Analog delay pedals are effects pedals that create a delay effect by using an analog circuit.
This type of pedal is often considered to be more natural sounding than digital delay pedals and can be used to create a variety of different delay effects.
In a nutshell, analog guitar delays use Bucket Brigade Device (BBD) chips, which send signals to a series of capacitors; they add a dark character to your music.
Digital delays, on the other hand, use digital signal processors and analog-to-digital conversions.
The latter process records the signal into a buffer and plays it back depending on the parameters you set; while both delay types are useful for guitar players, each has its own advantages and disadvantages.
Analog vs Digital Delay — Choosing a Delay Pedal — Daniel Fisher
Analog delays have lower latency, which means the delay time is shorter, on the other hand, digital delays are generally more precise, have better sound quality, and are more flexible.
Digital guitar delays also include analog emulations, precise delay time control, and preset memory.
Many guitarists keep both analog and digital delays on their pedalboards!
The difference between digital and analog guitar delays is that the former affects the signal differently, while analog guitar delays, on the other hand, have no digital converters.
They function on an all-analog pathway; in a typical analog delay, the input signal is split into two parts: a dry original signal and a wet delayed signal.
The dry signal goes straight through, while the wet signal is held in a series of capacitors.
Which one should you use?
Analog delays have a warmer, more natural sound than digital delays.
They also tend to be more expensive, so if you're looking for a classic delay sound, an analog delay is a way to go.
If you need lots of extra features and are willing to give up a little bit of warmth, go with a digital delay, you'll get more bang for your buck, and you can always add an analog delay later if you need it.
No matter which type of delay you choose, make sure to try it out in the store before you buy it, listen to how it sounds with your guitar and amp, and see how easy it is to use.
Which is better: Reverb or Delay?
Both reverb and delay are similar and play with the differences between depth and space.
They are excellent ways of adding a larger-than-life feel to an instrument, however, they differ in some major ways.
The difference between the two lies in the way they are applied and how they affect the mix of instruments.
Here's a YouTube video by Mykola MrHardGuitar in which he demonstrates the differences in sound between these two effects:
Reverb VS Delay or Echo - What Is The Difference? Explanation, Comparison and Demonstration
Reverb gives a mix of more depth, space, and a more natural sound while delay enables you to amplify the sounds in your track.
Delay is a time-based sound effect that bounces back sound with a specific time interval between instances.
Both reverb and delay are important effects for guitarists, but they serve different purposes.
Is an echo pedal the same as a delay pedal?
No, an echo pedal is not the same as a delay pedal.
Echo pedals create a single repeat of the sound that is played, while delay pedals create multiple repeats.
On the other hand, echo pedals are generally simpler to use than delay pedals, so they might be a good choice if you're just starting out.
However, delay pedals offer more control over the timing and number of repeats, so they can be used to create more complex effects.
Despite the differences in the two pedals, they are similar in the way they create an echo-type sound.
Should you use reverb and delay together?
Yes, you can use reverb and delay together, in fact, many guitarists use both effects to create a more spacious sound.
The thing that makes reverb and delays special is that they are both capable of making something sound bigger than it really is.
In some ways, they are similar in their function, but in other ways, they can be used to enhance each other.
One way to think about it is that reverb is more like a "room" or "hallway" whereas delay is more like a "hallway with mirrors on the walls."
With this in mind, you can see why they would be able to complement each other very well, even if they're not always used together.
Reverb can be used to make a sound appear larger by adding depth, dimension, and space to the original source material.
Delay can also add depth and dimension to a sound by making it appear bigger and wider than it actually was when it was recorded.
Both effects will make your music seem like it was recorded in a large room or hall with lots of space between instruments and vocalists.
Delay can also create interesting rhythmic effects by making sounds repeat over time at different rates (think about how an echo repeats every time you clap your hands).
This has been used extensively throughout popular music since the early days of recording technology because this effect is often very pleasing to listen to.
Here are some tips for using reverb and delay together:
Start with a short delay time and a long reverb time, this will give your sound a sense of space without sounding too muddy.
Experiment with different combinations of delay times and reverb times to find the perfect sound for your song.
Use a high-pass filter on your reverb to keep it from getting too muddy.
Add a little bit of modulation to your reverb for extra depth and texture, and then control the delay as well.
With a little experimentation, you'll be able to create some truly unique sounds by combining reverb and delay. So don't be afraid to experiment and see what you can come up with!
Are delay pedals necessary to have on a pedalboard?
No, delay pedals are not necessary to have on a pedalboard, however, they can be a useful addition to your rig and I do recommend having some sort of delay available.
Such effect provides great flexibility in creating unique sounds and as we mentioned before, it adds a lot of fullness and depth to your tone.
Delay pedals can be used for a variety of purposes, including:
Adding depth and space to your sound
Creating special effects
Enhancing your live performance
Making your recordings sound more polished
And last but not least, delay pedals are simply fun to use!
Here is a video featuring a top 10 list of some of the best delay guitar riffs:
Top 10 DELAY Guitar Riffs...iffs...iffs
One of them is "Welcome To The Jungle" by Guns N' Roses, which uses a delay to create a sense of unease and foreboding in the intro of the song.
Where does a delay pedal go in the pedalboard signal chain?
Delay pedals can go in a few different places in the signal chain since this type of question is heavy on personal preference, but a good rule of thumb is to place them after modulation effects like chorus, flanger, and phaser pedals.
This will help to keep the delay from getting muddy or lost in the mix. If you're using multiple delay pedals, you can place them in series or parallel.
Series: The signal goes through each delay pedal one after the other. This creates a longer delay trail.
Parallel: The signal is split into two paths, one with delay and one without delay. This creates a shorter delay trail with a cleaner sound.
The reason why we put delays after distortion pedals, and anything that affects or changes your sound is because we want the delays to be an exact replica of your sound, just delayed.
So if you were to put a delay before a modulation, the modulation would be heard in the delays as well, which may not be what you're going for.
Of course, as we said, there's no right or wrong answer when it comes to where you place your pedals in the signal chain.
It's all about experimentation and finding what sounds best for you. So don't be afraid to move things around until you get the sound you're looking for!
Do you need more than one delay pedal?
No, you don't need more than one delay pedal but having multiple pedals can give you more flexibility in your sound.
If you only have one delay pedal, we recommend choosing a versatile option with different types of delay (e.g., analog, digital, tape).
On the other side, if you have multiple delay pedals, you can use them in series or parallel to create different sounds, for example, you could use one pedal for a long, ethereal delay, and another for a shorter delay.
Now, having multiple delay pedals will also require you to spend more time tweaking your sound, but it can be worth it if you're looking for a very specific delay effect.
It also gets harder to manage when you have more pedals, so if you're just starting out, we recommend sticking to one or two delay pedals.
One last thing
GuitarBased.com is all about showing you a little bit more about guitars each day and finding ways to innovate and have fun with this beautiful instrument that we love.
If you enjoyed this post, then I invite you to go check out our blog!
We're always sharing a lot of useful and helpful content that both beginners and advanced players can use to improve their playing abilities.
As always, thank you for reading and being here! 🤘