What are some of the best guitar quotes of all time?
Throughout the years there have been many famous guitarists that completely influenced all generations of players.
Some of them still live with us, and some of them have unfortunately passed away.
In both cases, they have all shared and said many great things that marked us forever.
This is our list of the best guitar quotes from the best guitarists of all times that will surely motivate you to keep playing and better yourself.
Best Guitar Quotes
Famous Guitar Quotes
Chances are, your favorite guitar player has at least one remarkable phrase or quote that everybody recalls.
The following quotes are some of the phrases that famous guitarists have said throughout their careers, that people have remembered the most: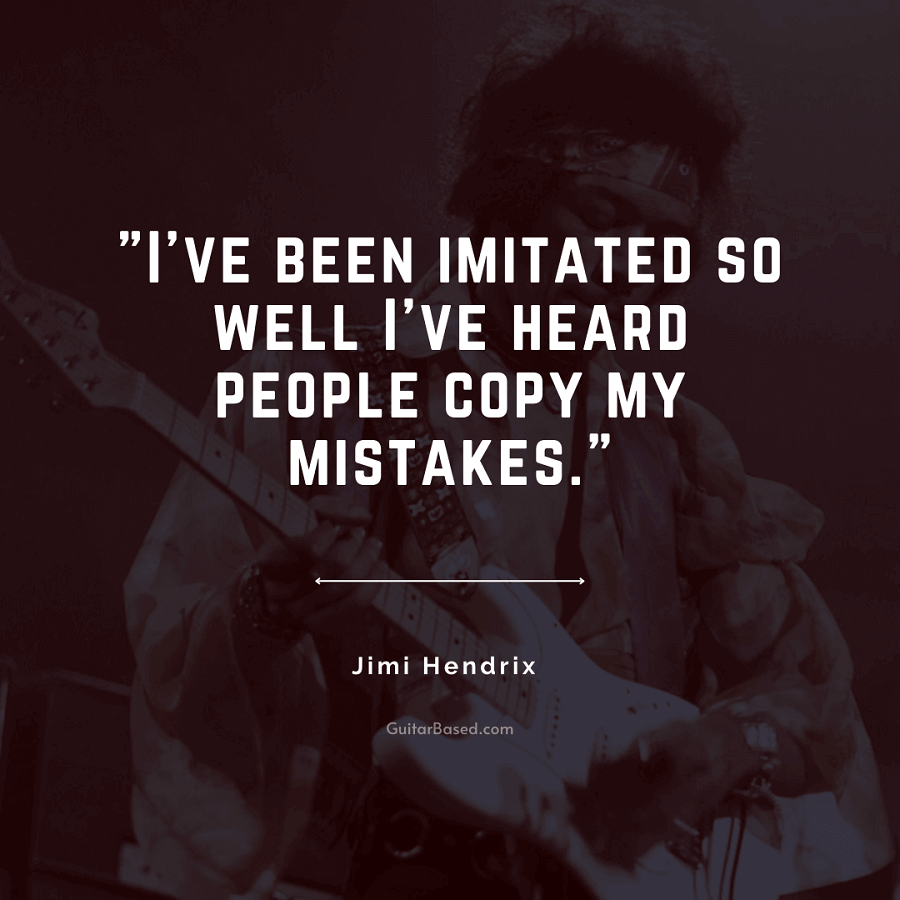 "I've been imitated so well I've heard people copy my mistakes." ~ Jimi Hendrix
"My life has been a roller coaster ride, but somehow I've always been able to land on my feet and still play the guitar." ~ Ace Frehley
"The guitar was my weapon, my shield to hide behind." ~ Brian May
"I consider descending chromatic lines and arpeggiated chords basic skills learned by any student of the guitar." ~ Jimmy Page
"Besides being a guitar player, I'm a big fan of the guitar. I love that damn instrument." ~ Steve Vai
"I used to run home from school, pick up my guitar, and lock myself in my room and play." ~ Angus Young
"If you want music to be your livelihood, then play, play, play and play!" ~ Eddie Van Halen
"Success is falling nine times and getting up ten times." ~ Jon Bon Jovi
"I sing and play the guitar, and I'm a walking, talking bacterial infection." ~ Kurt Cobain
"My guitar is not a thing. It is an extension of myself. It is who I am." ~ Joan Jett
"I'm definitely not a super great guitarist. Ultimately, I just write a lot of love songs." ~ Vance Joy
"I have to practice to be good at guitar. I have to write 100 songs before you write the first good one." ~ Taylor Swift
"If you really love guitar, you're going to spend every waking hour stroking the thing." ~ Frank Zappa 
"The time I burned my guitar it was like a sacrifice. You sacrifice the things you love. I love my guitar." ~ Jimi Hendrix
"My big fear was that my guitar would go out of tune." ~ Bob Dylan
"I wanted to create music that was so different that my mother could tell from anyone else." ~ Les Paul 
"The guitar is a wonderful instrument which is understood by few." ~ Franz Schubert
"Sometimes you stumble upon a few chords that put you in a reflective place." ~ David Bowie
"I had no aspirations to be a musician, but I picked up a guitar for two seconds and haven't put it down since." ~ Slash
"The guitar is your first wings. It's assigned and designed to unfold your vision and imagination." ~ Carlos Santana
 "Plant your love and let it grow." ~ Eric Clapton
"The guitar was my weapon, my shield to hide behind."  ~ Bryan May
"I'm just a guitarist in a kick-ass rock and roll band. What more could I ask for?" ~ Eddie Van Halen
"If I could sing, I wouldn't be a guitarist." ~ Robin Trower
"I'm thankful for each and every day. We never know when time is up." ~ Chuck Berry
"Music really is a way to reach out and hold on to each other in a healthy way." ~ Stevie Ray Vaughan
"I have spent as much of my life trying to improve my singing as I have practicing guitar." ~ David Gilmour
"The most valuable possession you can own is an open heart. The most powerful weapon you can be is an instrument of peace." ~ Carlos Santana
"The biggest emotion in creation is the bridge to optimism." ~ Brian May
"My guitars are my umbilical cord. They're directly wired into my head." ~ Kirk Hammett
"The only thing that's holding you back, is the way you're thinking." ~ Steve Vai
"My music is made for the people who are willing to stand up to change this world themselves." ~ Tom Morello
"The music just tends to be a vehicle for that poetry." ~ Mark Knopfler
"I been in the blues all my life. I'm still delivering 'cause I got a long memory." ~ Muddy Waters
"Don't be the best in town. Just try to be the best until the best come around." ~ Buddy Guy
"Out of everything I've lost, I miss my mind the most!" ~ Ozzy Osbourne
"I'd rather be hated for who I am, than loved for who I am not." ~ Kurt Cobain
"The marvelous thing about lack of planning is that failure comes as a complete and utter surprise." ~ Peter Green
"If I hadn't have had music in my life, it's quite possible I could be in here." ~ James Hetfield
"Until you learn to play what you want to hear, you're barking up the wrong tree." ~ Billy Gibbons
"Things turn out better by accident sometimes. But you can't organize accidents." ~ Jeff Beck
"Sometimes I wish that I was the weather, you'd bring me up in conversation forever. And when it rained, I'd be the talk of the day." ~ John Mayer
"Everybody else shares the same cloudy sky." ~ Joe Walsh
"Being in a band with three guitar players, one thing you need to do is learn to make each guitar voice sound separate and identifiable." ~ Don Felder
"If you don't know where you're going, any road will take you there." ~ George Harrison
"I may not believe in myself, but I believe in what I'm doing." ~ Jimmy Page
"I never advise anyone to sacrifice something else because of music, but then I don't see why they would have to anyway." ~ Mick Taylor
"Regardless of what you play, the biggest thing is keeping the feel going." ~ Wes Montgomery
"Your personal history is a part of what happens with your hands and your head as you play music." ~ Dave Grohl
"I think the sensitivity that you need to create certain things sometimes would spill over into things that shouldn't have bothered me." ~ Jack White
"Learning to play with a big amplifier is like trying to control an elephant." Ritchie Blackmore
"If there was any one achievement, it would be that we've have done it on our own terms." ~ Alex Lifeson
"We're losing the whole point: music is not to impress people, music has to stand up on its own and guitar solos are nothing to do with it." ~ Gary Moore
"There's a lot of different forms of communication, but music is absolutely the purest one." ~ Duane Allman
"I mean some doctor told me I had six months to live and I went to their funeral." ~ Keith Richards
"The day you open your mind to music, you're halfway to opening your mind to life." ~ Pete Townshend
"The only way I've been able to keep my sanity is to pull back when I feel like it's time to pull back." ~ Lindsey Buckingham
"When you start to play off the top of your head, that's when the truth is really known about people." ~ Steve Howe
"The more simple my life is, the happier I am." ~ Peter Frampton
"Take life on life's terms – one day at a time. And have fun while you're doing it." ~ Joe Perry
"Music is such a great communicator. It breaks down linguistic barriers, cultural barriers, it basically reaches out." ~ David Howell Evans (The Edge)
"In the end, the love you take is equal to the love you make." ~ Paul McCartney
"Musicians tend to get bored playing the same thing over and over, so I think it's natural to experiment." ~ Dimebag Darrell
"Some of us are going to play faster than others. Hitting the right notes and getting your technique right is so much more important than speed." ~ Joe Satriani
"When you're improvising, you connect with people in a way you don't in normal life, strangely." ~ Derek Trucks 
"One day you pick up the guitar and you feel like a great master, and the next day you feel like a fool. It's because we're different every day, but the guitar is always the same, beautiful." ~ Tommy Emmanuel
"People sometimes say it takes a long time to become a jazz fan, but for me it took about five seconds." ~ Pat Metheny
"Speed is a byproduct of good, slow practice." ~ Guthrie Govan
"Believe in yourself and have confidence that you can compete against all odds. Have a vision of what you'd like to accomplish and be able to articulate that vision." ~ Robert Johnson
"Surf music is actually just the sound of the waves played on a guitar: that wet, splashy sound." ~ Dick Dale
Funny Guitar Quotes
A little humor goes a long way!
In the guitar industry, there are certainly many jokes or phrases that keep things light and full of laughter.
These are some of the most known funny guitar quotes that you can start using on your content: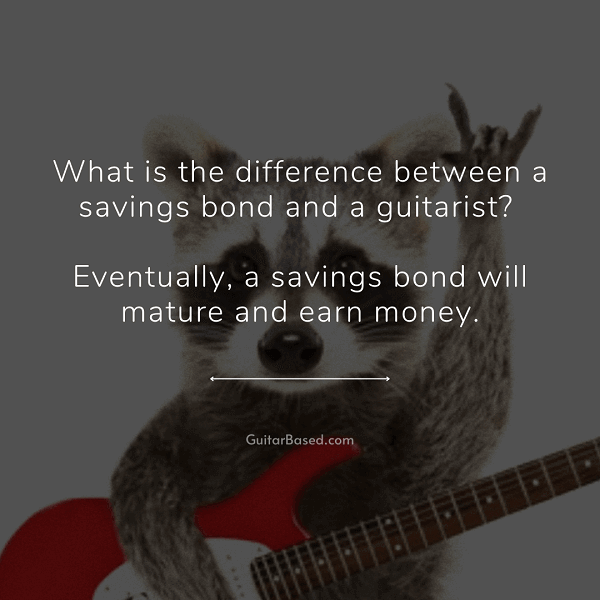 "I smash guitars because I like them." ~ Pete Townshend
"I never practice my guitar, from time to time I just open the case and throw in a piece of raw meat." ~ Wes Montgomery
Play the guitar they said, you will get all the chicks they said.
Hey! Are you a C Major Scale? Because you look all-natural to me.
Never B♭, sometimes B♯, always B♮.
I never make mistakes when playing the guitar, I thought I did once. I was wrong.
What is the difference between a savings bond and a guitarist? Eventually, a savings bond will mature and earn money.
If I was funny, I would have a good Instagram caption.
Nice! But can you play Wonderwall, though?
I need a six-month holiday to just play guitar, twice a year.
The past, present, and future walk into a bar. It was tense.
"How many guitars do you need?", she asks. "Why, know someone who's selling some?
Guitar picks can physically run away. That's a fact.
That's a very nice pick you've got there. It'd be a shame if something were to just, swallow it.
Did laundry, found 8 guitar picks in the dryer when I was done.
By "Tax return" you mean "New guitar", right?
Speed dating… Strat or Tele? "What"… Next.
One does not simply own enough guitars.
Two musicians were walking down the street. One of them was a guitarist, the other one didn't have any money either.
I used the "#" in front of everything before Instagram.
I don't always sing along, but when I do, I sing along to the guitar solo as well.
Guitars don't care if you look at other guitars.
"I just play rhythm guitar".
You can't buy happiness but you can buy guitars, and that's kind of the same thing.
If somebody says you have too many guitars, unfriend them, you don't need that kind of negativity in your life.
Why can't Woody play his guitar? He doesn't know where his Pixar.
My wife asked me to quit playing 'Wonderwall' on guitar. I said maybe…
NASA just announced that it is safe to play guitar without posting it on Instagram.
Thought you might wanna see a dick pick.
Want a guitar player to turn it down? Give them some sheet music.
Deep and Motivational Guitar Quotes
Playing guitar can be hard sometimes!
When we're starting to learn to play a new instrument, there could be times when we're going to doubt ourselves and lack some motivation.
Here are some deep and motivational quotes that you can use to push yourself through hard times, that is through humor or inspirational thoughts: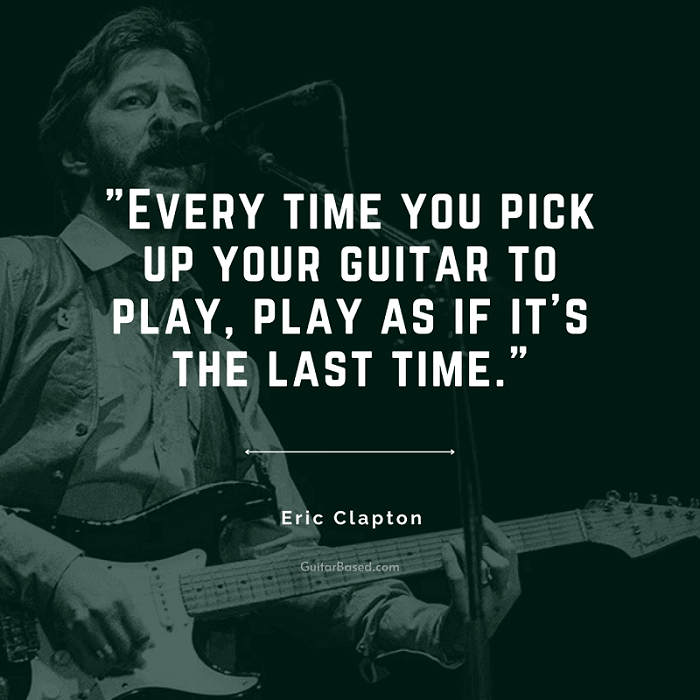 "Every time you pick up your guitar to play, play as if it's the last time." ~ Eric Clapton
"The guitar was my weapon, my shield to hide behind." ~ Brian May
"I believe every guitar player inherently has something unique about their guitar playing." ~ Jimmy Page
"The beautiful thing about learning is nobody can take it away from you." ~ B. B. King
"I've been imitated so well I've heard people copy my mistakes." ~ Jimi Hendrix
"As far as guitar goes, it's weird to have such a challenging activity in my life for so long – I love it. It kicks my ass every day." ~ Vernon Reid
"I don't want you to play me a riff that's going to impress Joe Satriani; give me a riff that makes a kid want to go out and buy a guitar and learn to play." ~ Ozzy Osbourne
"The guitar is the easiest instrument to play and the hardest to play well." ~ Andres Segovia
"The guitar has a kind of grit and excitement possessed by nothing else." ~ Brian May
"Most people are prisoners, thinking only about the future or living in the past. They are not in the present, and the present is where everything begins." ~ Carlos Santana
"Relax. Be yourself. Play a lot." ~ Joe Satriani
"Never give up on a good thing, never give up, never give up!" ~ George Benson
"I wanted to connect my guitar to human emotions." ~ B. B King
"I can communicate far better on a guitar than I can through my mouth." ~  Jimmy Page
"As long as you're excited about what you're playing, and as long as it comes from your heart, it's going to be great." ~ John Frusciante
"Guitars have been the obsession of my life. I first picked one up at the age of four and I've been a guitar junkie ever since." ~ Johnny Marr
"My life has been a roller coaster ride, but somehow I've always been able to land on my feet and still play the guitar." ~ Ace Frehley
"I just go where the guitar takes me." ~ Angus Young
"Possessing a healthy imagination is a necessary ingredient for creativity." ~ Steve Vai
"Someone told me the smile on my face gets bigger when I play the guitar." ~ Niall Horan
Guitar Quotes About Friends
A friend is someone who understands your past, believes in your future, and accepts you just the way you are.
The amazing combination of a good friendship and playing guitar is unbreakable.
Here are some guitar quotes about friends and friendship: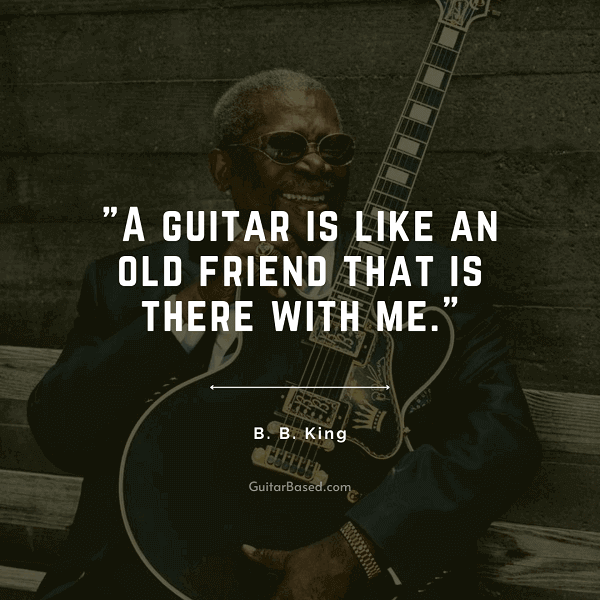 "A guitar is like an old friend that is there with me." ~ B. B. King
"I get by with a little help from my friends." ~ John Lennon
"I'm only myself when I have a guitar in my hands." ~ George Harrison
In the rhythm of life we sometimes find ourselves out of tune but as long as there are friends to provide the melody, the music plays on.
Friends and relationship are like the strings of a guitar, if you hold the right strings you will end up playing the perfect tune of your life.
Friends are like the strings of a guitar, together they make the best music of life.
Happiness is playing the guitar for your friends.
Me without my friends is like a guitar without its strings!
All I really need to be happy is some camp friends, a fire, and a guitar.
Life is nothing without friends and guitars!
A good friend knows all your stories; a best friend plays guitar with you.
Breaking the rules with our guitars.
They know me better than I know myself but not as my guitar.
Sometimes you just don't need a doctor, sometimes your best friend and your guitar is the therapy.
When you don't believe in yourself, your best friend and your guitar will believe in you.
Guitar Quotes About Traveling
A mind that is stretched by a new experience can never go back to its old dimensions.
Traveling while playing guitar has to be one of the most satisfying experiences in life.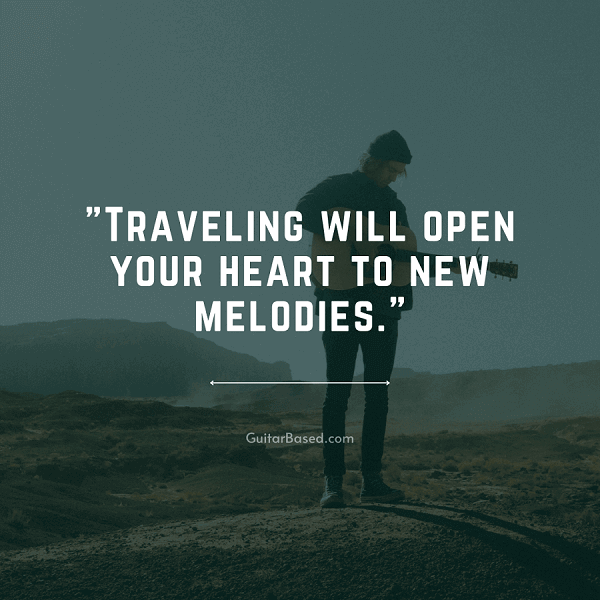 Traveling will open your heart to new melodies.
Travel is the only thing you buy that makes you richer.
Are there going to be guitars there?
Learning about myself even more.
Let the adventure begin.
Somewhere on earth playing guitar.
My life goal? To play guitar in as many different countries as possible.
To travel is to live, to travel while playing guitar is to LIVE.
We travel not to escape life, but for life not to escape us.
What finding paradise looks like.
To travel is to take a journey into yourself.
A world to see, everything to learn with my guitar.
If I can't bring my guitar with me, I don't want to go.
If you don't like to travel with your guitar, don't talk to me.
You should always travel long enough that you meet yourself.
I haven't played everywhere, but it's on my list.
Go somewhere you've never played at before.
Lost, but I like it.
Always traveling, and always with my guitar.
I rather play the guitar!
How to find the best guitar quotes online?
If the quotes that we listed on this post are not enough and you're looking for something else more specific, then there are other ways to find good quotes online.
For instance, there are many other websites that dedicate themselves only to posting quotes.
On the other hand, we found out that many hashtag pages on Instagram have a lot of good content that you can use to get inspired:
For example, #guitarquotes: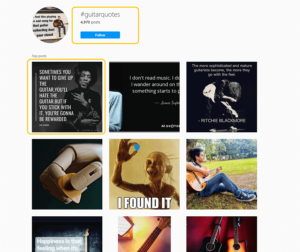 As you can see, these hashtags pages won't always just have quotes, sometimes you'll see a few funny pictures or memes.
But chances are that you'll get a lot of good quotes if you scroll through these pages, and even more, if you try something more specific (for example #hendrixquotes or #slashquotes).
In this YouTube video by Alex Cattoni she goes over how to write the perfect caption for your photos and videos on your Instagram page. 
How To Write Engaging Instagram Captions (6 Copywriting Tips & Examples)
I encourage you to watch this video in case you're looking for guitar quotes to post as captions in your social media posts.
One of the things that I enjoyed about this video is how she divides it into sections dedicated to one particular end-goal:
For instance, if you want to get:
Likes
Comments
Shares
Leads
Followers
As guitar players, we tend to forget who our audience is and might even miss some very good opportunities to share additional value with them.
In the video we linked above, she mentions how sharing simple relatable stories on her captions always get her more likes on that individual post than on her other average posts.
If you are a guitar player that mainly uploads guitar videos, then even if you don't know it yet, you have a lot of things that you can share with your followers every day that are not just you playing guitar.
This means that you can tell them how you record your videos and what the entire process looks like for you.
You can also share guitar memes or funny photos and videos with them!
Doing these things will mark the difference between growing Instagram followers and growing a community.