I see many of you have this question and almost nobody is talking about it, how to travel with a guitar without damaging it?
Taking a guitar along while traveling is not a bad idea, but if you don't take care of it the right way…
You might damage it very easily.
So, if you're planning to travel with your guitar, then today I have a few things that you should always have in mind.
I will also be talking about which type of case is the best, and whether you should buy a travel guitar or not.
Let's start…
How to travel with a guitar without damaging it?
The short answer is that in order to travel with a guitar without damaging it, you should always make sure that your guitar isn't moving too much inside its case, or that you always have it with you at all times.
First of all, let's all get on the same page, are you traveling by plane, or just using your car to move from one place to another?
There has been confusion about whether or not you are even allowed to carry a guitar with you on a plane, and the answer is that, yes you are allowed.
According to USAToday.com:
In 2003, the Transportation Security Administration (TSA) and the American Federation of Musicians reached an agreement allowing airlines to treat guitars not only as checked baggage but also as carry-on items.
That was a win for us guitarists! But now that you are free to carry your guitar with you: What are some things to have in mind?
I will divide this answer into two sections:
One for people traveling on a plane.
And the other one for people moving in a car, a bus, etc.
Traveling by plane
So here are some of the things that I've learned the hard way.
Try to keep them in mind just so you have no problems if you go traveling, especially on a USA airline.
Be informed about the suitable airlines
While at this point, every airline should let you travel with your guitar, always make sure you double-check by going through their website or calling their helpline number; most of the airlines who offer this service, mention it in their luggage allowance terms and condition.
Make sure to book tickets from an airline that allows traveling with the guitar as a carry-on, if possible.
By doing that, your guitar will always be with you and it won't have to go under the plane. This is what you should aim for since it will have the best possible outcome, which is you always having your guitar.

Note: If they don't allow carry-on, and your only option is to give it out for them to put your guitar under the plane, always take a picture before.
Also, follow some of these things:
Don't forget the inside packaging, even if you have a hard case
The packaging of the guitar matters a lot in terms of carrying it while traveling.
Yes, you should invest in a hard guitar case for traveling purposes to save it from breaking or damaging.
But…
This might come off as unusual to you, but despite the regular packing of the guitar i.e. the case, it can still get damaged on-board.
I'm saying this after personally experiencing it myself, as my guitar did get slightly damaged in the neck because of not having proper packaging and wrapping; and I even had it in a hard case that time.
So here what to do, even if you have a hard case:
1- Stuffing the case to avoid unnecessary movements
Stuffing the case with small pieces of clothes, newspapers, or anything available in the house is one of the best ways to give extra protection to your instrument.
The reason we do this is that your guitar is going to be loose inside the case sometimes.
So, just try to make it as hard as possible for it to move, and you will be all set.
2- Using bubble wrap
Bubble wrap is the best and most reliable way to secure your guitar from getting damaged.
So, the trick is to spread the bubble wrap sheet on the base of the guitar case, then safely put the guitar on it, then put another layer on the top and then finally close the case.
This step might be extra for some of you because it requires you to actually buy bubble wrap, but it will really help you in adding that extra protection.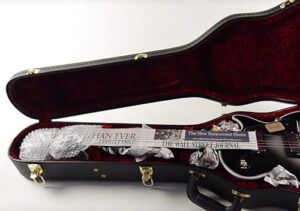 Source: Reverb.com | How to ship a guitar
As you can see from the picture above,  that is how Reverb.com suggests that we should cover our guitars when we ship them, or in this case when we travel with them.
Note: There has been a lot of controversies over the years since some people say that bubble wrap can actually cause problems in that short amount of time as the plastics are continually off-gassing and could leave permanent marks. I have never experienced that, but do make sure to do your own research and read more about it if you are doing so.
The picture below is one example of what we mean by this.
Take a look and see how the bubble wrap has left marks on the guitar finish.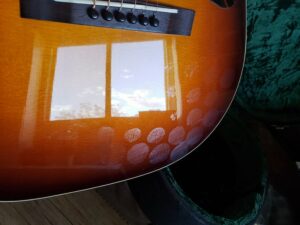 Source: lcgeek | umgf.com
Now…
We are not saying this will happen to you. But it is just one more thing to have in mind in case you decide that your guitar will go under the plane and will eventually end up under high temperatures.
As a rule of thumb, as long as you make sure that your guitar is always your carry-on, then this will never happen and you do not have to worry about the bubble wrap.
 Loosening the strings will protect them from breaking
This is a no-brainer for some people, even though some others think it is just a myth.
If you don't want them to break, then make them loose; you can always tune it back to normal.
This way, you will save yourself from the hassle of fixing the strings but also from the inconvenience of playing your guitar with a broken one.
But, again, just have in mind, that we all have adjustable truss rods in almost every guitar, so you really don't have to think about it too much at this point.
It is just that people mention a lot that the pressure of the plane and the one on your guitar strings will make things break very fast and easy.
I really don't even waste my time finding what the truth is, I always make them loose just in case.
But that can be just me.
Consider buying a travel guitar if you just want to practice or jam
A regular travel guitar has some of the following features:
Lightweight as compared to the other regular acoustic and electric guitars.
Limited yet necessary specifications that fulfill the basic guitar-playing requirements.
Easy to carry around and play occasionally due to being easily accessible to the holder for being small-sized.
Most of them have a foldable neck so it also requires less space as compared to large standard guitars.
If you aren't going to be playing any shows and you just want to practice or jam, then a small travel guitar might be what you are looking for.
Nobody will be able to tell you anything after this really cool photo.
But all jokes aside…
They don't cost that much either, and some of them even break in half.
But again, this is just if you are specifically looking forward to traveling a lot or playing in small spaces.
Check out our selection of the best acoustic and electric travel guitars:
Traveling by car, bus, train, or van
Now that we talked about traveling by plane, let's go over how to travel with a guitar by car, train, or bus.
Most of the things would be the same, but when you travel with your guitar in a car, in my opinion, the risk of damage could be even higher.
Why is that?
A plane doesn't do turns or anything like that, with a car, you will more likely have to do a lot of turns and if the streets are not good enough, then you know the rest.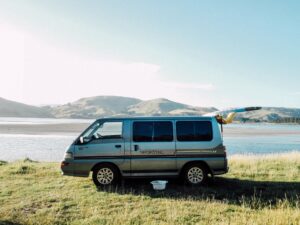 Here are some things to have in mind when traveling by car, bus, or train:
If you have a hard case, you should still be careful
Like we talked about before, your guitar can still move inside your hard case sometimes.
So, if you don't want that to happen, it's better to wrap it with either clothes, bubble wrap, or anything that's soft and could protect it. You can also use newspapers if you want.
The point of doing this is to add another layer of protection that will prevent your instrument from moving too much inside the case.
What you want to do is add the extra wrap or clothes to the side of the guitar so that it sits tightly inside the case.
Always make sure to put it where it doesn't move
If you are using your car to move from one place to another, then make sure to put something on your guitar's side so if you have to turn, it won't move.
What I usually do is that instead of putting it in my car's trunk, I have it in the back seats.
But, of course, if you have more than 2 people in your car, then the trunk would be your only option. So you should at least put some backpacks or boxes to the side, for the said reason.
 Loosening the strings will still prevent them from breaking
Just like I said when I was talking about traveling by plane, loosening your strings when you are traveling by car will also give them extra protection.
It's not necessary, and it will be very rare for them to break too easily,  but as I said, it's another precaution that I always take.
Most people won't do this for short distances, but if you are going on a long trip, then doing this makes the most sense.
Again, there are many misconceptions about this, but doing it won't do anything bad for you at all.
What are some things that will make it even easier for you?
Invest in a good guitar case
We mentioned this, but we really did not talk about it too much.
The reason for emphasizing so much on this point is that investing in a good guitar case is beneficial for you in the long run.
You have seen me mentioning it all the time, and is the absolute truth, hard cases are way better for traveling than any other type of case.
So try to buy a good quality guitar case instead of a cheap one to save you from a bigger expense like fixing your guitar or maybe even buying a new one.
Check for the maximum weight allowance for traveling with a guitar
Make sure to check this before or after booking the flight. This way you'd be able to prepare yourself for what is going to happen at the airport or the boarding counter.
For instance, if the guitar's weight exceeds the luggage allowance then you have to carry some extra cash to take it along.
Usually, a guitar won't be too heavy, but there are some that do really make a big exception.
So, just be aware of this.
Note: Ignore this if you ain't traveling on a plane.
Become friends with those who work at the airport and ask questions
I personally do this because I really don't mind talking to others; is always good to be friendly and it comes to me naturally.
But…
Be nice and ask questions with the right tone, and people will help you out if you need anything and they can do something about it.
Side Story: An airport once was asking me to pay about $200 to travel with my guitar because it needed to go in the fragile section; it was an international flight. After I asked literally everyone and talked to whoever was in charge, they allowed me to bring it for free. It turns out some guy was trying to make extra cash by doing this.
Use this as a heads up, so you don't get scammed out there.
Note: Also ignore this if you ain't traveling by plane.
Ask for official documents or sources if necessary
Know your rights, and know the law.
You should be allowed to travel with your guitar.
If somebody says otherwise in an airport, then tell them to show you proof that what they're saying is correct, but just make sure that you do your best research before as well.
You should watch this YouTube video by Guitar Goddess in which she talks about how to fly or travel with a guitar.
10 Tips for Flying ✈ Your Guitar // Travel Hacks
I encourage you to watch it since she goes over her own tips, and shares some of the things she has in mind when doing it.
Conclusion
I've traveled with my guitar a lot, and I know what it feels like to open your guitar case to a broken guitar.
Make sure to follow everything I said here and also read some other stories out there as well just so you get different perspectives from different people.
At the end of the day, just do whatever it takes to protect your instrument, it will never be too extra.
Thank you for reading!