What are some of the best Spotify alternatives out there today?
Sometimes, people just need a change, and while Spotify is one of the most popular streaming services, there are plenty of others that offer a different experience that you might be interested in.
In this post, we'll take a look at some of the best options available to you, and what they have to offer.
Plus, most if not all have free versions that you can use to test out before you decide to upgrade.
Let's get started!
Best Spotify Alternatives With Similar Features
Apple Music is one of the most popular streaming music services available today.
Featuring a wealth of high-quality content, including exclusive tracks and curated playlists, Apple Music caters to music lovers of all tastes and preferences.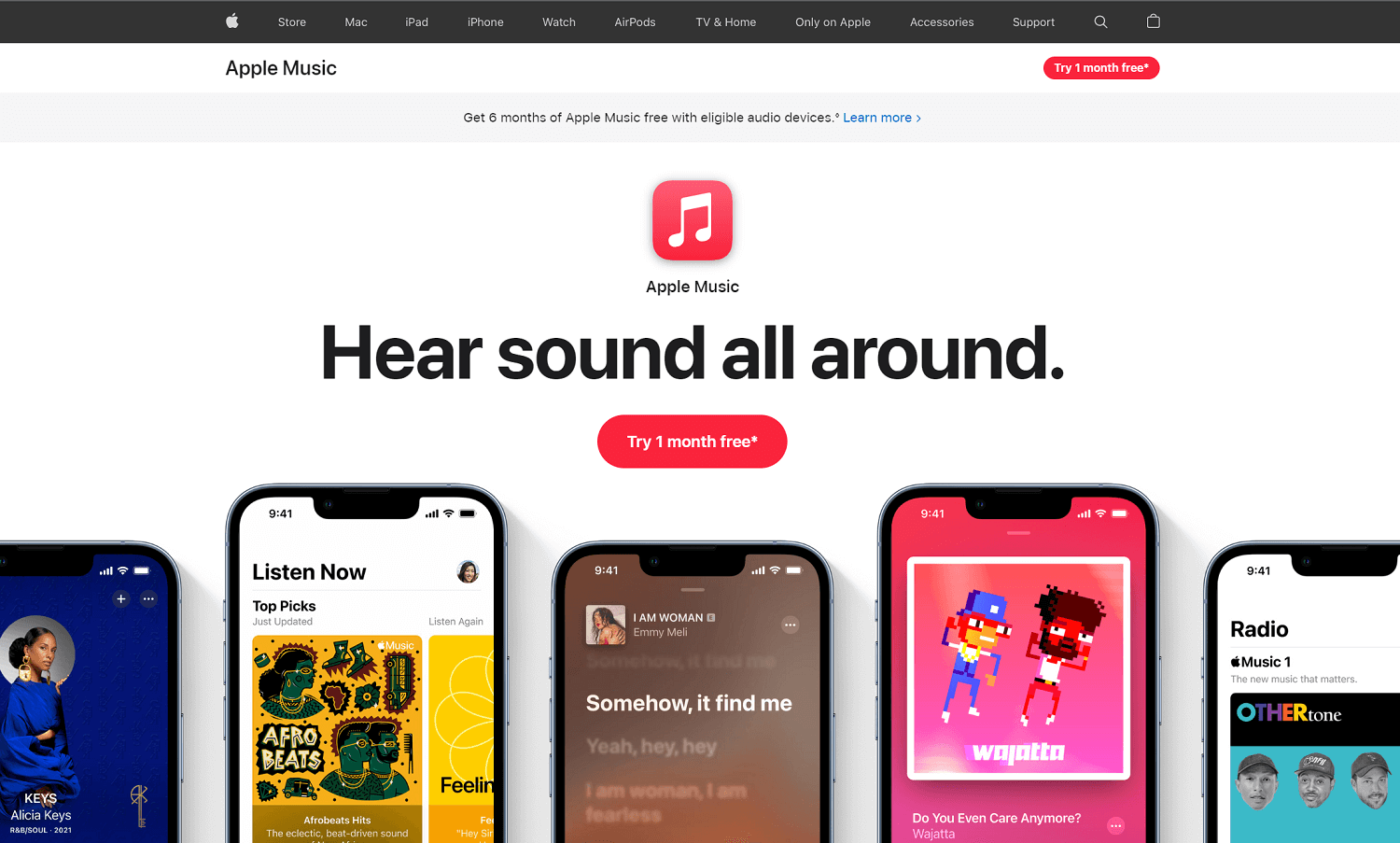 What's more, its membership program offers subscribers unlimited access to an ever-growing library of content for a low monthly fee.
Overall, if you're in the market for a reliable and comprehensive music streaming service, this is a great option to consider.
Amazon Music Unlimited is a streaming music service that offers its users access to millions of songs.
It is available in two tiers: Prime Music, which is included with an Amazon Prime membership, and Music Unlimited, which is a paid subscription service.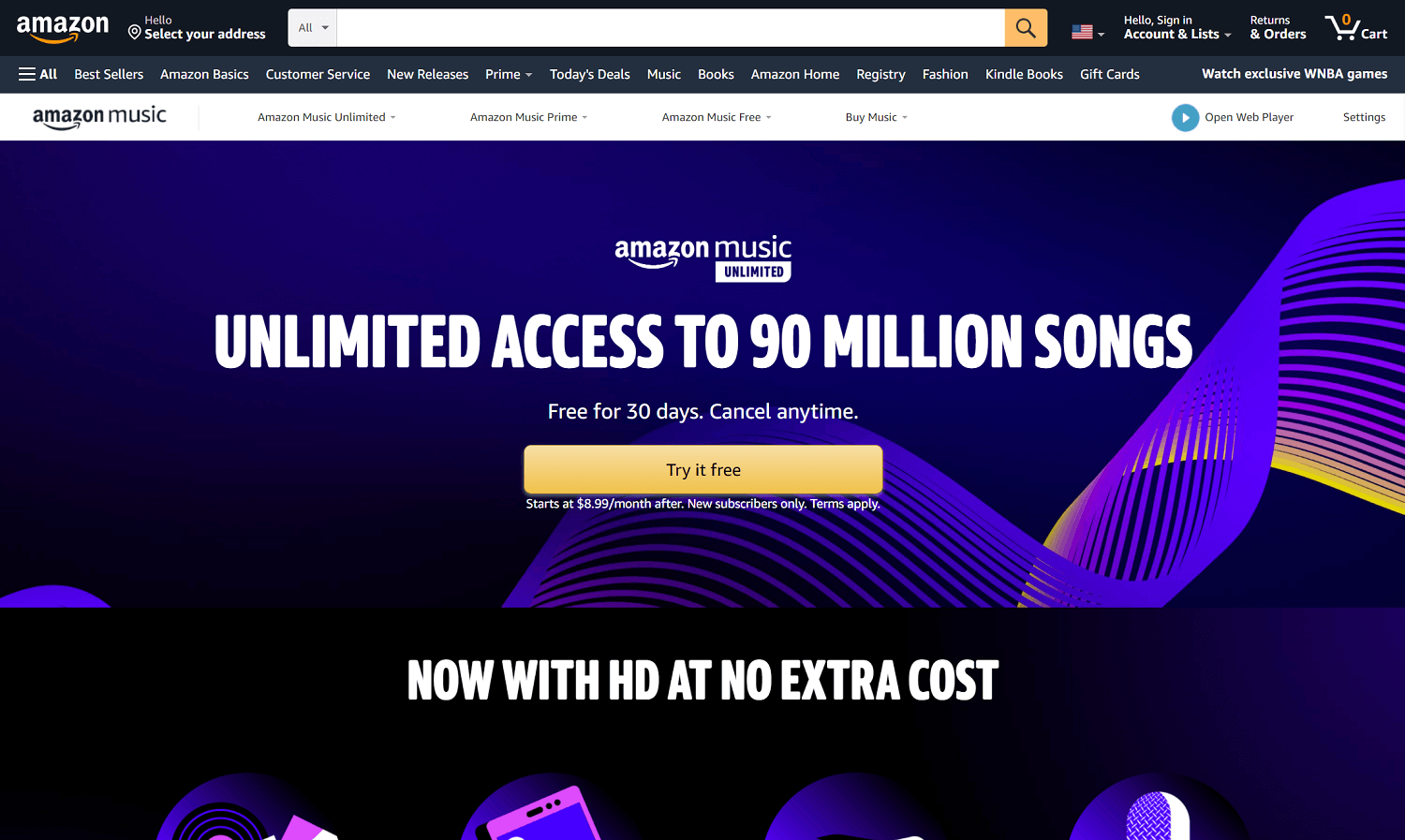 With Amazon Music Unlimited, users can stream any song they want, create custom playlists, and listen to ad-free radio stations.
Additionally, users can download songs for offline playback and listen to them on any device, including Amazon's popular Echo family of smart speakers.
For many music lovers, Amazon Music Unlimited is the perfect way to get all the music they could ever want without having to worry about managing files or worrying about storage space.
YouTube Music Premium is a fairly new streaming service from YouTube that offers subscribers access to millions of songs, along with unique features like personalized playlists and recommendations based on your listening habits.
Whether you're into pop, rock, country, or any other genre, YouTube Music Premium has you covered.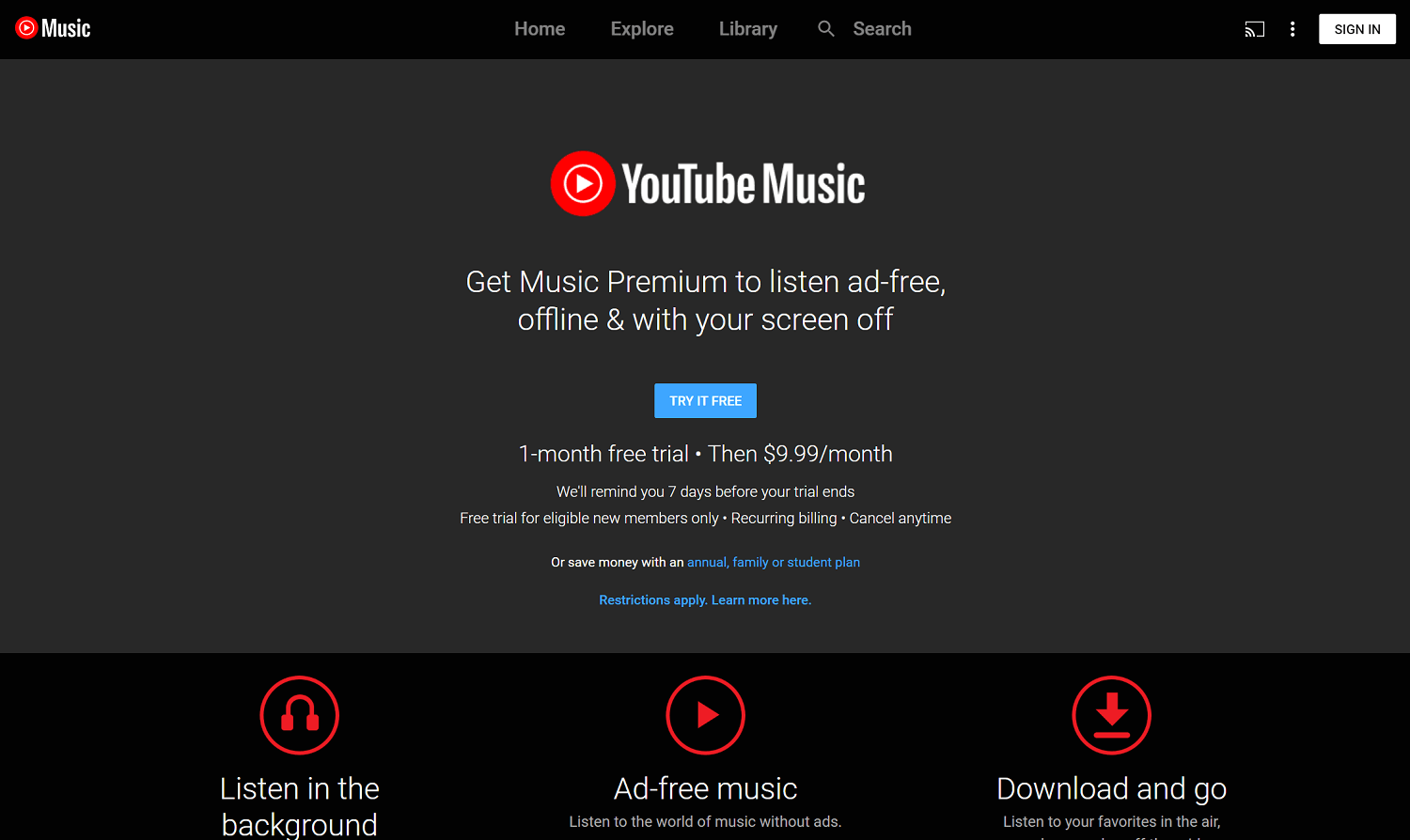 With its vast catalog of hits and deep levels of customization, this service is the perfect tool for music lovers who want to explore and discover new favorites.
If you're looking for an easy way to access the world's best music on-demand, then you should definitely check them out.
Deezer is one of the most popular music streaming services out there, with millions of users around the world.
With its intuitive interface and a vast collection of songs and playlists, it makes discovering new music a breeze.
Deezer's library is always expanding, so there's always something fresh and exciting to listen to.
Whether you're jamming alone in your room or turning up with your friends at a party, Deezer is the ultimate way to keep the good times rolling.
Additionally, it was founded in 2007 and is headquartered in Paris, France.
Pandora is a music streaming service that allows users to create personalized stations based on their favorite artists, songs, or genres.
Itwas founded in 2000 by Tim Westergren and the Music Genome Project, and it quickly rose to prominence as one of the most popular streaming services available.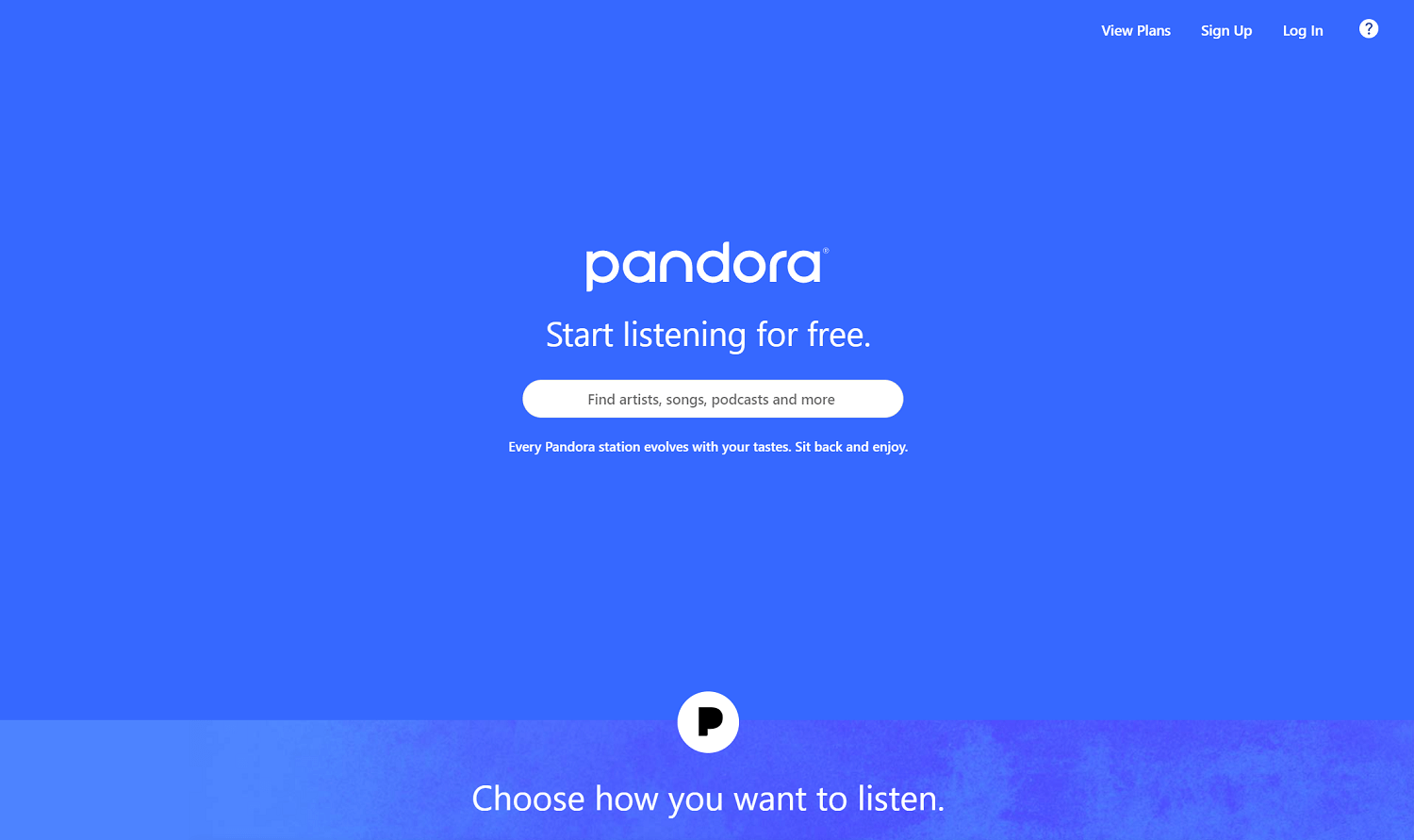 In addition to its comprehensive music library, Pandora is known for its unique algorithms that tailor each station to the user's individual taste.
As a result, Pandora has become a go-to source for many music lovers who appreciate its personal touch.
While other streaming services may offer more comprehensive libraries or more features, Pandora remains a favorite for its simple design and focus on delivering an enjoyable listening experience.
Tidal is a music streaming software with a vast library of high-quality tracks.
It offers lossless audio quality and Hi-Fi sound, which means that the music you listen to will sound better than most other streaming platforms.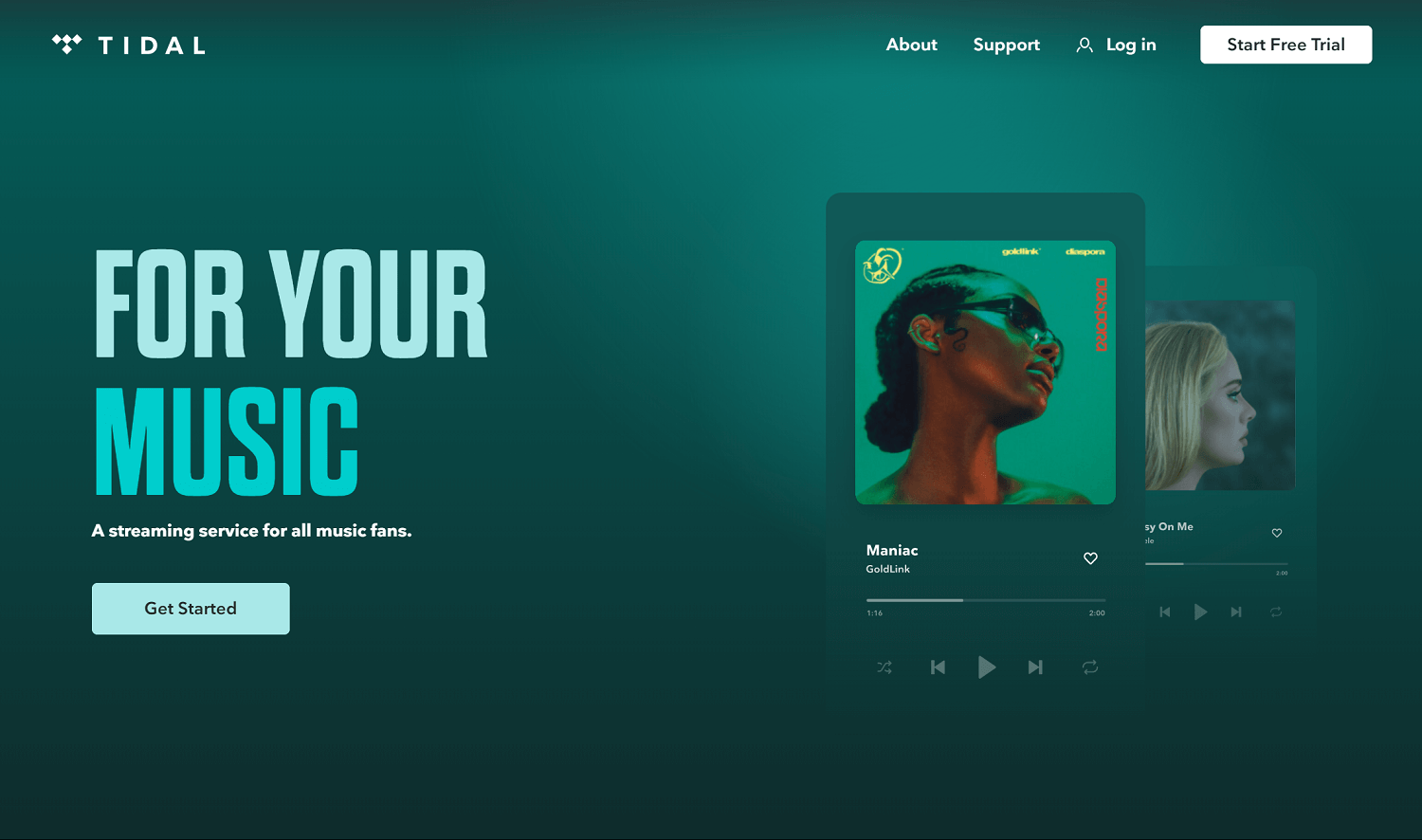 In addition, Tidal provides exclusive content from some of the world's top artists, including live performances, interviews, and behind-the-scenes footage.
The software is available on a variety of devices, including smartphones, laptops, and home audio systems.
Jango is also a music streaming software that allows you to listen to millions of songs for free.
It gives you the ability to create custom radio stations based on your favorite artists, songs, or genres.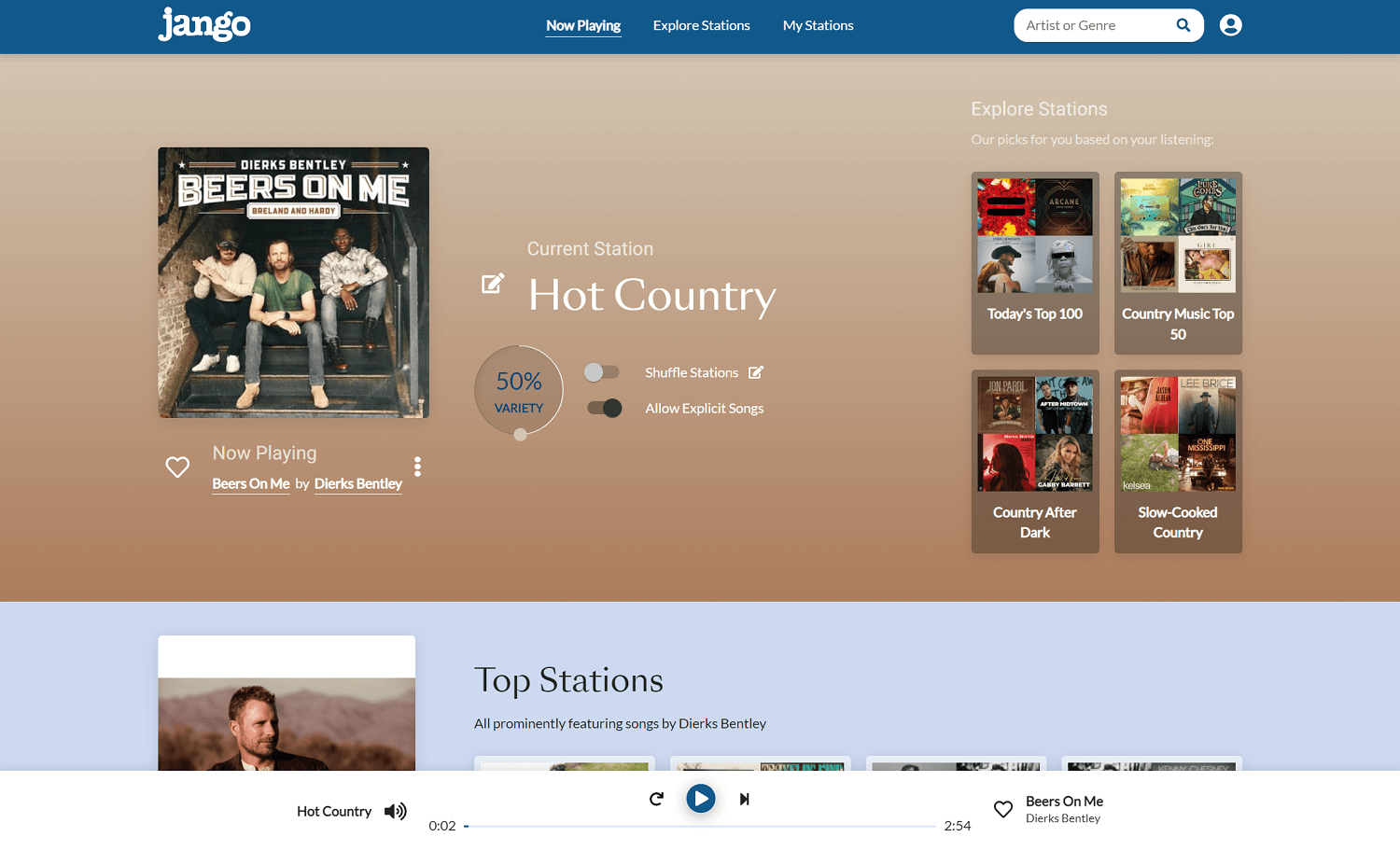 One of the best things about Jango is that it doesn't have any ads, so you can listen to your music uninterrupted.
Plus, there's no need to sign up for an account – you can start listening right away!
Whether you're at home or on the go, Jango is the perfect way to enjoy your favorite music.
SoundCloud is a popular online audio platform that allows users to upload, record, and share their original music and soundtracks.
It has become a go-to source for new and unsigned artists, as well as established musicians looking for an easy way to share their work with a wide audience.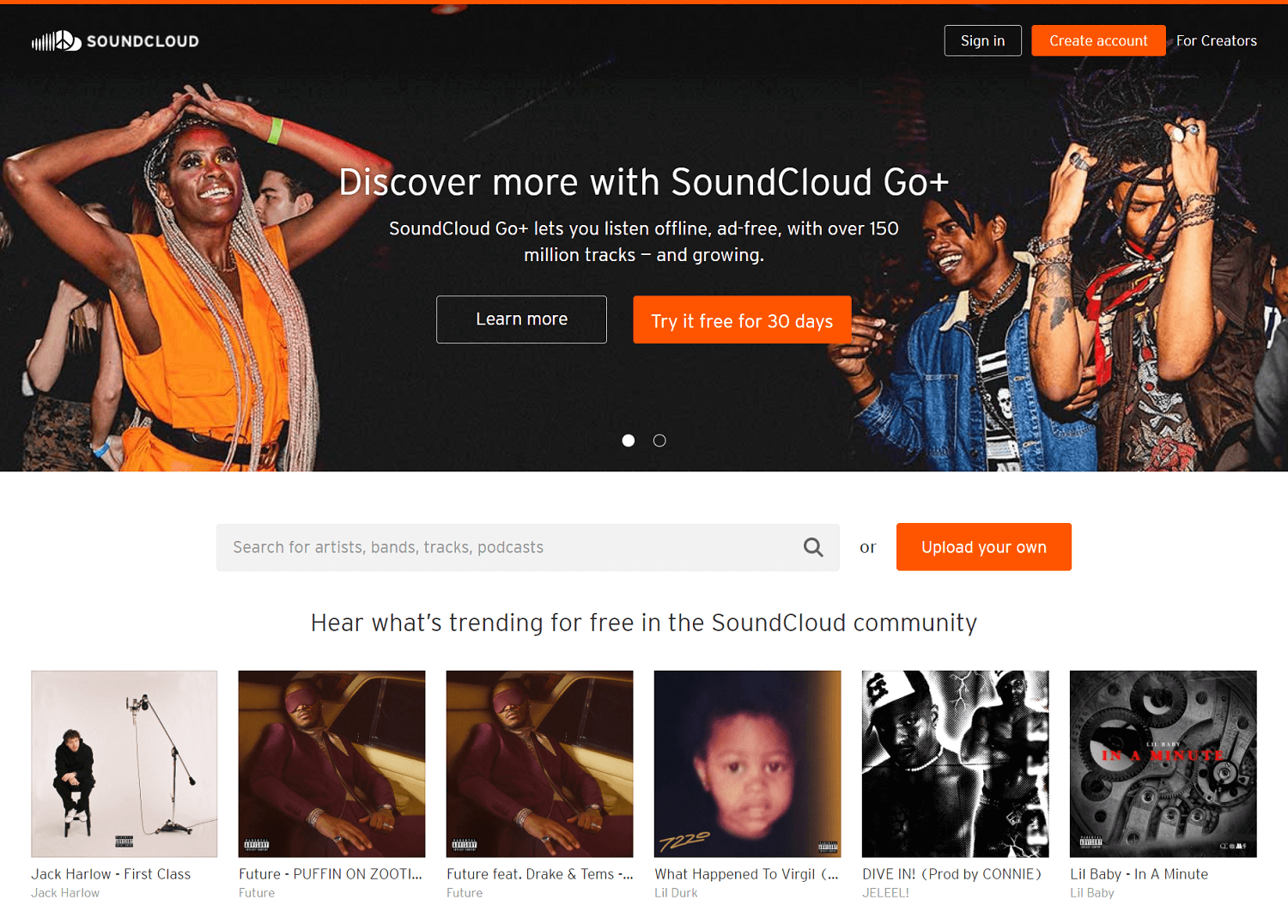 SoundCloud has also become a valuable tool for DJs and producers, who use it to share remixes and mashups, as well as to find new tracks to play.
In addition to its audio content, SoundCloud also offers a wealth of informative articles and interviews with industry professionals.
As a result, it is an essential resource for anyone interested in the world of music.
In comparison with Spotify, SoundCloud may not have all of the same features or a comparable library of tracks.
However, it is still a reliable and user-friendly platform that is perfect for anyone looking to discover new music.
Qobuz is a French music streaming and download service.
It offers lossless audio quality and high-resolution audio streaming up to 24-bit/192kHz, as well as CD-quality and Hi-Fi sound.
Qobuz also has a wide range of editorial content, including interviews, album reviews, and artist profiles.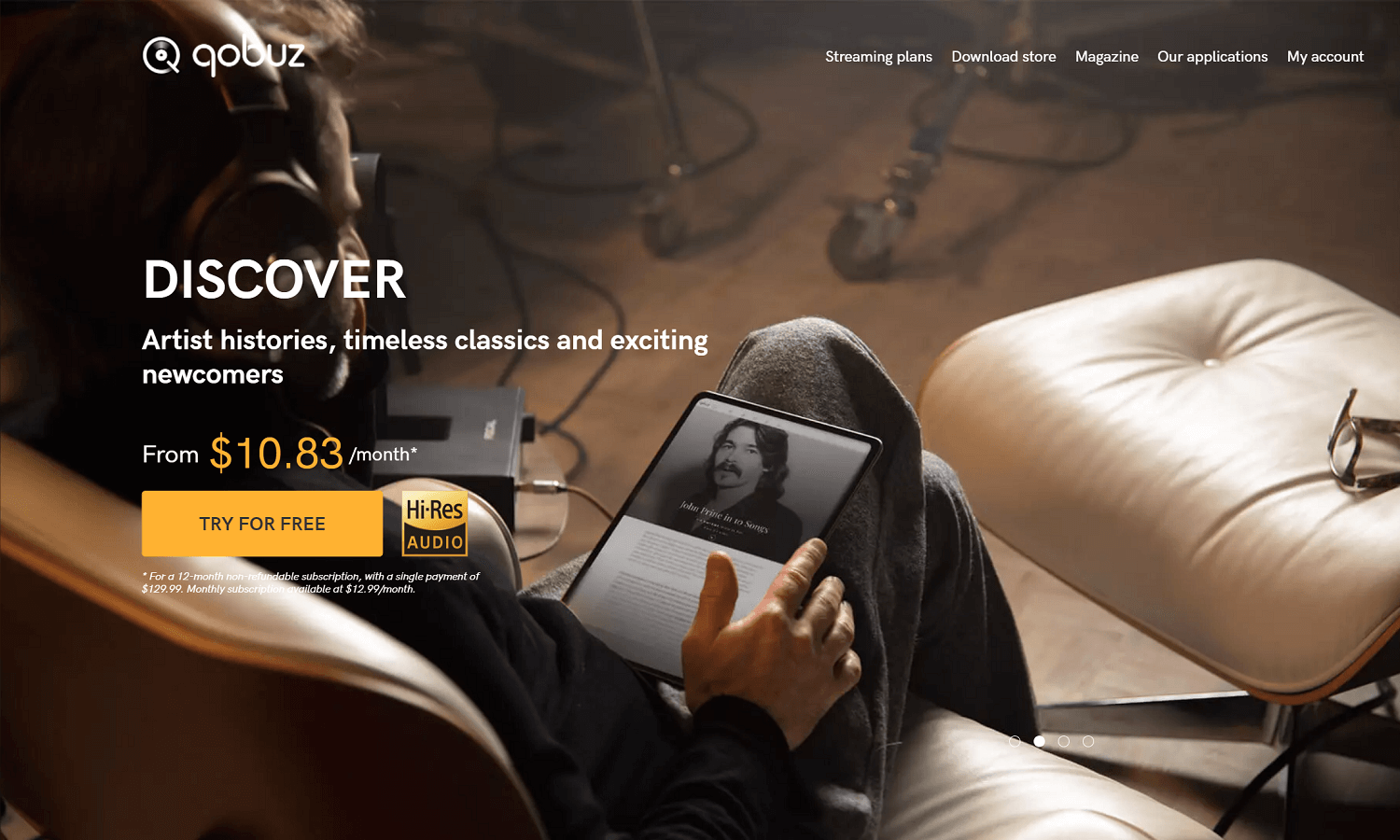 In addition, the service offers a number of exclusive features, such as the ability to purchase and download tracks directly from the Qobuz store.
Also, it's available in over 200 countries and offers a free trial with no commitment.
On the other hand, Qobuz is not as widely known as some of the other streaming services on this list.
As a result, it may not have the same selection of tracks or features as its more well-known competitors.
TuneIn is one of the most popular online radio services available today, providing access to millions of different radio stations around the globe.
Whether you are looking to listen to music from your favorite artist, learn more about world news, or stay up-to-date on local sports, TuneIn has something for everyone.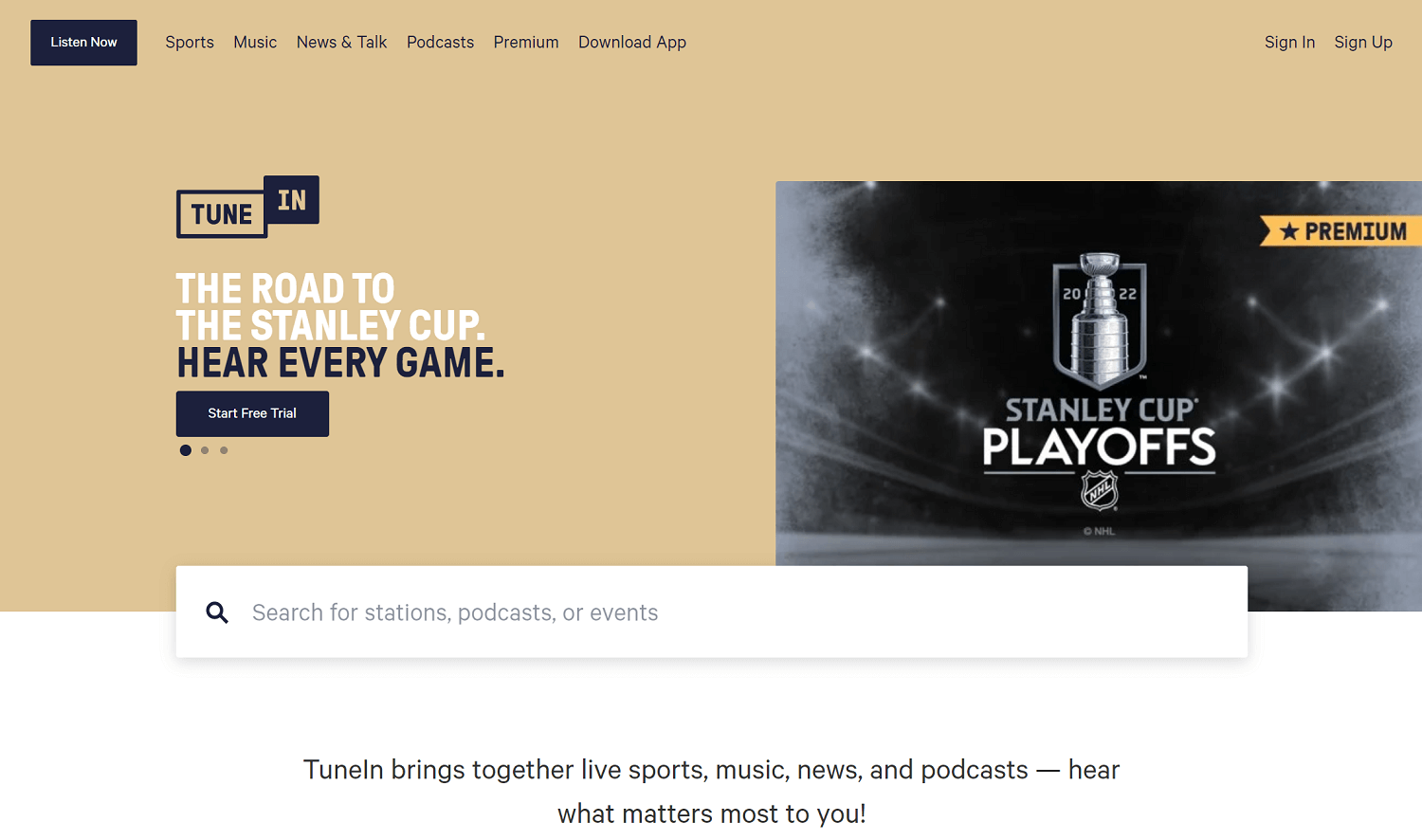 With its easy-to-use interface and a wide variety of content, it has become a go-to resource for anyone interested in staying connected with the world around them through their listening experience.
TuneIn is operated by the company TuneIn Inc. which is based in San Francisco, California.
JioSaavn is an Indian music streaming app that gives you access to over three million songs in over 20 languages.
In addition to a massive catalog of music, JioSaavn also offers exclusive content, including exclusive albums, singles, and remixes.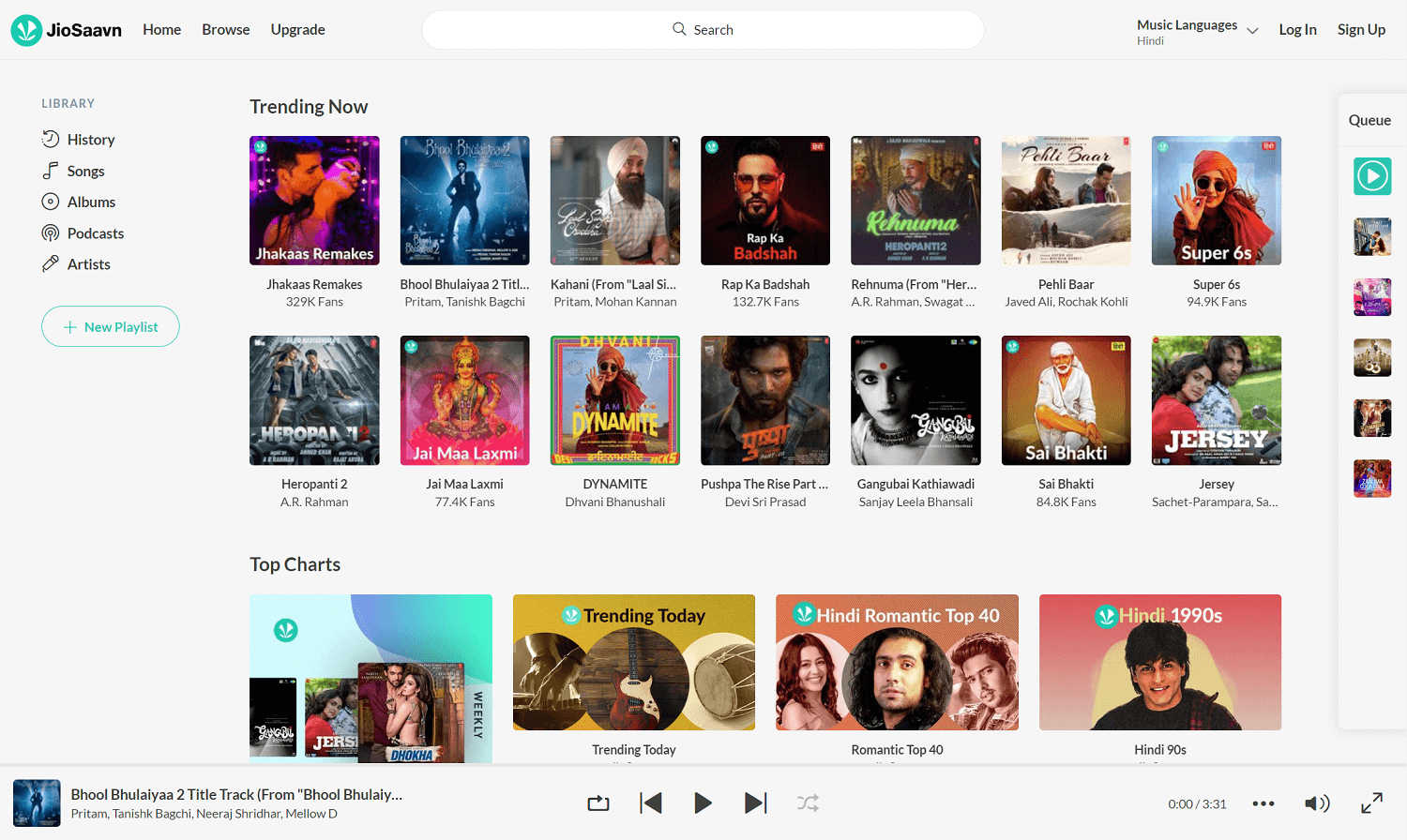 With JioSaavn Pro, you can also download songs and play them offline, so you can keep listening even if you're not connected to the internet.
Plus, with no ads and high-quality audio, JioSaavn Pro is the ultimate way to enjoy your favorite music.
Users can also create personalized playlists and listen to radio stations, whether you're a Bollywood fan or simply looking for a new way to discover music, this is another option that is worth checking out.
iHeartRadio is an American freemium broadcast, podcast, and radio streaming platform.
With a huge library of music from artists across all genres, it offers something for everyone.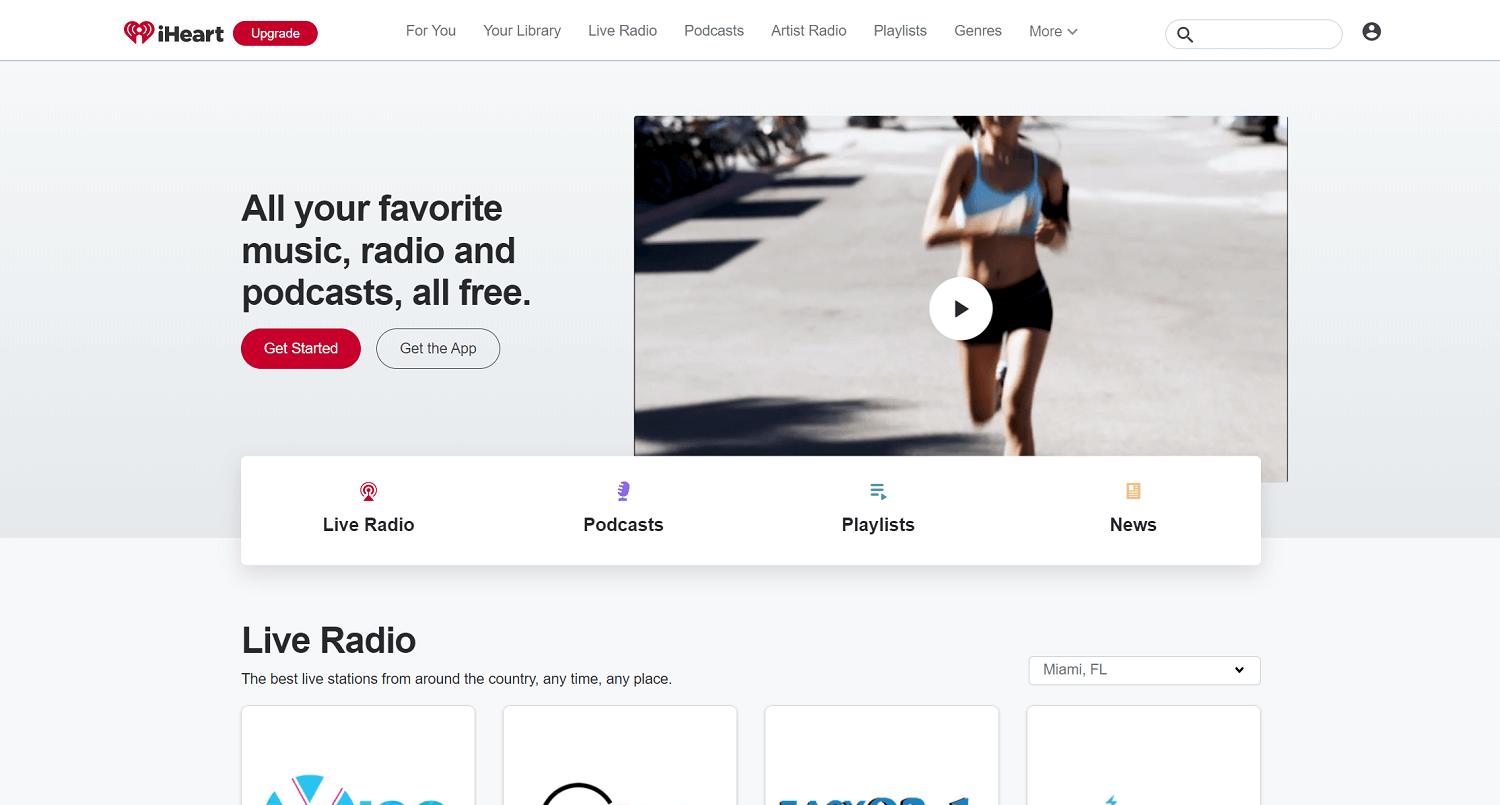 Whether you prefer to listen to contemporary pop, golden oldies, or the latest hip-hop hits, iHeartRadio is sure to have the perfect playlist for your mood and activities.
In addition to music streaming, iHeartRadio offers news and talk programming, including political commentary and sports coverage.
And with features like customizable stations and easy integration with your other devices and applications, they make it easy to stay connected no matter where you go.
LivexLive is a live streaming platform that offers access to live events and concerts and has a radio station and a music library available to its users.
The service offers live audio and video streams of music festivals, award shows, concerts, and club events.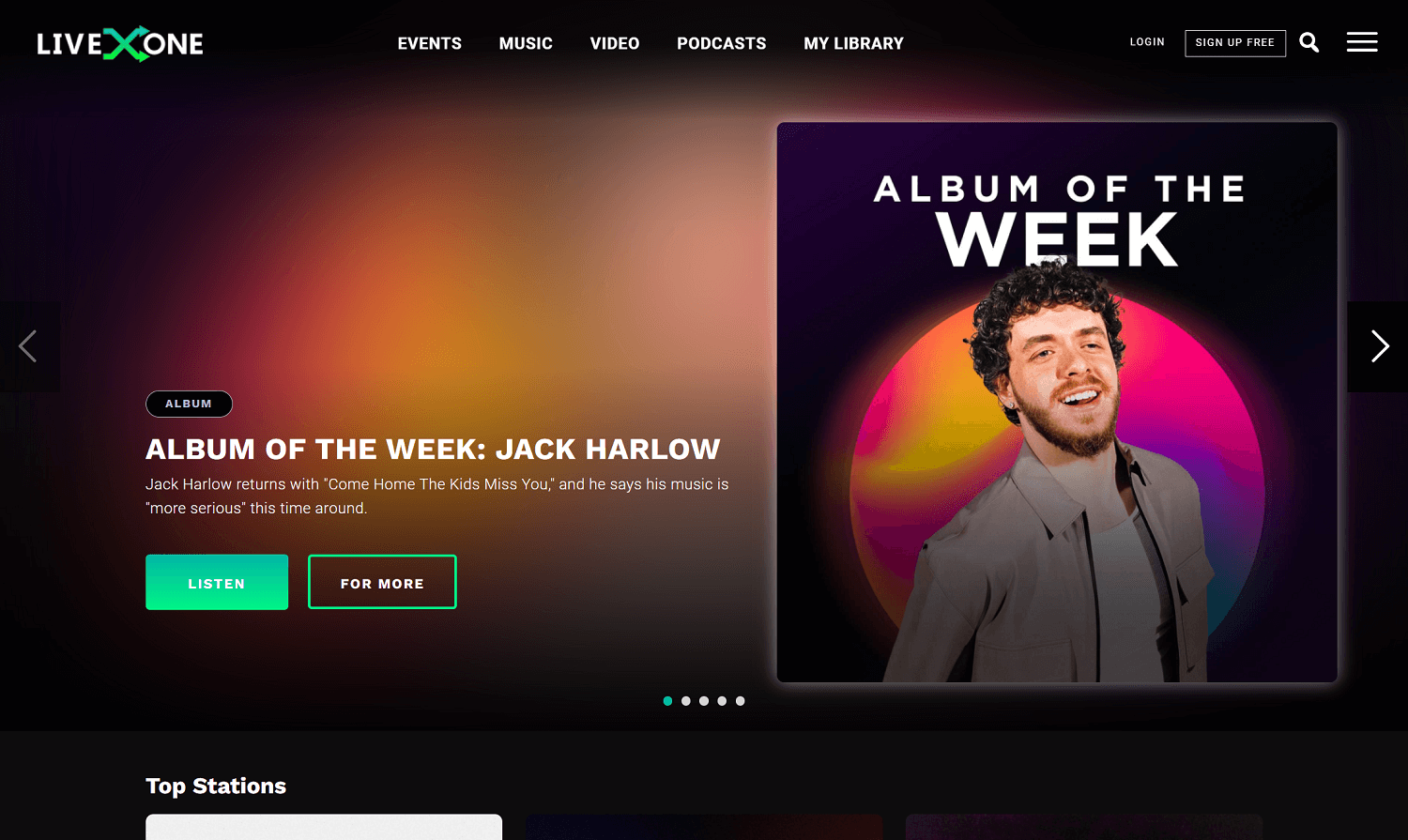 In addition, LivexLive provides artist interviews and backstage content.
The company also has a mobile app that allows users to watch live streams and access on-demand content.
In 2017, LivexLive acquired Slacker Radio, a streaming service with over 7 million active users.
The acquisition helped to solidify LivexLive's position as one of the leaders in the live streaming space.
Although very different from Spotify, the main essence of the concepts are the same.
Mixcloud is a popular British music streaming service that allows you to listen to millions of songs from around the world.
It's easy to use and has a great selection of music; on the other side, you can also create your own mixclouds, which are like radio stations, and share them with your friends.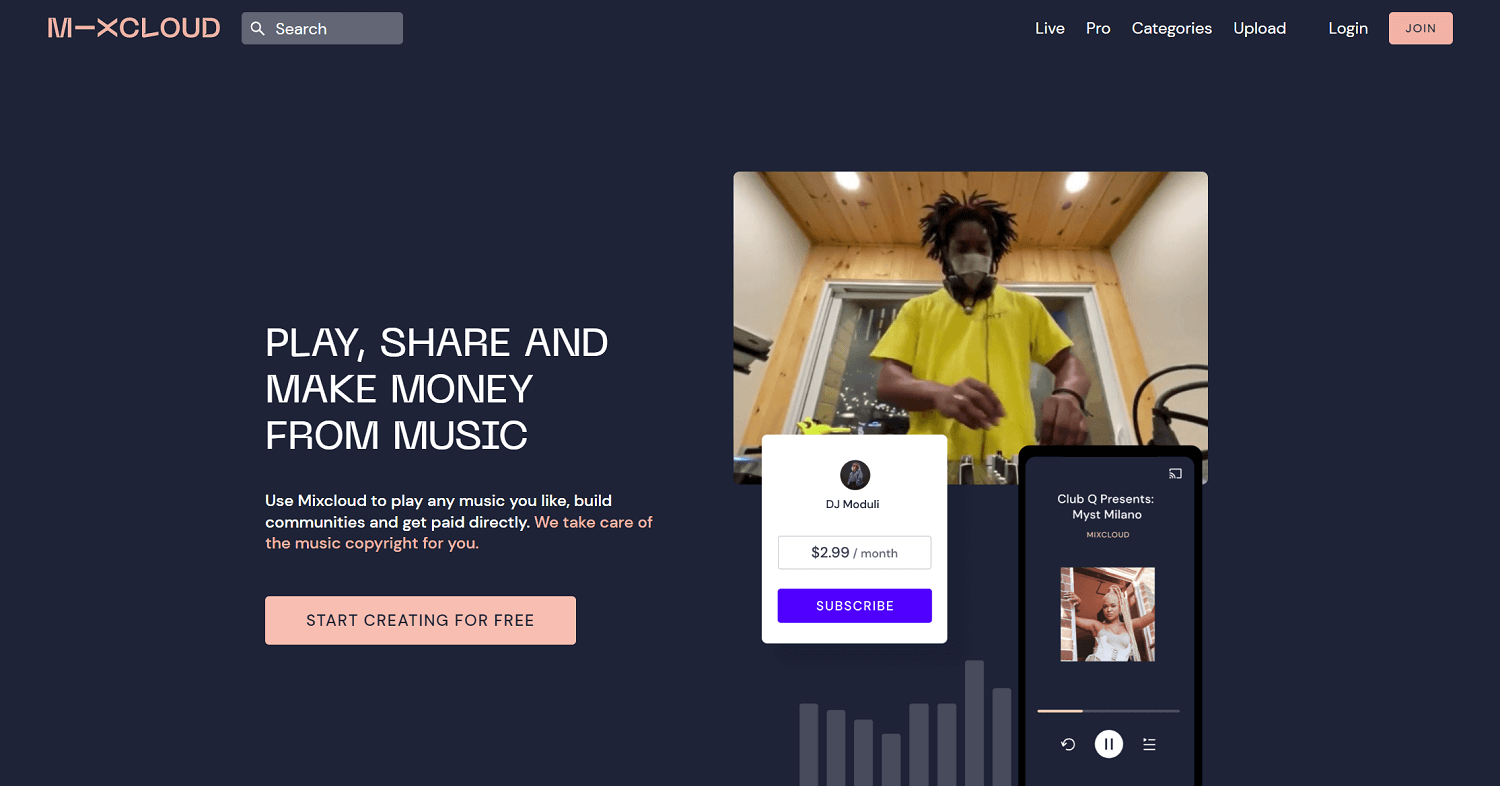 Just like Spotify, Mixcloud also provides an API through which users can search, upload, and embed its content.
Mixcloud announced a new form of subscription called "fan-to-creator".
Thanks to this feature subscribers can support their favorite artist directly and contribute towards the licensing cost for music played in shows.
The company is attempting to find ways that would allow them, ultimately, to compensate artists more fairly when it comes time to revenue from subscriptions or advertising sales.
Furthermore, it is important to note that, similar to Spotify, Mixcloud does have a free and premium service
Boomplay is a digital music service developed by Transsnet Music Limited that aims to provide legal and safe music streaming and downloads for Africa.
The platform has more than 75 million users, a catalog of over 5 million songs, and it is available in 46 countries and 10 languages.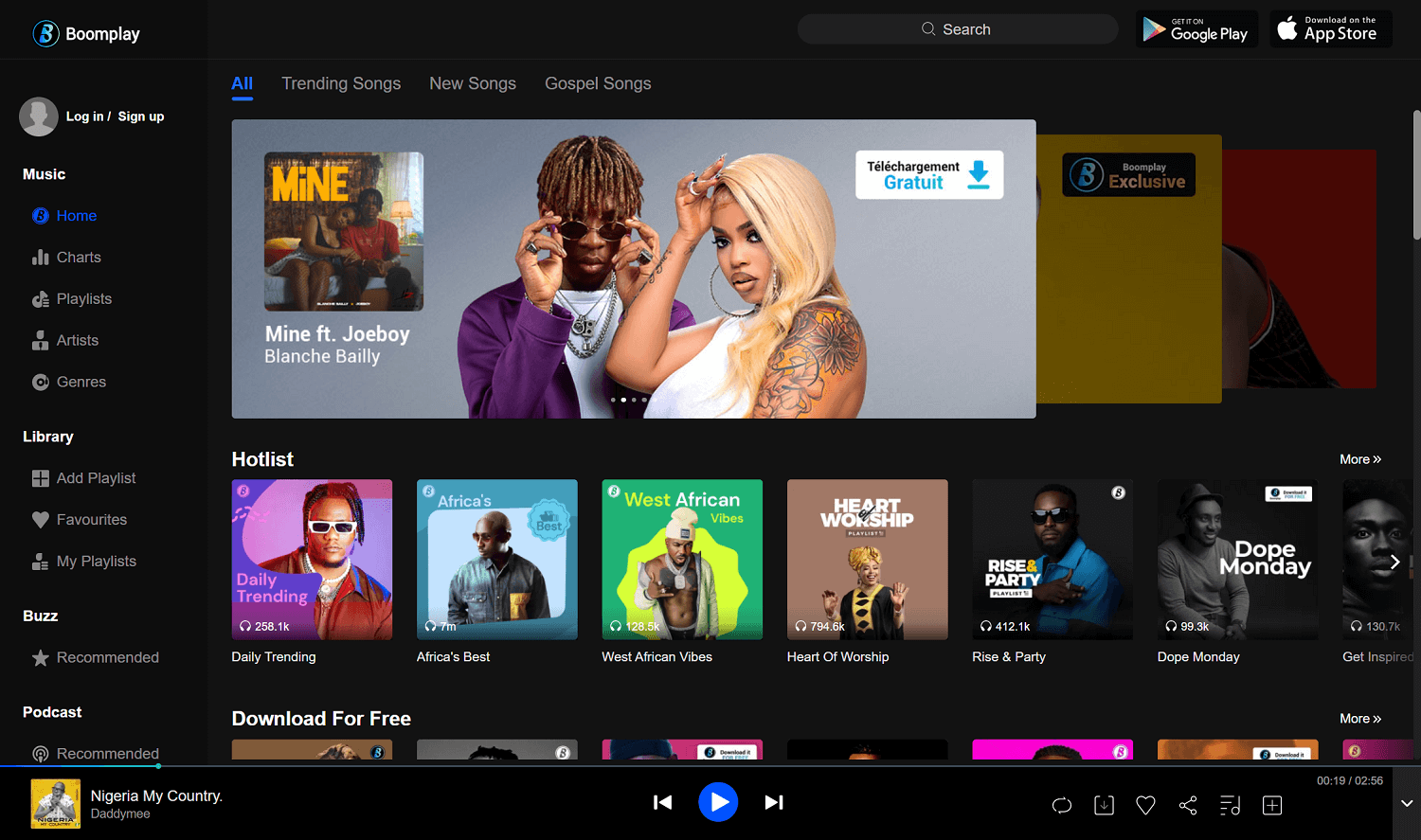 Boomplay offers both a free, ad-supported version and a premium, subscription-based service.
The premium service allows users to download songs and listen to them offline, as well as it provides higher quality audio and no ads.
Last.fm is a music website that allows users to create and share their own playlists.
The site also provides recommendations based on musical taste, and it includes a social networking component that allows users to connect with other music lovers.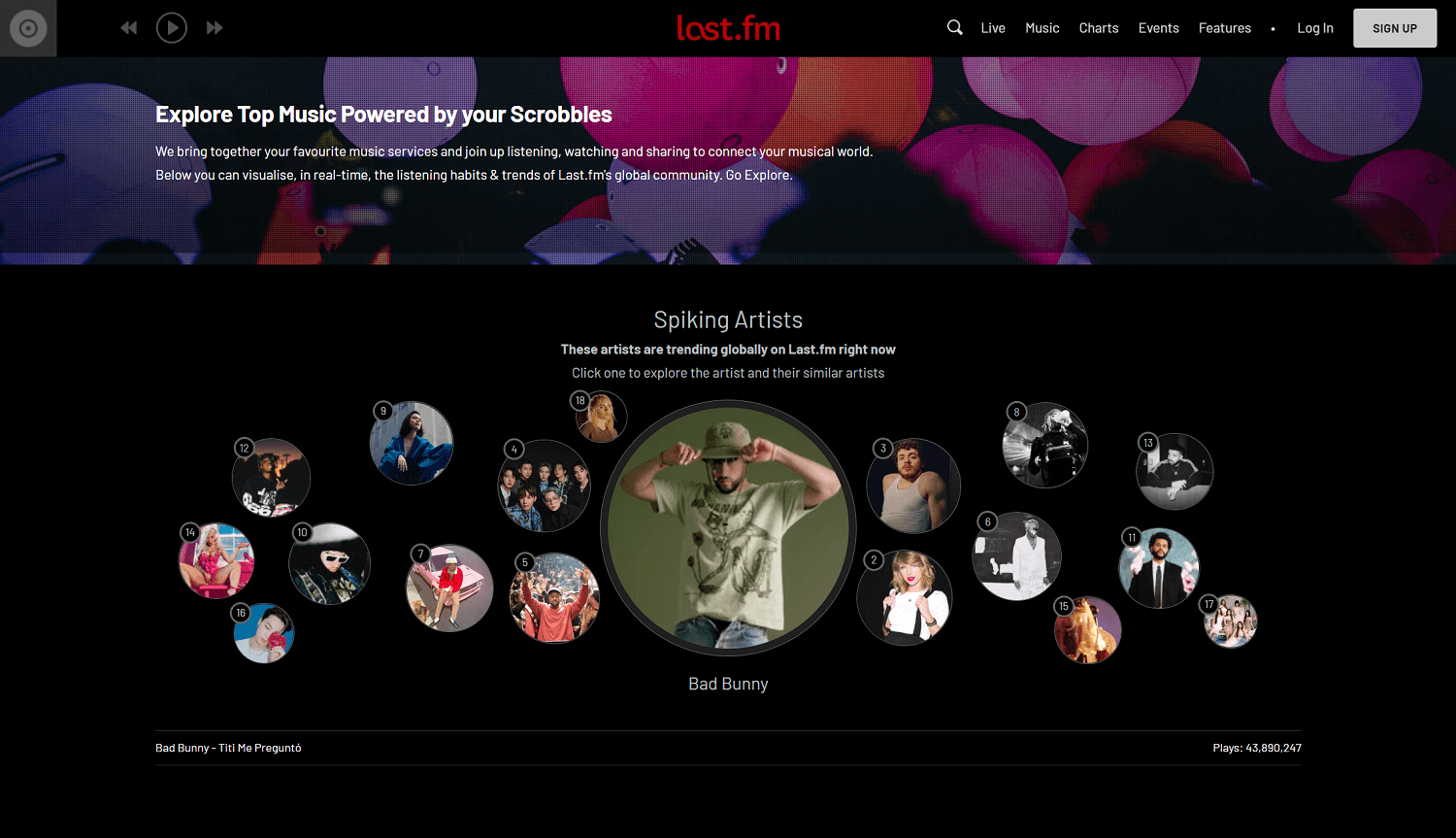 It's available in many languages and it offers a wide range of options for customization.
Users can choose to display their playlists publicly or keep them private, and they can also control how often recommendations are generated.
In addition, the site provides a variety of ways to listen to music, including streaming radio stations and on-demand playback.
Last.fm is a valuable resource for music lovers of all ages, and it continues to grow in popularity.
For music lovers, Bandcamp is a dream come true.
This website offers a wide variety of music from up-and-coming artists, and it's all available for streaming or download.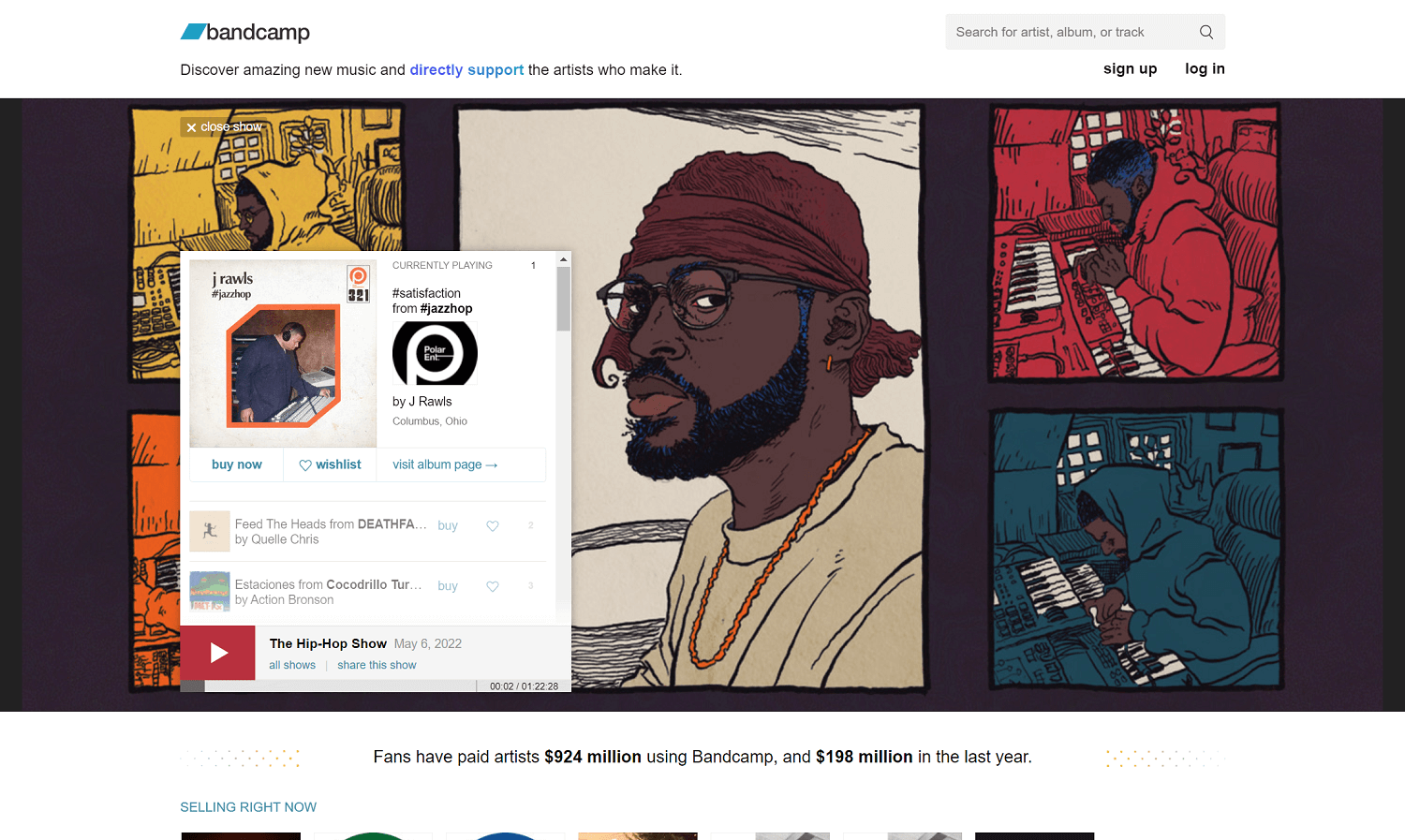 And best of all, the site is completely free to use; simply create an account and start listening.
Bandcamp also allows users to purchase physical copies of albums, and all proceeds go directly to the artists.
In addition, the site includes a built-in blog feature that allows artists to post updates and interact with fans.
Hoopla is a digital media platform that allows users to borrow ebooks, audiobooks, comics, movies, and TV shows.
It's available through libraries and schools, and it's completely free to use.
Hoopla has a wide selection of content, and it's constantly adding new titles.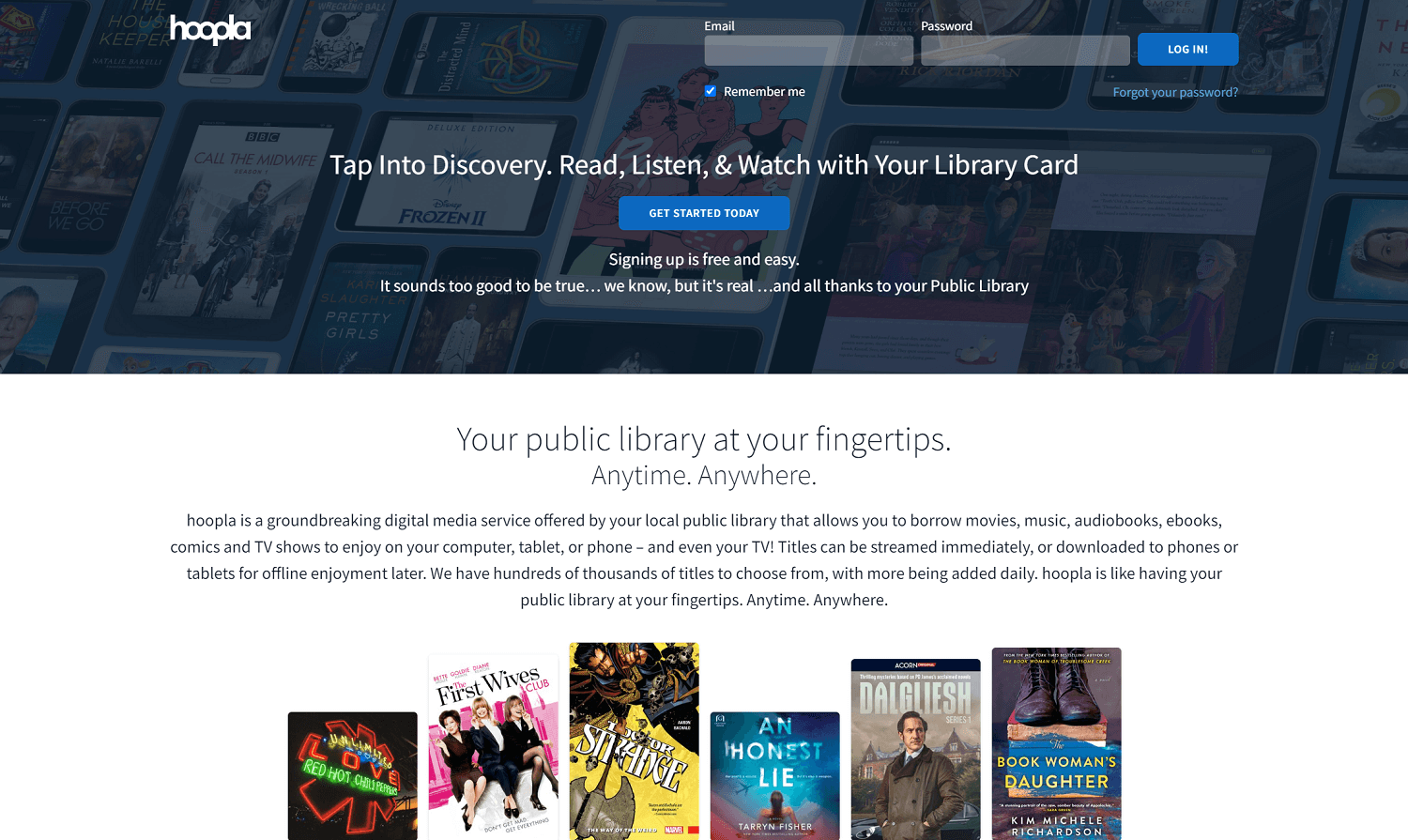 In addition, the platform makes it easy to find something to watch or listen to; simply browse by genre, title, or popularity.
Hoopla also allows users to create custom lists, and it includes a kids mode that filters out content that is not appropriate for younger children.
Not only is this flexible platform easy to use and highly customizable, but it also offers a wide range of content to suit every preference.
With tons of high-quality content readily available online, this streaming service is perfect for anyone who wants to stay entertained on the go.
IDAGIO is an online platform that specializes in high-quality classical music.
This intuitive and user-friendly service makes it easy to explore new artists and genres, with thousands of songs and albums to discover.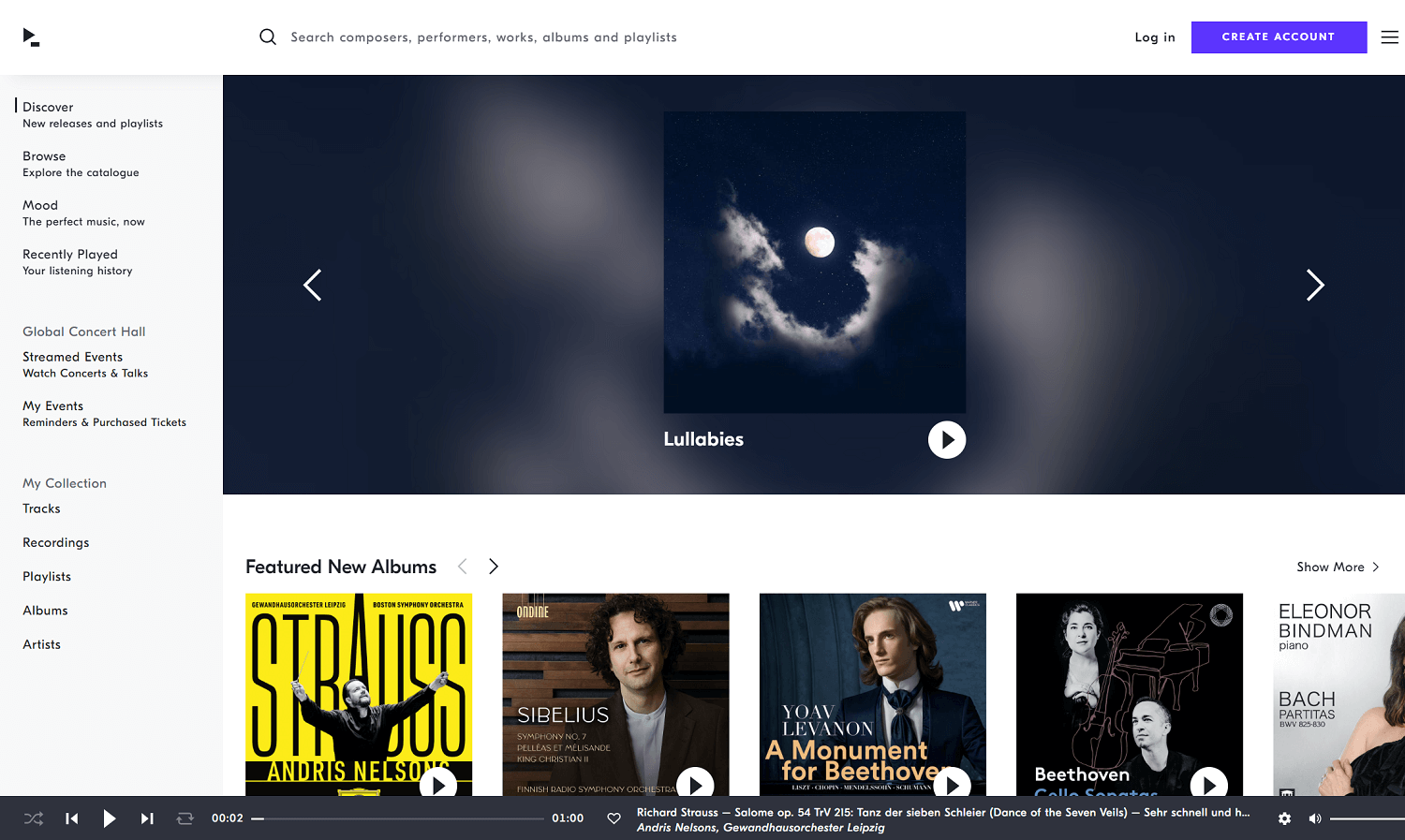 From timeless masterpieces to modern interpretations, IDAGIO has something for every music lover's taste.
Classical music, although it has become less popular in recent years, still has a devoted following, and IDAGIO is one of the best ways to discover this genre.
The company is currently based in Berlin, Germany, and was founded in 2015 by Till Janczukowicz, a former artist manager, and Christoph Lange, who previously founded the German streaming company Simfy.
Napster was one of the first online music streaming platforms, and it revolutionized the way that people listened to and discovered new music.
Prior to Napster, it was difficult for independent artists to get their music heard by a wide audience, as radio play and record sales were dominated by major labels and mainstream musicians.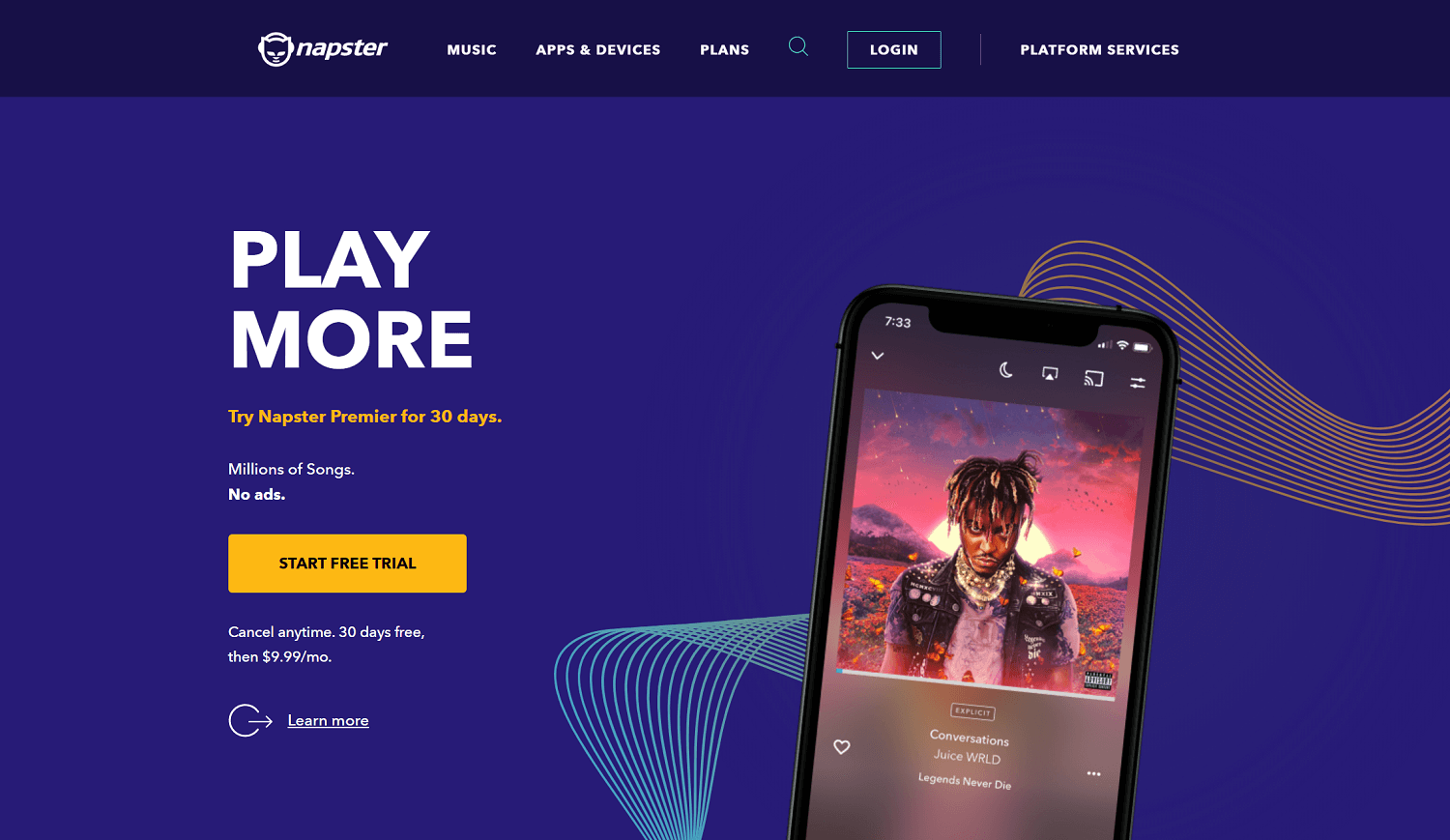 But by creating a user-driven platform where fans could share tracks with one another, Napster opened up the world of music to millions of people who had never before been able to access it.
Although Napster caused some controversy in its early years due to copyright concerns, it paved the way for a host of successful music-streaming services, such as Spotify and Apple Music.
Today, generations of listeners can easily connect with new artists and tunes thanks to Napster's pioneering work many years ago.
Which music subscription platform is best?
There are many different music subscription platforms to choose from, and it can be difficult to decide which one is best for you.
If you're looking for a platform with a wide selection of songs, then Spotify is a good option.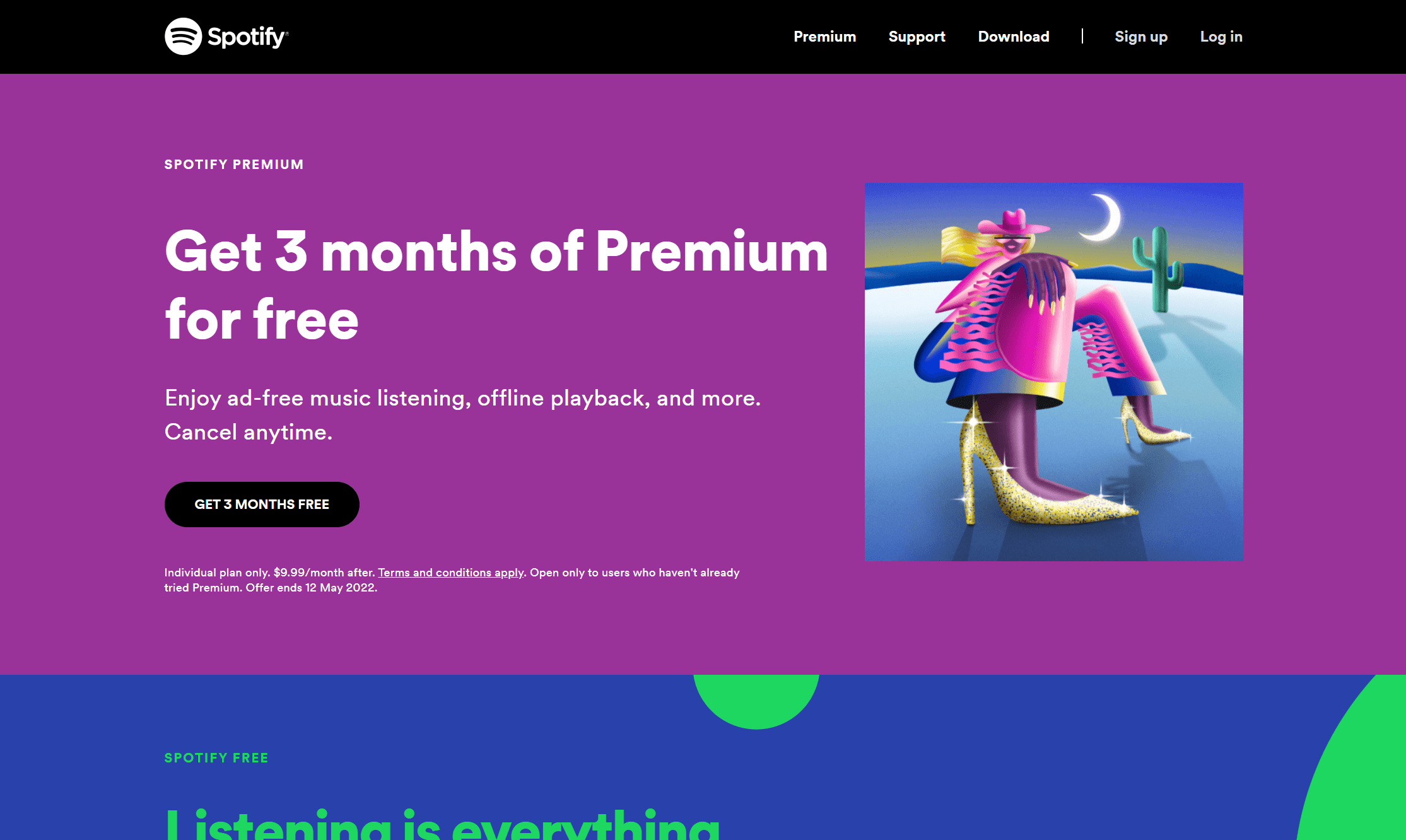 With over 30 million tracks available, you're sure to find something to suit your taste.
If you're more interested in discovering new music, then Apple Music might be a better choice, although Spotify greatly does this as well.
Their team of experts curates playlists and recommendations based on your listening habits, so you'll always have something new to enjoy.
And if you're on a budget, then Amazon Music Unlimited is worth considering.
Their basic plan is much cheaper than the other options, but you'll still have access to a vast library of songs.
Ultimately, the best music subscription platform for you depends on your individual needs and preferences.
Who is Spotify's biggest competitor?
Spotify's biggest competitor is without a doubt Apple Music, which was launched on June 30, 2015.
Apple Music has a similar business model to Spotify, offering a subscription-based service with access to millions of songs.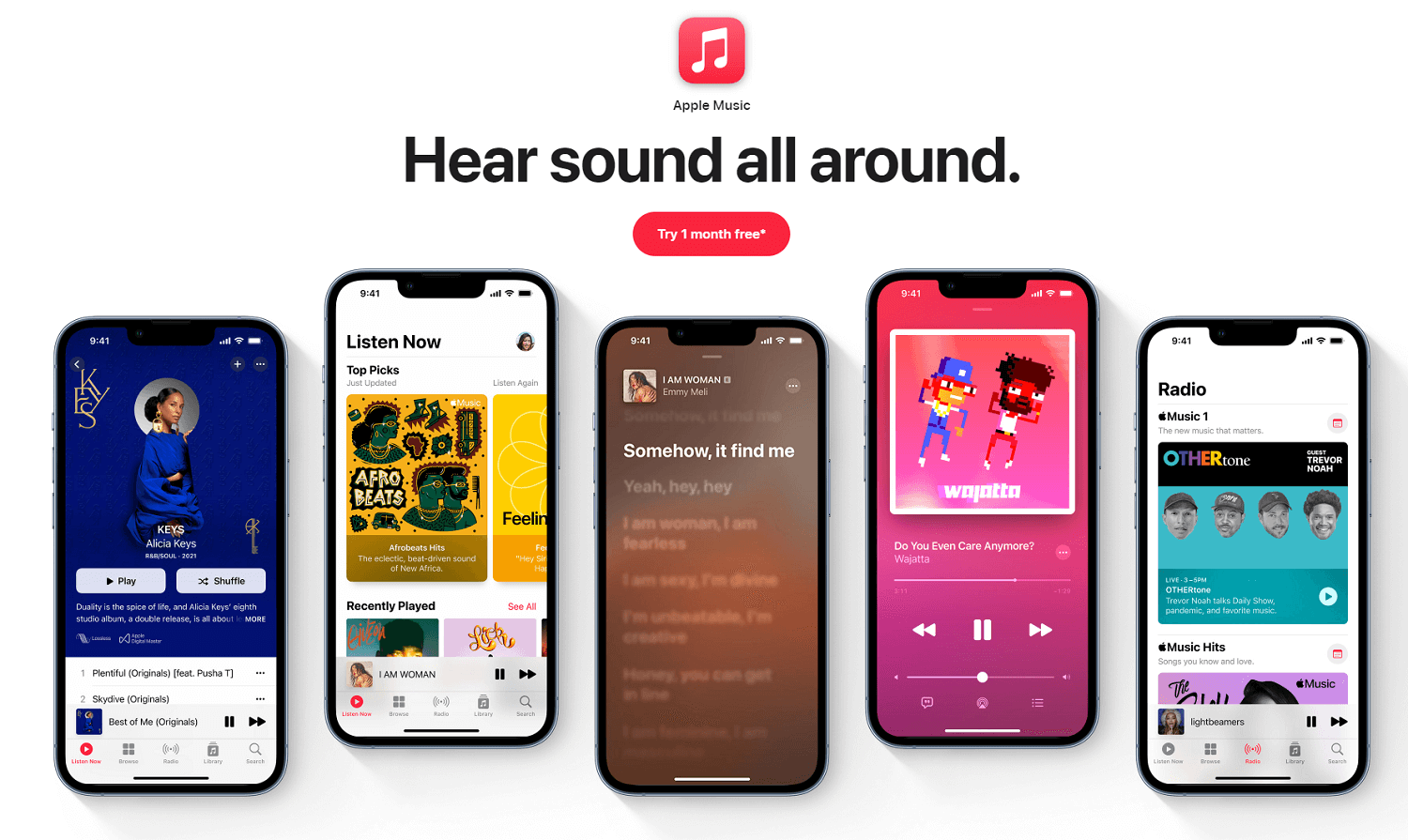 However, there are some key differences between the two platforms.
For example, Apple Music offers a higher quality streaming option than Spotify, and it also integrates more closely with other Apple products, such as the iPhone and iPad.
In terms of market share, Spotify is currently the clear leader.
But with Apple Music rapidly gaining popularity, it will be interesting to see how the two companies compete in the coming years.
Can you use Spotify for free?
Yes, you can use Spotify for free, but there are some limitations.
Free users can access all of Spotify's features, but they will hear ads between songs and have a lower quality streaming option than paid subscribers.
Additionally, free users can only skip a limited number of tracks per hour.
If you want to use Spotify without any restrictions, then you'll need to sign up for their premium service, which costs $9.99 per month.
They also have Duo, Family, and Student plans that offer slightly different features at a discounted price.
What other app is like Spotify but free?
There are a few Spotify alternatives that are free to use, but they all have some limitations.
For example, SoundCloud is a popular platform for independent artists to share their music, but it doesn't have all the same features as Spotify, nor the same amount of music available.
Similarly, Pandora Radio is a great option for finding new music, but it also doesn't have a comprehensive selection of songs like Spotify does.
Ultimately, if you're looking for a free Spotify alternative that has all the exact same features, then you're out of luck.
The music industry has changed a lot in recent years, and the way we consume music has changed along with it.
In the past, people would listen to music on CDs or mp3 players, but now streaming services like Spotify have become the norm.
With that, artists also need to get paid for their work, so free options are increasingly rare.
One more thing
GuitarBased.com is all about showing you a little bit more about guitars each day and finding ways to innovate and have fun with this beautiful instrument that we love.
If you enjoyed this post, then I invite you to go check out our blog!
We're always sharing a lot of useful and helpful content that both beginners and advanced players can use to further their playing abilities.
As always, thank you for reading and being here! 🤘