Slash is one of those guitarists who need no introduction. His top hat, long curly hair, and his Les Pauls guitar have made him one of the most iconic guitarists of all time.
Known primarily for being a member of one of the greatest rock bands ever, Guns N' Roses; Slash is considered to be one of the best guitarists in the music industry.
He has been most active since the mid-1980s with Guns N' Roses, the band he reached the top in the early 1990s with. Saul Hudson (his real name) has stood out as one of the most striking guitarists.
Besides being part of Guns N' Roses, Slash has also been part of the band Velvet Revolver. he is currently playing with the band Miles Kennedy and The Conspirators, and also with his solo project.
And in case you are wondering how to sound like Slash from Guns and Roses, this post is going to guide you on how to get that sound, what is his equipment, and some shopping alternatives to get a similar sound.
Let's start…
How to sound like Slash from Guns and Roses?
To sound like Slash from Guns N' Roses, the first thing you need is the knowledge on how to play the guitar as he does.
Slash does not only have an incredible sound but also has a lot of talent and technique when he plays the guitar.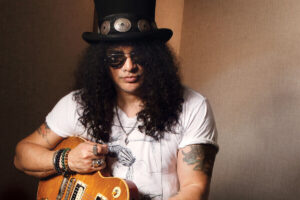 Source: Rolling Stone / Gene Kirkland
Since 'Appetite for Destruction' (which is among the best-selling debut albums of all time in rock history) was released, a lot of guitarists have dreamed of getting the Slash sound in mythical riffs like the one from Sweet Child O' Mine.
Few records in history managed to have a formation with a band at such a high level: a voice with a thousand tones and the style of Axl Rose, the fierce bass of Duff Mckagan, the impressive drums of Steven Adler, the orchestral conduction of Izzy Stradlin and, the most important thing, the poisoned guitar of a god: Slash.
Everyone agrees on one idea, and the idea is simple:
Appetite for Destruction is a perfect album!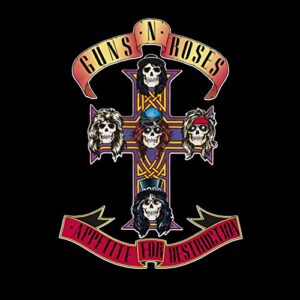 And most of the reasons lead directly to a single man; and you are right, certainly, that man is Slash.
With such a great album and such a talented and unique guitarist, the fact that Guns and Roses became the most important band back then was just a matter of time.
Now that we understand the background story, it is time to start analyzing the sound of Slash.
Diving into it / Quick summary:
With that being said, the sound of Slash can almost be achieved with a Les Paul along with a valve Marshall. But it is true that the equipment used by Slash has changed and evolved over the years, which makes it a little bit more complex.
The sound of Slash is characterized by being very round and with great sustain, using a loaded distortion but without becoming too saturated. The perfect balance.
On the other hand, Slash is one of those guitarists who uses the potentiometers of his guitars a lot while playing, always managing and controlling the tone, volume, and pickup selection for a better sound.
As you can see, it is evident that even with all his equipment it would be impossible to sound exactly like him. Every single guitarist has their own technique and a certain way of playing that gives them a personal and unique sound.
It does not mean you would never sound like Slash.
It means that you can pretty much emulate his sound, getting really close to it, but never sound exactly the same as him.
Now, let's actually talk about the equipment.
Slash Equipment
Guitars
The default guitar used by Slash has always been the Gibson Les Paul. Gibson guitars are the most commonly used guitars by Slash when he plays shows.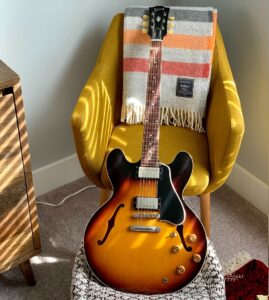 Now…
This fact can even seem ironic, especially when you know that Slash did not use an original Gibson while recording Appetite for Destruction.
However, Gibson later made copies from the guitar that Slash used and, even today. they keep releasing new expensive (and some may say overpriced) versions of signature models.
Here is a list of guitars used by Slash:
This is the one he used at the beginning of his career while recording the studio version of the first Guns and Roses album.
It was built by Kris Derrig, and Slash uses a few variations of this guitar now for his live streams, including some signature models and some exclusive models built by Gibson just for him.
Gibson EDS-1275 double-neck:
This is a double-neck model and he mostly uses this one to play Knockin' on Heaven's Door.
You can see him talk about this specific guitar in this YouTube video!
Slash | 1966 Gibson EDS-1275 Doubleneck
He mentions the background story on why he started playing it in the first place, and how he likes to use it on live shows.
It is really common to watch him using this model mostly in his recent work.
Slash uses this one to play some of his songs.
Fun fact:  some time ago, Gibson released a couple of Gibson Firebird's signature models. The cheapest one did not cost less than six thousand dollars ($6000).
Here is a video of Slash talking about using these types of guitars.
Gibson Custom Slash Firebird Trans Black
He mentions how he hasn't used one in live shows since 1986 and how he's planning on bringing them back.
And in this other video, he talks about the Epiphone Ltd. Ed Slash Firebird that he designed himself.
The Epiphone Ltd. Ed. Slash Firebird
It has a longer neck than the ones he has played in the past, humbucking pickups, and Mahogany body wood body.
There are many BC Rich models used by Slash to play songs like 'You Could Be Mine'.
Some of these models have been the Mockingbird, the Warlock, and the Bich.
This last one is a ten strings model that Slash uses with six strings like a standard guitar.
In this image, you can see him playing his BC Rich Warlock guitar in the very early days of Gund N' Roses.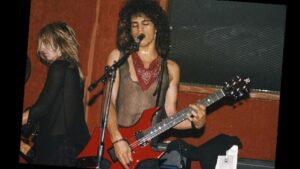 Fun Fact: This same guitar was sold for $96,000 in Julien's Auctions in 2016. It was last played by the guitarist in 1987 before he put it away in storage.
Guild Crossroads Doubleneck:
A really interesting guitar that Slash uses to play Civil War. It consists of a half acoustic, half electric model to play all the parts of the song without having to switch to another guitar.
You can see him perform this song with this guitar in this exact video:
Slash feat Myles Kennedy - Civil War Live at The Olympia Dublin Ireland 2013
These are some of the guitars he has used to play, either live during a show or on live streams.
Generally, Slash uses a mid-tone tuning lower than the standard, except for some songs where it is different. Some of his guitars are used exclusively to play those songs with different tuning.
Amplifiers
When you listen to the sound of Slash, the distinctive tone of Marshall amps is unmistakable. Slash has used different models while on tour:
Marshall Silver Jubilee 2555:
This is the amp he uses for the dirty and distorted sounding.
The one he used while recording the Appetite for Destruction was slightly modified to get that high sustain and round sound.
He also tours with the JCM Slash 2555l, a signed limited edition based on the Jubilee 2555.
This is a really common Marshall model that Slash has been carrying with him while on tour, with only some small modifications and a change of the default valves.
Marshall AFD 100 Signature:
This is a limited edition amplifier built by both Marshall and Slash after several months of researching, studying, and analyzing until they found the sound they were looking for.
Now, talking about screens and cabinets, Slash has used a few Marshal 1960 4*12 models, and also some Marshall 4*12 signature AFD screens.
Effects
Even though the sound of Slash is not saturated with a lot of effects, the amount of effects he uses has been increasing over the years.
Some pedals have been essential and irreplaceable throughout his career, such as:
It is amazing how much advantage Slash takes from this pedal while playing songs like Civil War or Mr. Brownstone.
No doubt this has been a fundamental effect for his sound. Besides that, Slash released the Cry Baby SW-95 by himself.
Here is a video of Slash talking about Wah pedals and why he uses them:
SW95 Slash Signature Cry Baby
He talks about what he looks forward to on a wah pedal, and which parts of his songs he loves to use wah pedals in.
Slash used to use a Boss GE-7 before.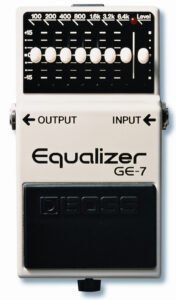 However, nowadays we can notice him using a MXR Ten Band EQ.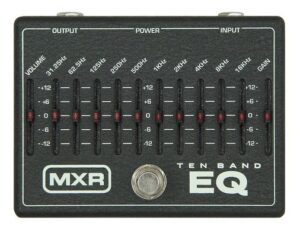 Slash uses this pedal to push up the sound during his solos.
Besides the equalizer, Slash uses a variety of boost pedals from MXR, the MC-401, and MC-402 to be more specific.
They have the same purpose: to impulse the sound of his solos.
Digital Delay to interpret parts of songs like the iconic and mythical beginning of the song Welcome to the Jungle.
We have seen many people advising different versions of the Boss DD, but most of the time, DD-3 is the one we usually see in all pictures and live videos.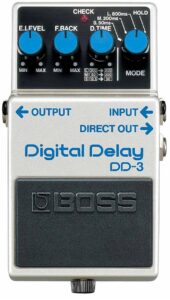 Slash uses this effect to play some parts of songs like the beginning of Paradise City.
Slash uses this effect to try to reduce the noise caused by distortion, with an MXR M135 noise gate.
Pick Ups
Slash uses the Seymour Duncan Alnico II Pro Signature with his Les Paul.
The modifications are hardly noticeable compared to the stock ones.
The answer to the question 'How to sound like Slash from Guns and Roses' partially relapses on the pickups. The pickups are a great choice and they are not as expensive as you may think.
Other Equipment
Slash uses Ernie Ball 0.11 – 0.48 gauge brand strings. This kind of gauge is a little bit thicker than the kind of gauge used for Les Paul guitars, but Slash feels more comfortable playing with these strings.
We have to take into account that the way Slash plays the guitar is pretty aggressive and, if you use thinner strings, they will end up constantly broken.
On the other hand, he also uses Dunlop Tortex 1.14 mm guitar picks.
What other things do I need to get Slash's tone?
If you are looking to get the sound of Slash, I have good news for you.
You can get really close to his sound without going broke.
At this point, you should know that it is kind of impossible to get the exact same sound of Slash, but here we give you some recommendations to achieve a sound like the sound of Slash.
To start, you will for sure need a Les Paul guitar.
But it can be any other brand as well. And we say any other brand because, as we already covered, not even Slash used an authentic Gibson while recording many of his albums.
A really good option, in case you are looking to save some money, is Vintage V100FD Paradise.
This is a version of the original guitar used by Slash when he was recording the Appetite for Destruction.
The guitar itself worths the money invested.
However, if you want to improve it, you have the option to purchase and install the pickups that Slash uses. This way you will have a great guitar for less money than any Gibson guitar cost.
The second item you will need is an amplifier!
If it is a Marshall, much better. But, as everyone knows, the prices of these amps are not exactly affordable for everyone.
We could get close to the sound of Slash with a different kind of amp, but the warmth of the sound and the tone obtained would not be the same.
The third item you will need is a boost pedal or equalizer!
As we said earlier, Slash uses a Boss GE-7 EQ with midrange up and high volume to boost its sound.
You could also use an overdrive instead of a booster or an equalizer.
Thus, you would also be getting a boost in the signal by trying to imitate the sound of the modified Marshall Jubilee 2555 from Slash.
Last but not least, you will need to distort the signal.
You can use any distortion pedal for this purpose. Play with the parameters until you reach the sound you are looking for.
To summarize, you could get really close with just these things:
Guitar
Equalizer (Boost)
Amplifier
Distortion
Beyond that, you can always use some reverb, delay, or even a chorus effect to get the sound of a particular song.
How to save money while getting Slash's guitar sound?
I would recommend not buying these things new.
Many of these pedals are being sold at very lower prices when they are used by someone else.
So, if I were you, I would try to find current owners willing to sell these pedals, and amps, for lower prices.
Before you go
Make sure to check our other blog posts if you want to read about the latest and best guitar tips and tricks out there.
Keep in mind that the equipment is necessary to achieve the sound of Slash, but it does not represent the whole sound.
You have to keep practicing, to improve your technique, even if you do not want to sound like Slash.
Practice and commitment are the keys to become a world-class guitarist.
Stay focused, practice, play with the effects, and never give up until you reach your goal.
With the right equipment and your own dedication, you can sound like Slash.
And who knows, maybe you can sound even better!
Sources: